It's time to get your business out of the red and into the black. Learn more about how to do this with our new "Paint It Black" series. This series aims to help you adequately prepare your membership site to make the most out of this year's Black Friday sale.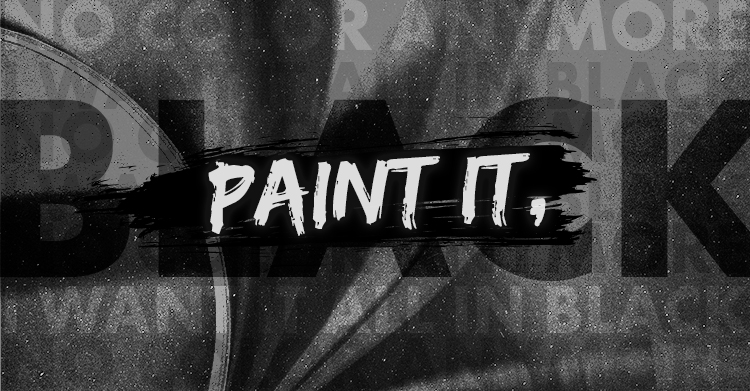 ---
Black Friday is coming up. Yes, we know that it is almost two months away but an event like this can easily sneak up on you. Leaving you feeling unprepared and overwhelmed.
In this Paint It Black series, we will be releasing a handful of crafted blog posts to help you prepare for this year's upcoming Black Friday sale. We will share some tips with you that we have learned by running our own membership sales, and provide you with the knowledge and tools you'll need to run your own promotional sale.
---
What is Black Friday?
We're pretty sure that you know about Black Friday and the other phenomenal sales days that go with it (Cyber Monday, Giving Tuesday etc). But for those of you who don't Black Friday is a day that happens once a year, where volunteering stores, retailers, and any other product or service providers offer massive discounts on their products and services.
No colors anymore, I want them to turn black. – Mick Jagger
There are many theories surrounding the name "Black Friday". We like to think that Black Friday originated from the story of a few retailers, who planned to get their books out of the red (indicating a loss) and into the black (showing a profit), by massively reducing the prices on slow-moving, unwanted stock. Because of this effort, these retailers were able to clear out stock that was slow-moving, create space for new, more in-demand stock and get a nice bump in revenue before the holiday season had even begun.
You might have an image in your head of frenzied shoppers, fighting each other for deals in a primitive and uncivilized matter. This may be enough to turn you off of running a sale on your own membership site. While this may sometimes be true, we want to encourage you to look past the negative stereotypes and think about some of the seriously great advantages of running a promotional sale during Black Friday.
---
Running a Black Friday Sale On Your Membership Site
If you're on the fence about running a sale, you should probably just go for it. Jason Coleman wrote an article on How To Run A Black Friday Sale last year. In that article, he mentions that some businesses were able to double their month's usual revenue. To put it into perspective, that's the same as having an extra month worth of revenue coming in. This can often be very helpful during the quieter holiday season.
There are many benefits to following along and running a sale during Black Friday. As a membership site owner, we might not have the luxury to sell off our older slow-moving stock to make space for new holiday season inventory. But the two major reasons we should consider running a sale during this time of year are:
More Revenue – As mentioned earlier, some business owners were able to gain an extra month of revenue, over and above their 12-month financial year. Even if you aren't able to double your sales during Black Friday, extra revenue is always welcomed.
Holiday Season is almost here – Depending on the type of business you're in, the holiday season can either be fantastic for your bottom line or give you a nasty knock. Running a sale, relatively close to the holiday season can get you through the more quieter festive season.
---
We want to help.
As mentioned earlier, we want to help. Membership site owners who participate in running  Black Friday/Cyber Monday Sales, generally have a better chance of boosting their revenue this time of year than those that don't.
Over the next week, we will be posting a little more about how you can run a successful sale. How to get the most bang for your buck, and also provide you with the tools you'll need to run a successful sale on your membership site. We are just shy of two months before the start of Black Friday. This gives us all plenty of time to get our ducks in a row to paint our books black.
We're excited to join you on this journey! Stay tuned for more interesting articles, tips, and tools you can use to maximize your chances of running a successful Black Friday/Cyber Monday sale.