Did you know that you can use Vimeo to restrict your video content and build a member-only video library? In this guide, we will cover a couple of key points to get you started on your journey to restrict videos with Vimeo.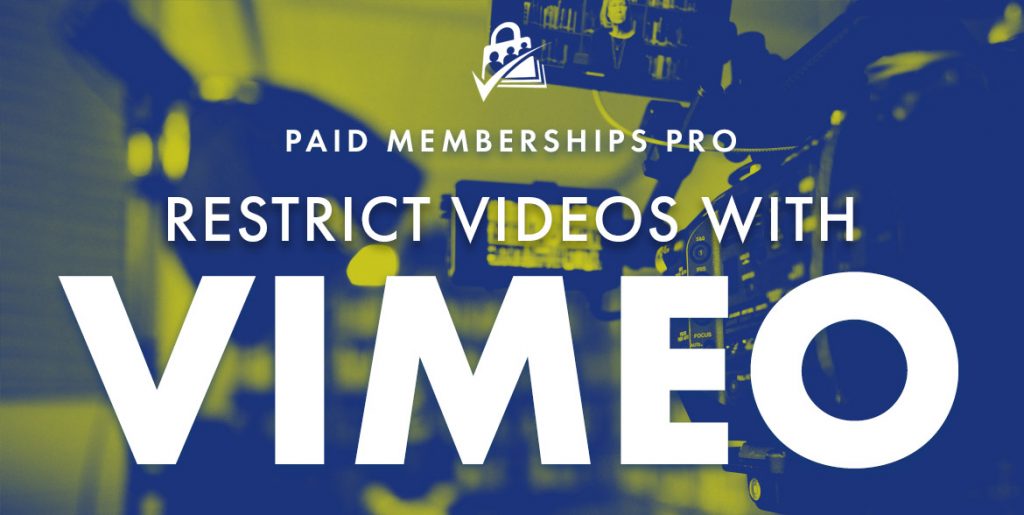 How Vimeo Helps You Build a Video Membership Website
Vimeo Premium will allow you to embed and display videos on your membership site. Unlike our "How to restrict videos with Youtube and WordPress" article. Vimeo will allow you to restrict your videos without having your members share or copy links of your video. Vimeo does this by means of Domain-level privacy.
Another Vimeo alternative would be to use Vimeo in conjunction with the Vimeography WordPress Plugin. Doing so will allow you to hide certain videos on your Vimeo account but to display them on your site, with their media player.
How to Create a Video Membership Site with Paid Memberships Pro and Vimeo
Install Paid Memberships Pro on your WordPress website.
Create a Membership Level for your membership site and proceed to set up Paid Memberships Pro with all your relevant settings.
Create a Vimeo Account and upload the videos that you want to include in your video library.
Download and Install the Vimeography plugin.
Use the Vimeography plugin to embed and display your videos on your WP page of choice.
Use Paid Memberships Pro to restrict the page so that only members will have access to your video library.
When users visit your video library they will be greeted with a login/register message encouraging them to either sign up for a membership level or if they are already a member, login to see your videos.
We've written a case study on one of our members who've created an educational video library membership site using this very method. If you would like to learn more about how School Tools TV created their membership site, see our How to Build a Video Membership Site article.
Wistia
Another similar option to Vimeo that one can consider is Wistia. Wistia allows you to upload videos to your account and then share or embed them on your website. Like Vimeo, Wistia allows you to set domain restrictions on videos preventing users from sharing or accessing videos outside of any domain that isn't set.
Restricting Videos With YouTube
If you would prefer you can use YouTube instead of Vimeo to run your video membership site. View our How to Restrict Videos with YouTube and WordPress article for more details.