Have you ever wanted to design a simple membership site that showcases your talents, thoughts, and personality? Now you can, with Memberlite Words, a child theme of our popular Memberlite WordPress theme.
Download Memberlite Words View Demo
Memberlite Support membership is required to download this child theme.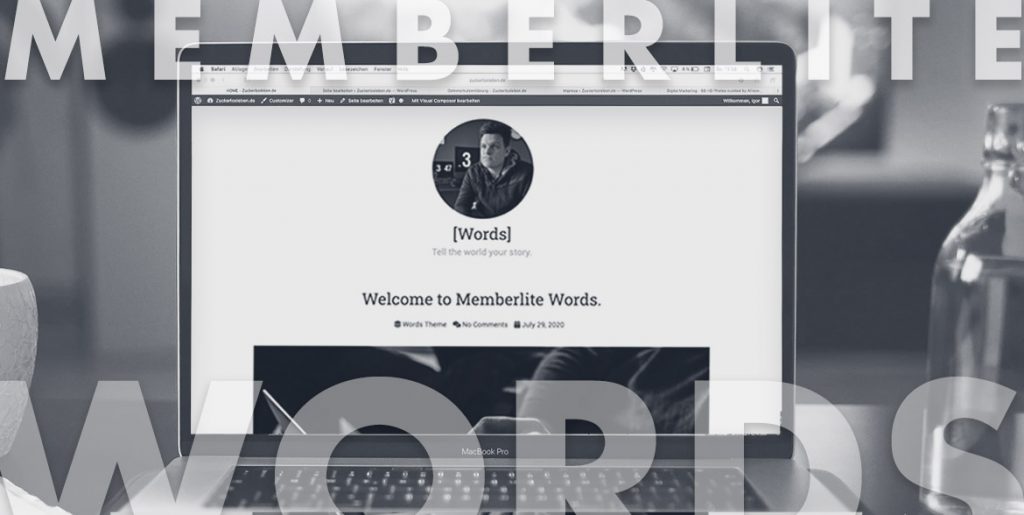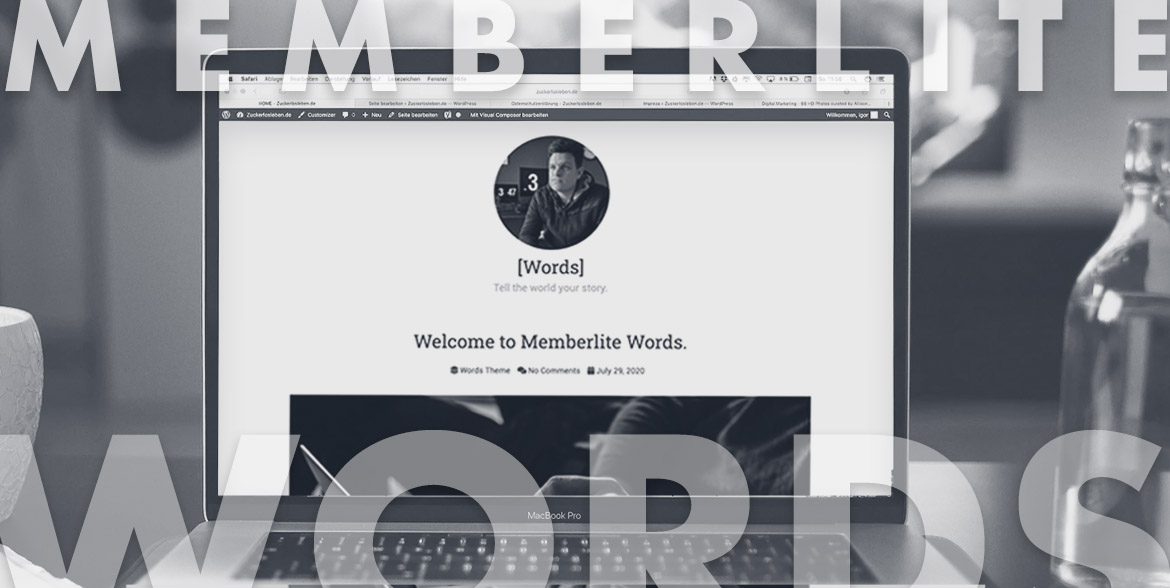 About the Theme
Memberlite Words is a lightweight child theme designed to be minimalistic and unobtrusive. It lets your content be the hero of this story. The theme is perfect for writers, bloggers, and content creators.
Memberlite Words makes it easy to tell the world your story.
Use Memberlite Words as a platform to share your thoughts and ideas. We have also integrated Memberlite Words to work with Paid Memberships Pro, the popular WordPress Membership plugin. This integration opens up a lot of possibilities for you, the creator. Build a "Go Fund Me" style website, restrict content your content behind a paywall, or build a community around your personal brand.
Created for the creator, Memberlite Words gives you the power to publish content beautifully.
---
Who is Memberlite Words for?
Time and time again, we came across members who wanted to build a simple membership site around their own personal brand, talent, or artistry. Memberlite Words was designed as a single author blogging theme. For the person who wants to stand out from the crowd. The artist, the creator, and the individual.
Much like other crowdfunding solutions (like Patreon), Memberlite Words allows you to create content and restrict some and all of it and showcase it to your fans.
Since this is a WordPress theme, you have full control over how your solo membership site looks and feels. Plus, you own everything on your site which is a nice change from these more restrictive software as a service platforms.
---
Using Paid Memberships Pro Together with the Theme
You do not need to use Memberlite Words as a membership site. If you would like you can load it up onto your WordPress install and start blogging and sharing your storied with the world.
However, if you want to take things up a notch and start restricting content, building a community around your craft, and getting paid for your creations. You can!
Memberlite Words was built by us, the people behind Memberlite and Paid Memberships Pro. So naturally, we made sure that this theme of ours integrates nicely with Paid Memberships Pro. Turning your simple single author blogging site into a fully-fledged membership powerhouse.
---
Some Tips for the Creators
We compiled a few tips that will help you put your best foot forward when creating your single author membership site. These tips are in no way the be-all and end-all to building a crowdfunded, solo author membership site, but it will certainly get you going.
---
Use Striking Imagery
Memberlite Words is sleek and minimalistic by design. So be sure to use some beautiful images that really draws attention to your content. It is always a good idea to use your own images because this add an extra personal touch to your content.
If it is difficult or unnecessary to use your own images, don't worry. There are some really stunning royalty free stock photography websites that you can use to really spruce up your articles.
We personally use unsplash.com and pexels.com. Their images are beautiful, free to use, and there is a wide variety of great shots to chose from.
---
Offer Multiple Levels
In general, it is a good idea to offer more than one membership level to your website. This is something that is not necessarily specific to creator crowdfunding membership types. But we still recommend it none the less.
It is important to remember that you will likely have a mixed audience. Some will be ready to throw their hard-earned cash at you, others will like you but might be on a tight budget, and some only want your free content.
We usually suggest having three levels for membership sites. A free level, one that is your most popular level, and an "all-access" kind of level. If you feel this is too much for your site try aim for a free and premium membership level and build it out as you need to.
Remember, giving away high-quality free content is a great way to build an audience and an email list!
---
Build an Email List
We touched on this in the point above, but building an email list for your membership site is crucial. The main reason for this, is that you have full control of your audience. You can reach them at any time as many times as you need to.
You also won't be bound to the restrictions that come with many platform algorithms. To learn more about building a membership on a platform that you own and control see this article.
Use our PMPro Mailchimp Add On
We have several integrations that help you integrate your membership website with marketing email services like Mailchimp.
Our Paid Memberships Pro – Mailchimp Integration will allow you to automatically assign members to a particular Mailchimp mailing list when they sign up for your membership level.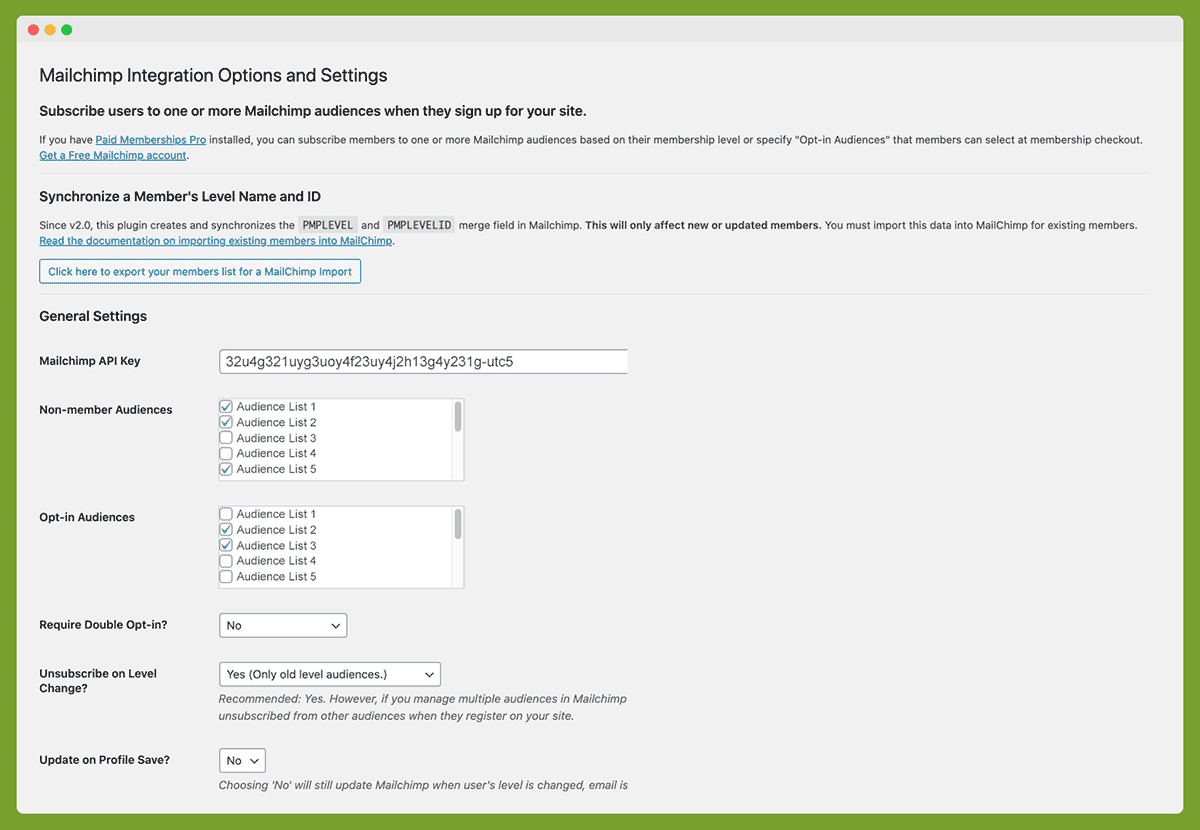 ---
Give Fans a Taste of your Content
Have you ever had the opportunity to visit a creator's crowdfunding page? If you did, you would have noticed that some of their content is free to access, while other more 'exclusive' content is hidden behind a subscription.
We already made mention that adding Paid Memberships Pro to your Memberlite Words theme will give you the functionality to restrict content and sign members up into your membership program.
But, did you know that you can tweak this process even further? If you'd like, you could use our PMPro – Limit Post Views Add On to display all of your content for a certain amount of page views. Once this page view limit has been reached, your fan will be notified that they will need to subscribe to see more. This is a similar strategy to what online publications like the New York Times and Medium use to attract readers.
This particular strategy might not work for you, but I wanted to try illustrate that by using a couple of Add Ons you can customize your membership site dramatically.
---
Adding a Goal Slider to your Site
Another very common feature that is found on single-author blogs and Patreon accounts is a goal slider. A goal slider is used as a visual aid to show you and your fans how things are going.
You can add a goal slider to your membership site by using our Paid Memberships Pro Goal Progress Bar Add On
---
Download Memberlite Words
I hope that this article gives you a better idea of what you can expect with our newly launched Memberlite Words theme. It is a simple and great theme, and I am sure that you and your fans will love it.