If you'd like additional notification when members complete checkout on your site, here are a few options, including a code recipe for SMS/Text Message notification, the new Slack Integration Add On, and the PayPal or Stripe apps.
---
The PayPal App, available for both iOS and Android, allows you to keep track of your PayPal account. It includes push notifications for incoming money (i.e. Membership Checkouts) and outgoing funds (i.e. Refunds or other purchases with your PayPal account).
I use the PayPal app to receive notification of membership checkout for our PMPro Core and PMPro Plus levels. It's very quick to setup, simply download the app then login with your PayPal account credentials for the PayPal account linked to your membership site. You can also easily transfer fund from your PayPal account to your linked checking/savings accounts via the "Wallet" > "Withdrawal" screen.
Notifications can be configured via Settings > Notifications.
---
Stripe Dashboard App [iOS]
The Stripe Dashboard App, available only for iOS, allows you to keep track of your Stripe account. Toggle the push notifications that you want to see, including Today's Summary, Payments and New Customers.
If you're on Android, use your Chrome browser to navigate to the Stripe Dashboard. Then, click the "  " icon and click "Add to Home Screen". This will add a shortcut link to the very mobile-friendly Stripe Dashboard.
Just like the PayPal app, Stripe Dashboard is very quick to setup, simply download the app then login with your Stripe account credentials for the Stripe account configured on your membership site. Notifications can be configured (in the iOS app) via the "gear" icon in the upper right under Notifications.
Note: I stopped using the Stripe Dashboard app due to some bugs related to the app "resetting" my push notification settings. (we're shared into more than one Stripe account and I only want notification for my main account, but it kept refreshing and sending notification for all accounts).
---
Get an SMS/Text Message
Here's a quick code recipe that will send a short email or sms message to the specified address(es) after Membership Checkout. Set your notification addresses on line 9. Set the level(s) you'd like to receive notification for on line 12, or completely remove lines 12 to 14 to receive notification for ALL Membership Checkouts.
We've just released a new Slack integration, that allows you to receive Membership Checkout notification in a specified Slack channel.
Slack is a messaging app for teams. You can use Slack in your browser or via a native app for iOS, Android], Mac], or Windows.
Installation
Members with a valid PMPro Plus license can install and activate this add on via the Memberships > Add Ons admin page. Or, download the zip file here and upload the 'pmpro-slack' directory to the '/wp-content/plugins/' directory of your site.
Activate the plugin through the 'Plugins' menu in WordPress.
Navigate to Settings > PMPro Slack in the WordPress admin to configure the add on.
Settings
Follow this guide from Slack to create a new incoming webhook.
Then under Settings > PMPro Slack in the WordPress admin…
Paste the webhook URL into the "Webhook URL" field
Select the levels you'd like to receive Slack notifications for
click "Save Changes"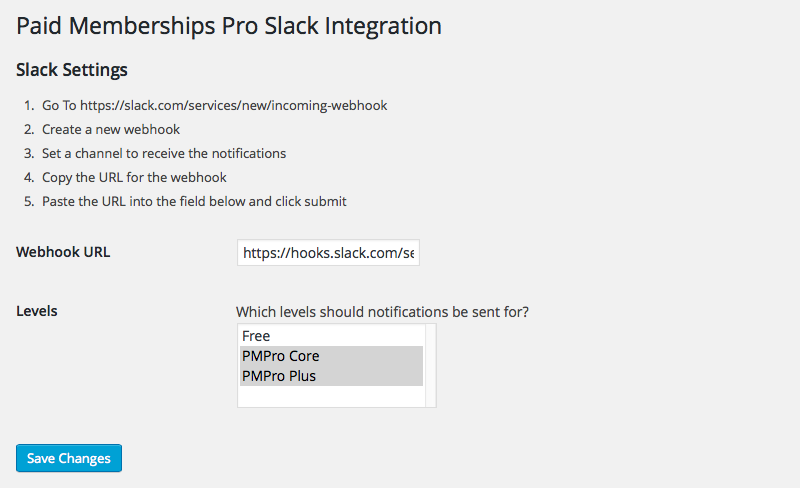 View the Add On