Two days ago Matt Mullenweg, co-founder of WordPress, gave the annual State of the Word. He shared where WordPress came from, where it is now, and where it's going.
If you use WordPress or Paid Memberships Pro for your business it's worth watching the keynote. It will give you insight to prepare for upcoming changes and will let you take advantage of new features you may have missed.
If you're a membership site owner or operator here are our biggest takeaways:
WordPress Continues to Grow
Expanded Site Editing Via Gutenberg
Block based themes

Styles for block based themes
Duotone image filters
Pattern directory for block layouts

Gutenberg progress
Final thoughts from State of the Word 2021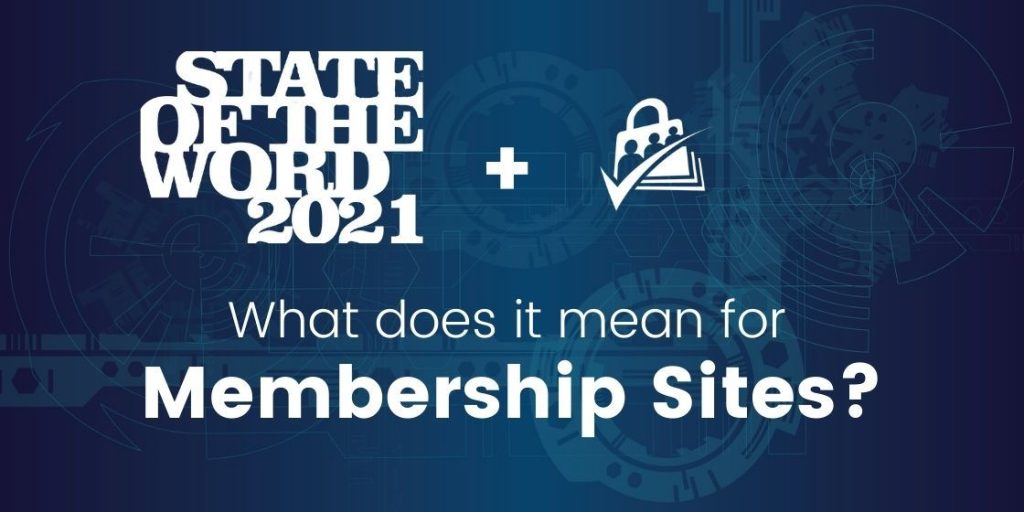 WordPress Continues to Grow
WordPress continues to grow. Over the last year it grew from 39% of the top 10 million sites (according to W3 Techs) to 43%.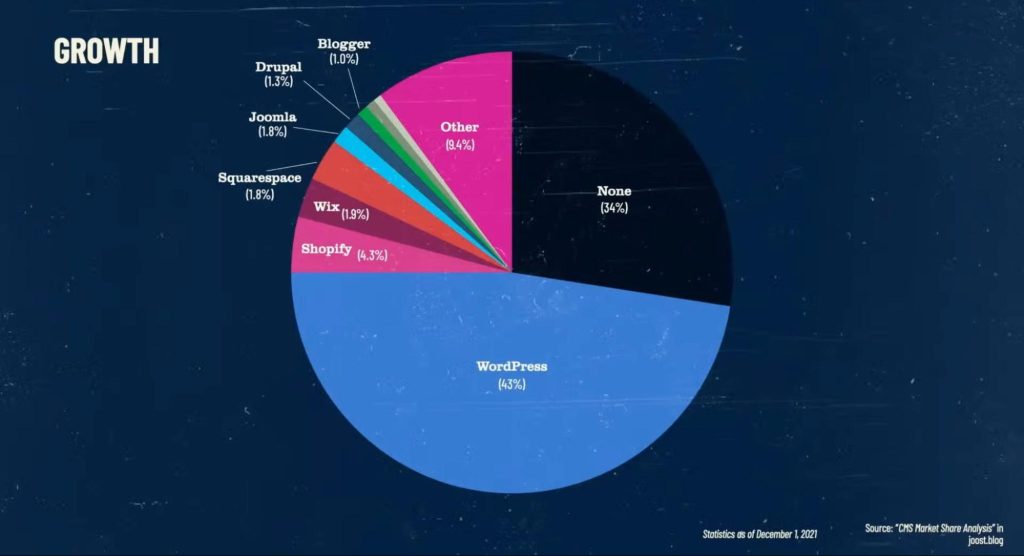 While other open-source platforms shrink, WordPress is still growing and is by far the biggest content management system on the Internet.
This surprises internet-newbies who assume that because they heard an ad from Squarespace or Shopify it must be the most popular.
What this means for membership sites: WordPress continues to grow despite not having a marketing department of advertising budget. You can build your membership site with WordPress and know that 43% of the top 10 million sites made the same platform decision you made. It's a flexible platform that can grow with you as your business grows. And because you own WordPress you can never be kicked off the platform.
Expanded Site Editing Via Gutenberg
If you've been in the WordPress world for a while you've heard about Gutenberg. The Gutenberg project started in 2018 and the first version gave users the ability to edit their blog posts with blocks. This gives users a lot more control & freedom over exactly how their content is laid out and what the final piece of content looks like.
It's been a bumpy ride but Gutenberg has gotten better and better since 2018. And now the Gutenberg editor feels normal and powerful.
WordPress is continuing that progress and now the same technology that lets you add blocks of content to your posts lets you edit other areas of your site including:
What this means for membership sites: It's going to be easier than ever to edit your site. Not just the content but the areas around your content like the header & footer. If you haven't really explore Gutenberg it's time to try it out. You'll be using it for a lot more moving forward.
Block based themes
WordPress has 28 block-based themes in the WordPress theme repository. Including the new Twenty Twenty Two which will come out with WordPress 5.9 in January.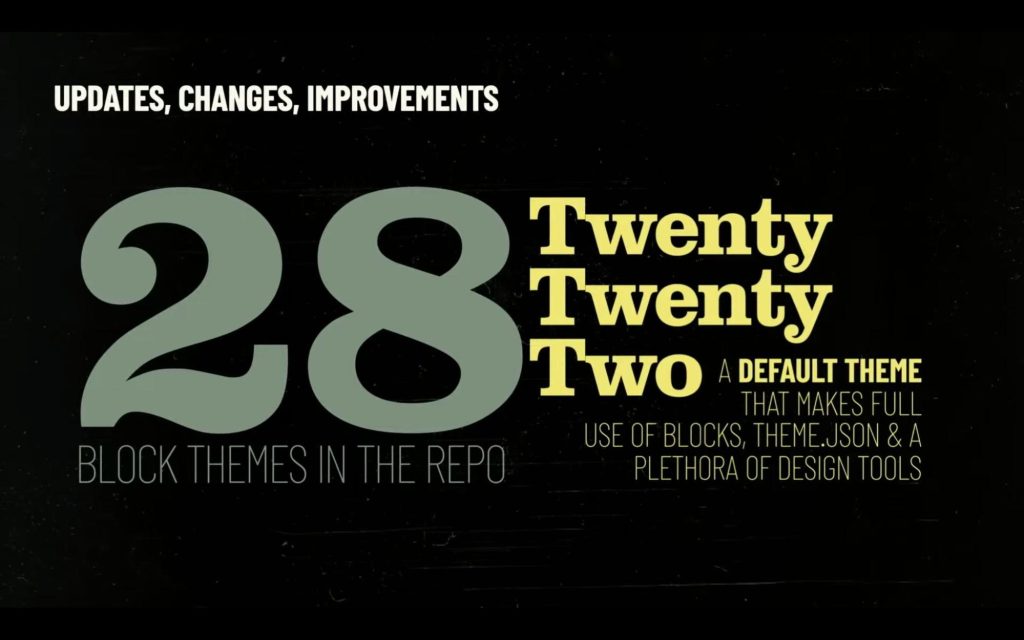 These block-based themes are themes designed to work with Gutenberg from the ground up. If you've found some useful blocks for your site they'll be easy to add anywhere with these themes.
Styles for block themes
These block-based themes don't just function well with blocks. They also look great. They have a new feature called Styles that let them have presets. You can choose from these presents and they have a huge impact on the look & feel of your theme.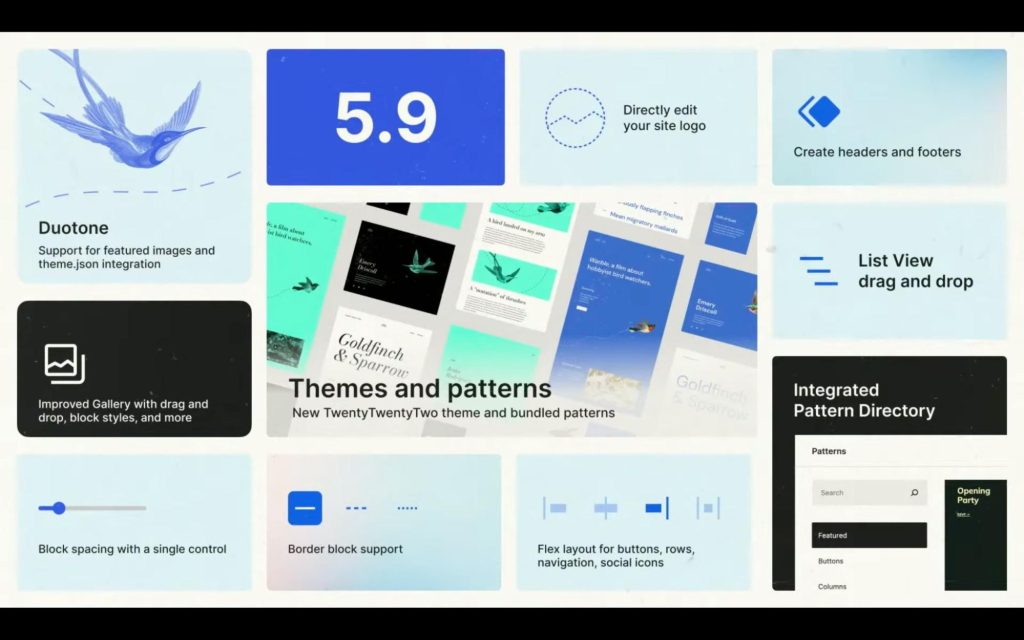 Duotone
One of the new features coming out is an image filter called Duotone. You can think of this as a greyscale filter but instead of only using white & block you can choose two colors. This will be particularly useful for making sure all of your images have the same look and feel.
Check out the keynote and see how they quickly switch all the images on the site between a few different color combinations. 👀
What this means for membership sites: The new block-based themes, styles for block themes, and the duotone filter make it so much easier to build a cohesive look and feel for your brand. If you haven't yet chosen a theme for your membership site I'd strongly recommend you look at a block-based theme. Add some content to the theme and play around with the styles until you find one you like.
Pattern directory for laying out content
If you've spent time trying to lay out content with Gutenberg you know it can be a pain to select exactly the right block or get the layout to look just like you imagined.
To bring the power of Gutenberg to your site we really need a way to arrange blocks and WordPress is solving this problem with a pattern directory.
Instead of having to create the layout yourself you'll be able to select popular layouts from a library and apply it to your own site.
What this means for membership sites: The new patterns will make complex layouts more achievable. If you have some posts that could use visual design use some of the new patterns and see if they can help add visual interest to your posts. I'm a big fan of visual interest as it helps readers digest longer pieces of content. So just the occasional break from paragraphs really helps members consume your content.
Gutenberg Phases
Gutenberg started back in 2018 and the steady growth is impressive. We're currently in the 2nd phase of Gutenberg and there's another 2 phases we haven't even started. Here's where we are:
2018: Easier Editing – introduction of Gutenberg
2019: Customization – Gutenberg outside of the post box
2023: Collaboration – working with others with blocks 
TBD: Multilingual – multiple languages within WordPress
So all of 2022 will be about improving Gutenberg outside of the post box and covering those edge cases and bugs.
2023 starts collaboration with others using blocks. And at some point after that WordPress is going to tackle multiple languages within WordPress. This has always been possible with WPML or another language plugin but the user-interface has always been wonky and hard to use.
What this means for membership sites: If you have the long term goal of adding multiple languages to your site in a few years this will be much easier. It's possible today but holding off for native functionality built into WordPress itself will make it much easier.
Final Thoughts
My biggest takeaway from the State of the Word 2021 is that WordPress continues to grow, Gutenberg is expanding and letting you customize your entire site, there are new block-based themes with styles, duotone, and other features that give site creators unbelievable flexibility and customization. 
The core of WordPress is continuing to improve which makes it even easier to build the site of your dreams. If you were waiting for the right time to create a membership based site on WordPress – now is the time. Jump in. It's never been easier.