The Email Confirmation Add On adds an additional step to membership checkout, requiring members to click a validation link in the confirmation email in order to activate their membership. Continue reading to learn about the features and setup.
View the Add On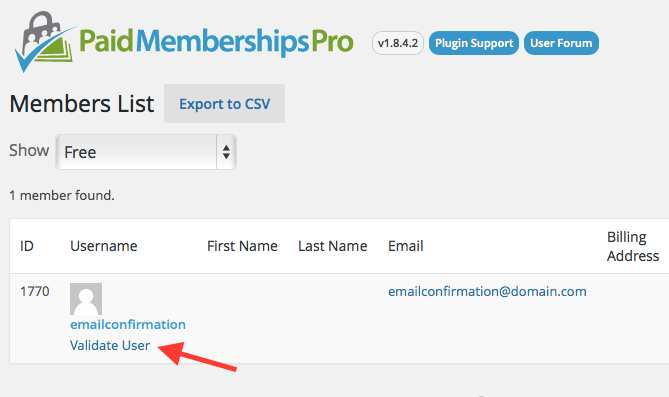 How it Works
When a member completes checkout on your site, their membership is automatically activated after successful payment or free checkout. You can use this add on to require members of designated levels to click a validation link in their membership confirmation email in order to complete the membership checkout and "activate" their account.
Unvalidated members will still appear in your members list, but access to members-only content will fail until their email address is validated. The pmpro_has_membership_access_filter, pmpro_hasMembershipLevel() function and instances of the shortcode will return false and all members-only content will be hidden.
---
Installation
Upload the 'pmpro-email-confirmation' directory to the '/wp-content/plugins/' directory of your site.
Activate the plugin through the 'Plugins' menu in WordPress.
Edit your levels under Memberships > Membership Levels > Edit Level. Check the "Email Confirmation" checkbox to require email validation for this level.

This confirmation step is best used for free membership levels. A paying member has less incentive to purchase your membership and provide a false email address. Adding this additional step for paying members may be more hassle/pain than benefit.
---
How to Manually Validate a User (as Administrator or Membership Manager)
The Administrator or Membership Manager can manually validate any user through the dashboard by clicking the "Validate User" button on the Memberships > Members List or Users admin page.
You can validate a user from the Memberships > Members List or the Users admin page. Just hover over the username and a link to "Validate User" will appear.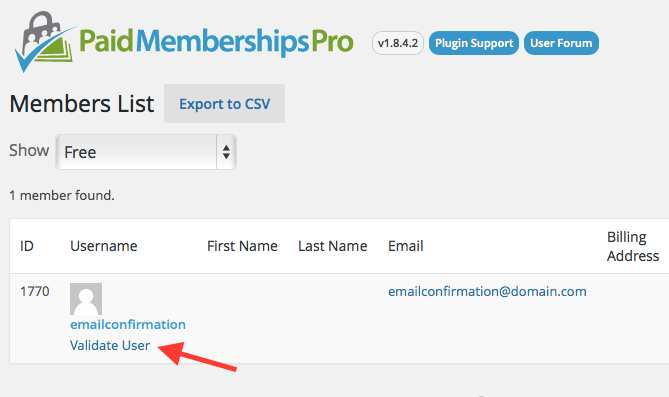 ---
Screenshot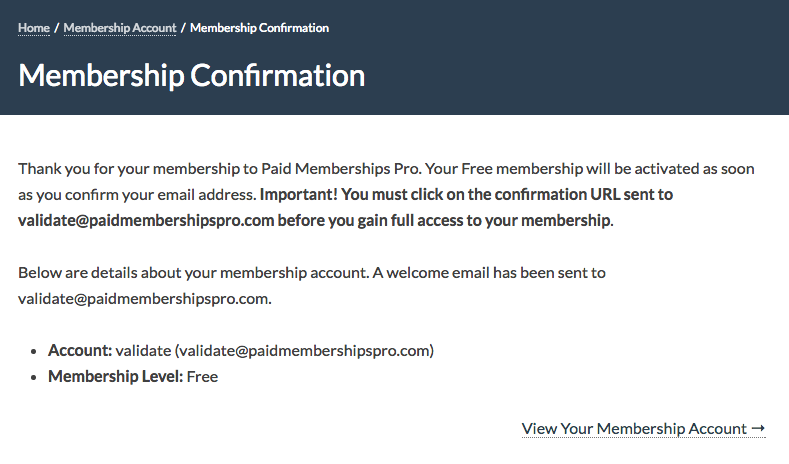 Membership Confirmation page with note to check email for validation link