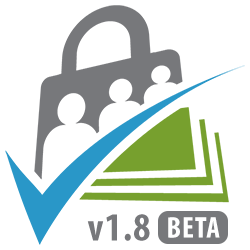 Paid Memberships Pro v1.8 is ready to download.
We're releasing the early beta version download to users on our site before making the update publicly available on the WordPress Plugins Repository.
---
Why Beta? Because it's a big update.
We've deployed v1.8 on a few closely monitored client sites and are resolving any small bugs. If you would like to be part of this beta, you can download v1.8 now.
To begin using v1.8, use an FTP client or similar tool to change the folder name of 'paid-memberships-pro' in your '/wp-content/plugins' folder to 'paid-memberships-pro-old'. Then you can upload the newly downloaded 'paid-memberships-pro' v1.8 plugin folder to that directory. Renaming the previous version simply gives you the ability to revert back if necessary.
The full list of updates and fixes is detailed below. Most important to note are that v1.8 has overhauled the integration of payment gateways. This means that gateways are now "modularized" and should make it easier for us or other developers to contribute new gateways. We'll be drafting a new doc on how to add gateways to Paid Memberships Pro shortly.
This release also offers better handling of member cancellations. There are some fixes for currency handling as well as translation/localization updates and a new German translation.
---
Finding (and squashing) bugs.
If you encounter any bugs while using v1.8, please post as comments here or on GitHub.
---
What's New and What's Updated?
ENHANCEMENT: Payment gateway classes updated so all settings and checkout fields are processed via the gateway class file. This will make it easier to maintain, update, and add new gateways.
ENHANCEMENT: Added a pmpro_after_membership_level_profile_fields hook after the "Membership Level" field dropdown on the edit profile page.
ENHANCEMENT: Added new statuses for orders when cancelled. cancelled = cancelled by user on cancel page or via gateway, cancelled_admin = cancelled by an admin, expired = cancelled via expiration script, level_change = user upgraded/downgraded to a different level.
ENHANCEMENT: All gateways use the $pmpro_currency global instead of getting the value via pmpro_getOption.
ENHANCEMENT: Changing South African Rand (ZAR) to use the symbol R to the left of prices. (Thanks, Rasada)
BUG: Fixed some translation issues on the checkout page and in level cost text. (Thanks, Jenkisan)
ENHANCEMENT: Added plural forms of Day, Week, Month, Year to es_ES translation. Other translation files will need to as well.
BUG: Fixed bug where the $short parameter of pmpro_getLevelCost wasn't shortening the output in some cases. (Thanks, Kimberly Coleman)
BUG: Fixed warning in membership dropdown on edit user/profile page. (Thanks, Thomas Sjolshagen)
ENHANCEMENT: Added German (de_DE) translation files. (Thanks, Cedros)
ENHANCEMENT: Added settings links to plugins page.
BUG: Fixed bug in Safari for iOS where checkout submission would fail after choosing "Not Now" when prompted to save the card.
ENHANCEMENT: Added user row actions to the members list and orders list in the dashboard. Add actions using the pmpro_memberslist_user_row_actions and pmpro_orders_user_row_actions filters which work the same as the core WP user_row_actions filter.
---