The holiday buying season is upon us—Black Friday, Cyber Monday and Giving Tuesday are less than 2 weeks away.
Join Jason Coleman for a webinar this Thursday, 15 November, as he sets up the Black Friday/Cyber Monday sale we'll be running for our own site later this month.
---
Live Walkthrough of the Sitewide Sales Add On
Our team worked very hard to make our Sitewide Sales Add On as easy to use as possible. But you might still have questions on the details or just need a little bit of help to get your sale ready and launched. This is your chance to see a sitewide sale setup live, ask questions, and get some hands on help with your own sale.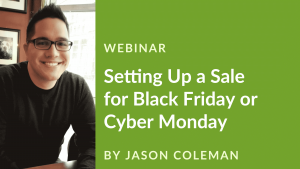 Plus and Unlimited members are invited to join us for a webinar this Thursday, November 15 at 1pm Eastern (UTC -5). The link below will redirect Plus and Unlimited members to the live webinar stream 5 minutes before the start time.
Access the Webinar
---
Webinar Agenda
During the webinar, Jason will go through setting up the very same promotion we'll be running later this month. He'll go through a few advanced customizations that might be applicable to your site or give you ideas on how to make your sale even more effective.
This webinar will be most useful for membership sites already running Paid Memberships Pro with some paying members and with an existing mailing list or daily web traffic volume to promote to. If that isn't you, you're still welcome to join in.
We hope to see many of you on the webinar ✌️