Manage Your Association on WordPress
The right association management technology fits perfectly, so your time can be spent building relationships and serving members.
Paid Memberships Pro is a membership plugin for WordPress. Our platform is used by over 100,000 member-supported organizations. If you're a large organization with enhanced needs for association management let's talk about our enterprise solution.
Connect With Our Team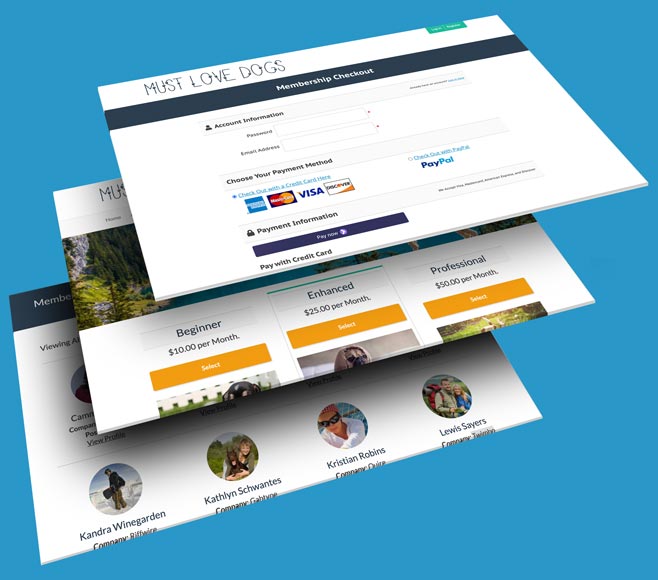 Features for Associations
Explore the top features you need to efficiently manage and grow your membership.
Member Management
Automated Renewals, Expirations, Communication
Events
Including Ticketing, Badges, QR Codes
Content Management
Members-Only Content with Fully Integrated CMS
Forums
Integrate bbPress or BuddyPress
Chapters
Multiple Tiers of an Association
eCommerce
Sell Additional Products & Services
Boards and Committees
Member Tracking and Support
E-mail Marketing
Your Preferred Platform
Invoicing and Payments
All Your Records in One Place
Membership Directory
Public or Private with Custom Profiles
Custom Data Collection
Full Member Info—No Paper Forms or Spreadsheets
Multiple Tiers of Admin
Specific Admin Access to Team Members
Pricing for Associations
Pricing is based on current infrastructure, feature needs, and size. Below are the rough estimates for establishing a new web presence or migrating to our platform.
Small Associations
From $1,500 USD
Midsize Associations
From $5,000 USD
Large Associations
From $10,000 USD
Are you a developer looking to try out our software?
Learn how to use it for free here »
Do you need to start accepting membership payments as soon as possible?
Sign up for a premium membership plan now »
Connect With Our Team
We are eager to learn about your association's goals and discuss how Paid Memberships Pro will help you achieve those goals. Click here to contact us now.
Once we review your information, we will follow up with a link to schedule a call. Please feel free to invite additional stakeholders to participate.
---
© 2022 Paid Memberships Pro. All Rights Reserved.