NEXT OPEN OFFICE HOURS EVENT
April 13th: Ask Me Anything about Paid Memberships Pro + WordPress with Kim Coleman & Kim White
Join us for open office hours on Thursday, April 13th, 2 to 3pm EST.
Join us for this open AMA event our founder, Kim Coleman, and support team member, Kim White. We'll be here for an hour fielding general questions about WordPress membership sites.
The Kims will have their development sites open for quick feature demos, but this event isn't limited to product talk—bring us any questions you have about starting and growing your membership site on WordPress.
Please use our contact form for presales questions that aren't focused on the event topic.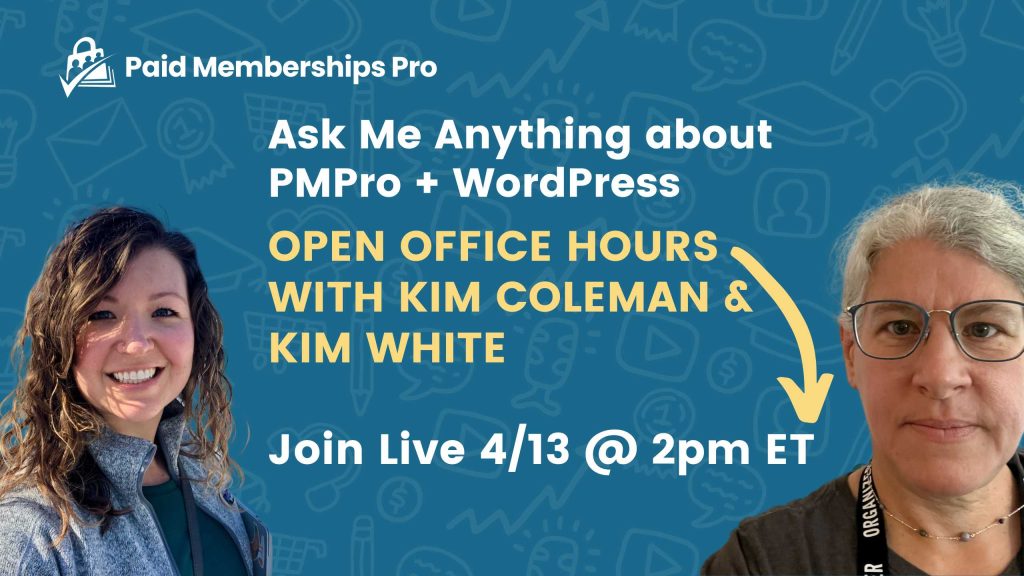 How to Join the Event
---
More Upcoming Events
April 27th: Sponsored/Group Members Add On with Jason Coleman
May 11th: Customizing the Membership Cancellation Process with Kim Coleman
May 25th: Setup Community Site from Scratch with Jason Coleman
June 8th: Gamifying your Membership Site with Mandy Jones
June 22nd: Pricing Your Membership Levels with Jason Coleman
Open Office Hours will be every 2nd and 4th Thursday of the month.
This event WILL NOT be a recorded VOD. If you want to take part, show up for the live stream.
Thursday, April 13th, from 2 to 3pm EST