If you've ever searched the internet for some niche-content, whether for entertainment or educational purposes, then there are pretty high chances you've landed on some "resource hub" requiring that you sign up either for a free or paid subscription. That ideally is a membership site.
But what's so special about membership sites, and why is it becoming a trend for both businesses and customers? We've highlighted all you need to know in this article.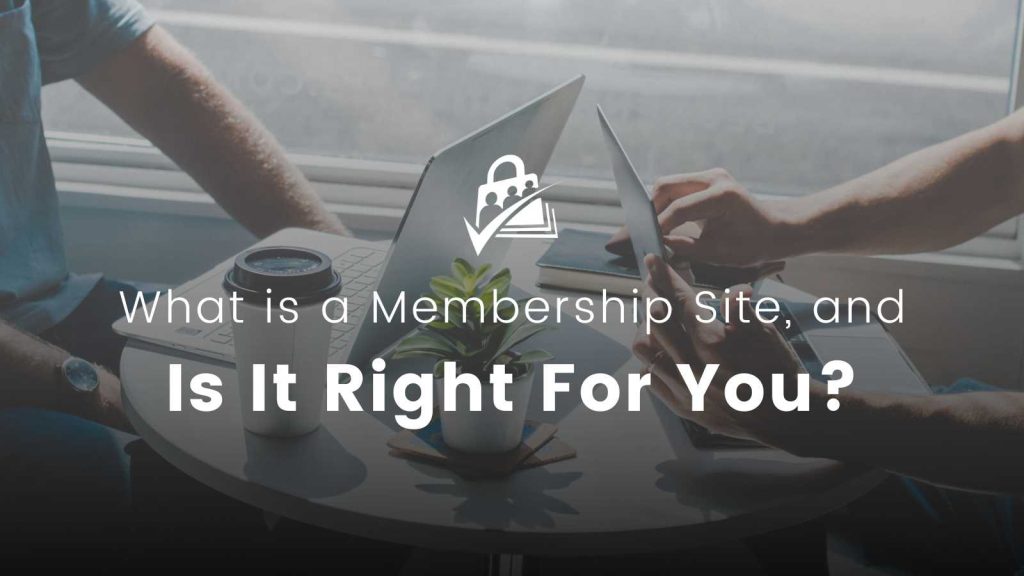 What is a Membership Site?
Assume that you create content – educational posts, entertainment videos, articles, exclusive interviews, shows, podcasts, etc., and you intend to get paid for your work. You'll need a way for your customers to pay before accessing the content – whether they are consuming or reusing it to generate business.
To achieve this, you want to partially or fully restrict content so that it's only accessible to your subscribers. These subscribers can be free or paying members, all depending on how you've set up the membership site. Keep in mind that the pricing model can vary based on what you want and offer – free, paid or even hybrid (both free and paid).
Mixing and matching free and paid pricing models is an effective way of getting your prospects 'hooked'. We've covered how to improve your sales funnel and grow membership by giving something away for free in this article.
Does it Suit Your Businesses?
Now that you know what a membership site is and how it works let's see some examples of businesses you can grow using a membership site.
Online Creative Business
Creative people and artists, such as: musicians, actors, video content creators, painters, etc., can grow and manage their fan base with a membership site.
An example is Philippe Kiener's Innerchange Documentary project that's based on the gift economy pricing model. The site uses Paid Membership Pro to organize video content and manage payments.
Educators & Virtual Trainers
If you're a professional in a given niche or are gifted with a specific talent, you can teach or share your skill sets and get your students to pay you for the time and effort.
One such business built using our PMPro plugin is Matthew's online music membership business, HowToPlayTheSax.com.
Another site is Lucca's One World One Art (OWOA) martial arts online training business, which uses PMPro to manage payments and restrict content based on membership levels.
Business Association
As business association functions and processes move online, membership sites become the go-to option in running the complex member association's requirements and technicalities.
Paid Membership Pro features premium plugins, bespoke Add Ons, and a fully-customizable interface that support a wide range of association models.
Read more here on Creating a Robust Association Membership Site on WordPress.
Free or Premium Members-Only Online Clubs
Both free and premium online clubs and organizations can grow their fan base and run operations using a membership site. For example, the Vintage BMW Motorcycle Owners Club (VBMWMO) uses PMPro to manage memberships, forums, and magazine subscriptions.
Why Membership Sites?
A membership business model has proven to be a powerful force for business growth. Here is why:
It's easy to engage your customers, and members can also create value for other members through the community. This ensures customer satisfaction, which translates to a consistent and steady source of revenue.
Predictable monthly or annual revenue is a huge benefit and helps businesses manage cash flow and plan for the future.
It's easy to target a wide range of markets with the same product or service. By creating membership levels, each with a different pricing plan, you effectively segment your target market and offer value based on what the customers want.
Simultaneously you can create a space to focus on Content Marketing.
Making it Work: Choosing the Right Membership Site Plugin/Software
When it comes to choosing the right membership site plugin, below are some factors to consider.
The flexibility to deliver any content via a membership site.
Quick & Ease of Use – minimal coding means quicker set up for the less tech-savvy users.
Timely and personalized customer support.
Flexible subscription plans to suit your membership needs.
An active and supportive community.
Automated member billing and the ease of setting up payment gateways.
Ability to customize specific member features and a business model to suit your unique needs.
Reports that can give you a Members List, Sales and Revenue; Visits, Views and Logins; and Membership Stats for Signups and Cancellations.
Ability to engage with your members. For example to gamify the membership site or adding community features.
Final Thoughts
Online presence is critical to selling your brand, and finding a flexible way to run your business is key to achieving online success. Choosing an all-around membership site plugin like Paid Memberships Pro means that you can customize it to suit nearly all the business models you can think of.
Better yet, customers are also finding membership sites convenient as all the resources they need are located in one place. The option to choose a subscription plan that suits their needs makes membership sites versatile, affordable, and customer-oriented. And with a distinct pricing plan, members can easily find value for their money.
Related Articles
Was this article helpful?