When choosing a membership plugin for your WordPress site, it can be easy to skim a list of features and pick one based on what you need right then. But if you step back and think big-picture, you can envision your membership a year from now.
How much has it grown? How much revenue does it generate? What unique experiences are you offering your members? These questions can help you select a plugin that will allow your membership to grow and flourish.
In this post, we'll compare Paid Memberships Pro vs. Restrict Content Pro, so you can consider which might be best for your membership site.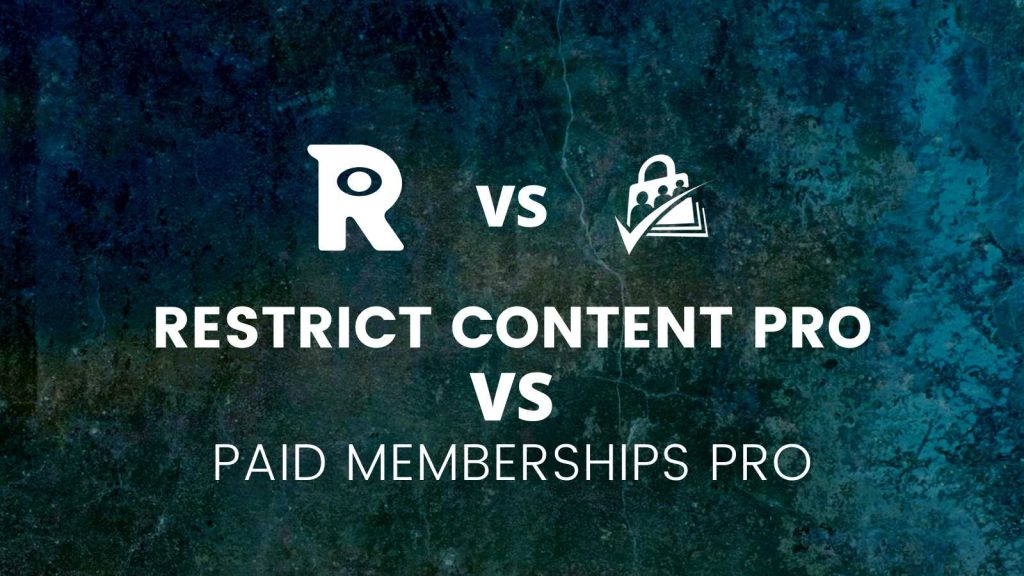 Paid Memberships Pro
While you may start your membership by offering something to your members, your offerings likely will change as your membership grows and develops. So it's essential to choose a plugin with features and Add Ons to help your membership grow. That's where Paid Memberships Pro really shines.
Paid Memberships Pro's core plugin is always free, so you can try it out and see how you like it without a major financial commitment. You can run your membership for free until you're ready for more features. The paid versions have special Add Ons and unlimited support to help you add more value to your membership, but you can always stay at the free level if you'd like.
The best part of Paid Memberships Pro is how versatile it is. You can run a simple membership or add an online course, if you want. Want to create a members-only podcast? Paid Memberships Pro has you covered. No matter what you want to offer your members, Paid Memberships Pro has the tools you need to make it happen.
Paid Memberships Pro Features
It's always a delicate balance between offering your members the experience they deserve and finding the tools you need to make it happen. Paid Memberships Pro has all the features to make your membership one-of-a-kind while also giving you the administrative tools you need to run the membership smoothly. It offers:
Content features. No matter how you want to structure your content restrictions, Paid Memberships Pro can help. Easily restrict pages, sell one-time access, restrict custom post types, or drip content to your members.
Administrative tools. This plugin takes the stress out of running a membership by allowing you to import and export members, add members manually, or assign others the role of membership manager. Plus, the administrative reports show you all your sales and signup data, so you always have an accurate record of how your membership is doing.
Site enhancements. Paid Memberships Pro allows you to grow your word-of-mouth marketing by turning your members into affiliates. And you can create sales and landing pages with built-in payment fields.
Payment options. You won't be limited to accepting one kind of payment. This plugin integrates with the top payment gateways, like Stripe and PayPal.
Paid Memberships Pro User Experience
All the features in the world don't matter if your members don't like the membership experience. Paid Memberships Pro gives members control of their own membership.
Members can log in and reset their password on their own, and access a membership account dashboard to view invoices or update their payment method. They can even cancel their account on their own if they need to. Plus, members can manage their profile information, using their preferred name or updating any other personal information.
Pricing for Paid Memberships Pro
Paid Memberships Pro offers one of the strongest, most robust free membership plugin options, with 33 additional free Add Ons. Paid versions range from $247 to $697 a year, with the most popular option being the Plus Plan, at $397 a year. Each pricing plan comes with different features, and there are even options for businesses that need to run more than one membership site.
Restrict Content Pro
Restrict Content Pro is a premium-only WordPress plugin from StellarWP that allows you to monetize access to your website's content. This plugin can create a membership or subscription or restrict content on a website.
With Restrict Content Pro, you can create membership levels, send basic member emails, and create invoices. This is a premium plugin that offers three paid versions with more features and Add Ons. You cannot use Restrict Content Pro for free.
Restrict Content Pro works great for restricting content and taking payments, but depending on the features you need for your membership, it may not have what you're looking for.
Restrict Content Pro's Features
Restrict Content Pro does just what its name says–it restricts content. There are also Add Ons that help the plugin do a little bit more.
Content features. Restrict Content Pro allows you to restrict posts and pages and create a customized message for viewers who don't have access to that content. But if you want to drip content, you'll have to get the paid version.
Administrative tools. If you want detailed reports about sales, you'll need the paid version of Restrict Content Pro.
Site enhancements. There's a pro Add On for site creation to sell access to sites within a multisite network.
Payment options. You can accept manual payments or use Stripe or PayPal.
The Restrict Content Pro User Experience
Restrict Content Pro gives members access to a dashboard to manage their accounts. Prospective members can have a free trial membership before they make a full purchase.
Restrict Content Pro Pricing
Restrict Content Pro gives you access to 34 Add Ons that help you create a more unique experience. You can buy one site license of Restrict Content Pro for $99 a year, and get five site licenses for $149 a year. The unlimited plan allows you to create unlimited restricted websites for $249 a year.
Paid Memberships Pro vs. Restrict Content Pro
Wondering how Paid Memberships Pro stacks up against Restrict Content Pro? Check out this table that compares the two plugins.
| | Paid Memberships Pro | Restrict Content Pro |
| --- | --- | --- |
| Cost | $0 – $697 | $99 – $249 |
| Customization | Multiple membership tiers, customizable membership trial periods, customize membership renewal dates, custom member homepages | Content restriction, unlimited membership levels, basic member emails, member dashboard |
| Data and Reporting | Sales and revenue, signups and cancellations, member visits and logins, order management | Reporting by time period |
| Integrations | WooCommerce, BuddyPress, BuddyBoss, bbPress, Mailchimp, Zapier, Social Login, Events Manager, The Events Calendar, Sugar Calendar, All-in-One Event Calendar. View all 55 integrations » | WooCommerce, MailChimp, ActiveCampaign, AWeber, ConvertKit, and Campaign Monitor |
| Administrative Tools | Manually add members, import and export members, assign a membership manager manager, tax handling | CSV user import, member management dashboard |
Who Should Choose Paid Memberships Pro?
If you're interested in building a membership site that grows with your business, Paid Memberships Pro is for you. The free plugin is more robust and customizable than most others on the market, allowing you to customize your membership in many different ways.
If you'd like to see how other business owners use Paid Memberships Pro, check out our Case Studies.
Ready to migrate to Paid Memberships Pro? We have several guides on how to safely migrate an active membership site and maintain payments. Check out this specific guide on how to migrate from Restrict Content Pro.
Was this article helpful?