If you've ever monetized a WordPress website, chances are you've heard of WooCommerce. No matter what product or service you're selling, WooCommerce can help you build an e-commerce store. And with the WooCommerce membership extension, you can build a membership website. But how does WooCommerce Memberships stack up against Paid Memberships Pro?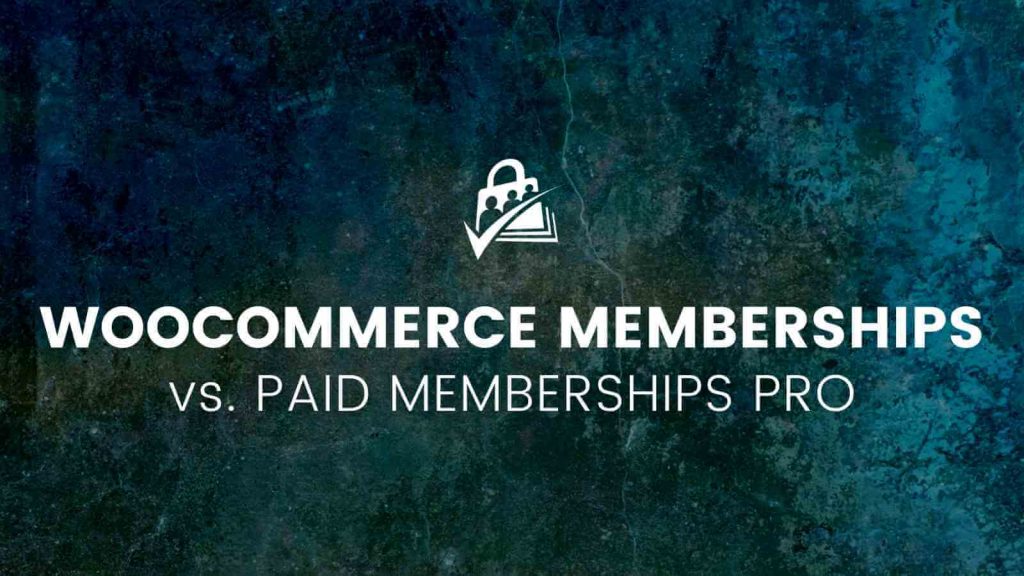 Paid Memberships Pro
Paid Memberships Pro is a WordPress plugin that helps you build a membership site. It doesn't matter if you have a professional organization, a non-profit, or an exclusive content subscription, Paid Memberships Pro has the features to work with your membership. With more than 65 Add Ons to modify how your membership functions, PMPro helps you add an online community, an e-course, or even integrate the email marketing platform you already use.
Paid Memberships Pro Features
With all the Add Ons available with the Paid Memberships Pro plugin, you can create a truly unique experience for your members. If you want to create an e-course with a community component, you can. If you'd like to create a paywall for your content and give special bonus content to your members, you can. Are you a creator who has tried platforms like Patreon but you don't like the interface or the fees? Using Paid Memberships Pro, you can create member tiers that function just like Patreon subscriber tiers and drip content to the correct tiers.
Paid Memberships Pro has tons of features that make it easy to take payments from various gateways and see reports of how often your members access the site and what they view. Basically, if you have an idea for it, Paid Memberships Pro can help you make it happen and make it profitable.
Paid Memberships Pro User Experience
Do you want your members to feel like they're getting something they can't get anywhere else? With Paid Memberships Pro, you can create a truly unique user experience. You can design custom member homepages based on their membership tier. Users can manage their own profiles, which means they can reset their own passwords or update their payment methods. You can even create a members-only directory so your members can find out more about each other and reach out using the community add-on.
Paid Memberships Pro Pricing
The cool thing about Paid Memberships Pro is you can use it for free. And the free tier is always free, not just a free trial period. But if your membership grows and you need access to more features or add-ons, there are three pricing plans, with the Plus plan ($397/year) being the most popular. Each plan comes with beneficial features to help you get your membership off the ground.
WooCommerce Memberships
WooCommerce is an e-commerce plugin for WordPress sites. WooCommerce Memberships helps you create membership tiers on your WooCommerce site. You can create paid or unpaid memberships, offer trial periods or members-only discounts or hide content from specific tiers. If you want to enhance the base plugin's functionality, there are also many paid extensions you can add.
Features of WooCommerce Memberships
Out of the box, the WooCommerce membership option doesn't have a lot of features. If you want to do more than create membership tiers, allow customers to pay for their membership, create members-only discounts, and hide content from specific tiers, you'll have to pay more for extensions.
So, for example, you need WooCommerce Membership to protect access to items you want to use for a one-time membership payment. WooCommerce Subscriptions is necessary to sell recurring subscriptions and links to memberships. And, if you want to offer courses, you need something like Sensei Pro.
User Experience in WooCommerce Memberships
You can create a customized, unique experience for your members using the WooCommerce plugin, but it's difficult to say what that will look like. Because the features you need to run a membership are in separate plugins, there's no telling how everything will work together.
As many WordPress users know, having more than one plugin for a specific task activated at any given time can spell disaster for site loading times and functionality. You'll pass those frustrations on to your members.
WooCommerce Memberships Pricing
The app is $199 a year. But again, that's for the plugin's basic functionality. If you want to have the ability to take recurring subscription payments, you'd also need to add WooCommerce Subscriptions, which is also $199 a year. To run an e-course on your platform, you'd also find yourself paying $149 a year for Sensei Pro.
Unfortunately, when it comes to the cost of modifying the WooCommerce option to work for you, there's no telling how expensive it can be.
Paid Memberships Pro vs. WooCommerce Memberships
Wondering how Paid Memberships Pro stacks up against WooCommerce Memberships? Check out this table that compares the two plugins.
| | Paid Memberships Pro | WooCommerce Memberships |
| --- | --- | --- |
| Cost | Free to $697 | $199 for the basic plan |
| Customization | Multiple membership tiers, customizable membership trial periods, customize membership renewal dates, custom member homepages | Multiple membership tiers, trial periods, content restriction |
| Data and Reporting | Sales and revenue, signups and cancellations, member visits and logins, order management | X |
| Integrations | WooCommerce, BuddyPress, BuddyBoss, bbPress, Mailchimp, Zapier, Social Login, Events Manager, The Events Calendar, Sugar Calendar, All-in-One Event Calendar | WooCommerce Subscriptions ($), AutomateWoo ($), All Products for WooCommerce Subscriptions ($), Sensei Pro ($) |
| Administrative Tools | Manually add members, import/export members, membership manager | Sell or assign memberships, edit member plans, import/export members |
Key Differences Explained
On its own, WooCommerce Memberships can't do much. The free version of Paid Memberships Pro offers many features and functions without the need to purchase expensive, individual plugins. Worse yet, purchasing a la carte plugins from multiple developers means that they might not always play nicely together. To get the functionality of the free Paid Memberships Pro plan using WooCommerce, you'd pay more than $500 a year. And that price is just for one website.
Because Paid Memberships Pro has all the features in one place, you don't have to worry about hitting the WooCommerce extensions store whenever you want to enhance your membership. And because Paid Memberships Pro is compatible with Zapier, BuddyPress, and plenty of email marketing platforms, you know how everything will interact when your membership is up and running.
It's worth noting that Paid Memberships Pro is compatible with WooCommerce. You can use WooCommerce if your members can't use the payment gateways already available with Paid Memberships Pro. You can also use WooCommerce to offer product discounts to your members.
Ready to Build a Customizable Membership?
Sign up with Paid Memberships Pro today and check out all the free features for yourself. Whether you want to create an e-course, a website for a professional association, or you simply want to create more engagement for your company with community capabilities, Paid Memberships Pro can help.