How it Works
The add on will add "pay by check" as an option on membership checkout for the levels that allow check payment.
If a user selects to pay by check, they will see the instructions for making payment by check on the checkout page and the membership confirmation page/email. The order for their membership will be set to the "pending" status. This will block that member from accessing content until the payment is received.
Members whose order is set to the "pending" status will see the following non-member-text notice when trying to access members-only content.
The message can be filtered using the gettext filter in WordPress.
After you receive payment, the admin will edit the order to change the status to "success", which will unlock the member's access. An email is sent to the user when the order is updated and their membership is activated.
---
Video Demo
Installation
PMPro Plus members can install the add on via the Memberships > Add Ons admin page.
Or, download the plugin file and upload the 'pmpro-pay-by-check' directory to the '/wp-content/plugins/' directory of your site.
Activate the plugin through the 'Plugins' menu in WordPress.
---
Setup the Pay by Check Gateway
Navigate to Memberships > Payment Settings in the WordPress Dashboard.
Change your Payment Settings to the "Pay by Check" gateway and make sure to set the "Instructions" field with instructions for how to pay by check.
Save the changes.
On the same page, change the Payment Settings back to use your gateway of choice.
Save the changes.
Behind the scenes the "Pay by Check" settings are still stored.
---
Level Settings for Pay by Check Option
Change these settings to allow or disallow the pay by check option for this level. Repeat these steps for each level you offer.
Navigate to Memberships > Memberships Levels > Edit Level (select one) in the WordPress Dashboard.
The section "Pay by Check Settings" has several options:

Allow Pay by Check
If the level has a Recurring Subscription, the following settings are also available:

Send Renewal Emails (set days before renewal)
Send Reminder Emails (set days after missed payment)
Cancel Membership (set days after missed payment)

After changing the level's settings, save changes.
---
Screenshots
Edit the membership level settings for Pay By Check options

Member can select "Pay by Check" at membership checkout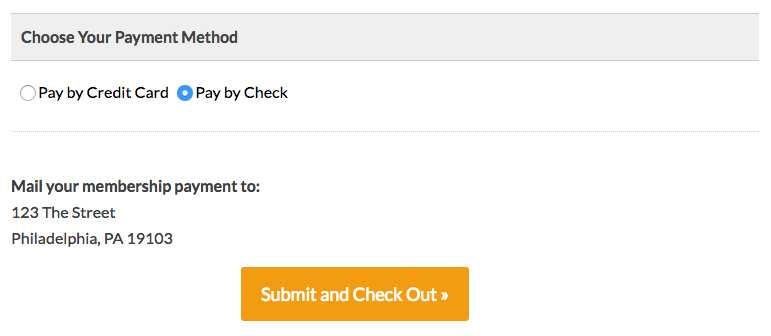 ---