Wouldn't it be great if you could have a one-on-one conversation with every single user of your membership site?
For website owners, growth is a double-edged sword. On one hand, you have an opportunity to grow your user base and recurring revenue. On the other hand, it's difficult to provide a personal experience to each individual who visits your site.
The solution? Podcasting.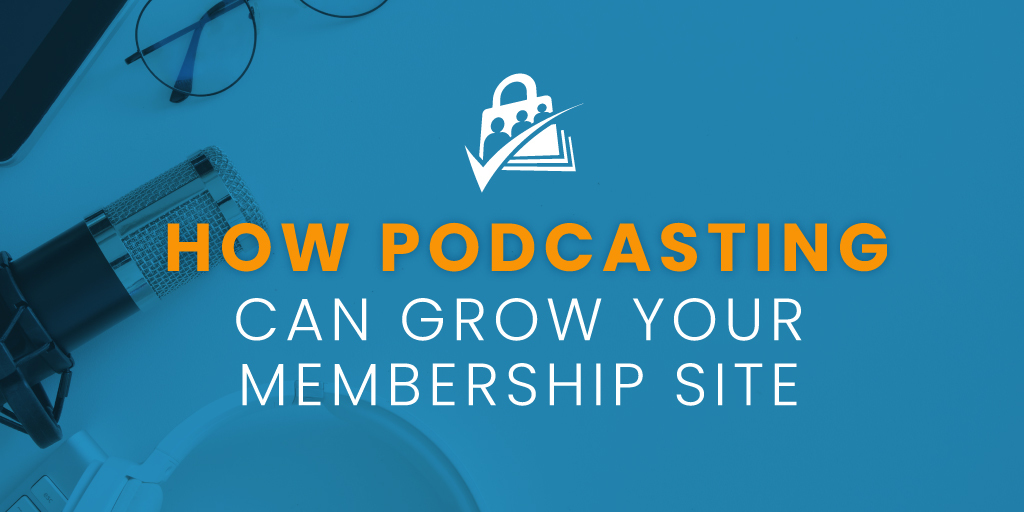 The modern equivalent of traditional radio programs has rapidly grown in popularity in recent years — research from Statista shows that 88 million Americans downloading their favorite podcasts. And that number is expected to surpass 160 million by 2023. 
With all those listeners, it's unsurprising AdStage found podcasting to be the second most effective form of advertising. It's surpassed Facebook, Twitter, and Instagram.
Did that grab your attention?
Continue reading to learn more about the unique benefits of podcasting and how it can help you grow your membership website.
The Basics of Podcasting
Podcasting was previously known as audio blogging. According to Podcast.co, the process of sharing a digital audio file online has roots dating back to the 1980s.
Then, broadband Internet access spread rapidly. Portable digital audio devices became more accessible — most notably, Apple's very first iPod in 2001. And by 2004 the podcasting industry started to take off.
Now, thousands of podcasts are released every week, covering just about any topic you can imagine. Typically, creators will launch their show with plans for a long-term series. They'll regularly release new installments on platforms such as Spotify, Apple Music or on their website.
Themes and discussions can vary greatly, but most maintain a steady premise, like coverage of a sports season or educational lessons on a chapter of history. The beauty of a podcast is it can be about anything you and your listeners are passionate about.
Podcasts have continued to increase in popularity. This is at least partially due to their more intimate nature. Audiences can connect more directly to content creators, as compared to alternative mediums, such as videos and articles.
As the world becomes busier, podcasts have become more relevant than ever. Respondents to a survey from NPR and Edison Research list the ability to multitask while listening to their favorite podcast as a leading motivator to tune in each week. They also cited an interest in learning as well as the fact that the format usually lends itself to higher quality.
As a membership site owner, you're already ahead of the game when it comes to creating podcasts. You probably offer a mixture of premium content across different mediums already.
So, why add podcasting?
Since it is audio-based, there are some unique features that will empower you to achieve your membership site goals.
The Power of Podcasting
Podcasting is a modern version of humanity's oldest pastime: storytelling.
Like storytellers around the fire or kitchen table, podcasters create a human connection to their audience. The easy-to-listen-to format gives people the sense they are in the room listening in on a conversation. This informality is especially helpful for learning about more complex topics.
Podcasting also grants creators an opportunity to engage and grow their subscriber base. You'll attract listeners looking for the community you serve. And, if you've already built your membership website, you can direct your podcast listeners to explore your website. There, they'll find additional relevant content and users that share their interests.
Another major benefit of the audio-based format?
It can capture your audience's attention much longer than other mediums.
In a study by Edison Research, they found over 50% of podcast listeners consume an entire 40 minute (on average) episode in one session. According to DataBox, the ideal word count of a blog post is 1,500 words — that's a mere seven minutes spent reading an article.
Edison Research also discovered more than half of listeners are more likely to consider the brands advertised on their favorite podcasts.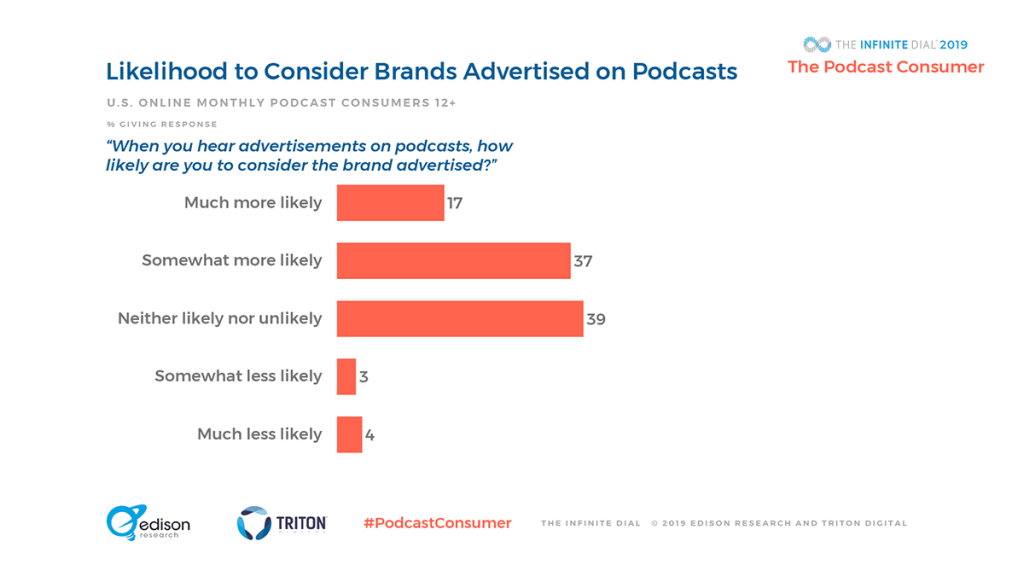 Your existing members are already advocates of your mission and trust your point of view. You can leverage your authority with your audience to obtain sponsorships and partnerships with quality brands. This can lead to additional revenue for sales made through your show.
Whether you're pitching your products or an affiliate's, advertising on a podcast can generate more income than other mediums.
The benefits of creating a podcast are clear. As a membership website owner, the audio format is another tool for connecting with your users and differentiating yourself from other sites.
How to Get Started in Podcasting
Fortunately, if you want to start a podcast, the barriers to entry are surprisingly low:
Start with any free recording and editing app to create the first episodes of your show.
As time goes on, look into more professional equipment to improve your sound quality. But don't spend too much money if you're just getting started.
Decide which podcast hosting platform will store your audio files. The host will provide everything else you need, including an RSS feed, which is a list of links to each episode and other details like your title, description, and image.
A word of caution: If you plan to have a paid or members-only podcast, make sure the hosting provider has private podcasting features. Unfortunately, this structure will bar you from some of the most popular channels, including Apple and Spotify.
Whether you're repurposing your written content or creating something entirely new, there's no shortage of creative freedom when it comes to what you talk about on your podcast.
Grow Your Membership Site Through Podcasting
In the competitive world of members-only content, a podcast will help differentiate your brand, grow your revenue stream, and appeal to a wider audience than ever before.
If you're ready to create your podcast, check out Castos' article on the steps to take. The podcast hosting platform also offers a WordPress plugin, Seriously Simple Podcasting, which will simplify the process.
Whether you're adding a podcast as a feature of your existing membership site or have a free podcast you want to monetize, PMPro has all the tools to help you level up your podcasting business.
We know that a WordPress site has tons of moving parts. Choosing the right plugins, themes, hosting, third party services, design assets, and more can feel overwhelming.
Paid Memberships Pro is the most robust membership plugin to create a free or paid podcast on WordPress. Learn exactly what you'll get — the plugins, the support, and the training — when you create a private podcast with Paid Memberships Pro.
Was this article helpful?