Today's content creators have more publishing tools available to them than ever before. From blogging to tweeting, and everything in between, all you want is to reach your audience in a meaningful and personal way. Have you considered the benefits of podcasting?
Podcasting is today's hot method of publishing online, and the researchers at Statista estimate the number of podcast listeners will nearly double in the next three years. If you are considering a podcast for your online business, keep reading to explore the key benefits of podcasting for a membership site.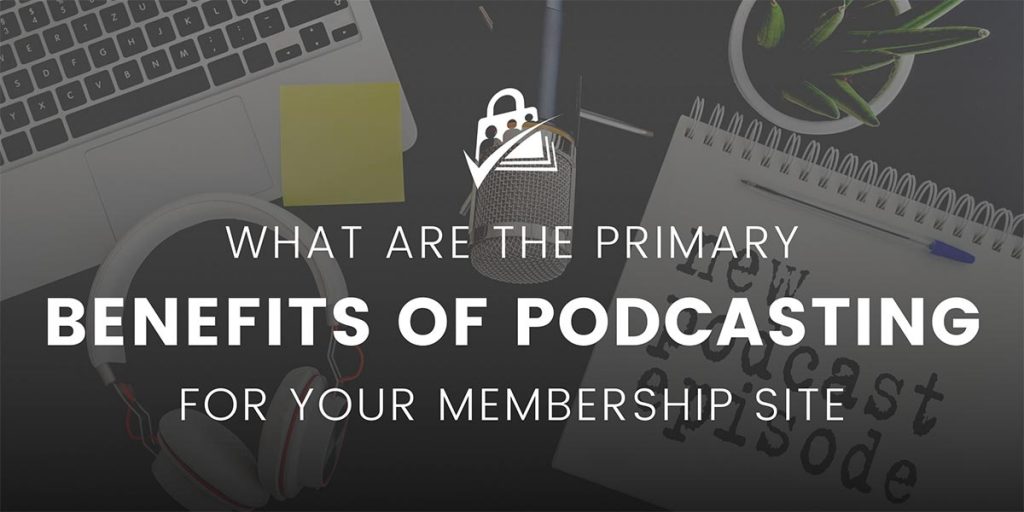 ---
The Benefits of Podcasts for Membership Sites
Guided by a host's voice, podcasts help transport people to new worlds through stories and interviews. It is a more intimate connection compared to articles and videos, and that closeness provides benefits unique to podcasting.
As a membership site owner, you already understand how to use different mediums to distribute your lessons and content. Podcasts offer distinct advantages as an audio-only channel, including:
Use your podcast to earn more money through upsells, affiliate revenue, or advertising income.
Build a larger audience by reaching people on platforms like Spotify and Apple Podcasts.
Differentiate yourself from the competition that only publishes written content or videos.
Here's how creating a podcast for your membership site can help you get ahead.
---
Create More Personal Connections
There is a reason human beings have shared stories as a primary method of communication. It is the easiest and best way to bring people together. Stories are intimate and help people understand complex topics which, as a result, can invoke emotions in ways other types of communication fall short.
Like storytelling, podcasts share many of the same strengths in building connection. The Podcast Consumer Report found that over 50% of podcast listeners consume an entire episode. Given the median length of an episode is 38 minutes, people are willing more of their time to be captivated by a host and listen to an entire story. Compare that statistic to the ideal length of a blog post, for instance, which Medium's Data Lab recommends a reading time of just 7 minutes.
Podcast hosts can use this engagement to their advantage by creating more personal connections with an audience. In addition, you have their attention for a longer period of time and can use that time to get more of your message across.
---
Lower Barriers to Entry
Publishing multiple articles and recording lengthy videos each week can take a lot of time and, in some cases, some pricey equipment. For high-quality video production, you will need to make an investment in both hardware and software. Writing well researched, search engine optimized content for your membership site may not require financial investment, but often requires deep skills and experience.
A podcast can be started with just two things (and you already have one of them).
Record your podcast with your smartphone. Use any free voice recorder app (or pay $10 for the Backpack Studio app for a seriously professional sound).
Publish your podcast with any podcast hosting provider like the ones recommended in this comparison guide.
With just these two things, you can launch a free, publicly available podcast that engages with potential members and advertises the benefits of your membership. If you plan to have a paid or members-only podcast, however, make sure the hosting provider has private podcasting features. This will allow you to restrict who has access to the episodes. If your podcast is for members only, you will not distribute the show to Apple Podcasts or Spotify like traditional public podcasts.
---
Increase Revenue through Podcasting
A podcast listener is a different type of consumer who makes more intentional purchasing decisions. According to the Podcast Consumer Report in 2019, 54% of listeners say they are more likely to consider a brand that is advertised on a podcast. But as a membership site owner, you can flip that statistic on its head.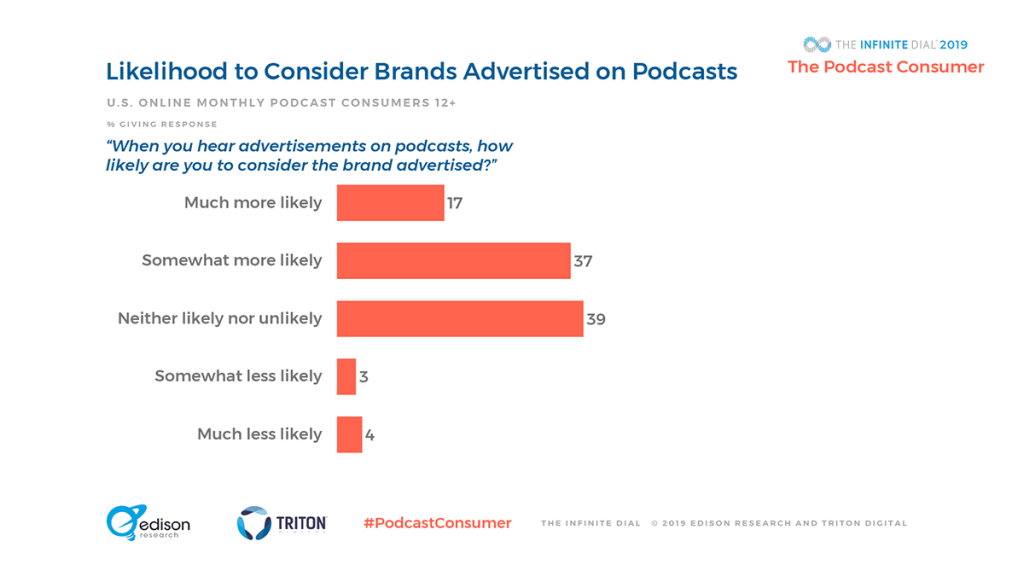 Your members are already advocates of your mission and trust your point of view. Combine this close relationship with an increased likelihood to purchase products you suggest and you have a strong money-making machine. Whether you are pitching your own upsell products or an affiliate's products, advertising them inside a podcast can generate more income than other mediums.
---
Differentiate Your Membership Site
We all learn differently and have different preferences for what we like to consume. Articles versus videos, podcasts versus TV series, they all serve their own purpose. Compared to written content and recorded videos, podcasting is a relatively new medium many content creators have yet to embrace.
Creating a podcast now means you will get into the game early, ahead of other communities in your market.
Since podcasting is still a fairly new medium, there aren't any rules you have to play by.
Create any length episode any length you want.
Ditch the traditional interview style and make your own format.
Repurpose your written content into epic audio sagas.
In the competitive world of members-only content, adding a podcast to your membership site will help differentiate it from the competition. In addition, a podcast will help you appeal to a broader audience including auditory learners, people on the go, and anyone who just loves podcasts.
---
The benefits of podcasting come with little downside, so what are you waiting for?
If you are convinced podcasting is worth a shot, now is the time to start recording. The people at Castos have an excellent article on how to start your podcast. Castos is a podcast hosting platform that also offers a WordPress plugin. Check out Seriously Simple Podcasting, which you can download from the WordPress.org plugin repository.
Jason and Kim, co-founders at Stranger Studios/PMPro, are using Castos for their own new podcast, That Talking Thing. Check out the early episodes where we talk about family, work, and life at the Stranger Studios website.
PMPro Editorial Staff
Editorial Staff at Paid Memberships Pro is a team of WordPress membership site and online business experts led by Kim and Jason Coleman. Trusted by over 350,000 readers worldwide.