People tend to join memberships for the sense of belonging, not just the content itself. That means they're looking to feel like they're a part of something.
One of the best ways to create this feeling is to reward loyal members with gifts—or "swag". But what types of swag should you give your members?
In this post, we've put together 8 swag ideas that are sure to delight your members.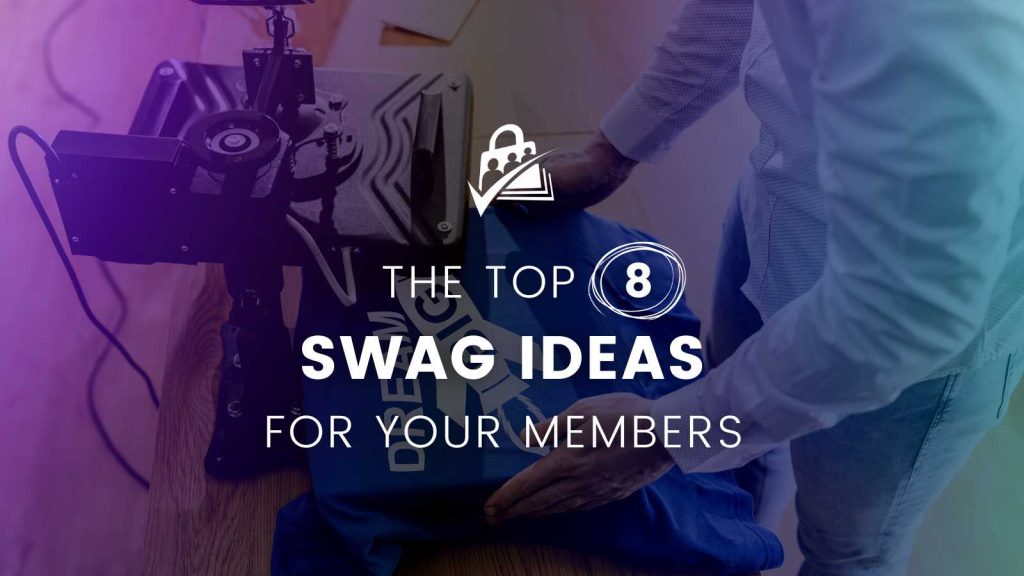 Why Give Swag to Your Members?
Swag isn't necessarily free, so why should you bother incurring this extra cost? Here are just a few important reasons:
Member experience is everything. Nurturing member retention is key to long-term success with memberships. When you create a superior member experience, you increase member retention.
Physical gifts are rare these days. In an increasingly virtual world, it's rare for digital brands to provide useful and meaningful physical experiences. This makes physical gifts more unexpected and special—and a great way to set your membership business apart from the competition.
Branded swag is free advertisement. Plus, it also keeps your brand at the top of the customer's mind every time they see it or use it.
Mailing addresses = marketing demographics. Physical location information contributes to the demographic information that can help you better understand your audience.
A Quick Word About Expectations
When you give out swag to your members, it's best if you don't expect anything in return. Even in cases when you're using swag to incentivize new signups or make new members feel welcome, try to avoid attaching expectations to the outcome.

Remember: Swag is a way to reward your members and show them your appreciation, not necessarily a way to get something from them.
Some members may be delighted to receive free items and may express their gratitude or excitement. Other customers may not be as interested in the swag, or may not respond at all.
Ultimately, the response you receive will depend on the customers you target and the quality of the swag you provide.
8 Swag Ideas for Your Members
1. Company Branded Swag
Best for: Associations, all types of memberships.
These are the classic types of gifts that probably come to mind when you think about "swag," but they're all great tried-and-true options.
Some common examples of branded swag include things like:
Hats
Stationery
T-Shirts
Notebooks
Pens
Tote bags
Run an association website? Tote bags are an absolute classic swag item.
A word of caution: Apparel can be tricky if you don't know what sizes your members wear—unless your membership collects this data (as is often the case with fitness memberships, for example).
2. Lifestyle Swag
Best for: Niche-specific memberships, like fitness, technical, or artistic/creative memberships.
Appeal to the lifestyles of your members with things that are useful to them in their everyday lives.
For example, if your members mostly work from home, consider giving them:

Tech accessories like USB drives, adapters, and mousepads
Home items such as coffee mugs and figurines
Desk accessories, such as notebooks and pens
Or, if your members are particularly active, or focused on fitness or the outdoors, you might give them:
Gym accessories like bags and water bottles
Hiking gear
Camping products
Are your members on the move? They might love travel accessories like:
Luggage tags
Travel cases
Car accessories
What about health and wellness fans? Delight them with self-care swag like:
Spa products
Candles
Reed diffusers
Sleep masks
3. Membership Bonus Swag
Best for: Online courses and skills-based memberships.
If you want to increase the value of your membership while enticing new members and rewarding loyal ones at the same time, consider giving away bonus swag. This should be an item that complements your membership experience.
For example, do you run an online course membership? Entice new students with planners, desktop accessories, or a framed certificate upon course completion.
Let's say you run a graphic design membership. In this case, you could give your members graphic assets such as stock photos, vectors, or presets.
If your membership is centered around cooking or baking, you could give your members kitchen accessories that help them succeed with your recipes.
4. Consumable Goodies
Best for: Everyone!
It's the kind of gift everyone loves! Consumable goodies are sure to please new and existing members alike, but they're especially effective as loyalty rewards. Coffee and wine are becoming increasingly popular when it comes to swag, and other treats like chocolates are also an option.
Just be sure to find out about food sensitivities if you want to offer this kind of swag!
5. Digital Swag
Best for: Members in different countries, tech people, remote workers.
While physical gifts can be unique and personal, swag doesn't have to be physical! Digital gifts can be just as effective.
Good examples of digital swag include:
Gift memberships (for example, one free fixed-time membership invite for a friend)
Discounts on your membership, related products and services, or partner businesses
Exclusive access to companion services
6. Signature Swag
Best for: Memberships that feature a signature method or product.
Does your membership content center around a patented method or signature product? Giving it to your members can do wonders for member engagement.
Here are a few examples to illustrate:
Your online cooking course membership videos feature your own physical recipe book and branded kitchen knife, so you gift one or both of these items to your most loyal members or anyone with a premium subscription.
Your membership involves a variety of digital downloads and software presets, so you give your new members a "starter pack" of your signature content to help them get up and running
You run a crochet or sewing membership, so you give members a PDF including your most famous patterns
7. Seasonal or Holiday Swag
Best for: Seasonally-focused memberships, DIY memberships, kids memberships.
Are your members particularly festive or interested in seasonal moods or activities? Appeal to this sensibility with seasonal or holiday swag.
For example, maybe your members are:
Students, So you could give them "back to school" swag.
Military veterans, so you send special swag for Veteran's Day.
Winter sports enthusiasts, so, you send them some swag that celebrates the arrival of winter.
Gardeners, so you send out spring-focused swag.
Online dating participants, so you send them swag for Valentine's Day.
Creative kids, so you send them a seasonal game or some holiday-related art supplies.
Business owners, so you give them a tax-time survival kit.
Health and wellness-focused people, so you send them a New Year Transformation guide.
8. Kid and Pet Swag
Best for: Family-oriented memberships, animal-focused memberships, any other type of membership.
Even if your members themselves are not particularly interested in swag, they may be delighted to receive swag for their kids and pets—who are often at the center of their lives.
For example:

Dog treats
Plush toys
Coloring books for kids
Fidget toys
Puzzles and brainteasers
Family or pet-themed photo frames
Personalized mugs, keychains, and other accessories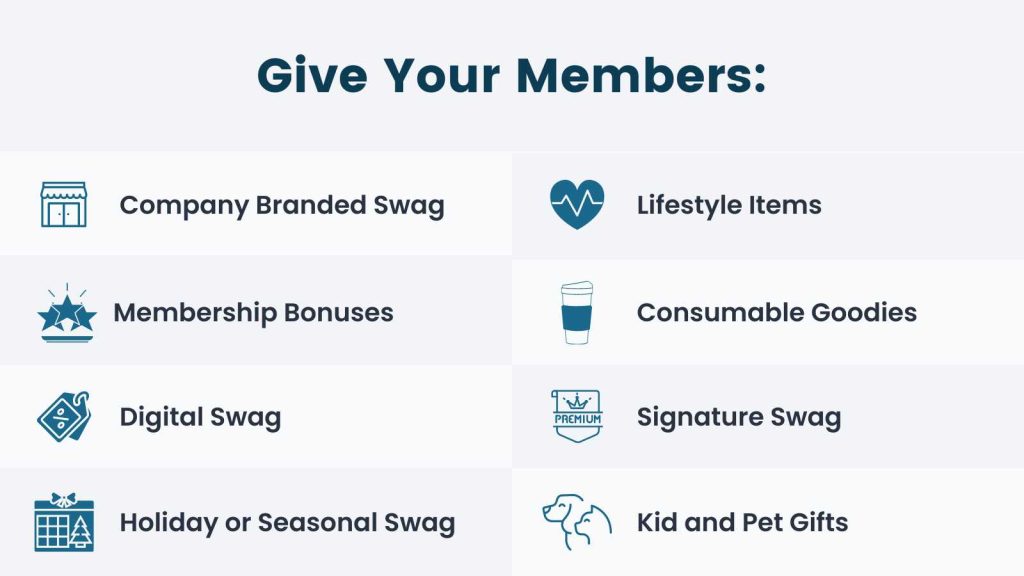 Things to Consider When Choosing Swag
How do you know which kind of swag is best for your business and your members? Here are three qualifiers to help you figure it out.
Your swag should be something that:
You can afford. Your swag should not break the bank, so choose something that is within your budget. Costs will vary depending on what type of swag you send (type, quantity, size, and weight), the location of your members, and the shipping method you choose. Be sure to shop around and compare prices from different carriers to find the best option for your needs and budget.
Your members will like. You know your members best! So choose something that you know they will like, based on their demographics, behaviors, and preferences. Is it worth sending swag that isn't going to delight your members? Save your time and money for something that will.
Something that represents your brand. The swag you choose should be appropriate when it comes to how you want to present your brand. There's a spectrum between novelty and utility!
Inspired? Time to Get Your Swag On!
Here are a few more tips to keep in mind when it comes to sending swag to your members:
Personalize whenever possible. Personal touches create a superior member experience. Even if the swag item itself isn't personalized, you can include a handwritten note or postcard that adds a human element.
Balance your swag efforts. Loyal long-time members should absolutely be rewarded, and new members should get to experience the joys of swag, too. First impressions count, so consider including swag in your onboarding strategy to inspire and engage new members.
Use swag to create inspiration within your membership. From member onboarding and nurturing your members to member retention, swag can be used strategically to motivate members to complete content, renew their memberships every month or year, and stick with you for the long-haul.
Don't be afraid to get creative! Sometimes, there's nothing standard at all about swag. You can be as unique as you like—hey, maybe obscure is your style. 🙂 If you're crafty, you can even make your own swag. This can be as simple as getting a heat press and Cricut, or using a print-on-demand service like CustomInk or Printful if you don't want to keep inventory.
Looking for additional ways to create a meaningful member experience? Upgrade to a Paid Memberships Pro premium plan and get access to Add Ons that help you create personalized profile pages, nav menus, and more.
Was this article helpful?