By now we hope you've seen that WordPress has released its latest version, 4.9.6. As we inch ever closer to the much awaited WordPress 5.0 with its new editor, we all need to prepare for an even closer, and perhaps more consequential, deadline, i.e. 25 May 2018. On that day the grace period for the European Union's resolution instituting better privacy standards will end. The General Data Protection Regulation (GDPR) demands that site administrators, as well as all parties involved in the production of a site, pay careful attention when handling user data, as well as make accommodation for a user's data to be exported or erased upon request. In what follows, we'll outline the changes in WordPress core to assist you with attaining compliance, how Paid Memberships Pro will integrate with core processes, and discuss the implications of the new regulations for site owners, administrators, designers, and developers.
The WordPress core updates with new functionality supporting GDPR are in the wild. Paid Memberships Pro will be launching updates this month that also help your site meet the new privacy regulations.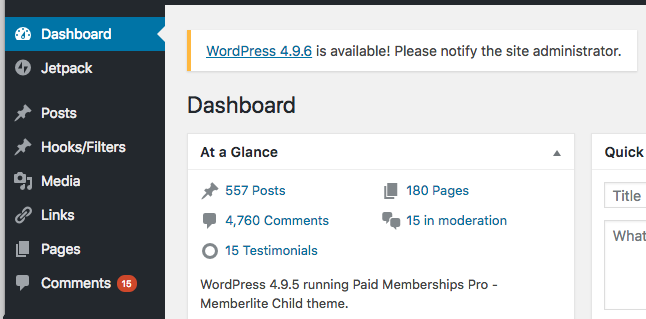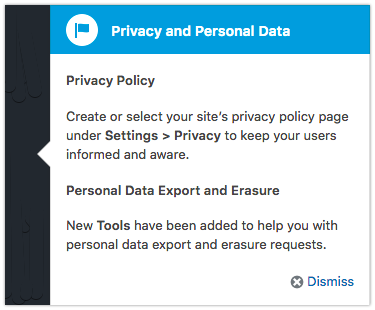 Ahead of those updates here are three things you can do on your site to get ready.
Identify the Data
The first step is to identify what user data you collect, where it is stored and how it will be used. On your membership site you want users to know you store their name (if you use the Add Name to Checkout Add on), email, username, their registration date, and user ID.
Paid Memberships Pro does not store any credit card information, but if you are using a processor like Authorize.net you may also be collecting and storing address details on your site.
There are several areas on your site you will want to check. As a membership site running Paid Memberships Pro, take a look at your Add Ons. All of the following Add Ons available to Plus members track user data in some way. If you are using them you will may need to notify users of what is being tracked and why.
Affiliates: Lightweight Affiliate Tracking Add On
Better Login, View, Visits Report
Member History
Download Monitor
Failed Payment Limit
Limit Post Views
Any social functionality like BuddyPress
Update Your Privacy Policy
The new regulations state policies should be clear and easy to understand. After you identify what data is collected and stored, update your policy by removing legal jargon and making sure to place the policy in your main navigation and/or footer area. It's also a good idea to add this to the custom home page or member dashboard if you are utilizing that functionality in your UI.
https://monosnap.com/file/i7F9XdTTQDaRfOtGfcUav3wSz8QdQ0
If you are not using one, you should also include a Terms of Use that outlines what user information is required to use the site. Under GDPR a user has the "right to be forgotten" but being forgotten may preclude them from using the site.
Then make sure you get users to opt-in by activating the Require Terms of Service on Sign-up Feature. It adds a check box to your checkout page that users are required to give their consent in order to process their membership.
Encrypt Your Database
Insert Copy Here
Once you have everything in place, don't forget to email your members to let them know of the enhancement that are taking place on your site. Outlining your organization's committment to keeping their data secure and safe will generate a sense of security and goodwill that can't boost retention.
The Process
As it stands right now, WordPress does not yet provide a user-facing method for requesting data export or data erasure.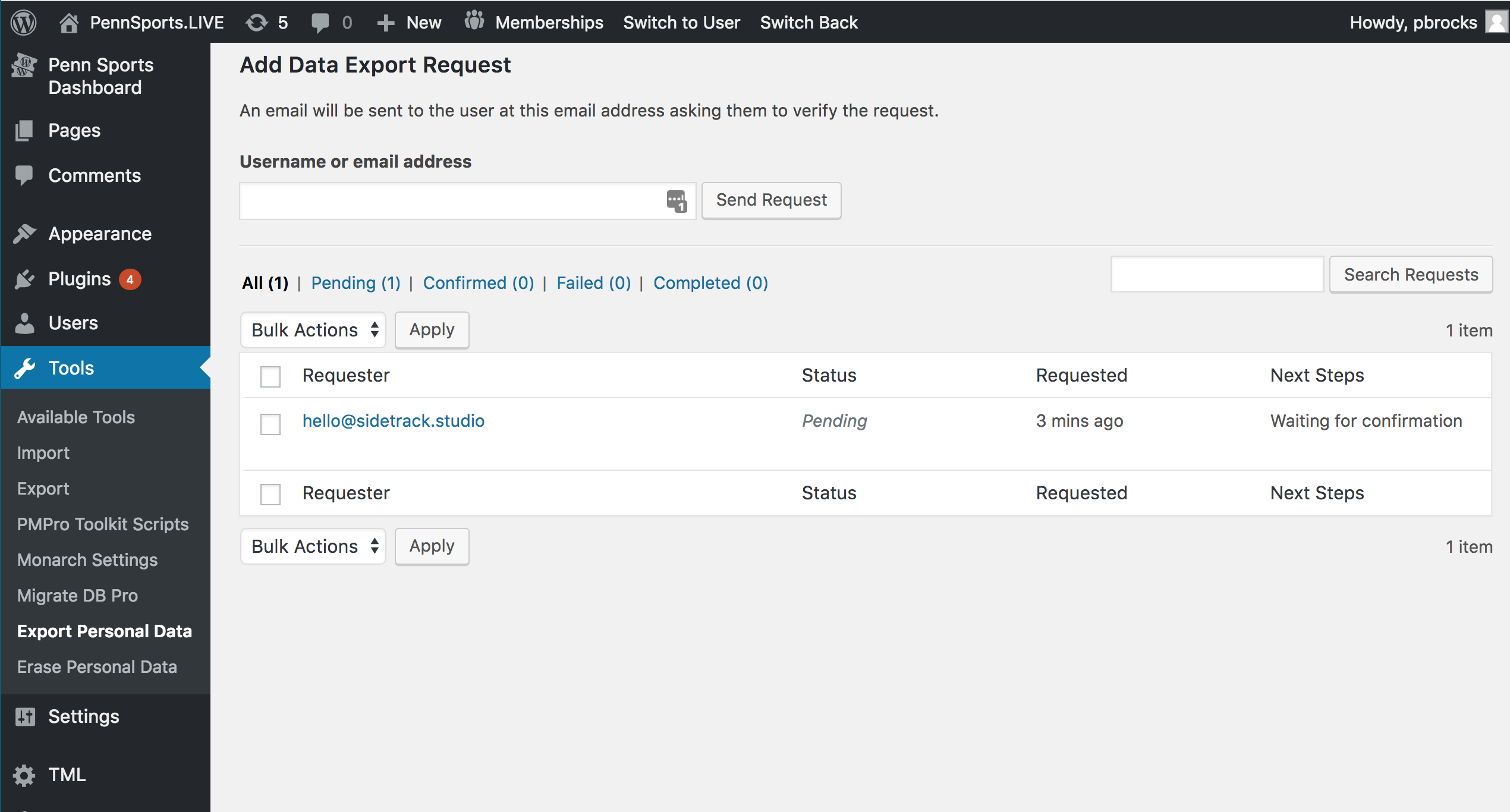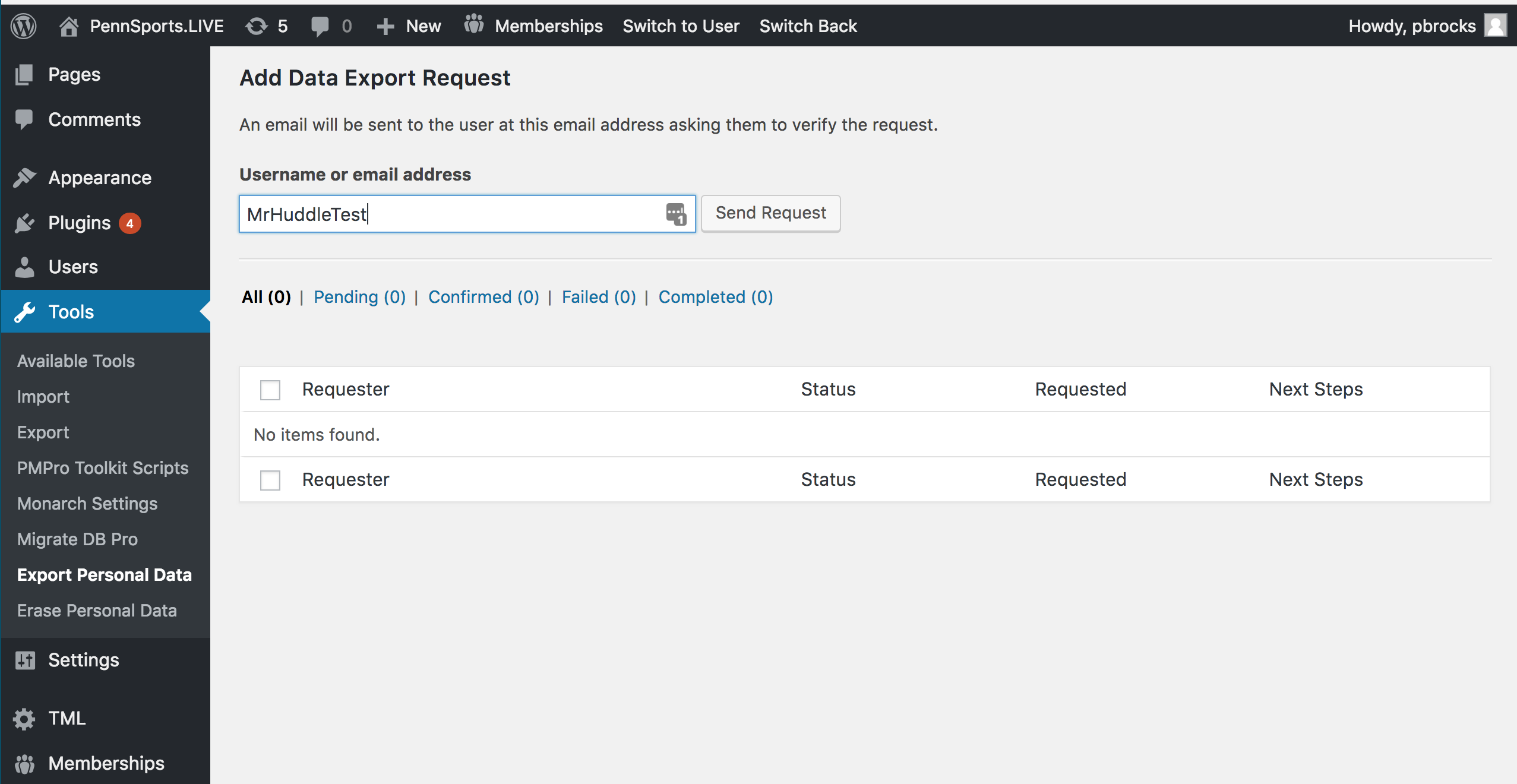 References
https://make.wordpress.org/core/tag/gdpr-compliance/
https://github.com/strangerstudios/paid-memberships-pro/blob/v1.9.5/includes/privacy.php
https://www.gdpr-guidelines.com
https://en.wikipedia.org/wiki/General_Data_Protection_Regulation