Who doesn't want to be flying first class and poppin' champagne? If you run a membership website, it's likely that some of your subscribers are looking for a more glamorous experience. 🥂
This is where premium subscription services come into play.
We recently posted about the benefits of tiered pricing to grow your membership site. Not all of your customers have the same budget; Some people are willing to pay more than others. You can serve these different market segments at the same time.
Tiered pricing doesn't just apply to membership websites, either; Airlines use it to their advantage as well. They know that people will pay a premium for the luxury of first class.
Everyone on the plane is going to the same destination. Do the free drinks and extra leg room really cost the airline that much? Of course not. But the profit margin on a first-class ticket is much higher than it is on an economy ticket.
You, too, can increase your profits by allowing your members to upgrade to a premium experience. Keep reading to learn why you should add premium subscription services to your membership site, ideas for what to include as a premium upgrade, and strategies for upselling people to a premium tier.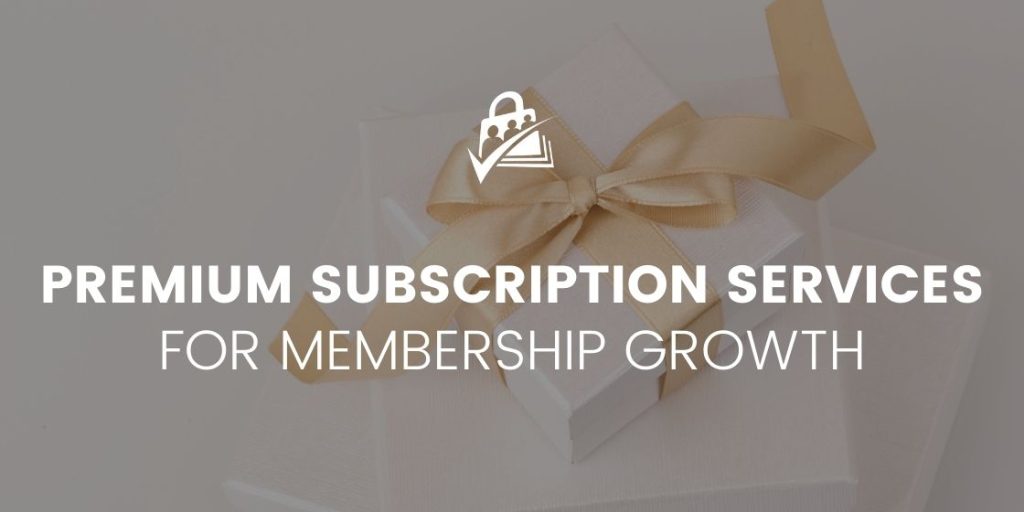 Why Add Premium Subscription Services?
Premium subscriptions improve your bottom line and membership experience. While it's true that not everyone wants to pay for a higher-priced tier, if you can identify the needs of your most engaged subscribers, you can easily create a viable premium product.
Now, let's talk more about why premium subscription services can be one of the best marketing strategies for growing your business.
Benefits of premium subscription services include:
Promoting Member Retention. Premium offerings allow your most engaged members to strengthen their relationship with your site. They already see the value of the tools and expertise that you provide. Why not capitalize on that while giving them the additional resources they seek? These members will stay loyal to your membership site, boosting your member retention rate (and your bottom line) over time.
Building Brand Authority. Premium subscriptions make your brand seem more mature by giving your subscribers more options. It shows that your offerings are considerate of their needs, well thought-out, and helpful to different audience segments. This helps to give your brand credibility and authority within your niche.
Cultivating Desired Experiences. People attach value to premium things. From handbags and watches to experiences like events and vacations, people enjoy luxurious splurges. Creating a premium subscription option for your members gives them an experience to desire.
Exclusivity is Attractive. People enjoy feeling like they have access to something special. They like exclusive content and being part of exclusive groups. Premium memberships take advantage of this, as they are exclusive by nature.
Increases Growth Potential. You're already creating the content and services for your site. Adding a few premium touches allows you to sell an additional subscription at a much higher price. This has the power to amplify your growth by a significant amount.
What to Include in a Premium Subscription
Unlike an airline, you can't just offer a few inches of additional legroom to get your members to pay more. So what can you do?
Use this list to generate your own ideas about what premium upgrades your members might want.
Ideas for premium subscription offerings for membership sites:
Early Access. Let premium members access content and products before anyone else. There's a reason the airlines let first-class passengers board first.
Distinct Discounts. Offer discounts on products or additional services. For example, if you join the top-tier membership, you might get 20% off of merchandise.
Exclusive Content or Services. Create offerings that are only available to premium subscribers. For example, a premium subscription might include a bonus eBook download or special webinar access.
Increased Personalization. Offer personalized content or services. For example, Paid Membership Pro customer Fleischer Tour Fit offers top-tier subscribers a personalized golf swing analysis.
Enhanced Community Experience. Create a way to foster community among premium subscribers, such as a private Facebook group or monthly video meetups.
Access to Special Events. Create events just for premium subscribers, whether they are special webinars or in-person, invite-only events.
Advanced Features. Add premium features, such as:


The ability to save or download content
Custom email reminders
One-on-one monthly coaching time
Access to a member directory for networking
The ability to sync classes or other events with a personal calendar
Growth Strategies to Upgrade Existing Memberships
So once you know what you'll include in your premium subscription service, how do you get people to sign up? The best place to start is with your existing members. They already know the value you provide, so they're most likely to opt-in to a higher-priced service.
Tips for upselling premium subscriptions:
Brand it to stand out. When introducing tiered memberships to your site, you should clarify the difference between each tier. Make sure members understand exactly what they're getting for the increased price.
Showcase premium tier benefits. Brag about what makes premium better than your regular offering. Display these items and perks clearly so that members can compare the benefits at each level. Make it obvious why they'd want to go premium.
Prorate upgrades. Allow customers to pay the prorated difference between their existing plan and the new premium plan based on how far into the payment term they are. Once their renewal date arrives, they can start paying the full premium price.
Offer upgrade promotion at renewal. Provide an incentive like a gift or discount to encourage people to upgrade when their subscription is up for renewal.
Extend a limited-time discount. Offer existing members an "early bird" discount on premium subscriptions. You could even give members the opportunity to upgrade before opening sales of premium subscriptions to the general public.
Give a free trial period. Let existing members try your premium features for free for a limited time. Ideally, they'll love the upgrade and want to pay to continue using it.
Craft an email prompt. Use an email sequence to prompt users to upgrade. Time it so that members receive the email after they've already completed the member onboarding process—more specifically, once they've started to engage with their existing subscription.
Feature a bonus. Everyone loves a free gift. Consider offering bonus products like branded gear to people who purchase a premium subscription.
Getting Started Selling Premium Subscription Services
Premium subscription services can add a lot for your bottom line. After all, we've established that customers crave exclusive and upgraded experiences.
By adding low-cost, high-impact options like early access and exclusive content, you can create a whole new product and revenue stream—without investing much time or money.
The best news is that premium subscription services are easy to sell. You already have a great place to start: your existing customers. Use the techniques we covered in this post to upsell to them.
If you want to offer premium memberships, you'll need a membership solution that supports pricing tiers. With Paid Memberships Pro, you can launch as many tiers and types of memberships as you want.
It's one of many features you'll love about PMPro. Even our free plan includes tiered memberships, so you can launch a premium membership model without needing to upgrade your membership plugin.
Monetize Your WordPress Blog with Paid Memberships Pro
Whether you're adding a premium content subscription to an existing business or creating an entirely new blog or news website, PMPro has all the tools to help you earn a reliable income from your content without breaking the bank.
We know that a WordPress site has tons of moving parts. Choosing the right plugins, themes, hosting, third party services, design assets, and more can feel overwhelming.
Paid Memberships Pro is the most robust membership plugin to create a premium content subscription business on WordPress. Learn exactly what you'll get — the plugins, the support, and the training — when you sell memberships on your blog or news site with Paid Memberships Pro.
Was this article helpful?