Are you looking for an effective way to acquire new customers?
Here's a great idea — trial memberships.
HubSpot states free trials have a conversion rate of 25%. Free trials give customers a first-hand experience of your product and present you with a golden opportunity to convert them into paying customers.
However, to use them to your advantage, you must learn the ins and outs of trial memberships. After all, you need to strategize your membership offerings carefully to achieve a good conversion rate.
To help you achieve that, we'll dive deep into the vast realm of membership trials, one step at a time.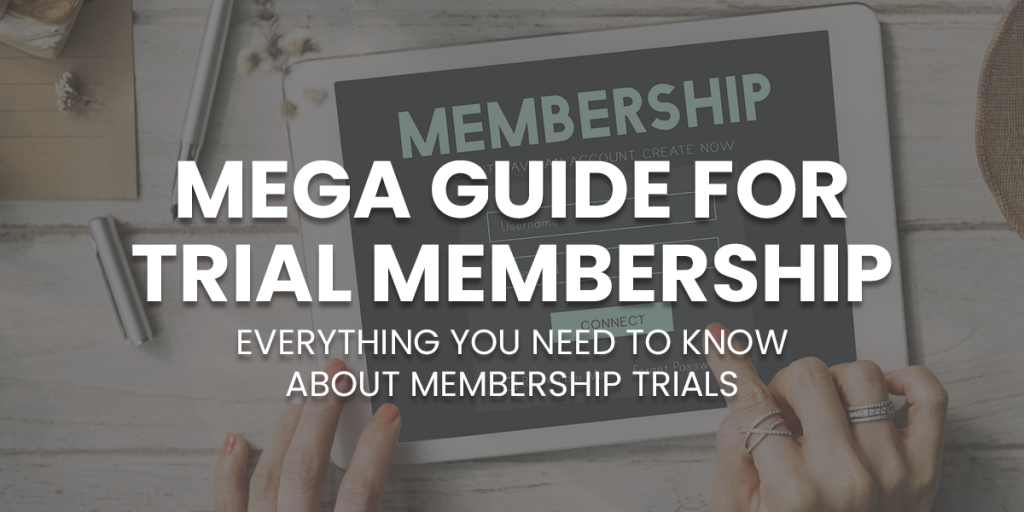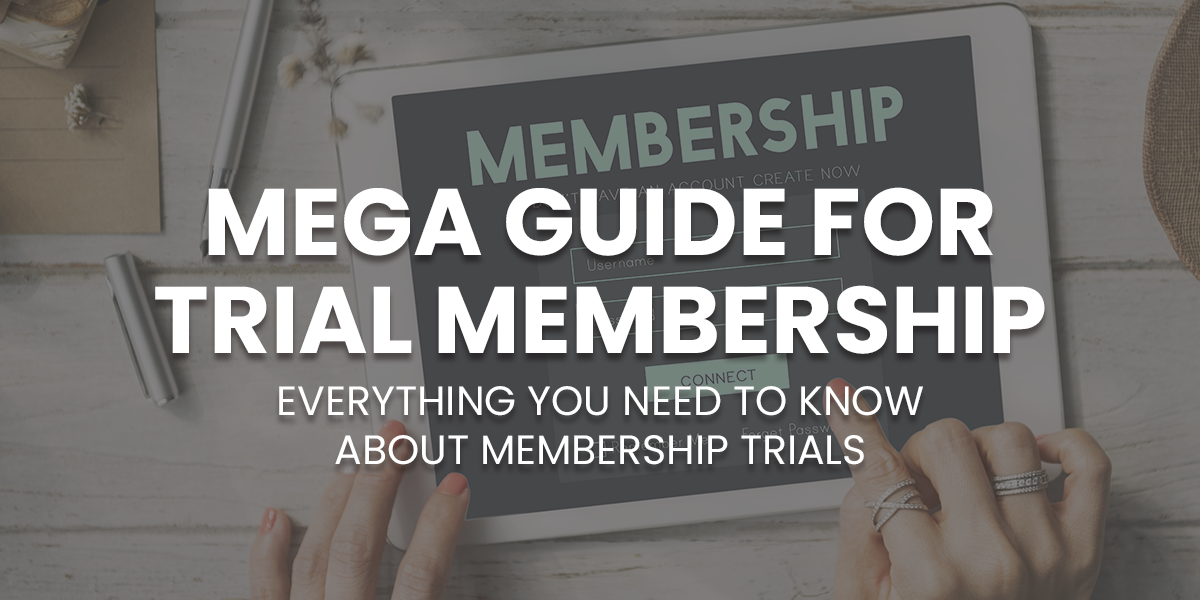 How Do Free Trials Work?
In a free trial, you make one of your membership tiers free for your potential customers. Customers can sign up for these trials with their email addresses. Sometimes, credit card information is also required. Free trials come in two primary forms — limited and unlimited time.
For instance, you can create a new free tier that never expires. Or, you can offer one of your existing tiers as a free trial for a limited time.
When the limited-time trial expires, two things can happen — the customer is auto-upgraded to a paid level or prompted to upgrade to a paid level manually.
Is It Worth Offering Free Trials?
"There is no such thing as a free lunch." So, why do businesses offer their products for free?
Offering a free trial membership is a great marketing strategy. A study conducted by Toluna found that a free trial period is the biggest motivator for customers to try a new brand.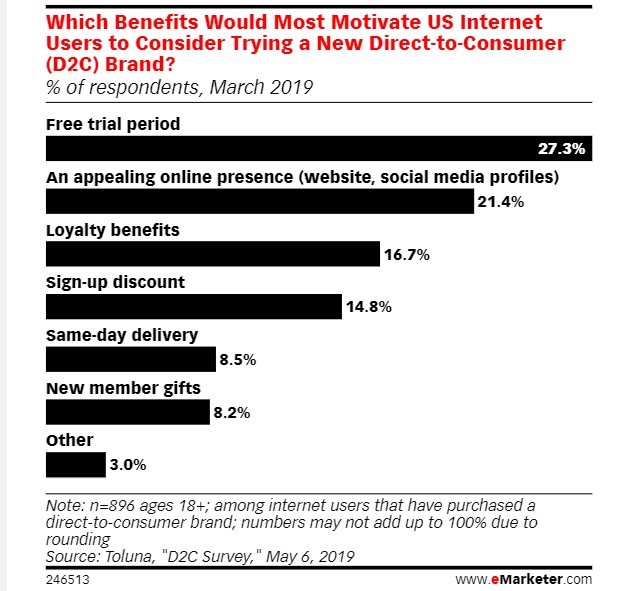 It's a win-win situation for you and the customer. Free trials enable the customers to understand your products without risking their money. In turn, you get an excellent opportunity to impress them. 
CRM magazine showed free trials are one of the top five lead generation strategies of 2022. But before setting up a trial membership, you need to consider a few key aspects.
Primary Considerations While Setting Up a Trial Membership
Offering trial memberships can significantly improve your conversion rates. But that doesn't mean you should implement them immediately. Some key considerations will affect your trial's effectiveness.
Hence, you need to approach the planning and implementation of your trial membership carefully. Here are the key things to consider before starting a trial membership.
The Type of Membership Trial
There are several types of membership trials. To derive maximum benefit, you need to decide which works best for you.
You have three options to choose from:
Forever free trial with limited features (Freemium)
Limited time trial with all the features (Free Trial)
Limited time trials at a discounted price
Within these categories, you have the opt-in and opt-out variations. Opt-in trials only need an email address. In opt-out, customers need to provide their credit card information while signing up.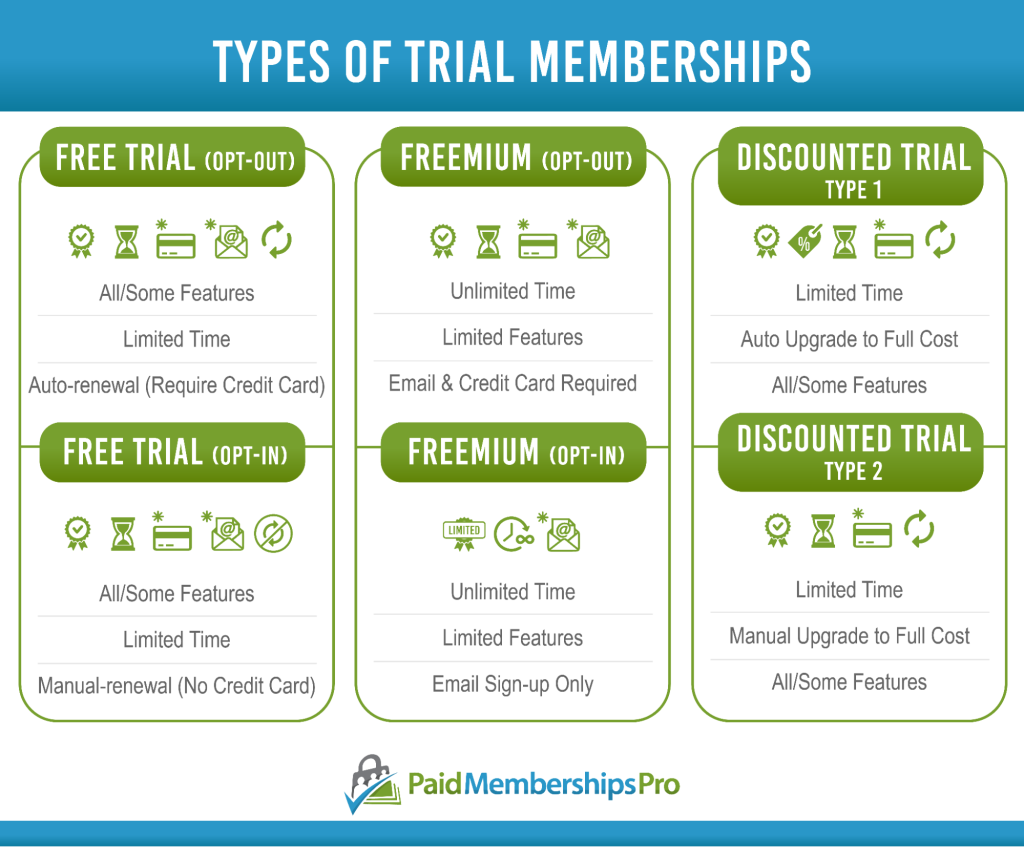 At Paid Memberships Pro, we offer a forever free trial model, which includes everything you need to get started with membership websites. We offer more ways to customize and extend the features of your site for members with a premium membership plan.
The Duration of the Trial Membership

Seven days, two weeks, a month, or two months — there are many different trial durations. Much research goes into deciding trial duration because there isn't a one-size-fits-all formula that guarantees good results for every business.
According to a study done at the University of Washington, 7-day trials work best. But, it's not the norm. Google G Suite offers a 14-day trial, while Microsoft 365 gives a 30-day free trial.
So, how do they decide these trial durations? They do it based on two primary criteria:
The trial should be long enough for the users to obtain value
The trial length shouldn't be too long to avoid fulfilling the user's every need
So, how do you strike a balance? Here are a few pointers to make your decision-making easier.
Pointers for Deciding the Trial Duration
"How is this trial going to help customers?" That is a crucial question to ask before deciding the trial duration.
You should give enough time for your users to set up, understand, and try out your product. Therefore, if your product has a long learning curve, you may want to choose a 30-day or more period for your trial.
Longer trials also suit products shared by a group of people. After all, team members may not ramp up at the same time.
On the other hand, if you have a simple product, you can offer a 7-day trial. Also, products that quickly get the customer involved often use a 7-days trial. For example, streaming services like Disney+ and Paramount+ offer 7-day trials.
Your trial should also help customers achieve a milestone. For example, Openfit offers a 14-day free trial during which they assure a 9lbs weight loss. Someone who manages to achieve the goal has a strong chance of continuing with Openfit.

Businesses sometimes offer shorter-than-required trials to create the fear of missing out. But doing so can sometimes backfire. The company provided a ridiculously short trial offer — just a single day! Soon the customers made them realize their mistake, and the company turned it into a 7-day trial. 
Here are a few steps you can take to avoid these mistakes and provide customers with a fitting trial duration:
Estimate the setup and learning time of your product
Estimate the time typical user might take to derive value
Take your billing cycle also into account
Try out a trial duration for a while and monitor conversions
Survey your exiting triallers to know if the time was sufficient
Whether You'll Be Asking for Payment Information Upfront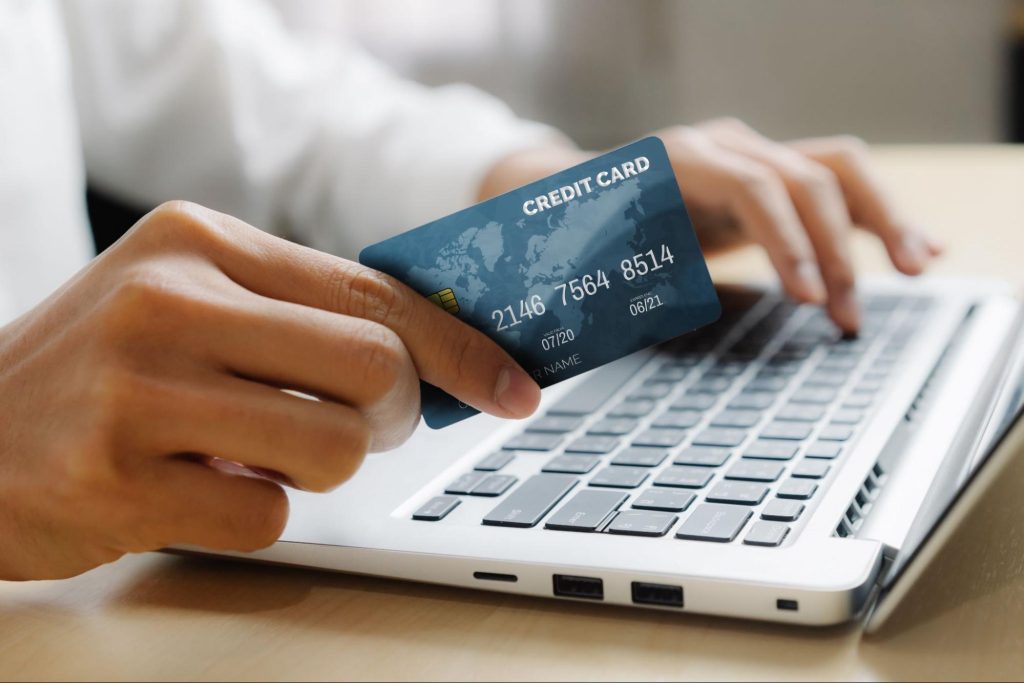 To ask for credit card information, or not to ask? 
Many businesses face that dilemma. Asking payment information upfront makes a huge difference in your trial membership. According to Userpilot, the opt-out membership trials yield a conversion rate of 25%, while the opt-in yield 60%.
That means if you ask for credit card information, only 25 out of 100 people will convert. But if you don't ask for a credit card, the number doubles. You'll have 60 conversions out of 100 customers.
Businesses often shy away from asking for payment information as it might alienate the customers. People will have apprehensions when they need to furnish credit card details for a free trial.
Questions like these might trouble them:
What if they bill me before the trial expires?
What if I forget to cancel my membership?
Will I have to call the business to cancel my membership, or can I do it from the website?
So, should you ask for payment information? If you offer a limited-time trial with auto-upgrade, you need the credit card information to process the automatic upgrade.
However, even if your trial is free for unlimited time, you might want to ask for credit card information for a different reason. It will filter out customers who are there for the freebies. Some businesses also charge a nominal fee of $1 to steer clear of freebie hunters.
Free is a powerful word that attracts people like a magnet. An interesting study in the book Predictably Irrational proves it. At first, the study participants had to choose between a premium, 15-cent product and a cheap, 1-cent product. 73% of people chose the 15-cent product.
Then, the price of both products was reduced by 1 cent. The premium product was priced at 14 cents, and the cheap product was FREE. Suddenly, 69% of participants chose the free product. That's a whopping 155% increase.
Asking for payment details is a careful decision that will impact the conversion rate of your trial membership. If you choose a free trial with credit card information, check out Paid Memberships Pro's recipe to set it up.
Note: Some PMPro articles require a free membership to view them.
Pricing the Membership Trial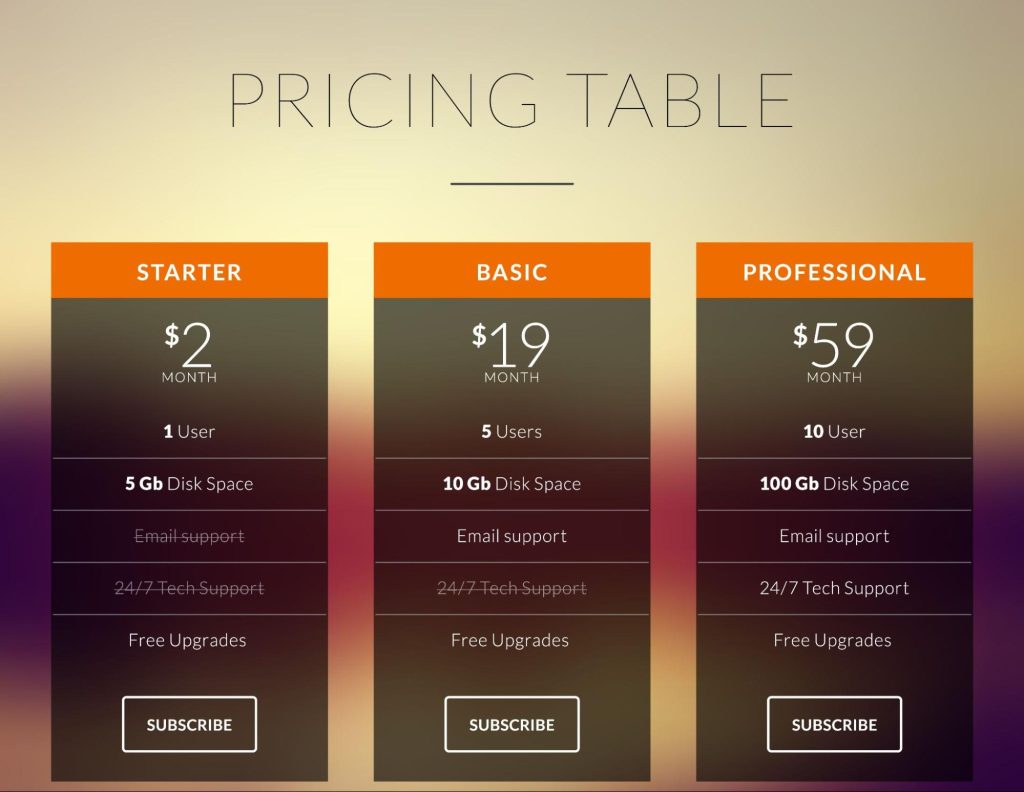 Membership trials need not be free. You can provide a discount on your existing memberships for customers to try out. That works especially well for your premium tiers. 
Customers may be ready to shell out a small amount to evaluate if it's worth subscribing to a premium tier. If you display your original and trial discount side-by-side, customers can assess how much they are saving.
Advantages and Disadvantages of Trial Memberships
Now that we have understood the basics of offering a trial membership, let's look at its advantages and disadvantages.
Benefits of Trial Memberships
We have seen that trial membership is a great marketing strategy. Let's take a look at what the lesser-known benefits of free trials are.
Trial Memberships Set the Right Expectation
Through free trials, you give your customers a non-obligatory chance to experience your services. At the end of their trial, customers will know what to expect out of their membership. It's a much better way of setting expectations than through product tours, FAQs, and sales copy.
They Help You Build Email Lists
Customers sign up for free trials with their email addresses and user preferences. This data is a valuable resource. It helps you create a database of people who might be interested in your product. Getting to know their preferences also enables you to tailor your business strategy to a specific clientele.
You Can Measure Product Activation With Free Trials
The HubSpot report also shows businesses offering trial memberships have a 2.5x chance of identifying that aha moment for a customer. In marketing terms, it's called the product activation point. It's the moment when the customer realizes a product's value.
If you recognize a customer's product activation moment, you can follow it up with personalized marketing.
Free Trials Give You Customer Feedback
Trial memberships help you collect customer feedback. Free trials with an exit survey are a great way to collect information.
Disadvantages of Offering a Trial Membership
Trial memberships are excellent for attracting new customers. But, there are disadvantages to offering a trial. Here are a few.
Trial memberships might attract some low-quality leads who will never convert. For example, Dropbox had 700 million registered users in 2020, out of which only 15.8 million were paying customers.
Free trials require a lot of trial and error to become effective.
Even if you sell digital products, free trials might cost infrastructure and storage charges.
They are prone to misuse.
Common Trial Membership Misuses and How to Prevent Them
Some of your customers might only be interested in the free trial and never intend to convert.
You can try discouraging the freebie hunters by asking for payment information upfront. As we mentioned above, some businesses charge a nominal fee, like $1, to create a barrier. But please note that this approach might turn away some customers.
During the trial period, a customer may also use up/download all the resources. To prevent that type of misuse, you should offer drip content in your trials. That's when businesses don't provide all their content upfront but deliver it in small installments. If you would like to try content dripping, PMPro has an excellent Drip-Feed Content Add On.
Moreover, there are cases where customers keep availing of a specific free trial membership repeatedly. You should set some basic checks to prevent customers from signing up with the same email account. PMPro provides a trial membership solution that users can only get once.
Lastly, if you introduce a discounted trial, your existing members might migrate to that plan, causing losses. Instead, you could prevent existing customers from renewing the specific plan using this PMPro feature.
Tips for Converting Your Trial Members to Paying Customers
One of the biggest goals of trial memberships is conversion. When you get someone to sign up for your trial, make sure you do everything to impress them.
Starting from the moment they sign up, you should give them reasons to stay.
During the trial period, you should:
Treat your trial customers in the same way you treat your paying customers.
Offer a smooth onboarding experience.
Help them reach a milestone during the trial period.
When the trial is about to end, try to:
Remind the customers what they'll miss out on if they don't upgrade
Offer them exclusive deals and discounts
Highlight what they have achieved during the trial period
Send them personalized marketing messages in reasonable intervals
Setting Up Your Trial Membership With Paid Memberships Pro
Now that you know how trial memberships can help your business let's see how you can implement them on your website. We will discuss three methods for you to offer trials.
Method 1: Setting Up a Default Trial Period Without an Add On
You can quickly set up a membership trial with the core PMPro plugin without installing any Add Ons. For the demonstration, we'll use our demo website, "Must Love Dogs." This website is available for download if you are a member of PMPro.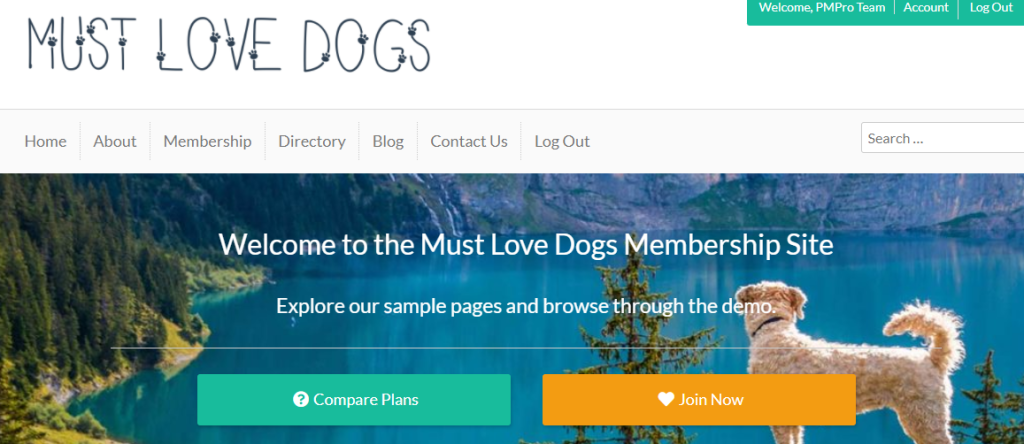 "Must Love Dogs" has three membership levels — Beginner, Enhanced, and Professional.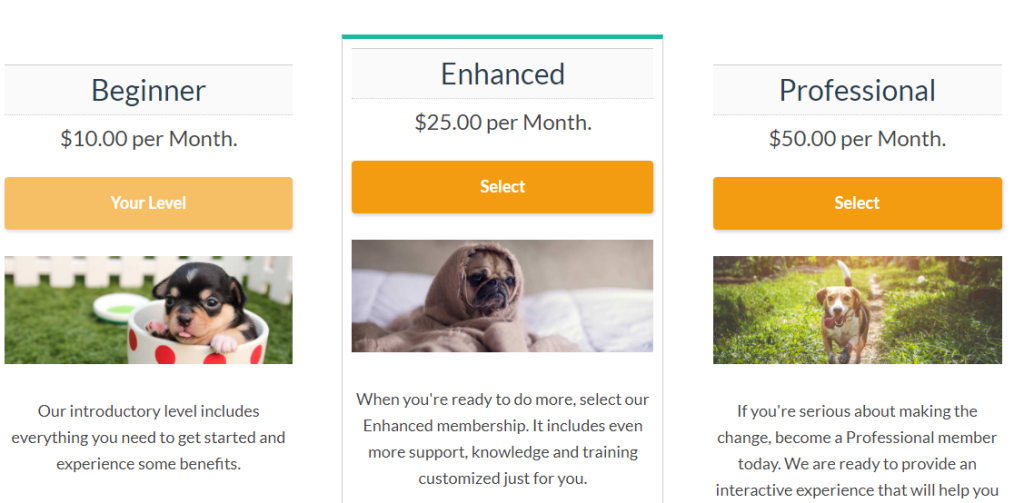 Now let's assume you want to offer the Beginner level free for a month and auto-renew the subscription after the trial. You can do it in just a few clicks. 
Step 1: From your WordPress admin dashboard, go to PMPro's Memberships dashboard and click View Membership Levels.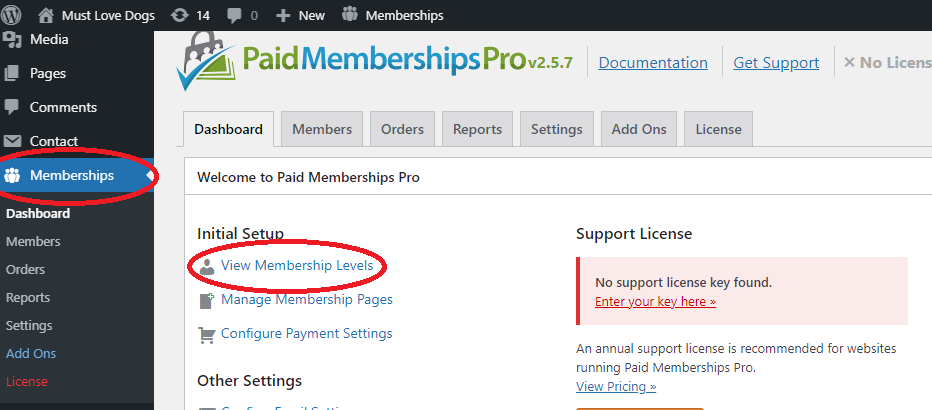 Step 2: Go to the Beginner level and click on Edit.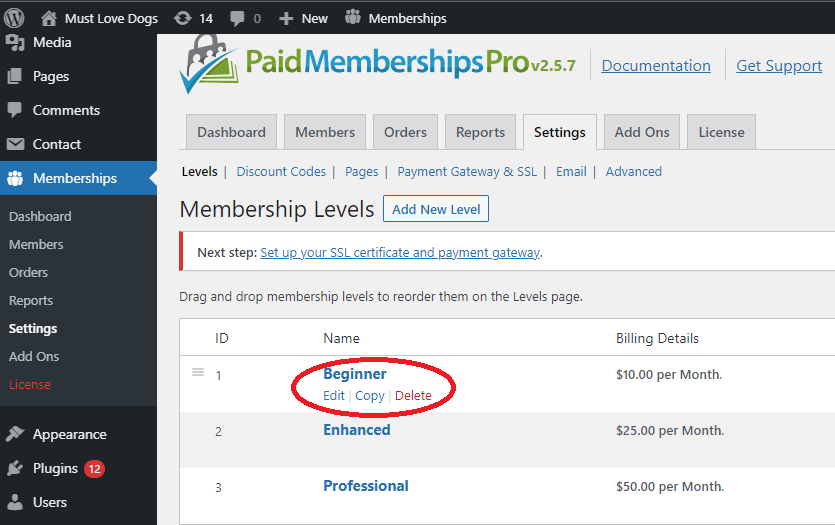 Step 3: Make the following changes to the beginner level:
Check the box near Custom Trial
Set the Trial Billing Amount to $0 and the Subscription Payment to 1 to set a one-month trial.
Set the Initial Payment to $0
Scroll to the bottom and save the level.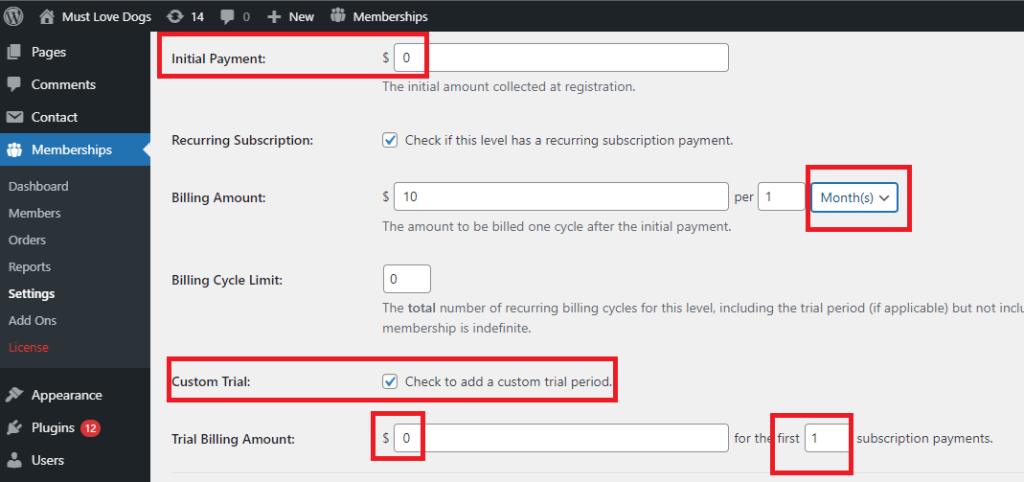 Tada! You have successfully set up a 30 day trial for your Beginner level. Let's have a look at how these changes appear on your website.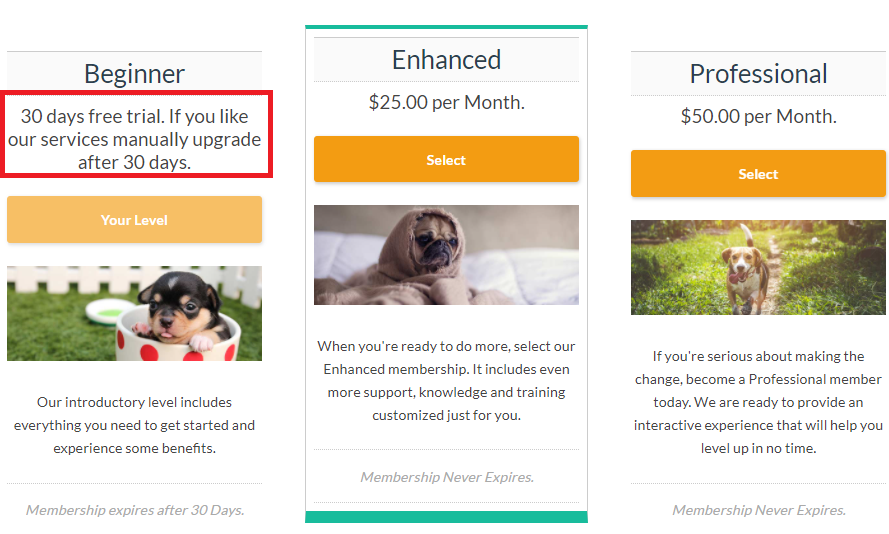 Method 2: Setting Up a Custom Trial Duration With Subscription Delays
With the default method above, there is a limitation on the trial's duration — you can only set trial durations in the multiples of your billing cycle. What if you want to give a 7-day or 14-day trial even if you have a monthly billing cycle?
As we saw, trial duration is a key factor in determining the success of your trial, and custom trial durations might be precisely what your business needs. With PMPro's Subscription Delays Add On, you can set custom durations in just a few steps.
Step 1: Download/enable the Subscription Delays Add On.

Step 2: Go to the Membership Level page.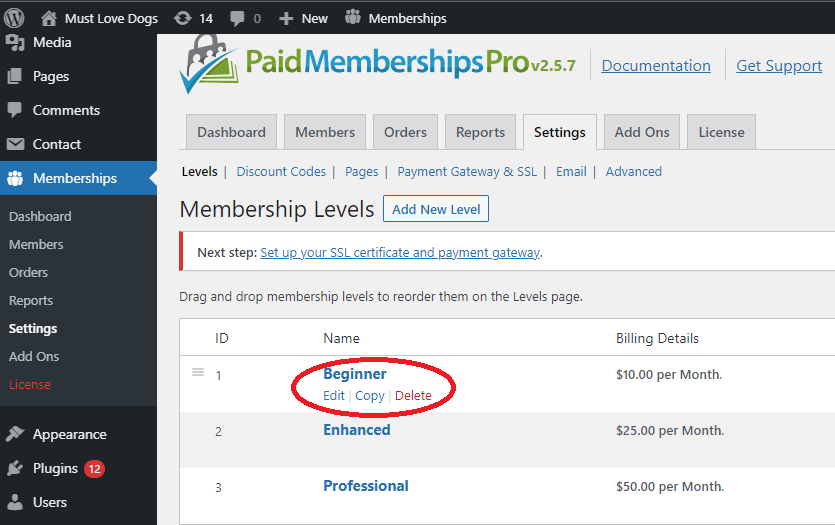 Step 3: Add a custom delay.
Navigate to the Subscription Delay field in the Edit Membership Level page and add a custom delay (14 days in our example).
Keep the Initial Payment at $0.
Save the level.

That's it! You have now added a custom trial membership to your website. Let's see how our demo site looks like: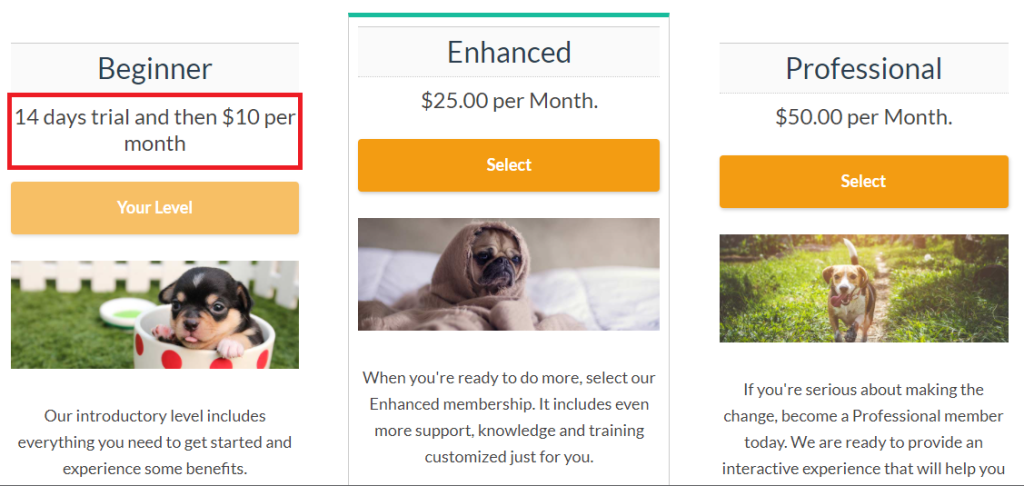 Method 3: Create a Limited-Time, Completely Free Trial Level (No Auto-Renewal) 
The above two methods create auto-renewing trials. But what if you need to create a free trial that doesn't auto-renew? With the method below, you can set up a free trial that expires after a set period.
Let's change our Beginner level to a completely free level that expires in 30 days for this demo.
Step 1: Navigate to the Membership Levels page.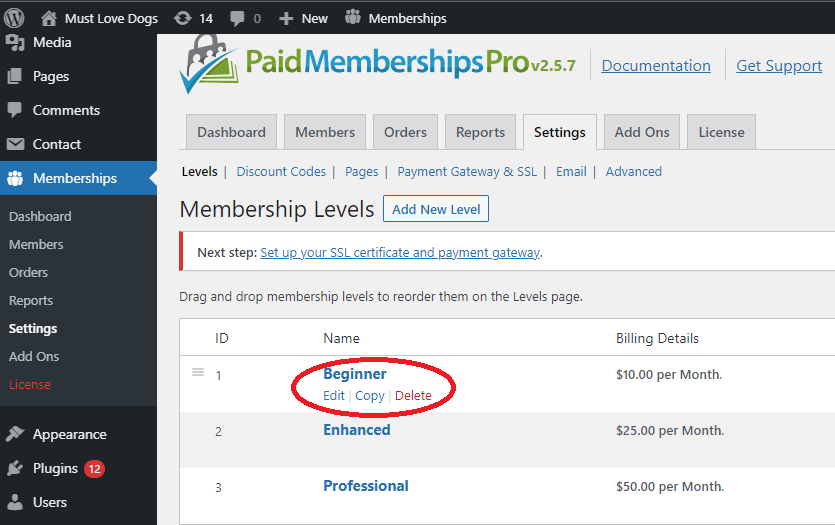 Step 2: Under Billing Details, set the Initial Payment to $0 and uncheck the Recurring Subscription box.

Step 3: Check the Membership Expiration box under Other Settings. Set an expiry date in the Expires In fields and save the level. 

You have created a completely free trial with an expiry date. Let's see how it shows on our demo website.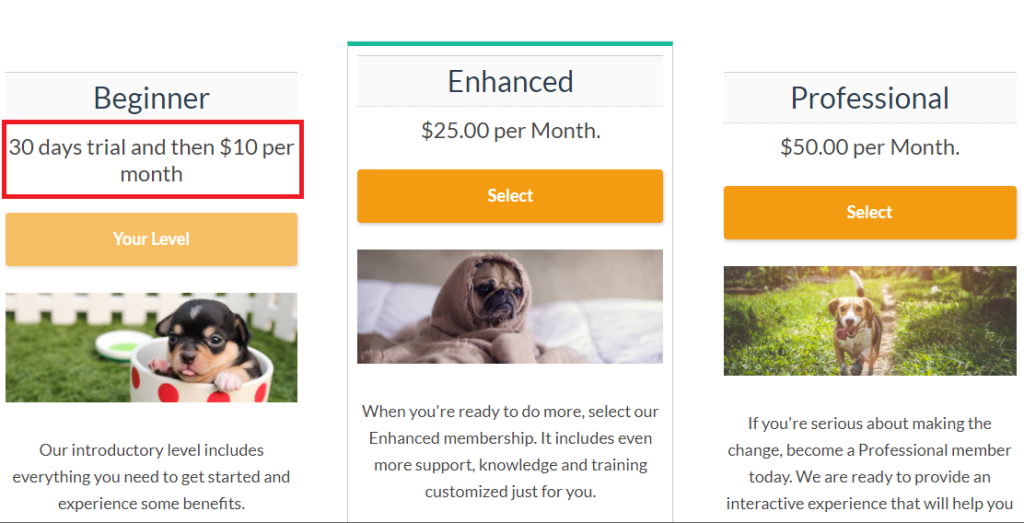 In our hands-on demo video, you can see all the three methods in action and much more like sending free trial emails. 
Final Thoughts: A Mega Guide for Setting Up Trial Memberships on Your Website
Setting up a trial membership is a great marketing technique, especially for membership websites. However, there's a lot to learn about free trials.
To make an effective trial, you need to plan:
The type of the trial membership
The duration of the trial membership
The payment-related aspects
Once you have factored in the considerations we have discussed, you'll be all set to gain the benefits membership trials have for you.
Are you ready to start your new membership website and attract your customers through free trials? Sign up for Paid Memberships Pro's free trial today to kickstart your membership website.
Was this article helpful?