Discount codes are a feature included in the core Paid Memberships Pro plugin. This post covers some advanced and some not so advanced adjustments and customizations that are commonly used for our discount code features. For general support on discount codes, see our Discount Codes documentation page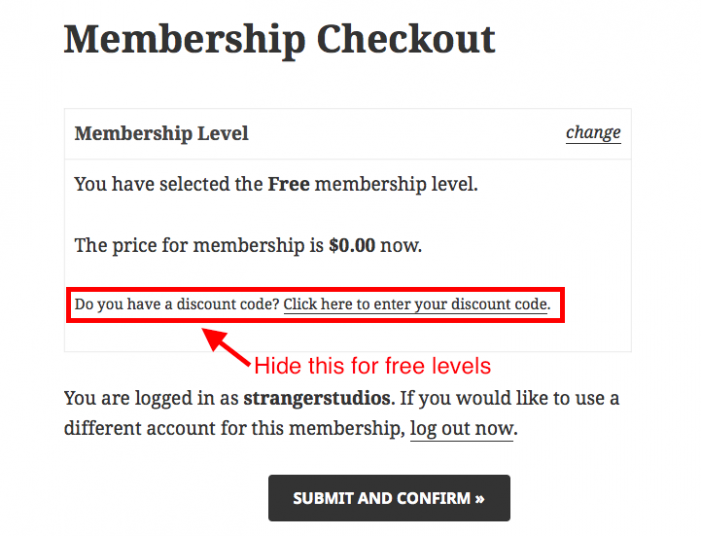 Discount Code SEO
If you have at least one discount code created in PMPro, a discount code field will show up on the checkout form.
Having a discount code field on your checkout page encourages customers who may not already know of a discount code to go search for one. If you can spare a small public discount code, it's a good idea to have a page on your site called "My Site Discount Code" that should surge to the top of Google searches, bringing those customers back to your site. Five dollars, a 5% discount, or more, might be a small price to pay to attract those deal-loving members.
---
Hide the Discount Code Field
One way to keep people from DCFOMO (discount code fear of missing out) is to hide the field from your checkout page entirely.
---
Always Show the Discount Code Field
If you're requiring discount codes for membership checkout, or just have a large percentage of your members using codes during registration, here's a quick CSS snippet to always show this field at the top of your Membership Checkout page.
---
One-time Discount Codes
By default, PMPro discount codes can be used by the same user multiple times.
On the Memberships > Discount Codes admin page, you can set an overall number of "uses" for a code, but this number applies to uses across all customers. If you set a code to have 5 uses, that could be 5 different customers or the same customer 5 times.
Here is an article explaining how to set it up so that certain discount codes can only be used once by each member. This code won't keep someone from creating a new account under a different email address in order to use a discount code twice, but we generally advise against trying to block this or any of the stricter discount code checks. You may catch someone taking advantage of your discounts, but you also risk losing members this way or hassling people who are just signing up a friend or relative with their own address or credit card/etc.
---
Require a Discount Code
Sometimes you might have a membership level that you want to close off from the public.
---
Group Discount Codes
If you have a large number of people you'd like to give discount codes to, you have a couple options.
The first, supported by the core PMPro plugin, is to create one discount code with a set number of uses and email/etc that same code to everyone.
The second option is to create an individual discount code for each user. For the second option, you'll need to use our Group Discount Codes Add on. With this add on, you generate discount codes as usual to control the price adjustment, but then you can generate a list of random one time use codes to apply that discount. This is useful if you are running a promotion via a site like Groupon.