How it Works
Adds the ability to create a single 'parent' discount code and bulk generate 'child' codes with the same settings. The parent code controls all of the pricing, expiration, allowed levels, etc. Once saved, each of the sub-codes will act as if they have the same settings as the main code.
This is useful for bulk mailing, newsletters, or participation in a Groupon-type program.
Video Demo
Installation
You must have the Paid Memberships Pro plugin installed and activated with a valid license type to use this Add On.
Navigate to Memberships > Add Ons in the WordPress admin.
Locate the Add On and click "Install Now".

To install this plugin manually, download the .zip file above, then upload the compressed directory via the Plugins > Add New > Upload Plugin screen in the WordPress admin.

Activate the plugin through the Plugins screen in the WordPress admin.
Setup
Navigate to Memberships > Discount Codes in the WordPress admin.
Create a new discount code.
Under "Group Codes" enter one unique code per line (these can be auto-generated with any random string generator or in a spreadsheet program).
Set the pricing per level that the group of codes will apply to.
The "parent" code should be kept private with unlimited uses.
Screenshot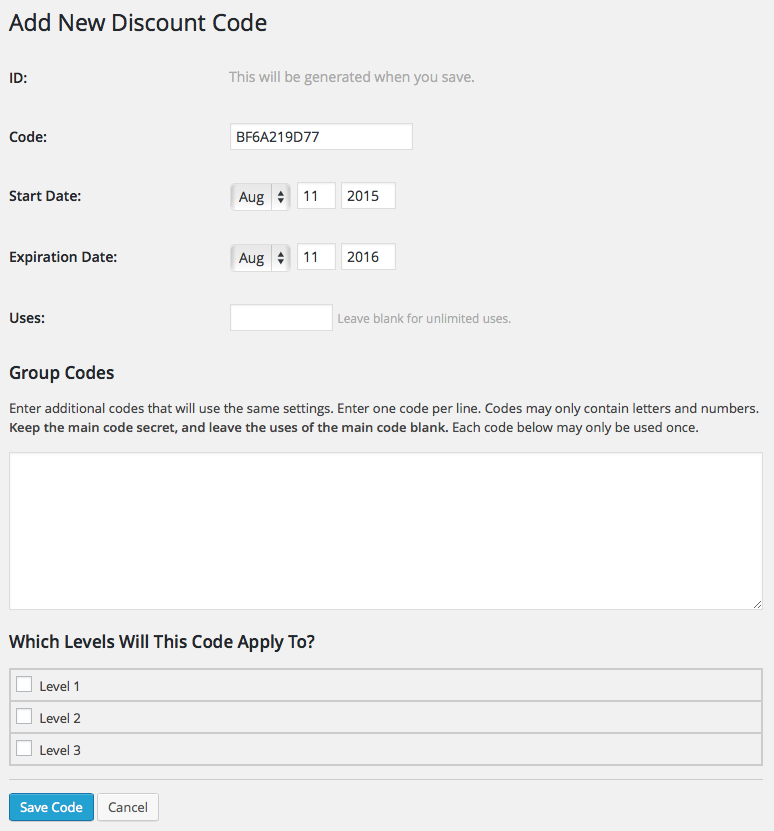 This is a Plus Add On.
Plus Add Ons are included in all Plus or higher premium membership plans.