Membership sites are an excellent way for business owners to earn consistent monthly revenue while building an engaged community. But did you know that you can build different types of membership sites with a premium content WordPress plugin? No matter what kind of premium content you have in mind for your subscription, you can build it with the right plugin.
What is Premium Content?
Premium content is your best stuff. It can be any type of content, like blog posts, videos, podcasts, e-books, or whatever you'd like to make. It's longer, more in-depth, and of higher quality, and only paying customers can access it. These customers typically pay a monthly subscription fee to access this premium content.
But premium content isn't just your regular content repurposed into another form, like taking old blog posts and turning them into an e-book. Instead, it covers topics you've touched on in your free content but adds more context and information to improve the lives of paying members.
What Makes Content 'Premium' Material?
Premium content is the best content you have to offer. Many factors set premium content apart from the rest of your content.
Premium content is:
Exclusive. Premium content can only be found in one place–on your site behind the paywall.
Substantial. This content is well-researched and has more information than other sources on the internet. Think of it as really long-form content.
High-Quality. Premium content shares information that your customers can only get from you. It highlights your expertise and the depth of your knowledge in your industry, giving them some insider information.
Impactful. Your subscribers should be able to take this information and make immediate changes to better their lives in some way.
Life-Improving. Your premium content should help someone better understand your industry and give them a leg up in their own lives and careers.
Behind-the-Scenes/Personal. Premium content can also show how things work behind the scenes or what it's like to do what you do.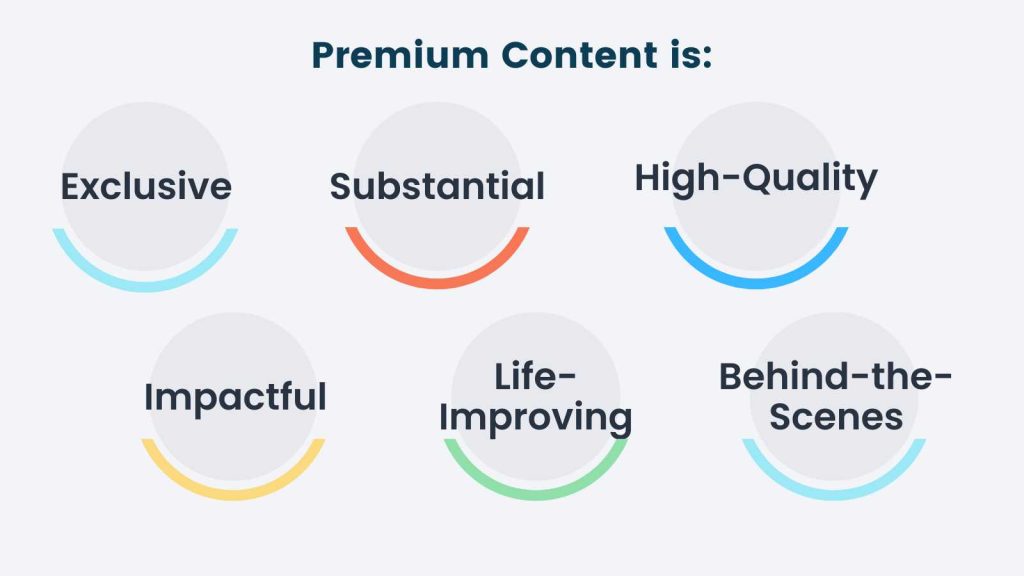 Understanding How to Leverage Premium Content
Now that you know what premium content is and why it's appealing to your audience, it's time to think about how you can make it a part of your business. There are two ways to leverage premium content, and many business owners use a mix of both: offer premium content to members or offer it to non-members.
Offering Premium Content Exclusively for Top-Tier Members
When you create premium content for top-tier members, your members subscribe to get that content. They become part of the community, so they get perks non-members don't. Those perks include premium content but can also include forums where members can chat with one another.
Some people join memberships simply for access to the community features, even though they still get access to newsletters, premium downloads, and other content.
This option is great if you like creating a community and allowing your expertise to be the basis for online discussions.
Offering Premium Content for Non-Members
Some business owners prefer to make premium content for non-members. It's a good option if you know you won't have time to create new premium content every month for members.
Non-member premium content often takes the form of digital products like e-books and online courses. Your customers pay for the products and get access to them for as long as you choose. There is no recurring monthly subscription payment from them, but you still get the revenue from their purchase.
Benefits of Premium Content on Your Site
Premium content can significantly benefit your bottom line, but it also benefits your website and business. Premium content signals to your audience that you have something exclusive. Here are some ways to use a premium content WordPress plugin to benefit your site.
Increases Interest
There's a ton of free information available on the internet, and your potential customers know that. So when they land on your website and read about your premium content, it will pique their interest. They'll see from your free content that you offer relevant, quality information, and they'll want to know what you keep behind that paywall.
Plus, if your free content offers high-quality insights, these customers will have confidence in what you create, which will further interest them in subscribing. We talk more about how to use premium content as a marketing strategy in our post 10 Marketing Strategies to Boost Your Membership or Subscription Business.
Drives Traffic
Your members will come to you first for news when you have a premium content membership. Because you'll be creating new content regularly, your members will be excited to access it, and they'll rely on you for information about the news in your industry.
Plus, having a community component to your membership is a great way to keep people coming back to your site. And as long as you include calls to action to sign up for your membership in your free content, you'll likely see a steady stream of new members.
Grows Brand Authority
Premium content helps grow your brand authority in the eyes of your subscribers first. Premium content enhances your brand authority simply because you're creating in-depth, high-value content regularly and sharing your expertise. They get value from your membership and stay loyal to your brand, especially if you give them something they can't get anywhere else.
They also share their experiences with others, which provides word-of-mouth marketing and grows your authority in the eyes of non-members. As your good reputation grows, so does your brand authority.
Inspires Credibility
As you create more premium content, your credibility will grow. Not only will you have a backlog of valuable premium content your subscribers love, but you'll also become a credible source in the eyes of outsiders.
A group of dedicated subscribers who eagerly consume your content acts as a form of social proof–if others are doing it, it must be worthwhile. So while your content speaks for itself, the perception that others have of your credibility enhances its value.
Generates Revenue
Premium content can generate revenue in many ways. We already talked about how you can offer a monthly subscription for your premium content or sell premium work in the form of digital products. Both are great ways to earn revenue. But once you have subscribers, did you know you can offer them more?
You can create higher subscription tiers to offer benefits, like one-on-one sessions or special video group chats. You can also use your pool of subscribers as warm leads for your products and offer them digital products at a discounted rate.
Builds Loyalty
When subscribers know they can come to you for high-quality content, they'll stick around. Sure, they could probably do some of the research you do for your premium content, but you're saving them time and energy by doing it for them. Plus, the more they enjoy your content, the more loyal they will be to you in the long run. When your subscribers know they can trust you to deliver premium content, they will stay.
Nurtures Community
As your subscribers stick with you over time, they'll get to know one another in the member forums. They'll enjoy the conversations they have and the networking and information they get from your membership. Your members will cite your content as the thing that brought them together with others, and they'll appreciate the space you've given them to chat.
Your subscribers want to be there, so much so that they're willing to pay for your membership. They are much more likely to be engaged community members than people who only get your free content.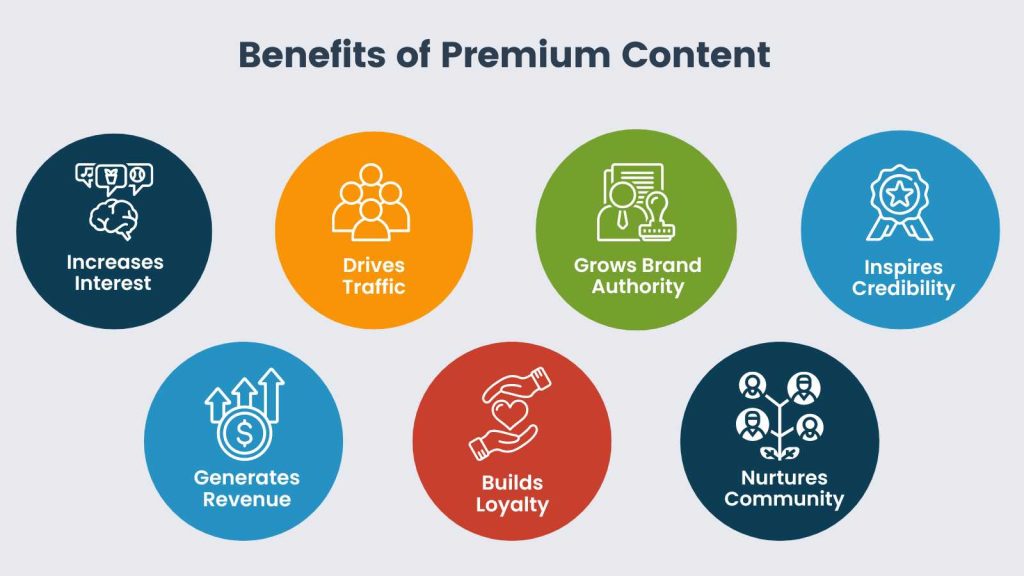 8 Sites You Can Build With a Premium Content WordPress Plugin
You can use a premium content WordPress plugin for different types of sites. These sites can work for various businesses, so don't worry about alignment.
Here are some ideas for premium content sites:
Associations. A premium content WordPress plugin is a great way to handle all the administrative work of signing up and paying dues for professional or social associations. Plus, you can keep all the association information private for the members only.
Blog and News. If you run a blog, but want to create more in-depth content than your regular posts, a premium content subscription could be a great way to monetize that.
Community. Think social media platform, but more niche and focused on a specific group. You can create a community where members can unite around a specific topic and exchange ideas.
Courses. Courses work great as premium content for subscribers or non-subscribers. It's a great way to share your expertise in a structured format.
Directory and Listing. Creating a network where professionals can pay to be listed and access contact information about other professionals or job listings can be a great way to create networking opportunities for people in your industry.
Paid Newsletter. Paid newsletters have become increasingly popular recently. They're a great way to share up-to-date information or special content regularly.
Podcast. Using a premium content WordPress plugin, you can create a members-only podcast, which is great for audiences that prefer audio content.
Video. If your content shares a lot of instructional and step-by-step content, a video premium content site can help show your audience more in-depth tutorials.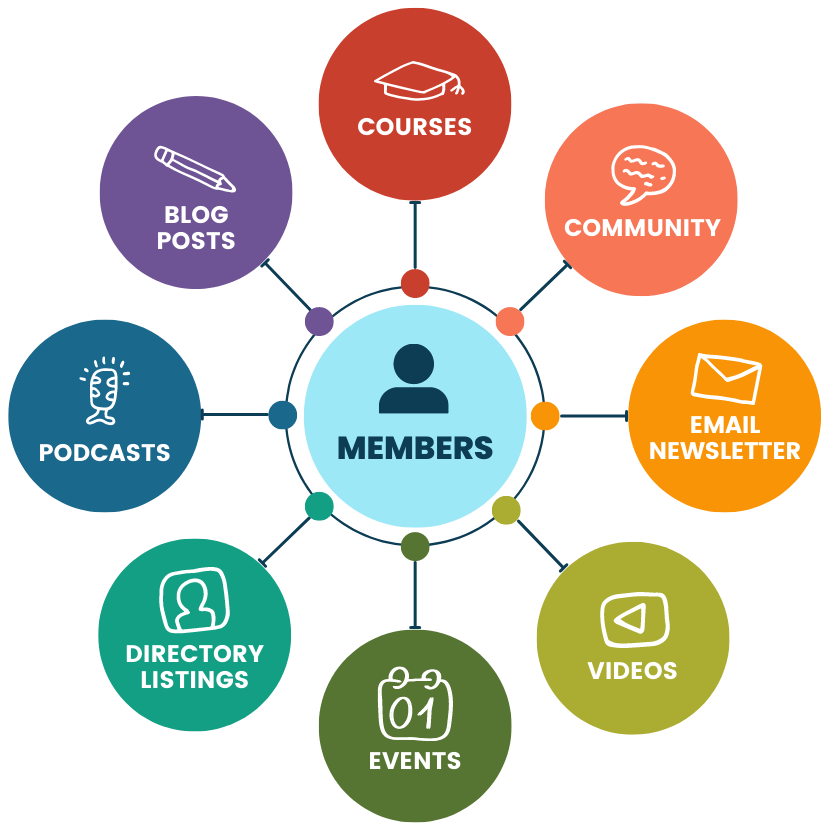 Considerations for Choosing a WordPress Plugin for Premium Content
When selecting the best WordPress members-only plugin to grow your business, there are some things to consider. Here are some things to think about before you add a new piece to your tech stack:
Budget. How much can you afford each year for your plugin subscription?
Ease of Use. What's the learning curve on the plugin, and how much time will it take to learn?
Content Formats. Does the plugin work for the format of content you want to offer, and does it have the features you'll need?
Personalization. Can you make this plugin a seamless part of your membership site experience?
Payment Options. Does the plugin support the payment options you need to accommodate all your customers?
Integrations. Does this plugin integrate with the tools you regularly use?
Technical Support. Can you get help when you need it?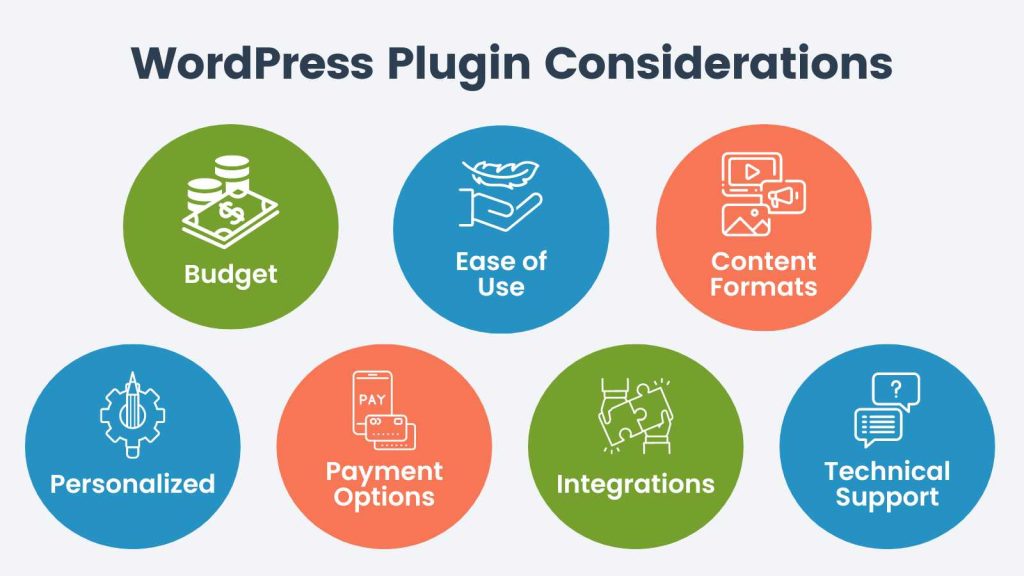 Paid Memberships Pro has a blog full of tips and tricks to help you build your premium content site.
Are You Ready to Share Your Premium Content with Your Customers?
In this post, we discussed how exclusive and high-quality premium content is and the different forms it can take. We looked at how it can benefit your business by nurturing community, building brand loyalty, and generating revenue. And we also took a look at the eight different types of sites you can build with a premium content WordPress plugin. If you'd like to see some sites in action, make sure to check out the Paid Memberships Pro showcase. And if you're ready to launch your premium content site, sign up with Paid Memberships Pro today.