Building a strong community on your membership site is the key to its success. This week we talked to Allie Nimmons, owner of Beedia Productions and a freelance WordPress educational content creator. Allie joined us to share how companies can be good community members.
This webinar covers the basics of getting started building a community, what the benefits are, and how to engage it to propel your business ahead.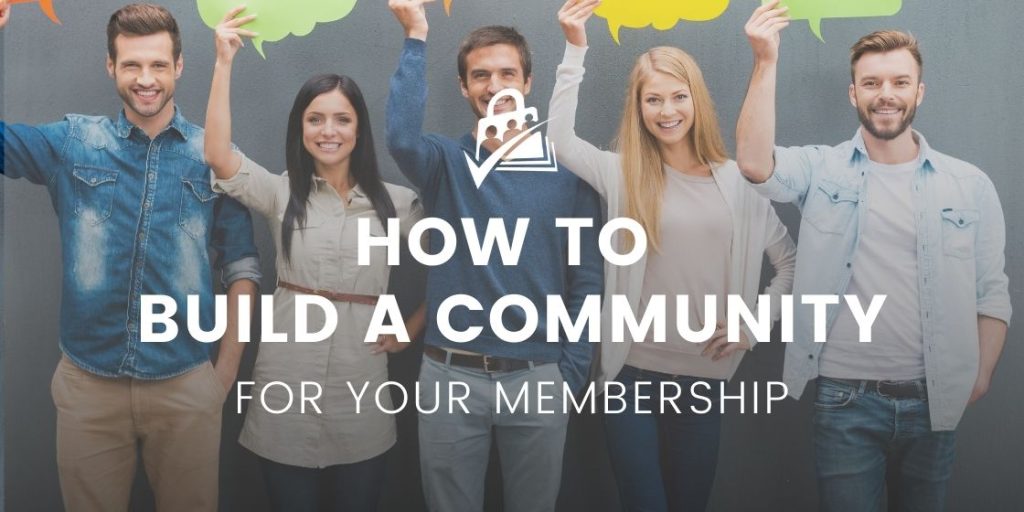 Webinar Replay: How to Build a Community For Your Membership Site
Community 101: The Basics
How Community Creates Value for Members
What is community? Too often, we think of holding hands, singing Kumbaya, including everyone, and coming together for the sake of one another.
There are two problems with this vision:
First, people gather in communities based around their interests because they find help and value there, not because they are looking to support others.
Second, communities do not and should not include everyone.
Think of communities as places where people have something in common. They have overlapping interests and goals. They can benefit from communicating with each other in order to reach those goals. In the case of a community built around a yarn business, this might include knitters looking to swap the ultimate pattern or share accomplishments. Would non-knitters belong? No, and that's ok.
For a community to be worth their time, it must offer its members free value.
What is free value? It does not mean that a community must be free to join. Even paid communities should provide members with value above and beyond their cost, making the cost seem negligible.
Some ways good communities can offer free value for members include:
Information
Reassurance
Help overcoming a struggle
Nimmons offes the example of her work at WP Buffs, a subset of the larger WordPress community that offers white label site maintenance. She talks about feeling drawn to that community based on how WordPress helped her professionally, leading to a strong desire to help others in turn.
Part of creating a community is feeding the desire to give back. A good community is built by a motivated manager who says, like Nimmons, "It feels good in my soul to do good things for this community."
How Community Creates Value for Companies
In addition to providing free value for members, communities provide an even longer list of benefits for the businesses that run them. Here are a few:
Increased brand trust as an industry leader and problem solver
Because so many problems are discussed and solved in your community, customers think of you as an industry leader.
Reputation Management
When members post negative experiences in a company's community, they're doing it in a place where a company can respond, showing the rest of the community how they address issues.
Improved Funnels
A community is a place to release content, upsell and cross-sell related products, and offer support to turn cold leads into warmer leads.
Referrals
A community gives people a great experience that they are more likely to share with friends.
Useful Data
Your community can be polled about new products or features they would like to see.
Built-in Social Proof
Communities offer a place where would-be customers can see what people are talking about, how active they are, and how a company responds to them.
Increased MRR
A community is a place to distribute content and courses which can provide revenue again and again once released.
How to Structure Your Membership Community
The key to structuring a successful community is asking how you can dig deep into the members' needs and meet them.
Starting a great community begins with asking yourself to who, what, when, where, and why of your community in order to strategize its structure around the people in it. Ask yourself, "How can we support this community of people?" instead of "How can these people support us?"
Then ask yourself the five W's:
Who is your community for?
Your community is not for everyone, but who is it for? Where do they hang out? You can use Google to search for existing communities in your niche to understand where these types of people gather.
For example, Discord is primarily a gaming platform, whereas Slack is the domain of workers. If your business offers professional services and most of your audience is already on Slack, you should launch your community there. For more ideas, check out our post How to Choose the Right Online Community Platform for Your Business.
What do you offer your community?
Are you serving this group through content, mentorship, or courses? Knowing what your community needs and what their problems are can help you structure the best solutions and the most appreciated content.
When will you interact with your community?
Don't overwhelm yourself by thinking that your community is your new full-time job. Instead, set a schedule for releasing content. Being structured about your presence means you can iterate and make improvements. Block scheduling and delegation help make managing a community doable.
What platform is your community built on?
Paid Memberships Pro or other software that lets you build out a membership site is one option.
Using Facebook Groups to grow a community is a popular option, and can be a good starter community where elite members graduate to a paid, premium community on your own platform. You can also set up a free membership on PMPro. Read about how to set it up in our blog post, "How to Set up a Membership Site for Free Members Only."
The WP Buffs White Label Partner Portal is an example of a member-focused site on the company's own platform. The site is structured to offer help with marketing, and not only saves time for the company, but reduces frustration on the part of partners.
Its structure says, "We see you as valuable members of our company. You are appreciated. We want to take care of you. This community exists to make things easy for you."
We have a whole guide on choosing the right community platform that can help you make the most informed choice possible. Migrating a community is not fun.
Why are you building community?
Ask yourself what you want to get out of the community you're building. If you're looking to use your community to increase revenue, you must also provide value and put people first.
Creating Engagement
Creating engaging content stems from answering the "who" question and developing content based on specific knowledge of your community.
"There are so many people who go to WordCamps who don't go to sessions…they were hanging out outside talking to their friends. That was the value that they saw."
Giving people what they need, but also making them feel comfortable and valued are the keys to active community engaement.
In the end, all communities thrive when their members are inspired to participate and give back to other members. In doing so, they offer great benefits to their companies, too.
WordPress Plugins for Communities
These are the most common features that communities leverage with Paid Memberships Pro:
Use Paid Memberships Pro to Build Your Private Community
Are you ready to build and grow an online community that you completely control?
With Paid Memberships Pro, you can sell free and paid subscriptions to your community, benefit from a wide variety of Add Ons and integrations specifically designed for community websites.
We know that a WordPress site has tons of moving parts. Choosing the right plugins, themes, hosting, third party services, design assets, and more can feel overwhelming.
Paid Memberships Pro is the most robust membership plugin to sell access to your online community on WordPress. Learn exactly what you'll get — the plugins, the support, and the training — when you run your online community with Paid Memberships Pro.
Was this article helpful?