In today's digital age, online communities are a big part of building and nurturing strong relationships with customers, partners, and like-minded individuals. They provide a platform for engagement, growth, and collaboration.
However, with so many online community platforms available, choosing the right primary channel for your business can feel intimidating.
In this post, we'll walk you through the process of choosing the perfect online community platform that aligns with your community's purpose and goals.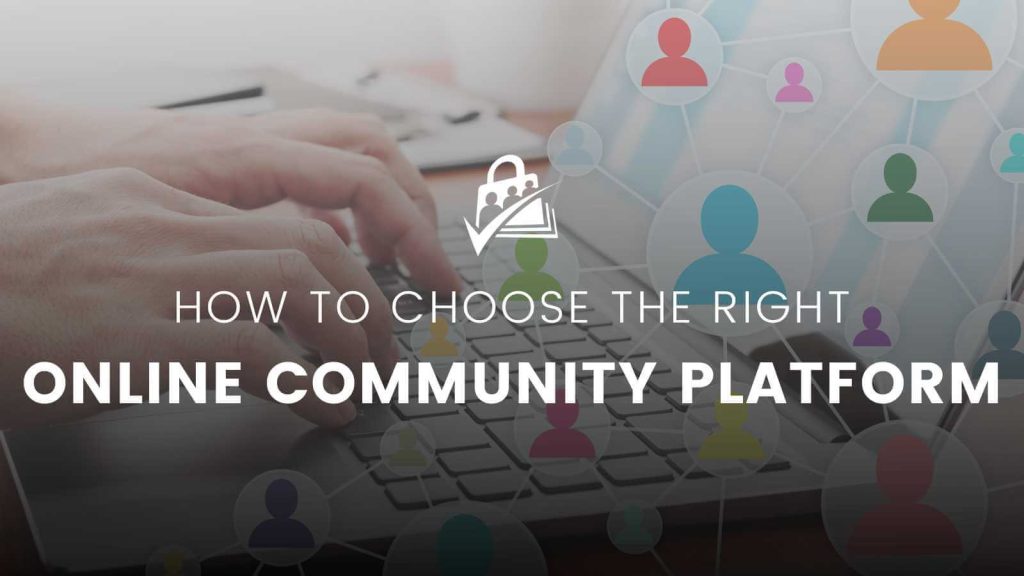 Identifying Your Community's Purpose and Goals
Creating an online community certainly takes time and effort—but it can be extremely rewarding. Bringing people together around a common purpose or goal is inspiring for everyone involved. Plus, it can result in all kinds of benefits, from healthy revenue to meaningful bonds and a sense of belonging.
This is why it's so crucial to define your community's mission and set measurable goals before choosing an online community platform. Your community's purpose will guide you in choosing a primary channel that best supports your goals and target audience.
Questions to Ask
Not totally sure about your community's purpose, goals, and needs? You can start to gain clarity by asking yourself these questions:
What are the core values that your community should embody and promote?
Who is your target audience, and what are their interests, preferences, and pain points?
How do you want your community members to interact with one another, and what kinds of relationships do you want to foster?
What unique value, content, or experiences can your community provide that will set it apart from others in the same niche or industry?
What are the short-term and long-term objectives for your community? How will you measure success and progress toward these goals?
How do you plan to promote and grow your community, and what marketing channels will be most effective for reaching your target audience?
What types of content and formats will be most engaging and valuable for your community members? (e.g., articles, videos, webinars, live events, etc.)
What resources (time, budget, and personnel) are you willing to dedicate to building and maintaining your community?
How can your community support your overall business goals and objectives, such as increased brand awareness, customer loyalty, or sales?
How do you plan to manage and moderate your community to ensure a positive, inclusive, and safe environment for all members?
Popular Channels for Online Community Platforms
Social Media Platforms
These digital spaces allow users to create and share content, engage with others, and participate in communities centered around common interests.
Common examples include Facebook, Twitter, and Instagram.
Pros:
Large user base for potential exposure and growth
Easy to use and widely recognized by users
Built-in tools for engagement and sharing
Opportunity for paid advertising to expand reach
Cons:
Limited customization and branding options
Dependence on ever-changing algorithms
Users may be overwhelmed with other content and distractions
Limited control over user data and privacy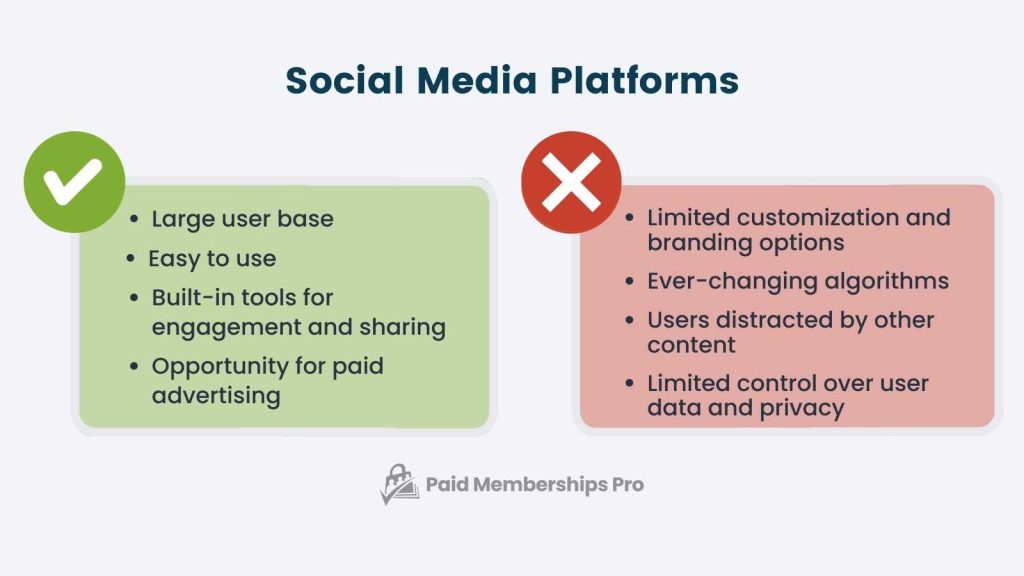 Online Forums
These discussion-based platforms enable users to exchange ideas, share information, and collaborate on various topics within a structured environment.
Reddit, Discord, and Slack are popular online forums.
Pros:
Focused on conversation and collaboration
Customizable channels and threads for different topics
Real-time engagement and interaction
Better control over moderation and community management
Cons:
May require more effort to build and maintain
Less exposure compared to social media platforms
Learning curve for users unfamiliar with forum-style platforms
Potential difficulties in finding and retaining active members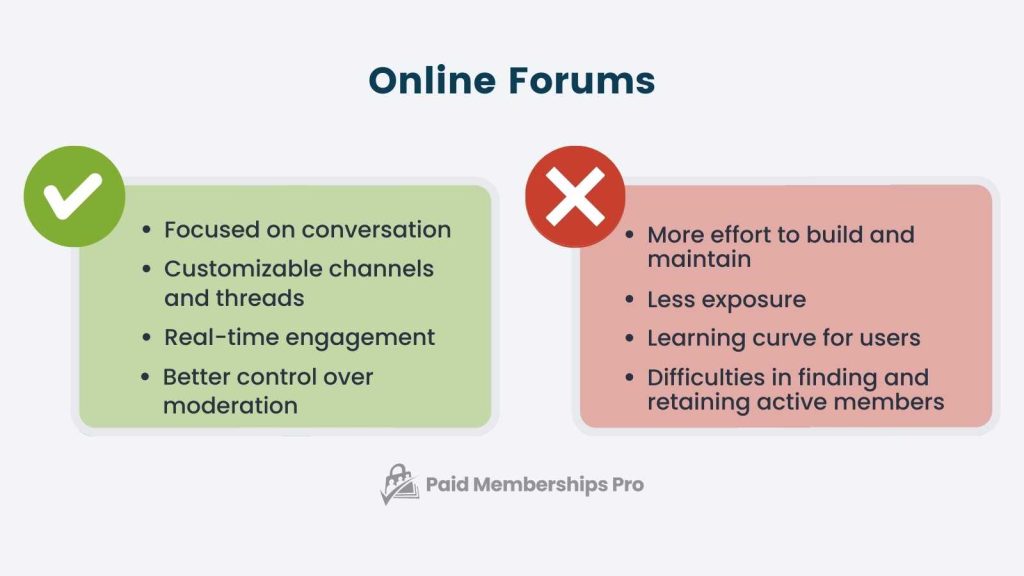 Blogging Platforms
Blogging platforms (content management systems) are designed for creating, publishing, and sharing written articles—often allowing users to engage through comments and sharing features.
WordPress and Medium are great examples of this.
Pros:
Highly customizable design and layout
Strong focus on content creation and sharing
SEO benefits from well-written and optimized content
Ownership and control of content and user data
Cons:
Limited built-in community features
Less interactive compared to other platforms
Requires consistent content creation to maintain engagement
Building and retaining audience can be challenging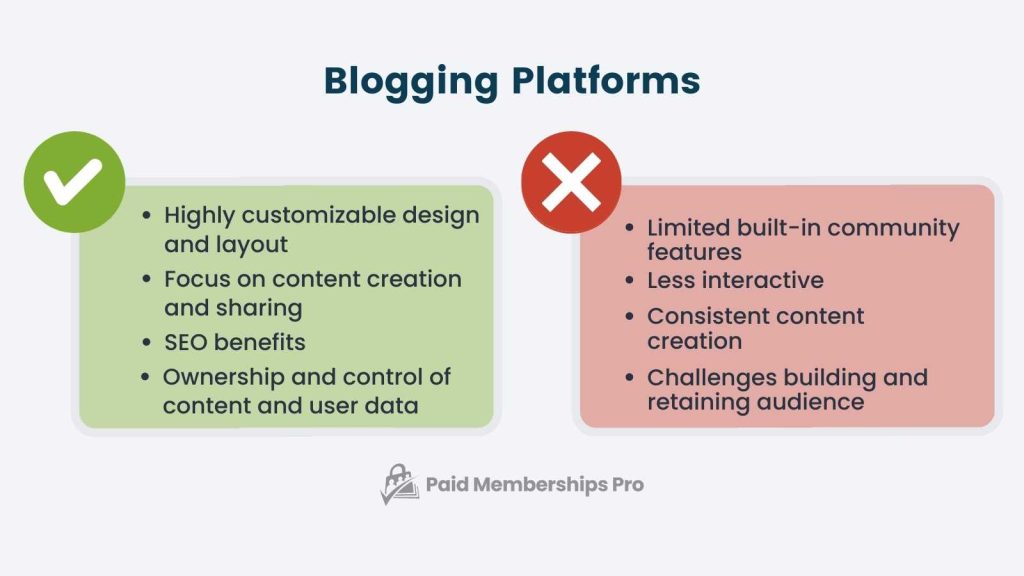 Video Sharing Platforms
Video sharing platforms (or video hosting platforms) allow users to upload, share, and view video content, fostering engagement through likes, comments, and subscriptions.
Think about YouTube and Vimeo, for example.
Pros:
Engaging and visual content format
Large user base for potential exposure and growth
Monetization options through ads and sponsorships
Can host live streams for real-time engagement
Cons:
Requires significant time and resources for content production
Competition for audience attention can be high
Limited customization and branding options
Subject to strict content guidelines and potential copyright issues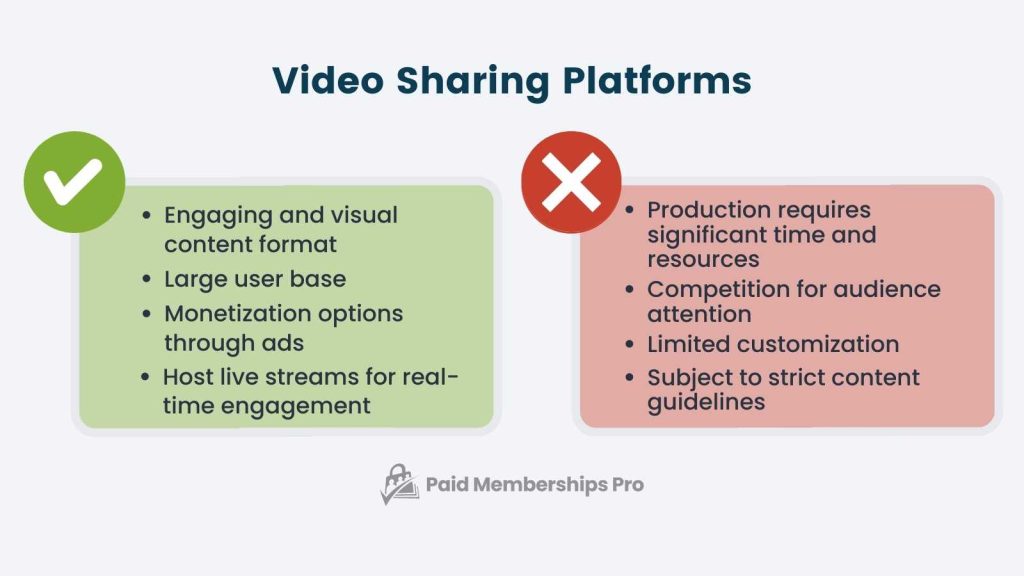 Messaging Apps
Messaging apps are great communication tools, facilitating real-time text, voice, and multimedia interactions between individuals or groups in a more private and secure setting.
Commonly-used examples include WhatsApp and Telegram.
Pros:
Fast and real-time communication
Private and secure environment for discussions
Easy to use and accessible on mobile devices
Can create groups or channels for different topics
Cons:
Limited to text-based communication
Less control over community management and moderation
Scaling can be challenging as groups grow
Not as discoverable as other platforms, relying on word-of-mouth or invitations for growth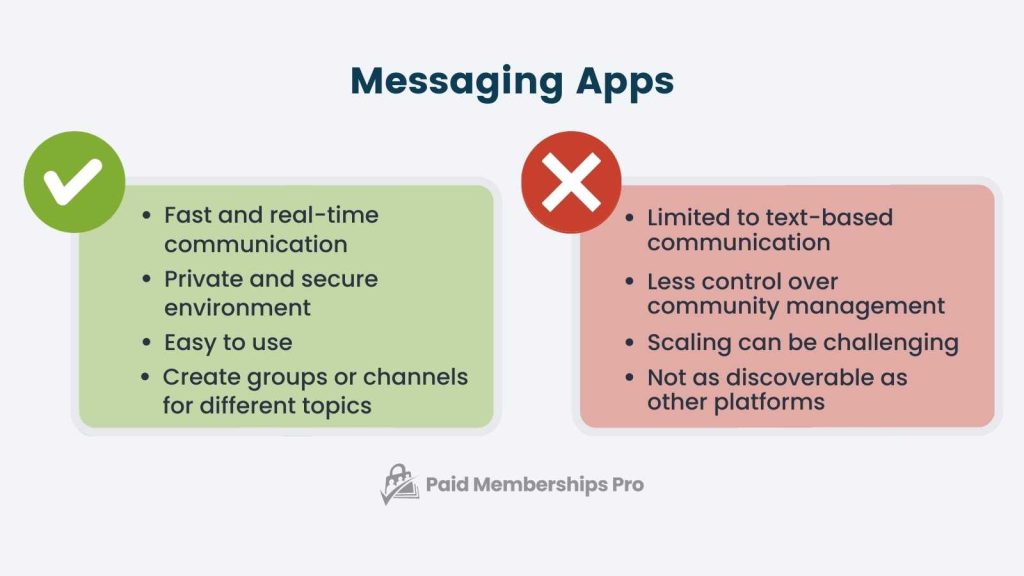 Niche Online Community Platforms
In addition to the popular channels mentioned above, there are also niche online community platforms specifically designed for creating and managing communities.
Mighty Networks, Circle, and Tribe are all examples of this.
Pros:
More tailored features
Tools that cater to community-building needs
Better customization, moderation options, and member management capabilities compared to general-purpose platforms
Cons:
Smaller user base compared to mainstream platforms, which may limit potential reach and growth
May require a subscription fee or payment for premium features and tools
Possible learning curve for users who are unfamiliar with the platform
Platform's longevity and stability may be uncertain, especially if it's a relatively new or small platform
Migration to another platform can be challenging if the niche platform doesn't meet expectations or ceases to exist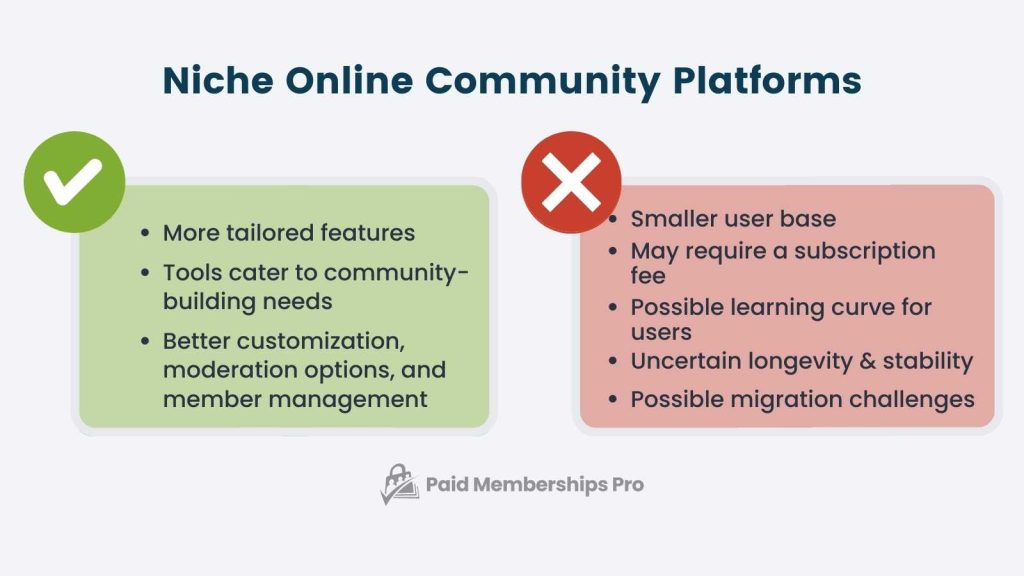 With any of these platforms, it's essential to evaluate the pros and cons to determine if they align with your community's purpose and objectives.
Questions to Ask
If you're still not sure which platform(s) will work best for you, here are some questions to think about:
Which online community platforms are most popular among your target audience, and how can you leverage this information to make a more informed decision?
What specific features and tools do you require from an online community platform to support your community's purpose and goals effectively?
How important are customization and branding options for your community, and which platforms offer the greatest flexibility in this regard?
How can your chosen online community platform integrate with your existing marketing and communication tools, such as email marketing platforms, CRM systems, or social media channels?
Are you planning to monetize your community? If so, which platforms provide the best options for generating revenue through memberships, sponsorships, or advertising?
What level of technical expertise is needed to set up and maintain your chosen platform, and do you have access to the necessary resources and skills?
How can you ensure that your chosen platform provides a user-friendly and accessible experience for your community members?
What are the privacy and security features offered by different online community platforms, and how do these factors align with your community's needs?
How do the cost structures of various online community platforms compare, and what is your budget for maintaining and growing your membership community?
How do different platforms handle moderation and community management, and what level of control do you want to have over these aspects?
Key Factors to Consider When Choosing Your Online Community Platform
To recap, here are some key factors that will help you choose the right online community platform for your business:
Target audience demographics and preferences. Choose a platform that appeals to your target audience and matches their online habits and preferences.
Ease of use and accessibility. Your chosen platform should be user-friendly and easily accessible to your community members.
Customization and branding opportunities. Select a platform that allows you to create a unique and branded experience for your community.
Integration with other channels and tools. Your primary channel should seamlessly integrate with other marketing and communication tools, such as email marketing platforms or CRM systems.
Scalability and potential for growth. Ensure that your chosen platform can accommodate your community's growth and changing needs.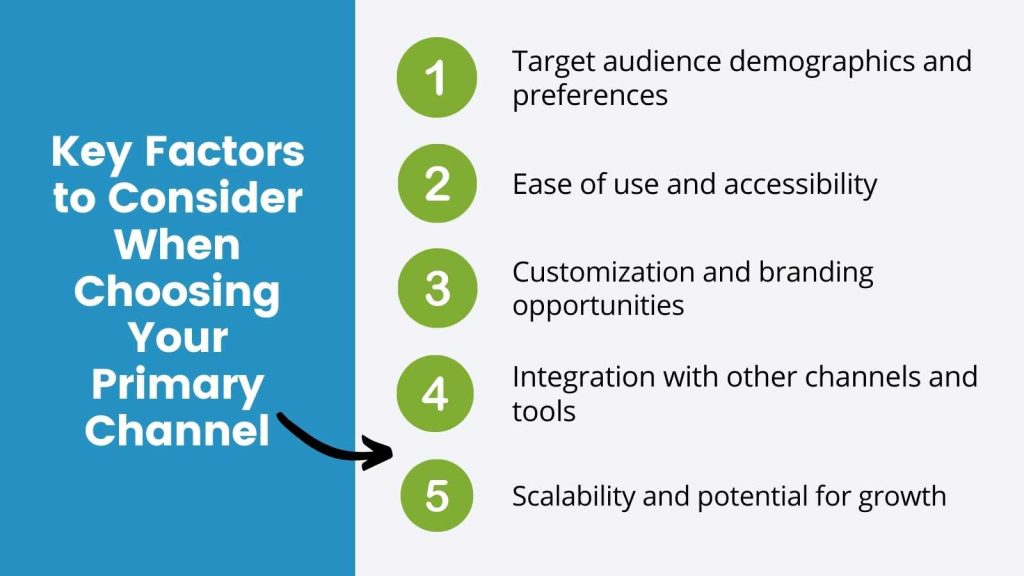 Building a Multi-Channel Strategy
While choosing the right primary online community platform is essential, it's also important to consider a multi-channel approach. Combining multiple channels can increase your reach, engagement, and overall impact.
While it might sound more complicated, this is actually a high-impact marketing strategy that doesn't necessarily require much extra work.
For example, you can cross-promote content across various platforms and repurpose content for different channels—all while encouraging members to engage on your primary channel.
Examples of possible channel combinations might include:
A WordPress blog combined with a Facebook group and a YouTube channel
A Discord server integrated with a Twitter account and a WordPress blog
A Slack community complemented by an Instagram account and a Vimeo channel
Note: In our post How to Build a Community for Your Membership we talk more about how to structure your membership community, including some recommendations based on the type of content you produce and the nature of your community. So, be sure to give that a read if you're still not sure what will be most helpful for your audience.
Stay Focused on What YOUR Community Needs
In summary, finding the right online community platform for your business comes down to:
Identifying your community's purpose and goals
Evaluating the pros and cons of various channels
Considering key factors like target audience preferences, ease of use, customization, and scalability
Don't forget to embrace a multi-channel approach to maximize your community's reach and engagement.
Remember: It takes time to choose the right platform for your online community, so don't get discouraged if the best fit isn't immediately obvious. Stay focused on what your community is all about—and what your prospective members want and need.
Looking for the best membership plugin for your online community? Download Paid Memberships Pro today and get access to a rich set of tools that will help you create and nurture a thriving community.