A membership site can be a lucrative way for businesses and solopreneurs to earn consistent income. But to make money from a membership website, you have to market it. If you're wondering, "How do I promote a membership website?" you're not alone.
This post will cover different marketing channels that can help you build hype around your membership program.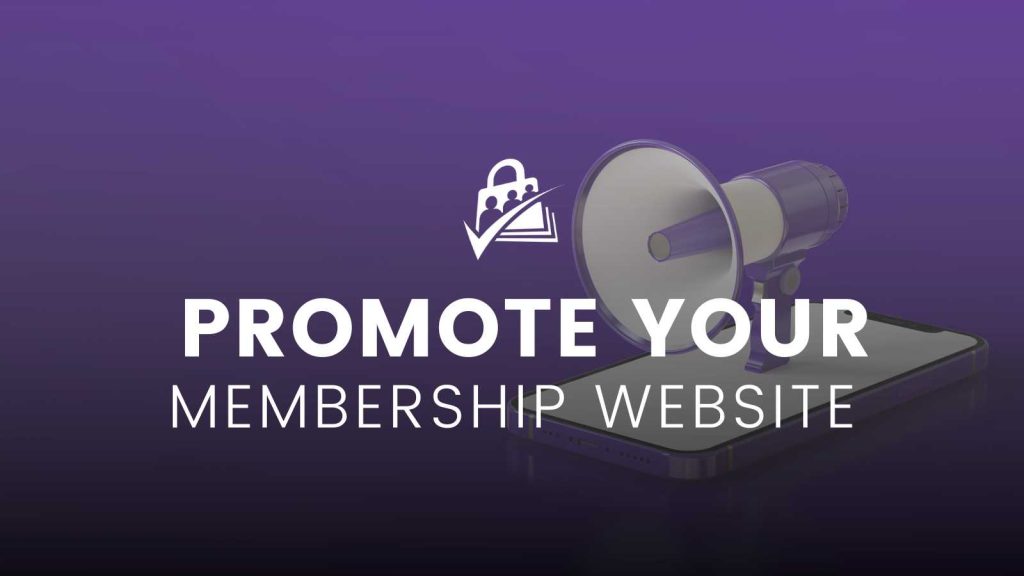 Reaching Potential Members
The internet is a big place, and if you don't know where your potential members are, you could waste precious time and resources marketing in the wrong places.
To make sure you reach the right audience:
Research your audience. Look at the following you've already built from your newsletter and social media and try to identify what they have in common. This is a crucial first step with any form of marketing.
Locate potential members. Based on your research, figure out where else your audience likes to hang out online and use that information to locate potential members.
Identify pain points. Find out the struggles your audience is dealing with. What problems do they have?
Create solutions. Once you know what your customers need, you can decide how you can help them—and this solution is the foundation of your membership. Plus, because you already know they need it, it will be much easier to promote.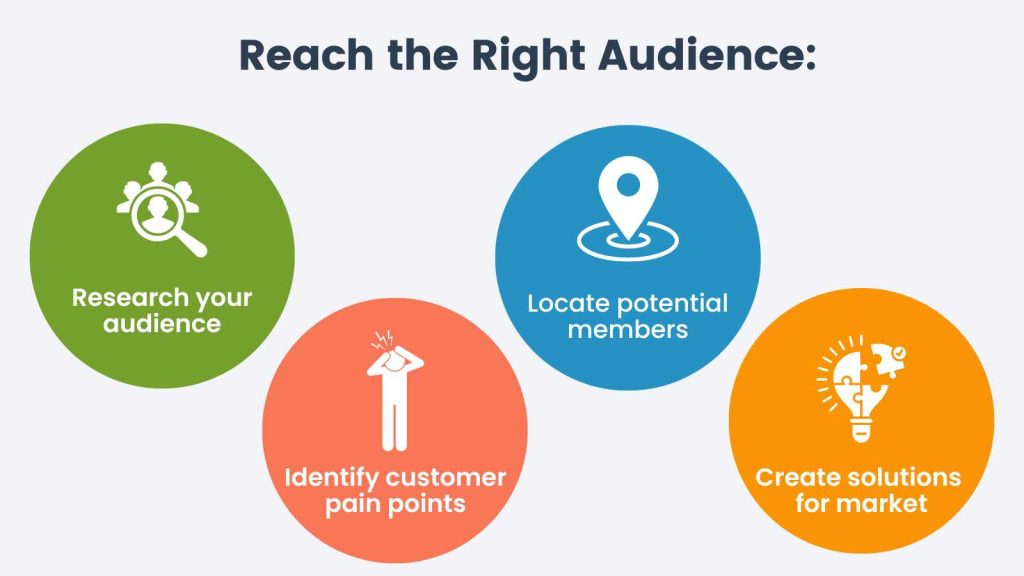 Best Marketing Channels to Promote a Membership Site
Once your membership site is built, you have to promote it. And while social media can be a great option, you already know that relying on algorithms to spread your message can produce widely varying results.
If you want to promote a membership site thoroughly, you should consider using the following marketing channels.
Direct Marketing
Communicate directly with your audience by sending marketing emails or SMS marketing texts. Potential members are more likely to see these messages—and when you message your audience outside of social media, you don't have to compete with their desire to scroll.
For example, you can thank your newsletter subscribers for their loyalty by giving them special offers, Or, you could even allow them to be first in line to join your membership early, or at an exclusive price.
No matter what type of promotion to choose to run, direct marketing allows you to share the purpose, value, and benefits of your offer directly to your audience. You'll likely find the majority of your sales come from this marketing channel.
Retargeting
"Out of sight, out of mind" is a common saying for a reason; It's difficult to remember something when it's not right in front of you.
Retargeting campaigns can fix that.
Retargeting campaigns allow you to show ads to your website visitors who didn't complete a purchase. For example, if a potential customer visited the sales page for your membership without signing up, you can use a retargeting ad to show them marketing text, video, or images when they visit social media sites (or even other websites).
Retargeting is a great way to keep your offer fresh in the minds of potential customers. Since they already visited your site, they're probably already interested in making a purchase, so it's a good use of your marketing dollars.
Member Referrals
Existing members can be the best form of advertising you have. Creating a member referral program encourages and rewards these members for spreading the word about your membership.
How it works: Members get a bonus for referring new people who sign up for your membership. Telling friends and colleagues what they love about your membership can produce more signups since people tend to believe the word of someone they know.
Partnerships
Partnering with a company that has a similar mission to yours can increase your audience as well. The basic principle is that when two companies partner on a campaign, they expose each other to new audiences.
However, when creating a partnership, choosing a company that's not in direct competition with yours is important. Work with an established, trusted brand in a connected area if you want to build serious credibility.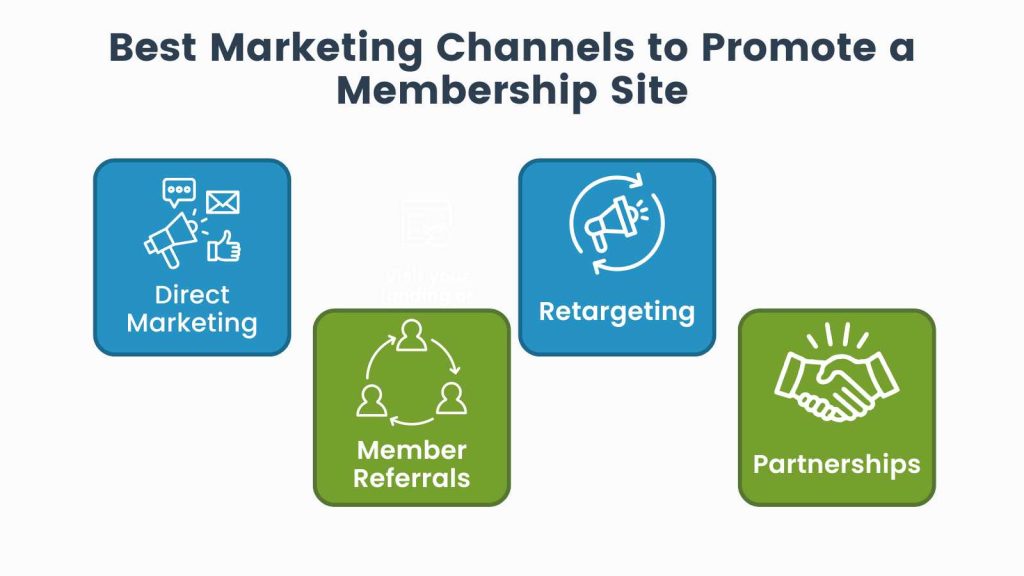 Tips to Promote a Membership Site
Marketing a membership website is a little different from marketing a standard product. With a membership, your customers agree to an initial sign-up cost, as well as future monthly payments (as opposed to a single purchase.)
Because they will pay for your membership on an ongoing basis, your promotions should communicate the value of your membership as clearly as possible.
3 ways to communicate membership value are:
Speak to the needs of your audience. You've already discovered your audience's pain points, and learned what they needed. Make it clear in all of your marketing materials that your membership meets these needs.
Engage in storytelling. People become emotionally invested in stories, so you can create a sense of value around your membership by telling a compelling story. Talk about how your membership has created real-world value for people—maybe even changed their lives.
Humanize your message. Remember that your business is an extension of you. Don't be afraid to show the human behind the business and let your authentic personality shine through.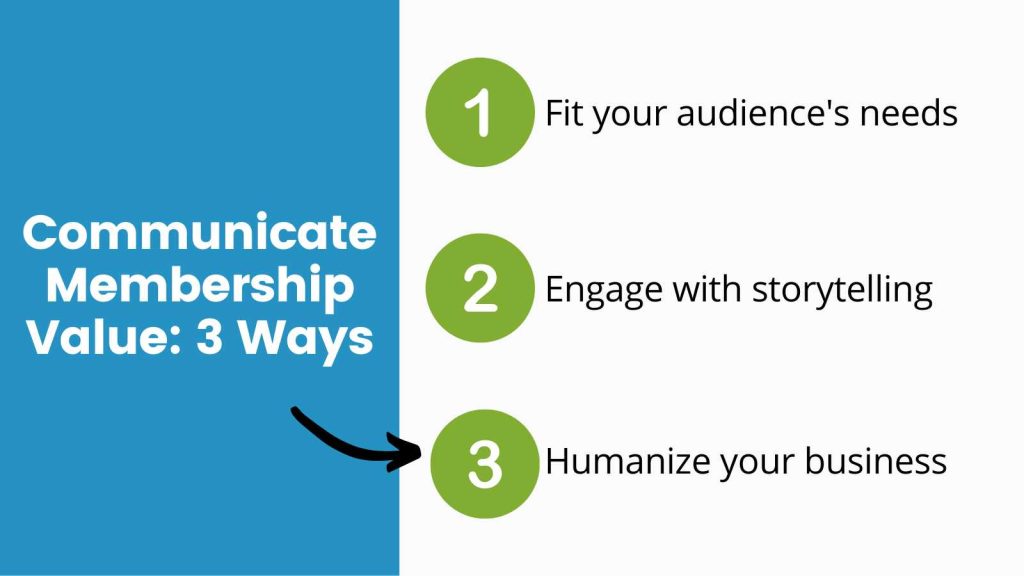 Video: Promote Your Membership Site with These Marketing Channels
Best Methods to Promote a Membership Site
When it comes to promoting a membership site, you don't have to reinvent the wheel. The methods you're already using to promote your business will help you find your members.
To promote a membership site, use:
Social media posts. Sharing content about your membership on social media is a great way to build interest and spark engagement. You can share behind-the-scenes photos, testimonials from current members, or even information about upcoming membership events.
How-to videos. Creating videos showing the different ways your membership can be used helps potential members understand the value they'll get when they sign up. Plus, it can be a great way to introduce yourself as an expert in your niche.
Blog posts. Creating search-engine-optimized blog content attracts customers who are looking for what you have to offer. Your website will rank higher in Google searches as well, resulting in even more traffic.
Webinars. Introducing your membership in an interactive video format is what webinars are all about. Share what you offer while also answering live questions from potential members.
An SEO-optimized website. Using strategic keywords on your website can help you appear in Google searches. SEO will build your credibility because people are more likely to trust businesses that rank at the top of Google searches.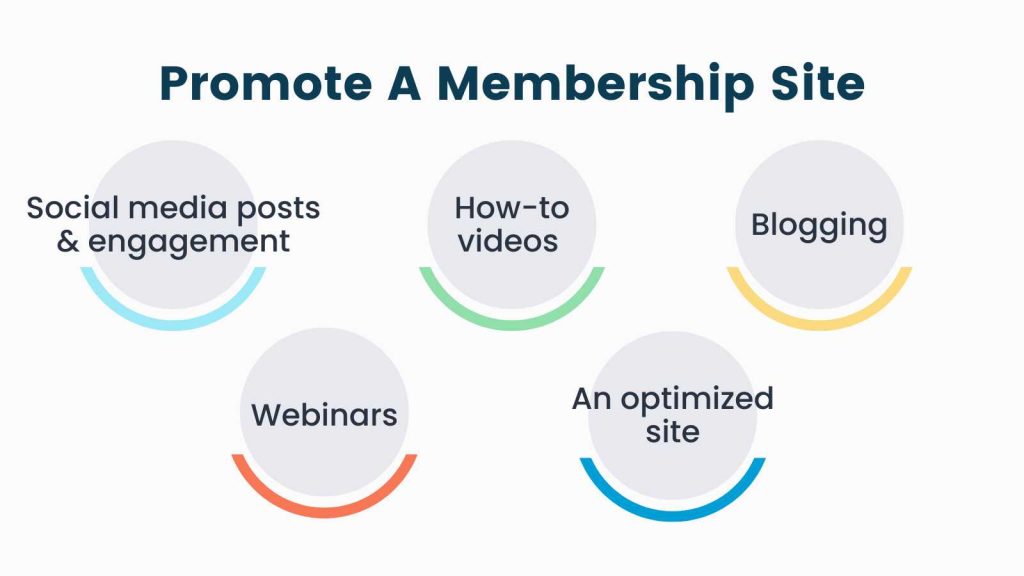 Using Content Marketing to Promote a Membership Site
Whether or not you've used content marketing in the past, creating a content marketing plan for your membership is key. Here are some best practices when it comes to content creation:
Create a content strategy. Think about what kind of content you'd like to create (video, blog posts, podcasts, etc.) and who your audience is. Then, do keyword research to find the phrases people are already searching for using tools like Google Trends. This process is the foundation for a strong content marketing strategy.
Build a library of content. Once you have the right keywords, you can start creating your content. We suggest creating content in batches, so that you have a backlog of content that is ready to post whenever you need it. Of course, you can also start small, creating content as you go along.
Be consistent. Define how often you'd like to post and create a schedule that you can stick to. Members will come to expect content from you on certain days, which keeps them interested and engaged at regular intervals.
Repurpose your content. You can easily add dimension (and more value) to what you offer by repurposing content—or releasing existing content in different formats. For example, you can turn blog posts into podcasts or YouTube videos into Instagram reels. Pick the platforms that make the most sense for your business. Check out our post on repurposing content for ideas and inspiration.
Using Affiliate Marketing to Promote a Membership Site
Affiliate marketing is a powerful tool that incentivizes members to promote your membership—and it's one of the many robust features that you can leverage with Paid Memberships Pro.
What is Affiliate Marketing?
Affiliate marketing enables your current members to market your business as an affiliate. Each affiliate gets a special link that they can share with their network. Then, when someone uses the link to sign up for your membership, the affiliate makes a commission.
Affiliate marketing can drive more traffic to your site and attract potential audience members who might not encounter your membership otherwise. Plus, it increases brand awareness and builds trust, since people tend to trust brands endorsed by people they know.
How to Start an Affiliate Marketing Program
The first step in building an affiliate marketing program is to find compatible influencers or businesses that would fit your membership well. You may already have some as members. These will be your representatives who share your membership with their network.
As for the technical side, you'll need to use a WordPress affiliate plugin to generate unique links for your affiliates to share.
You'll also need to create an affiliate agreement or policy. This should be as clear and direct as possible, with no room for confusion. Your affiliates need to know what they will gain from sharing their link. The incentives you offer should be valuable to them.
Moving forward, be sure to keep an eye on sales and support your affiliates so that they can succeed—and help you earn more revenue, too.
Tracking Your Promotion Performance
If you want to be sure that your promotion efforts are worthwhile, it's important to track and measure them. Creating a system for tracking your performance will show you what's working and what isn't.
Here are a few tips for tracking membership promotion:
Choose your metrics. Determine what kind of metrics you'll be tracking. Check out our post Optimizing KPIs for Your Membership Site for ideas. If you're already using platforms with built-in marketing metrics, even better.
Use analytic tools. Whether you're using an email marketing platform or Instagram, checking the analytics will show you what's working. Familiarize yourself with those tools before you start promoting so you know what to do with the data when you get it.
Compare performance to goals. Examine your chosen metrics alongside your analytics and promotion campaigns to help you find out if you're meeting your goals.
Adjust and improve. Once you see what's working and what's not, make adjustments to your promotion efforts. Doing this at regular intervals over time will help you fine-tune your marketing and promotion for success.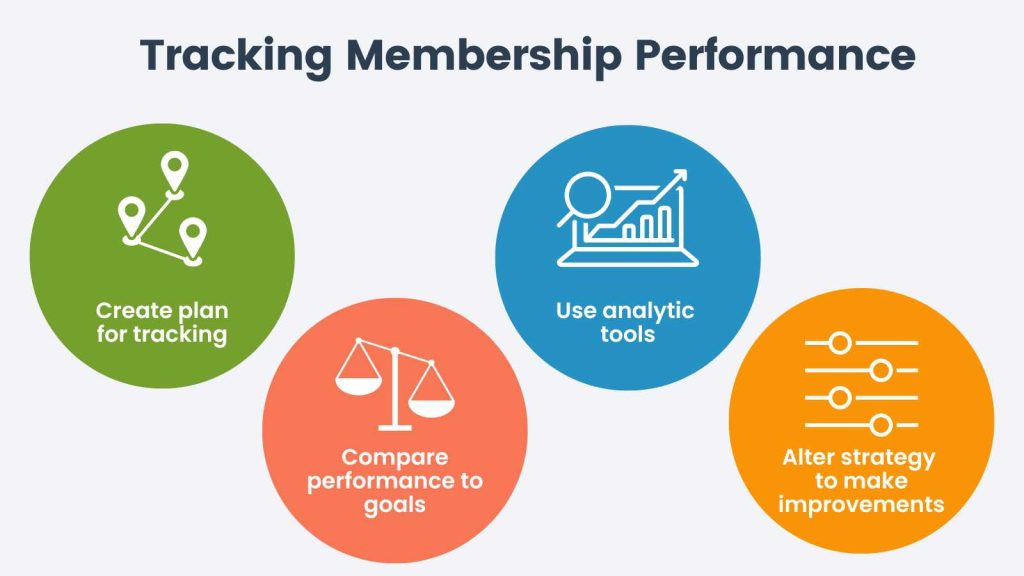 A Great Membership Plugin Can Help
All of the marketing strategies in the world don't matter if you lack the right tools. Most membership plugins give you some kind of marketing tools to help promote your membership site. However, there are some specific features and benefits that you should look for:
Email marketing integrations. Email marketing is a crucial part of any marketing strategy. If you can make your email software work with your membership plugin, you'll make the sign-up process much more seamless for your members. Plus, it'll set you up for success with newsletters and optimizing your email marketing efforts.
Affiliate add ons. We've talked about how affiliate marketing is a great way to increase signups. A plugin with an affiliate add on will make this a lot easier for you.
Customer information. The more information you have about your customers, the more you can understand them and market your membership to them. Good membership plugins offer this feature.
Member engagement data. Tracking member engagement can help you identify which members would be good affiliates for your company. Look for a plugin that allows you to see what your members are engaging with, so you know if your content and promotion efforts are effective.
Want to Promote a Membership Site More Effectively?
Learn more about how other successful membership sites have grown their member base by checking out the PMPro customer showcase. If you want a WordPress membership plugin that gives you all of the tools you need to effectively promote a membership site, download Paid Memberships Pro today.
Was this article helpful?