If you are already running a premium Membership site, there are several reasons why you would want to create a separate website for free members. In this article, you will learn how to set up a membership site exclusively for free members. This guide applies to new member signups or members without a current subscription plan.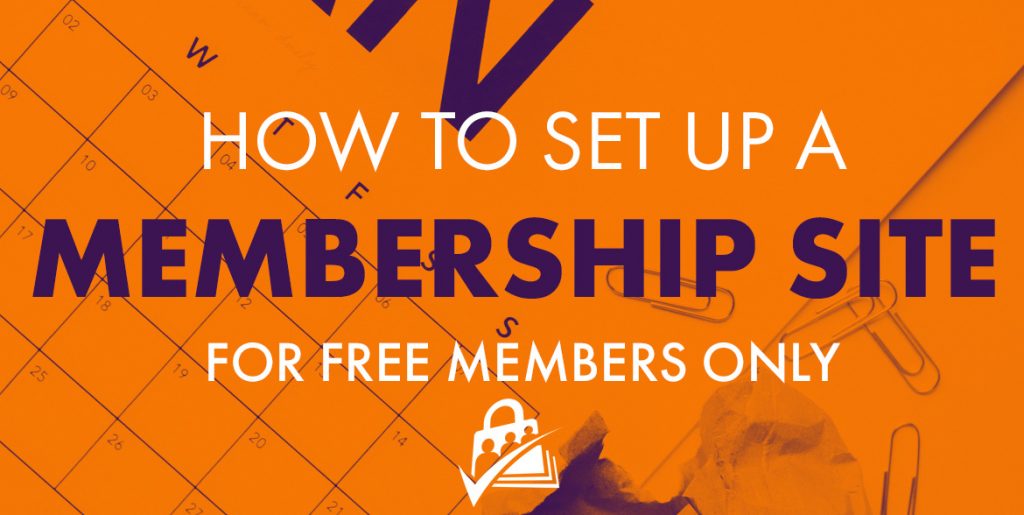 ---
Why Create a Membership Site for Free Members Only
When a new member signs up to your site, it is fair to assume that they see value in whatever it is you are offering. Although, they may not purchase anything from you initially. This is an excellent opportunity to build a mailing list of potential customers, establish yourself as a thought leader, and develop a loyal following.
A free membership site could also benefit those who:
Want to engage with a specific target market.
Are building a customer acquisition model or sales funnel.
Are planning on releasing a premium product or service in the near future.
So, how do you convince people to sign up for a free membership? What does it take to build an emailing list of loyal followers? The answer to that is simple.
Give people an incredible amount of value, for free.
This may seem counterintuitive, but it is really quite effective. What happens when you give an incredible amount of value to someone? They sign up for your product offering. Develop trust in you and your brand. They become a fan.
Having a loyal fanbase is fantastic. A loyal fan will be more willing to engage with you. Take you up on your latest deal. Stick around with you for the long haul.
There are many reasons why giving away something for free is a great business model. Learn more about how to grow your membership and improve your sales funnel by giving something away for free​.
---
How to Configure Core Paid Membership Pro
Now that we have covered the "why" of free membership sites. It is time to cover the "how". Whether you are just getting started, or are a Paid Memberships Pro veteran this guide should be of some help.
Setting up Your Free Membership Level
The first step to setting up your PMPro free membership site is to create a free membership level. To do this, follow the steps below:
From your WordPress dashboard, navigate to ​Memberships > Settings > Levels​.
If you are setting up a membership level for the first time, click the​Create a Membership Level​ button.
If you're adding a new level to the existing ones, click the ​Add New Level​ button.
The new level you just created will have several options that allow you to customize the membership level. You can edit the name, description, confirmation message, billing details, etc.
Refer to our ​PMPro membership level documentation​ on how to customize and manage the level settings.
Video Demo
---
Setting up Your PMPro Pages
It is now time to set up your Paid Memberships Pro pages. These pages will allow you to manage members' data, such as billing information, password reset, and profile edit features, etc.
To configure Paid Memberships Pro pages, follow the steps below:
On your WordPress dashboard, go to Memberships > Settings > Pages​.
For first time installation, select to manually create the pages or allow PMPro to generate pages for you automatically. We recommended that you let PMPro set up the pages for you. These pages can always be edited later.
Click the "​Generate Pages for Me"​ button.
Save your settings.
Check out this page settings documentation​ for further guidelines or follow though the embedded video tutorial below. You can also ​click here for information on how to customize PMPro pages​.
Video Demo
---
Advanced Settings
Advanced configuration settings are available for your membership level from the advanced settings tab. You can set excerpt settings, hide content from all non-members (or not), and more.
In order to access these advanced settings, you will need to:
Navigate to your WordPress Admin dashboard > Memberships > Settings and select Advanced.
Select or change options according to your needs.
Save changes
This documentation will guide you with PMPro Advanced Settings.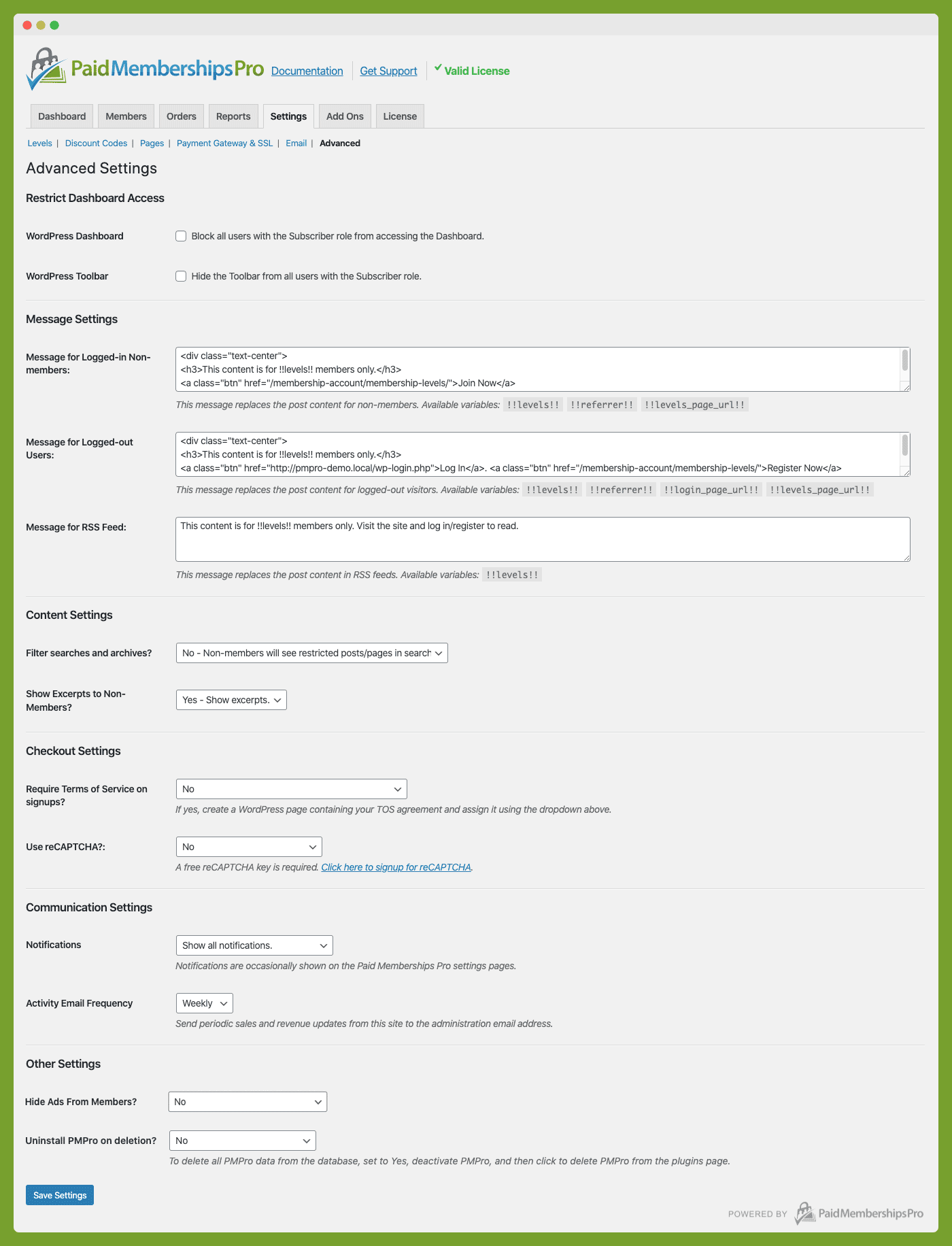 ---
Further Customizations
Below are some optional customizations you can consider when setting up your PMPro membership site for free members only.
Remove or Change "the Price for Membership Is $0.00 Now"
By default, free membership levels will display the text "The price for membership is $0.00 now." You may want to hide this text or change to display it as "Free."
To change the level's pricing statement to "Free," use our PMPro Custom Level Cost Text Add On. This plugin overrides the PMPro's default level cost text.
Refer to this guide on how to set up our Level Cost Text Add On – you'll also learn how it works, and the advanced settings you'll need to modify the cost text.
---
Use the Default Level Code to Skip the Levels Page
There's a code recipe you can use if you only have the free membership level and want to skip the PMPro levels page – so users are directed right to the checkout page (free for this case).
You'll need to add this one line of code to a customization plugin.
define ( "PMPRO_DEFAULT_LEVEL" , "1" ) ;
Make sure your level has ID 1, or adjust that in the code above. And be sure to remove this line if you add additional levels in the future. For more information on this refer to this step-by-step guide to add the default level code to your site.
---
Remove the Invoices Section of the [pmpro_account] Shortcode or Block
Paid Memberships Pro comes with shortcodes and blocks that can be used to insert plugin-generated content, or show/hide content based on membership level inside pages, posts, widgets, and more.
For a free membership level, you might want to remove any block or shortcode (CSS) under the membership invoice page.
To check if the invoice section of the [pmpro_account] shortcode or block is active, follow the steps below:
Under Memberships on the WordPress dashboard, navigate to Settings > Pages.
Under the Invoice Page (Membership Invoice), click on the edit page button.
Make sure there's no active block or additional CSS code.
Update the page.

You can also toggle the display of the "Invoices section," under your Membership Account page. To do this, follow the steps below:
On the WordPress Admin, navigate to Settings > Pages.
Under Account Page (Membership Account), Click "edit page".
If the invoice block is active, uncheck the Show Invoices Section.
Update the page.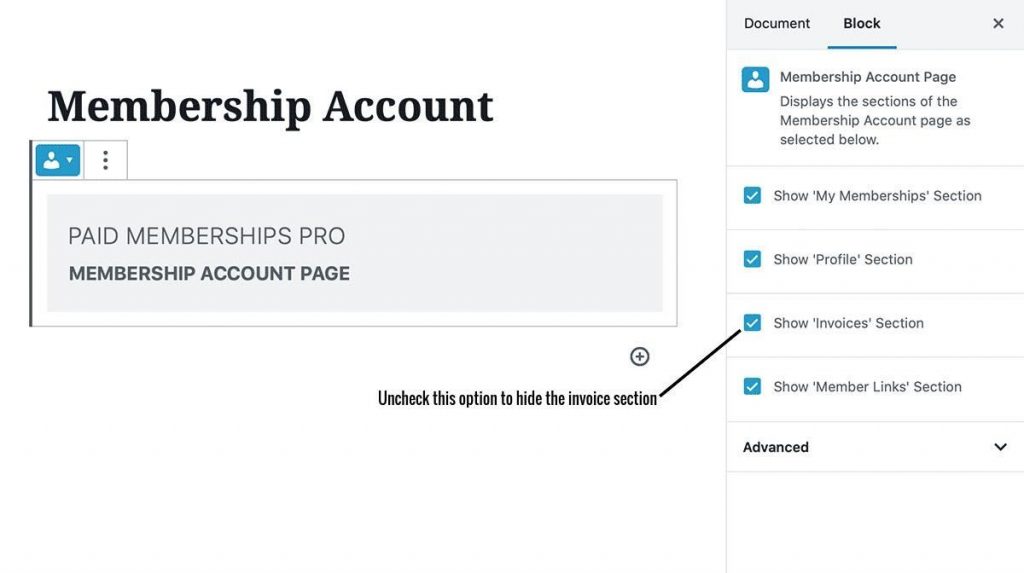 ---
Use the Signup Shortcode Add On
The [pmpro_signup] shortcode is a useful Add On that makes the signup process quick and convenient – especially for your free membership level.
This Sign Up shortcode Add On will streamline the membership checkout by:
Enabling email-only signup.
Instant redirect to the referrer or specified page.
Setting the level ID and displaying specific signup fields.
Enabling a Popup integration.
For installation procedures, check out this step-by-step companion guide. If you're going to use the shortcode in a popup, this post has details on filtering popup displays based on membership level.
---
Free Membership for Trials Only
If you would like to set up a free membership trial, say for 30 days only, you can create a free membership level that expires after 30 days and doesn't allow for renewals. Follow this guide to offer a trial membership that can only be used once.
---
Wrapping up
As you can see, there are a lot of ways you can customize Paid Memberships Pro to suit your free membership needs. While this article covers a few of these points, I would like to encourage you not to get overwhelmed.
Paid Memberships Pro gives you the flexibility and versatility to make changes to your membership site as time goes on and as your membership site grows.
If you are looking to start a free members-only site, the best way to begin is to download Paid Membership Pro and start building your website for free, right away.
If you are a Plus or Unlimited PMPro member and feel you need a little more direction or technical help, get in touch with our support team.