If you are in charge of a membership-based association, you probably wear a haberdashery's worth of hats. You are rarely just a creative or executive — you're also an administrator, manager, marketer, and webmaster. And you handle it all with determination, organization, and a talent for multitasking.
But then it comes time to be an accountant, and you start to feel squeamish. We are uncomfortable talking about money. You are daunted by the onslaught of requests, questions, and issues that arise during membership renewal periods.
You are consumed by member registrations, scheduling, email communications, and other administrative tasks. You think, "I do not have time for this. There must be a better way!"
Here is the good news:
There is a better way. This guide will show you how membership software can manage your membership dues. We will also go over best practices to alleviate the stress and overhead you might face during renewal season.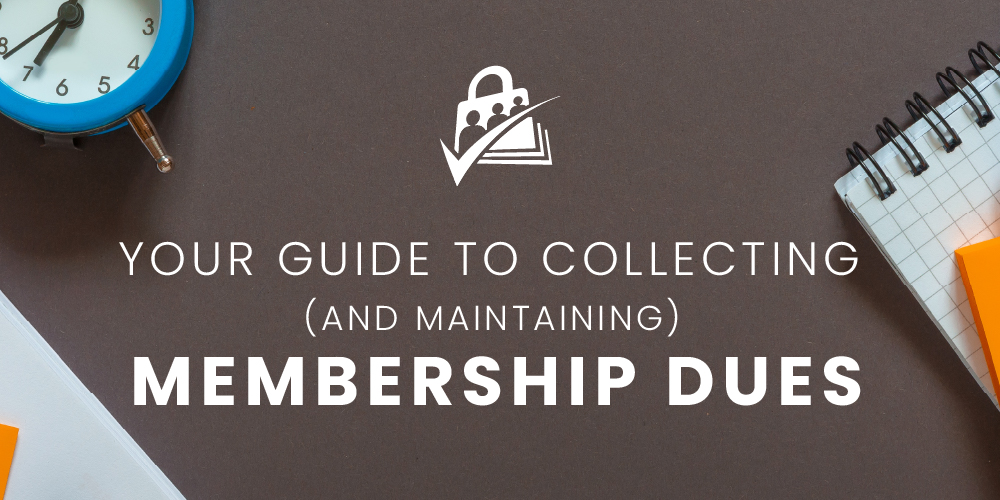 Jump Ahead to Learn:
How Membership Software Handles Due Reminders
Most association members are busy — they have careers, hobbies, and plenty of life commitments. Among their many worries, concerns about when their association dues are up for renewal are unlikely to rank top of mind.
You need a system to collect dues from your busy members.
And that is where membership software comes in like an organizational superhero. Its superpowers are taking payments and providing something (like access) in return.
Good membership software includes features that make its payment-taking job easier and more effective — including automatic reminders.
The method of delivery varies between platforms. But whether they are push notifications or emails, these reminders let you spend more time growing your member base and less time chasing down dues.
According to 2020 data from Statista, on average, Americans use 12 subscription services per person — and that is just for entertainment services. So it makes sense that most people do not memorize the renewal dates for every membership.
But as your membership base expands, it gets harder to manually track all those dates and send reminders.
Membership software monitors each user's membership period and sends them a notification when it is time to renew. These automated reminders will drive you towards a better return on investment (ROI) faster and keep your membership number high without manual intervention.
Best Practices for Sending Due Reminders to Members
Every association and membership base is different. So membership software should provide a variety of ways to notify your members they have dues coming up.
These alerts shouldn't be limited to renewal notices, either. Regularly encourage your members to take advantage of the opportunities and benefits your organization provides. This ensures they feel their membership is a good value when it's time to pay their dues.
Here are 10 notifications your association should send members to keep them connected and engaged:
Confirmation emails when a subscriber signs up for your service
Subscription-approved emails if there is an approval process for members.
Thank-you messages when users sign up for a subscription
Thank-you messages for received payments
Content restricted messages when users try to access premium content
Renewal reminders when it's time for users to renew their membership
Upgrade special offers to encourage users to upgrade to a higher-level plan
Cancellation confirmation emails when subscribers cancel their membership
Price-adjustment notifications to tell your subscribers if the cost of their membership dues will increase
Text message reminders to notify users before and after their subscription expires
How Membership Software Handles Late Payments
Not all associations can collect late fees. Some industries do not allow it, and some organizations do not specify a fee structure for late payments, which makes those retroactive late fees unenforceable.
If your association applies late fees for tardy membership dues, your membership software may provide options to enforce and streamline the collection process.
But association members are inevitably going to miss their payments. If you want to keep them in your organization (which is usually in your best interest), you should formulate a strategy for approaching tardy membership dues.
Always assume a missed payment was an innocent mistake. There is likely a logical reason why the member's payment is delayed. A soft emailed reminder from your membership software might be enough to clear it up.
The first late-payment email should detail the past-due payment and give the member a way to get in touch with you in case of difficulties. If the account remains delinquent, send a second follow-up email to remind them of the amount due and available payment options. If there is no response, your membership system can send a warning of impending service suspension.
Outside of your membership software, you may need to adopt additional standard operating procedures to ensure you are communicating directly with your members if their subscription is especially valuable.
How Paid Memberships Pro Improves Your Membership Renewal Process
While Paid Memberships Pro does work for free membership sites, the majority of people building on PMPro want to get paid. And we built our platform in a way that makes recurring payments painless. That's why PMPro makes sure auto-renewal is configured by default. The vast majority of the time your site successfully renews memberships and sends a success notification to the customer.
Sometimes of course payments do fail—usually when a credit card expires. And PMPro built entire systems to minimize the harm of missed payments.
To start with, both users and admins get an email notification when a payment fails. The user can then log in and update their payment information and the admin can follow up with the user if no action is taken. In addition, payment gateways will retry the card automatically several times depending on your gateway. Stripe retries a card up to 4 times over several days (users receive an email from your site each time a payment retry fails).
And to prevent a missed payment in the first place Paid Memberships Pro notifies users one week before expiration. You can use our Extra Expiration Warning Add On to send out additional notifications as early as you like. This gives customers plenty of time to update their credit card information should anything be out of date.
Final Tips
Asking for money can be a challenge in its own right. It quickly becomes that awkward conversation you have with someone. It doesn't have to be though. When you start collecting membership dues, taking a smart approach about how to collect and creating a process that makes things easier and more efficient can be achieved with your membership system.
If you're looking for more information on all of the main aspects of running an association website, check out our post Association Website 101: Pro Tips and Best Practices.