How it Works
This plugin adds a 'Require Membership' meta box on the 'Edit Forum' page to let you specify the level(s) that can access the forum.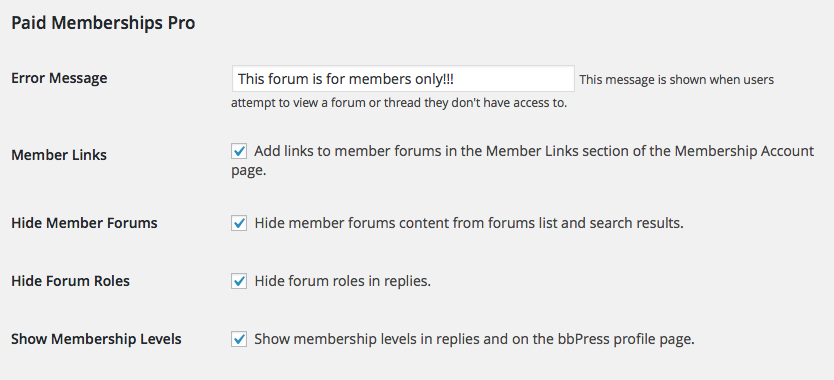 v1.5 introduces additional settings found under General -> Forums. Here you can specify additional bbPress + Paid Memberships Pro behavior including:
Error Message: This message is shown when users view a forum or thread they don't have access to.
Member Links: Add links to member forums in the Member Links section of the Membership Account page.
Hide Member Forums: Hide member forums content from forums list and search results.
Hide Forum Roles: Hide forum roles in replies.
Show Membership Levels: Show membership levels in replies and on the bbPress profile page.
---
Installation
Upload the 'pmpro-bbpress' directory to the '/wp-content/plugins/' directory of your site.
Activate the plugin through the 'Plugins' menu in WordPress.
Edit your forum(s) and restrict forum access by toggling levels in the 'Require Membership' box (see screenshot).
Further settings can be found on the Settings -> Forums page of your admin dashboard.
---