Membership sites and online courses are powerful tools for sharing your knowledge, giving value to your audience, and growing your business.
If you are a creator at heart and a knowledgeable individual looking to get paid for your expertise, you might wonder what kind of platform would be best for you. In this article, we will help you work out if a membership site or online course is best for your business.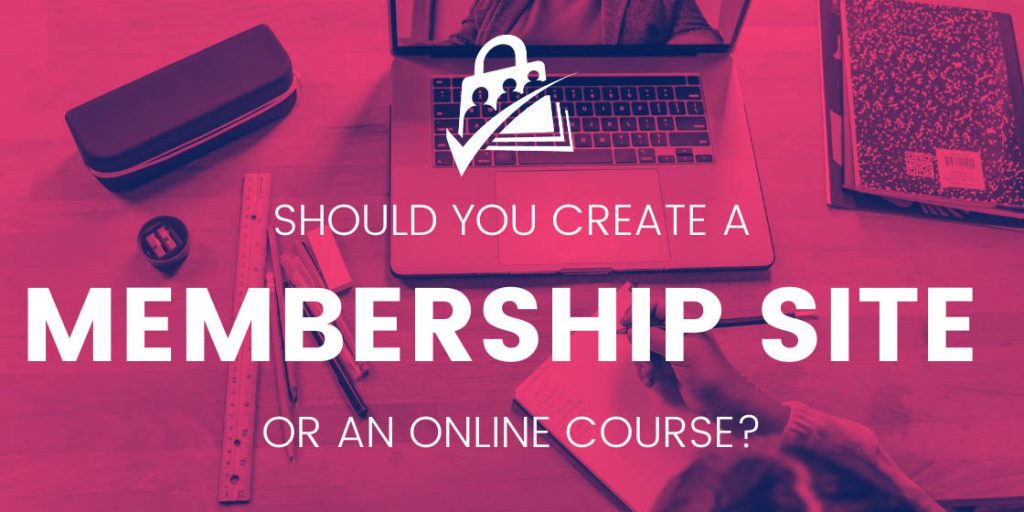 What is a Membership Website?
In its most basic form, a membership website allows you to publish and restrict content. This private content is only accessible to people who subscribe to your membership. Membership can require payment or be free of charge, depending on your business model. In some cases, it can be highly beneficial to offer a combination of premium and free memberships on your site.
For example, a patron-supported or crowdfunded site allows podcasters to offer additional premium content only for paid subscribers in addition to their free podcast offering.
With membership websites, you can provide more than just content. You can use your website to build a community, engage with your audience, or offer special deals to members when buying products from you.
Some Examples of Membership Sites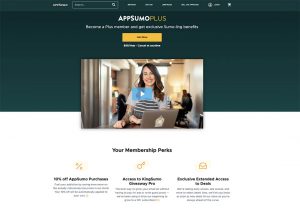 AppSumo is a marketplace for digital product deals, which are often time-sensitive. Anyone can access these deals. However, AppSumo created the Plus membership which gives members 10% off purchases and extended access to deals.
Foodbloggerpro was founded by food blogging experts to share their knowledge and help others create great food blogs. They provide both premium content and a community forum where individuals interact with each other and the founders.
How to Start a Membership Website
To build a membership website you need two things: physical structure and a concept. The physical structure is the build of your website, which can be done using WordPress and a membership plugin like Paid Membership Pro.
The concept is how you're going to deliver your content to members.
This is the area you want to be clear on before you begin, so you can build the right structure and save time making changes later on. Some things to consider:
Will your content need to be drip-fed on a regular basis?
Are you going to publish a static library of resources?
Will your subscription require a recurring billing or a one-time fee?
How do you want to interact with your members? And, will members interact with one another?
These are just some of the questions you will need to ask yourself before building a membership site. See this article for more information on building your first membership site.
What is an Online Course?
These days, everyone seems to be creating an online course of some sort. Many people see online courses as the road to a successful online business with passive income.
An online course is defined as a formal program of learning with a final objective. Participants take a series of sequential steps to get to that objective, where each part builds on last. Throughout the course, there will typically be some evaluation of your progress with quizzes or homework. In the end, you may receive a qualification or certification validating your competency on the given topic.
How to Create an Online Course
To publish a course online, you will typically use a learning management system (LMS) like LearnDash. LMS are designed to manage online courses and can include a range of features that help you put a course together for your viewers. Some of these features may include:
Course Structure and Delivery
Quizzes
Gamification
Reporting
Certification
You can learn more about online courses and learning management systems by watching this webinar with expert course creator Kim Shivler, founder of the How to Build an Online Course website.
Can you build a combined membership and course platform?
A combined platform brings together the best of both a membership site and an online course. Combined platforms are becoming increasingly common in today's world. They serve the need for online education bundled with community forums, members-only content, special product deals, and more.
This companion article and video on managing courses with Paid Memberships Pro explores how to use Paid Memberships Pro (membership) and LearnDash (online courses) to build a combined platform of your own.
Choose What Works Best For Your Business
Which platform you use depends largely on what suits your business and target audience. Before building a course or membership website, you need to figure out your business model. Here are a couple of questions to help get you heading in the right direction.
Do you already have an audience?
Why do you want to add this feature to your business?
Have your customers been asking you for this solution?
What is your expertise or interests?
Do you feel comfortable in front of a camera or would you prefer written media?
Do you enjoy teaching?
Be sure to take some time to write down the answers to some or all of these questions. Develop a rough business model around some of these answers. This will help you to start narrowing down on which platform would be right for your business.
What does your audience want?
Another big area to consider when starting a membership site or online course is your target audience. Just because you think you have a million-dollar idea (and maybe you do) doesn't mean that others will think the same. Taking time to validate your idea and build a sample of what you have to offer is a great way to determine whether or not you have a winning formula for success.
Build a sample offering and send it to some customers.
Create a landing page and try to sell your sample to others.
Ask your clients what they would like to see and learn from you and your business.
Keep an eye out for recurring questions from your audience. They will drop clues as to what they would like to see from you.
Does your target audience prefer video content or articles and blogs?
What is your ideal customer like?
Does your audience like engaging with you one-on-one or as a group?
It's important you ask these questions before you jump in. This saves time, energy, and money in the long run.
Alternatives to Courses
It is easy to get stuck on the idea that an online course is the be-all-and-end-all when it comes to creating a profitable online business. Creating a compelling and valuable course also takes a lot of hard work which might not be necessary, especially if a course is not well suited for your business.
You can productize your knowledge and start getting paid for your expertise it other ways. Consider some of these alternatives:
Tutorials: Simple "how-to" tutorials with a single objective, limited interactions, and much less formal than a course. Can be a great starting point for any online creator.
Blog Posts and Articles: Restrict them using WordPress and a membership plugin
Downloadable Guides
E-Books
Membership Site or Online Course: Which platform is right for you?
Ultimately, membership sites and online courses are both very powerful. The kind of platform you decide to build your business on will depend on the type of information you are delivering, your motivation for sharing it, and how your audience wants to engage with you and your business.
Start small and build up your business as time goes on. Your needs as well as your audience will likely direct you in the process.
The most important thing is to just get started.
Are you ready to start growing your online course business and attracting new students?
With Paid Memberships Pro, you can create free and paid subscriptions to your course content, benefit from a wide variety of Add Ons and integrations specifically designed for selling online courses, and manage your course on WordPress.
We know that a WordPress site has tons of moving parts. Choosing the right plugins, themes, hosting, third party services, design assets, and more can feel overwhelming.
Paid Memberships Pro is a comprehensive platform built for any kind of eLearning environment. Learn exactly what you'll get — the plugins, the support, and the training — when you build your online course with Paid Memberships Pro.
Was this article helpful?