Key Features of the Integration
Sell a Membership in Paid Memberships Pro as a WooCommerce Product (WooCommerce Subscriptions required for recurring subscriptions).
Set Custom Product Pricing based on Membership Level.
Set a Global Percentage Discount for All Products Based on Membership Level.
Works with WooCommerce Subscriptions Premium Add On for WooCommerce.
Works with the Multiple Memberships Per User Add On for Paid Memberships Pro.
Synchronizes the Billing Address Fields Between WooCommerce and Paid Memberships Pro.
---
Video Demo
---
Installation
Upload the 'pmpro-woocommerce' directory to the '/wp-content/plugins/' directory of your site.
Activate the plugin through the 'Plugins' menu in WordPress.
---
Membership Products and Per-Level Pricing
This plugin adds a new "Membership" tab to the Product Data meta box on a single product edit page. In this section you can set a product to give customers a membership level or add custom pricing to the product by membership level.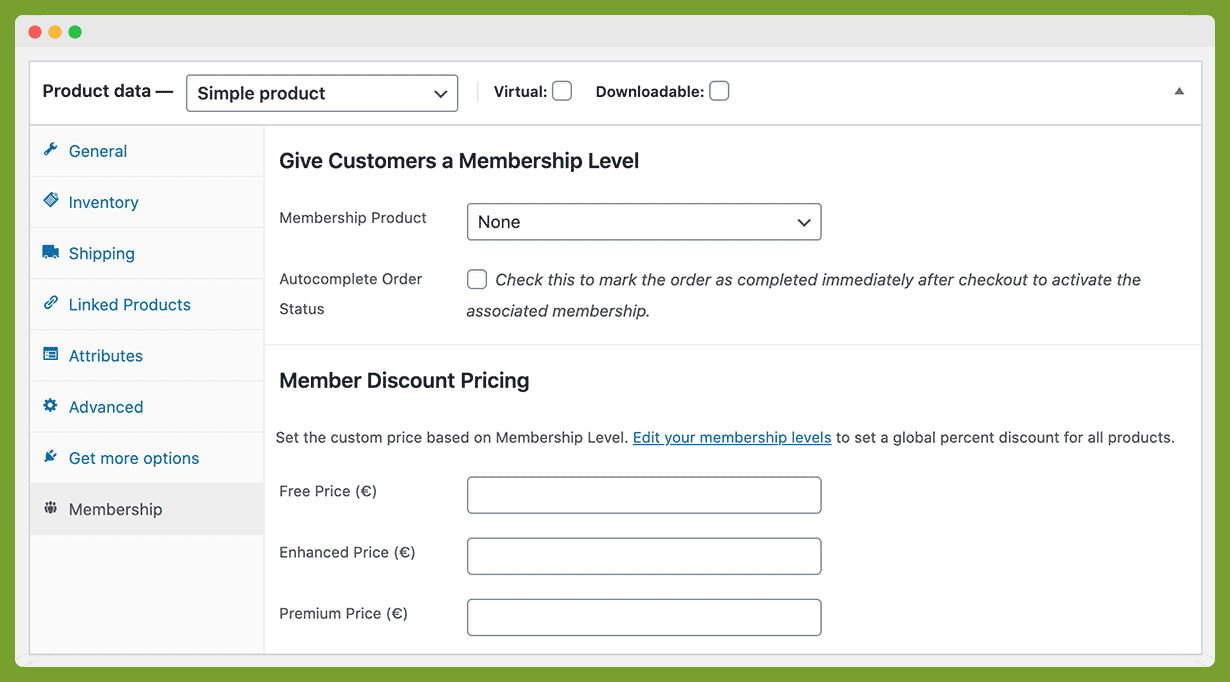 Membership Products
Membership Products are products which assign the customer a PMPro membership level after their order is completed. It is important that you have disabled "Guest Checkout" and have enabled "Account Creation as Part of Checkout" via WooCommerce Settings.
If a user adds a Membership Product to their cart, any Member Discounts or Pricing will be applied as if the user already had that membership level.
We have added a setting to the Membership tab of the Product Data meta box to "mark the order as completed immediately after checkout to activate the associated membership".
Alternately, you can mark your WooCommerce membership product as a Virtual Product and use a plugin such as WooCommerce Autocomplete Order.
The membership level expiration date will be inherited from the level as set up under Memberships > Settings > Edit Membership Level. It is important to note that the price for membership will not be inherited from the level. You must set the price in the WooCommerce product. If you require your level to create a subscription, you must use the WooCommerce Subscriptions (premium) extension.
We recommend that you only allow one membership product to be purchased in a single order. This will prevent two of the same memberships from being added to the cart. Also note that a single product should not be both a "Membership Product" and have settings for Member Discount Pricing.
---
Product Pricing by Membership Level
The Membership tab of the Product Data meta box also lists pricing fields for each membership level on your site.
Using these fields, you can create different prices for users with different membership levels. If they don't have a membership, the price won't be affected.
---
Global Product Discounts based on Membership Level
In addition to membership pricing, site-wide discounts can also be applied depending on membership level. PMPro WooCommerce adds a new option to the Edit/Add Membership Level page where you can specify a Membership Discount. Currently, membership discounts can only be applied as a percentage off of the product's price.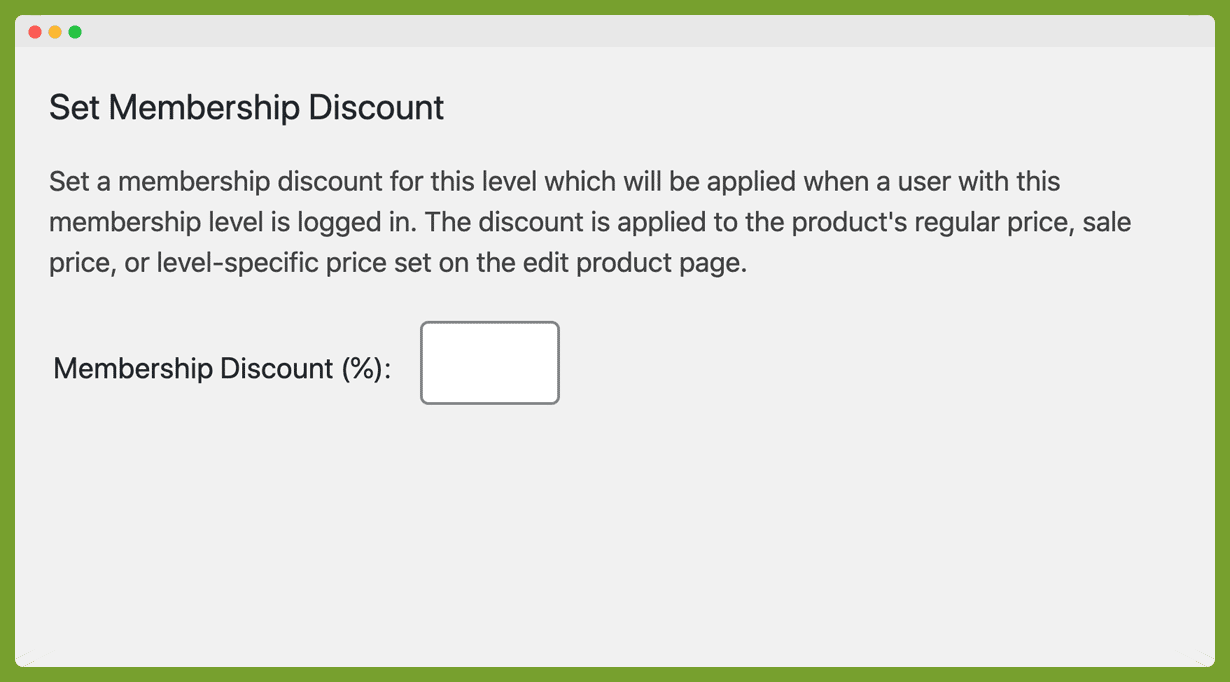 It is important to note the following rules related to members-only pricing:
The product price will be calculated as:
The regular price less member discount if applicable
The sale price (if set) less member discount if applicable
The member price set under Edit Product > Membership > LEVEL NAME price:, less the global member discount set under Memberships > Edit Level.
---
Members Only Products
If you'd like to offer certain products to members only, see the Custom Post Type Membership Access add on.
---
Members Only Store
If your entire store is locked for members only, see this post on Locking Your Entire eCommerce Shop for Members-Only.
---
Catalog Mode for Non-Member
If you would like non-members the ability to see your store items but restrict them from seeing prices and ability to purchase, see this post on Turn your WooCommerce Store into a Catalog for Non Members 
---
Use WooCommerce to Sell Memberships with Your Payment Gateway of Choice
If you would like to see how to sell Memberships using the WooCommerce Checkout, the payment gateway of your choice and Paid Memberships Pro view this post: Use WooCommerce to Sell Memberships with your Payment Gateway of Choice
---