On June 18, 2021, PayPal announced it would be raising fees on most of its services, starting Aug. 2, 2021. The proposed PayPal fee increase will affect thousands of small businesses that rely on the payment processing giant for their digital payments.
While Wall Street might like this news, merchants are less than thrilled.
Here's the good news:
Paid Memberships Pro has your membership business covered with multiple payment gateways to choose from. You can choose to stay with PayPal or switch to another gateway like Stripe for some or all of your memberships.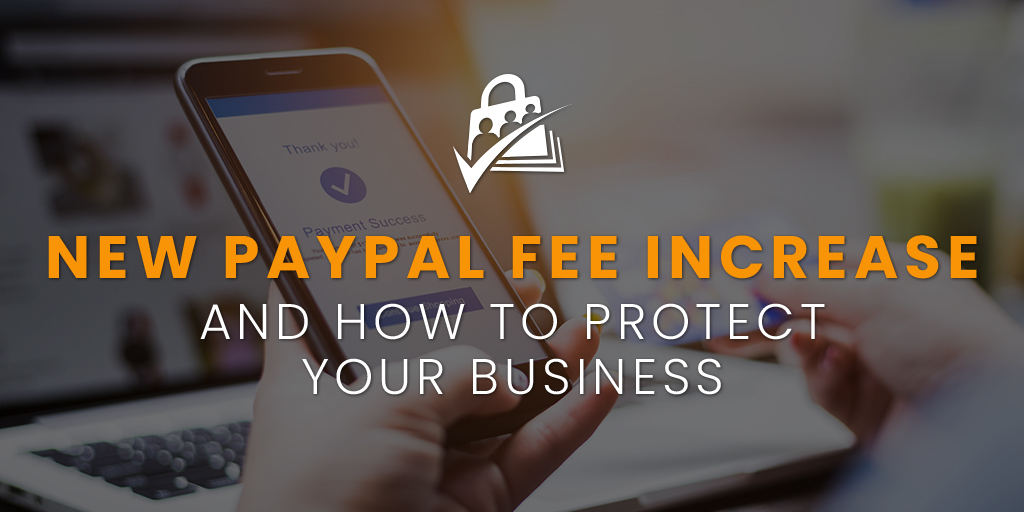 Here's what we'll cover:
New PayPal Fees
Starting Aug. 2, PayPal will increase its merchant fees from 2.9% + $0.30 per transaction to a fixed fee of 3.49% + $0.49 for all U.S.-based online transactions. Other fees, such as QR code transactions, will not be affected or will change at a different rate.
Customers outside the U.S. will also trigger a different flat rate depending on the currency they pay with. If you use PayPal's gateway, but a customer pays via credit card or debit card, those fees will be slightly lower at 2.99% + $0.49.
The PayPal rate increase might drive merchants towards other payment gateways such as Stripe that offer lower fees for U.S. merchants.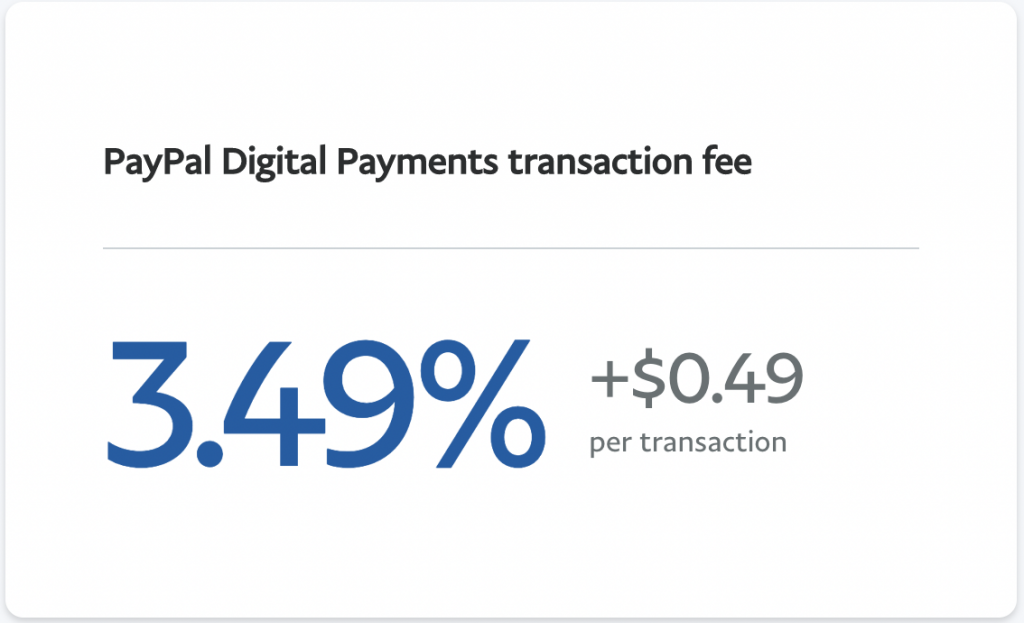 How the PayPal Rate Increase Affects Your Earnings
So what do the new PayPal fees mean for your subscriptions?
Let's imagine your website sells annual $100 subscriptions, and in one year, you sell 1,000 of them. If you sell these through PayPal, you will end up paying USD 3,980 in transaction fees to PayPal.
If you switch to a different payment gateway, like Stripe, the fees would amount to $3,200 — $780 less than using PayPal.
Finally, you could choose to use two gateways to reach more subscribers. Maybe half of them chose PayPal, and the other half used Stripe. In that case, your fees would amount to $3,590.
If you have a premium Paid Memberships Pro account, you can take the middle ground by setting up multiple gateways. This is what we do on PaidMembershipsPro.com. This could reduce your processing fees but not lose your customers who are loyal to the PayPal checkout.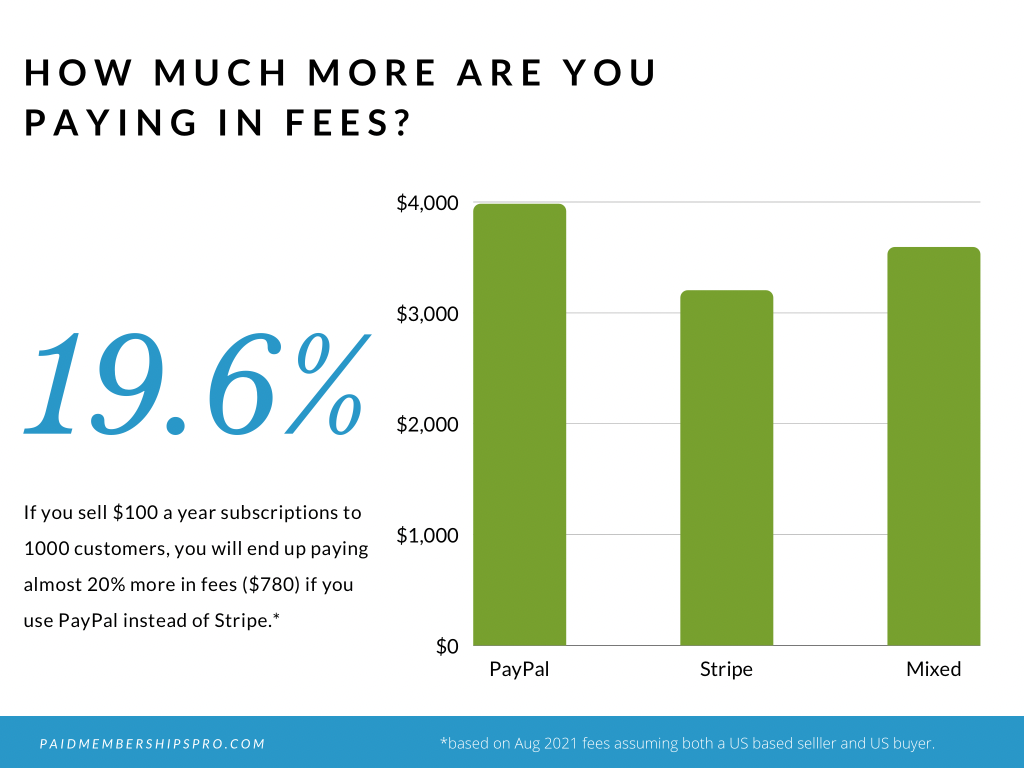 Payment Gateway Options
If the PayPal rate increase's numbers are a bit higher than you'd like, you do have options. While you can opt to stick with PayPal, Paid Memberships Pro partners with six gateway options that you can choose from to manage your payment methods and business accounts.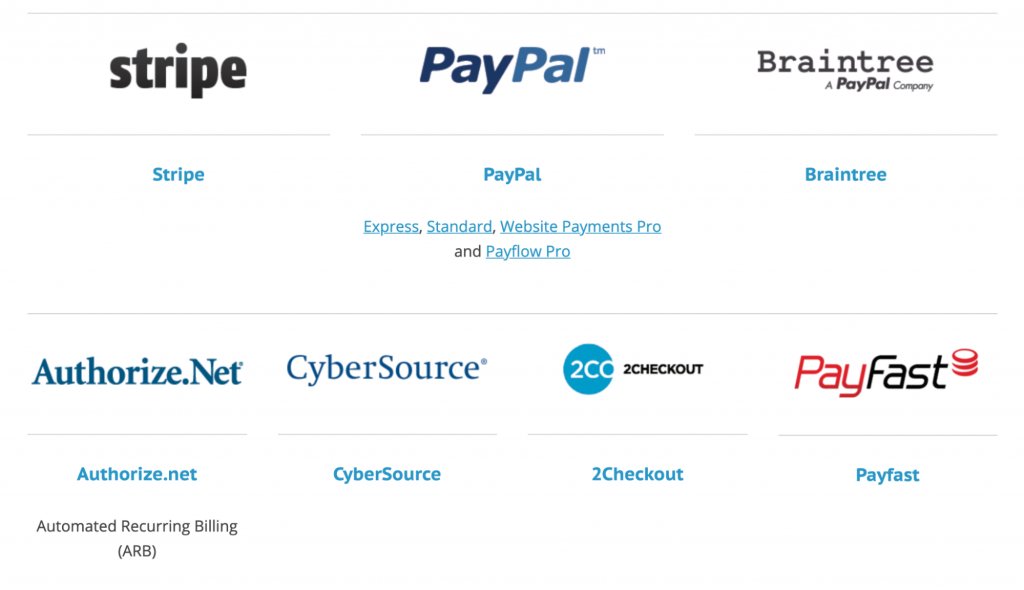 1) Add a Different Gateway for New Customers
You can opt to keep existing customers with PayPal to keep things easy for them. But new customers can be added via Stripe or another platform to prevent further increased PayPal fees.
Simply go to your Paid Memberships Pro login and select a different gateway for future checkouts.
You can opt to have multiple gateways if you want to keep PayPal as an option. Just select PayPal and whichever other gateway you would like to integrate as well. You could even look into adding our free WooCommerce plugin to diversify further.
2) Switch All Customers to a New Gateway
If you are really concerned with the PayPal fee increase, you could attempt to switch your entire customer base to a different payment gateway.
While that may seem like a great idea to save money, keep in mind that if you want existing customers to pay with a non-PayPal account, they might need to resubscribe. While some of your members may be dedicated fans, you could lose customers who feel the effort isn't worth it.
The easiest option to reduce reliance on PayPal is to remove the payment gateway for new customers, so future transactions are completed on a different system.
3) Continue With PayPal
You might decide that switching how your online payments are processed isn't beneficial for your Paid Memberships. If you check how your customers pay, you might find that a lot of your payment volume comes from PayPal credit.

Switching to a different gateway could hurt your total payments in that case.

Some customers prefer paying with PayPal, so you should keep that in mind when deciding whether to remove PayPal payments from your small business website. PayPal is quick to point out that just having its payment option available means consumers are three times as likely to complete their purchase.
Final Thoughts: New PayPal Fee Increase and How To Protect Your Business
The PayPal fee increase was announced suddenly, giving vendors only weeks to prepare for the shift. With a 54.33% share of the payment processing market, it's possible the platform is testing how dedicated its customer base is.
Going forward with your subscription website, you might need to consider changing gateways, incorporating the new PayPal fees into your subscription price, or adjusting your prices to ensure you are pricing your subscription in proportion to the value you deliver.
Payment fees are a part of life for small businesses that offer web-based payments. Taking proactive steps to safeguard your profits is crucial. You can do that as well as manage your subscriptions and payment gateways with Paid Memberships Pro. Try us today.