Is it your dream to build a business around your passion for music and musical instruments? Matthew, from howtoplaythesax.com, accomplished this and much more. We will explore how he started his music membership business and how he used Paid Memberships Pro to do it.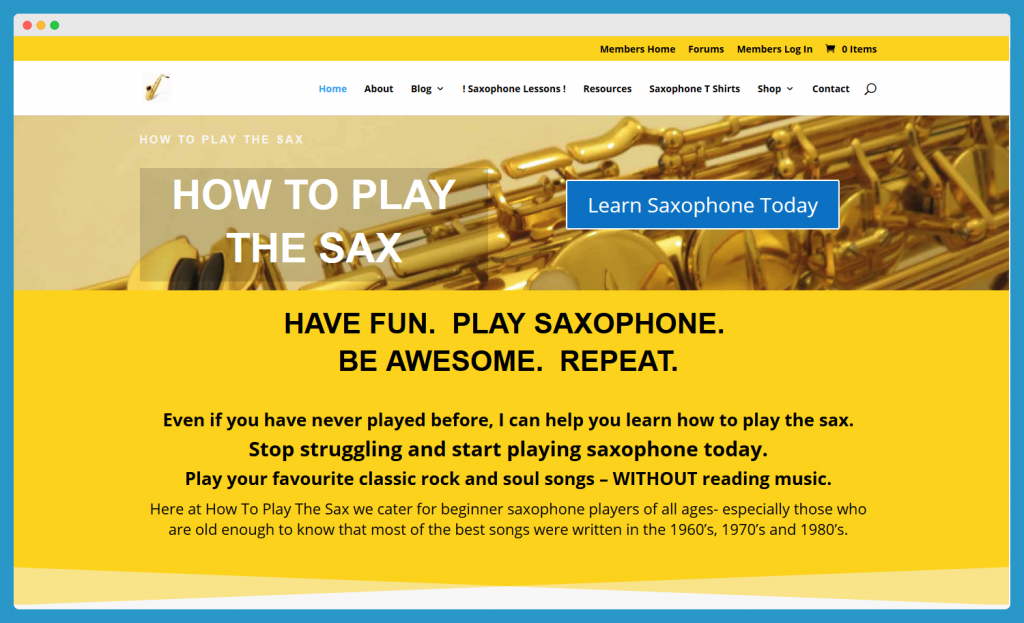 Matthew, a passionate Saxophone teacher, is the founder of HowToPlayTheSax.com. He helps beginner saxophone players, of all ages, learn how to play their favorite songs, over several genres. Matthew made this learning process "quick and easy" by removing the need for students to learn to read music. He offers free lessons for new students and encourages learners to sign up for a premium membership. This membership allows students to access "member-only" forums and advanced lessons.
About Matthew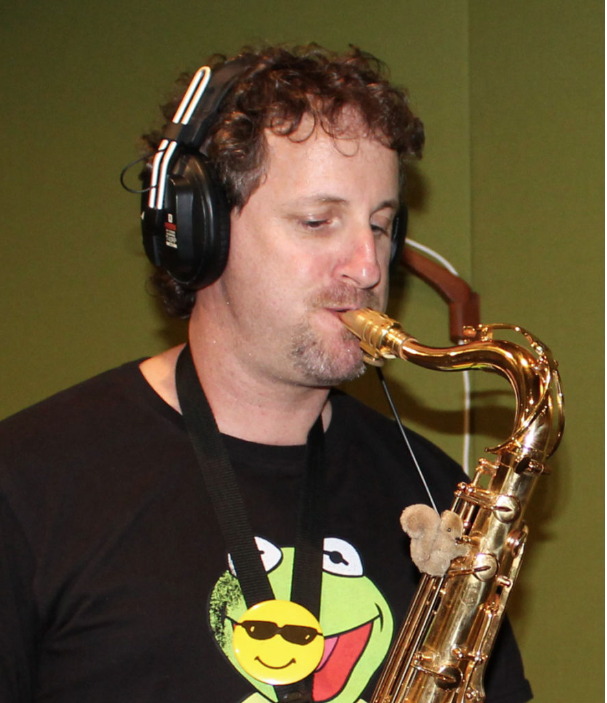 Matthew is the face of his online music membership business for students wanting to learn how to play the saxophone. He describes himself as a "Jack Of All Trades And Master Of Some.". With more than 35 years of Saxophone playing experience, he is a master at teaching his students how to play.
"I have been fortunate enough to play in many bands and groups of various musical genres. I have met and played with all sorts of amazing people."
Permanently based in Melbourne, both Matthew and his Saxophone have travelled throughout Australia and the rest of the world. A highlight of his music career includes a tour with an Australian musical theatre group across Germany, England, and Wales. He also gained incredible exposure at the Edinburgh Fringe Festival in Scotland.
"One of these Edinburgh Fringe Festival seasons included performing with my daughter, which was a very proud and wonderful experience."
Saxophone Rock
Many of Matthew's one-on-one students wanted to know how to play specific songs. Few were interested in musical theory or learning to read notes. Instead, they would prefer to play their favorite rock songs on their Saxophones. Although most Saxophone lessons are predominantly jazz-based, he found that many students preferred to "rock out" with their musical instruments.
This revelation lead to the birth of his online music membership business motto: HAVE FUN. PLAY SAXOPHONE. BE AWESOME. REPEAT.
Going Online with Saxophone Lessons
Occasionally students couldn't make it to the in-person lessons. As a workaround, Matthew started making a few videos to send to these students. This became more and more popular, and so a music membership business slowly began to come into focus.
"Treating the video camera as a student, I filmed myself giving saxophone lessons. I did this to learn how to play popular and classic rock, soul, funk and blues songs".
These videos also included saxophone fundamentals. The videos turned into full lessons, and we built a website to facilitate online memberships. We have a Youtube channel called The How To Play The Sax. The channel has around 1.8k followers and many videos.
Advantages and Disadvantages of an Online Music Membership Business
Having an online business in any form seems to be what everyone is after these days. While an online business most certainly will offer you more freedom and flexibility. It isn't without its faults. Perhaps, consider some of these advantages and disadvantages when thinking about building an online music membership business. This exercise will also help you better communicate the value of your membership to doubtful students.
Advantages:
Passive recurring income: You can earn money from your content, without you physically being involved. It opens the possibility of people all around the world
No make–up lessons: No need to worry about students who cancel lessons at the last minute. No re-scheduling or make-up lessons either – ever again.
Time saver: Once a lesson is recorded, it can be used for a vast amount of students. No need to constantly repeat lessons.
Students can stay on track: A missed lesson usually results in a pause of progression for your learners. Being able to recover a lesson quickly and easily, prevents this issue.
More flexibility: It can be challenging to find a time that suits everyone for music lessons. Adult students can be especially hard to fit in as they usually have family and work responsibilities. Online membership allows learners to learn how to play whenever it best suits their schedule. Fewer cancellations mean more revenue for you.
Recurring subscription: No need to physically collect or track if the member paid for their lessons or not. An online music membership business can track payments and orders on your behalf. This system usually includes an automated payment system.
Disadvantages:
Practical techniques: Some practical techniques, like holding the instrument or embouchure exercises can be more easily displayed in person. Try partnering with local tutors to send students to as a backup.
Motivation: Keeping students motivated to practice, especially children, can prove difficult. High-quality videos or content can keep them interested and motivated.
Involvement: Staying involved and in control of your student's learning can take a back seat with an online business. It won't always be easy to see the student's progress and get to know them personally.
Technical experience: Having some technical experience can help you maintain and update your online music membership business.
Time intensive: It's not realistic to think you can sit back and relax once your members are signed up. Keeping members coming back each month is hard work. Try to make your customers feel valued and cared about.
Support: Your new members can grow quickly and having the right experienced people to handle and support your students is crucial.
Unhappy customers: Having a response or system in place for unhappy customers is important for both a physical and an online business. Online makes it just a tad more challenging to communicate effectively to students. Don't waste too much time on an unhappy customer. Refund or cancel a subscription as soon as someone shows you the warning signs. If however, you didn't meet their expectations and failed them somehow, learn from this and move on.
Matthew's Tips for Online Lessons
When developing his website, Matthew's goal was to create a platform that he wished he had when he was learning how to play the saxophone. This is a great "build-philosophy" to adopt when building your own online music membership business.
Make lessons fun: Don't hold back, let your excitement for what you do show in your lessons, and content.
Find your inspiration: For Matthew, it was the love of helping people achieve their musical goals that kept him inspired.
Create a motto: Matthew's motto, "Have Fun, Play Saxophone, Be Awesome, Repeat" is deliberately written, explained, and built into his online music membership business.
The power of the internet is incredible:
"The idea that people from literally all over the world in all of the main human-populated continents on the planet can find me and my saxophone lessons. They can take my lessons and achieve their musical goals – whatever and wherever they happen to be. It is simply astounding!"
Be deliberate: Matthews' consistent, deliberate and concentrated action over a period of years has led him down the path of success.
Set business goals: Matthew focuses on adding at least one new saxophone lesson into the Members Area each and every week.
Building a Music Membership Business with Paid Memberships Pro
Howtoplaythesax.com has used Paid Memberships Pro for two years. Matthew needed a way to organize his content on his website – Paid Memberships Pro helped with this.
Paid Memberships Pro allows you to assign specific content to different membership levels. This allows you to serve multiple audiences.
Matthew gives an example of this:
"Some people want a hamburger with the works, but others just want a regular cheeseburger".
7 Free Saxophone Lessons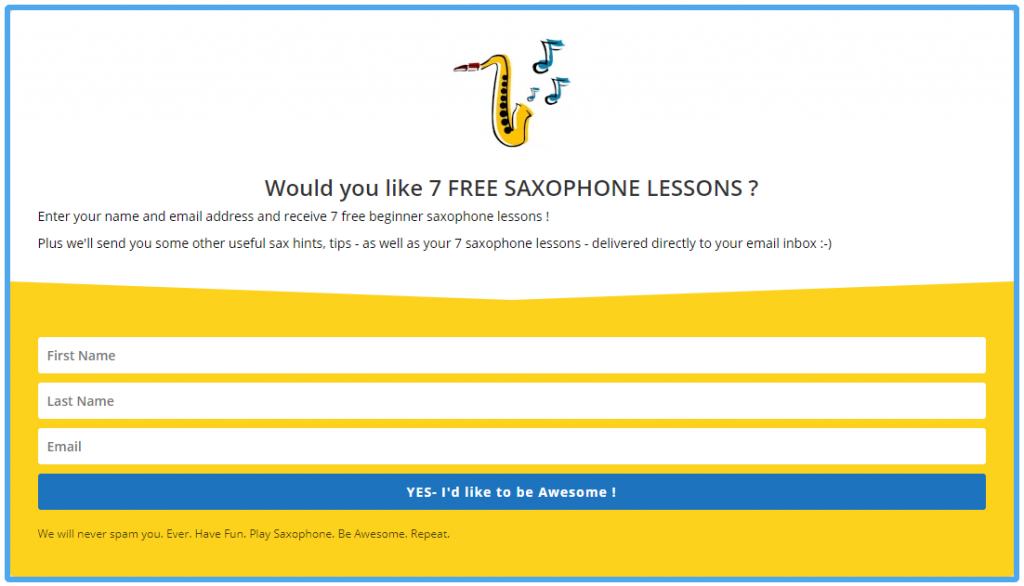 Offering highly valuable content for free seems counterintuitive. Why would you give away something valuable for free? We have written about this previously, but in a nutshell, offering something useful to someone for free it a fantastic way to build up an audience, establish yourself in your industry, and create a following of potential customers.
By using an Opt-in form, How to Play the Sax entices users to sign up for 7 Free Saxophone Lessons.
The signup process is easy. Website visitors only need to add their name and email address to receive these free lessons. They are added to an email list.
Each email in the 7 Free Saxophone Lesson series contains links to howtoplaythesax.com, informing, and promoting students of premium membership options.
Premium Music Lessons
How to Play the Sax, offers multiple premium membership levels. Premium content is grouped into different sections, allowing students to select a membership that is right for them.
Membership Level Breakdowns
One-Time: This "Beginner Saxophone Lessons" level offers a one-time payment with lifetime access. This is a great option for beginners or anyone that feels uncertain about committing to a membership. The membership limitations are clearly stated on the levels page.
Monthly Subscription: This membership level is set up with a trial period that costs $1 for 14-days followed by $17 per month. This level includes more music lessons, cheats sheets, and access to the members-only forum.
Yearly subscription: Members who pay upfront can save up to $45. The membership level has a 14-day trial period, followed by a $159 yearly fee. This level includes all the features of the monthly level.
Matthew makes it clear on his membership levels that the member can cancel at any time. This is important because you do not want to make a member feel bound to a contract for lengthy periods of time.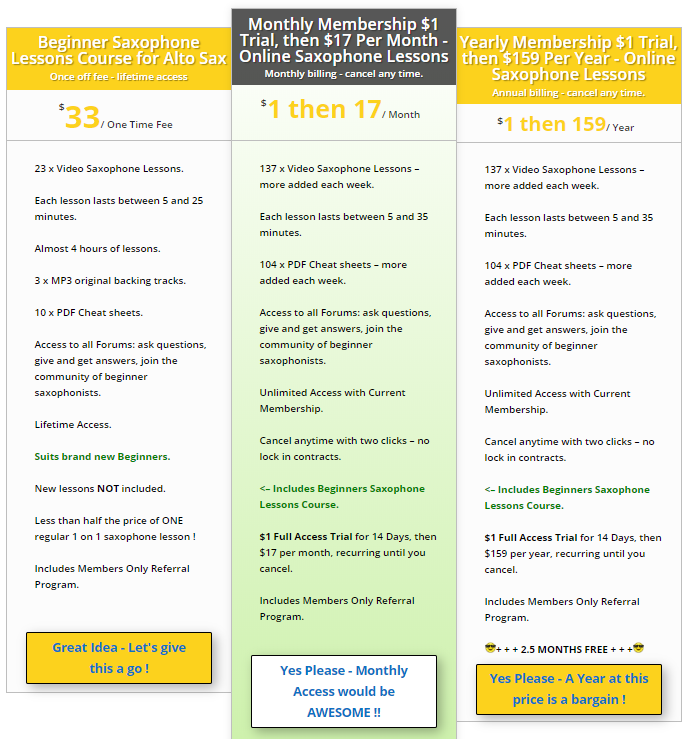 The Value of Having Options and Support
Matthew praises Paid Memberships Pro for the flexibility it gives him. This includes Payment Gateways, other third-party integrations, and many more membership tools.
"The flexibility within Paid Memberships Pro's "tool-shed" allows me to pick and choose what I need and ignore what I don't."
The variety of Add Ons and code recipes available helps Matthew to know that should his (or his members) needs and requirements change, there is probably a Paid Memberships Pro Add On that will help him achieve his goal.
Support was another important factor for Matthew. Although he has some technical experience, help was close by if he needed it. At any time, members with a premium license can open a ticket with our Support Team.
The Paid Memberships Pro Add Ons
The following PMPro Add Ons gave HowToPlayTheSax.com a customized and unique membership site:
Member Management
Payment Processing
Add Paypal Express Add On: Appeal to the highest number of potential customers by offering PayPal as a payment option in addition to your onsite credit card payment gateway.
Subscription Delays Add On: This Add On adds a "delay" field to membership levels and discount codes, allowing you to set a variable-length period between your initial payment (if required) and recurring subscription payment.
Communication
Email Template Admin Settings Page: Easily modify the text of system-generated membership emails via the WordPress admin.
Mailchimp Integration: Integrate User Registrations with Mailchimp. Adds members to audiences based on their membership level and allows opt-in lists at checkout or profile edit.
Membership Features
Our Member Homepages and Subscription Delays Add Ons
The Paid Memberships Pro Member Homepages and Subscription delays Add Ons are highly valued by Matthew to reach his membership site goals.
The PMPro Member Homepages Add On provides a quicker and easier way to set a dedicated homepage specifically for members. It provides a tailored experience for all of Matthew's members that are hidden from the general public. What Matthew likes most about this Add On is that he can edit this page whenever he needs to and that all the members will see these changes.
The PMPro Subscription Delays Add On is important to achieve the website's specific billing model. This Add On allows Matthew to set up a $1 trial for 14 days before the main subscription payment starts. This helps filters out unsuitable members. It also minimizes refund requests and administration time spent on these members who cancel their subscription after the trial.
Useful Resources and Advice
Paid Memberships Pro is not the only resource that was needed to build How to Play the Sax. Below is a list of other plugins and resources that were used to build Matthew's online music membership business.
WordPress Theme
The Divi theme from Elegant Themes & Support: The Divi Theme is a website building platform that replaces the standard WordPress post editor with a visual editor.
Divi is a great page builder that makes it easy to create, add, edit, and customize website pages.
It can be used by experienced and new users. It allows the user to create great designs with ease and efficiency.
The main feature Matthew uses is the "page copy" functionality. You can copy the content (like the Saxophone Lesson Page from the previous week) that was created before and change the video with the cheat sheet link. This saves time and to have this week's lesson page ready to publish and gives a consistent look and feel (this could presumably not be unique to Divi as many other themes allow this).
Graphic Design
Canva.com: This is a fantastic online graphics tool that will allow you to make great images for your website. Canva has paid plans, but it will take you a long time to exhaust the possibilities of the free version unless you have specific graphical needs.
Video Hosting
Access to Videos: All of the "Members Only" videos are hosted on Vimeo and embedded on pages on the website. Vimeo restricts the videos to the website only. Paid Memberships Pro restricts content even further by allowing you to only make those specific pages accessible to the paying members.
Web Hosting
Coming from a Membership site perspective, especially when you get a few members regularly logging in to your website, Matthew says that a low cost per month hosting plan will not be sufficient.
How to Play the Sax uses Godaddy Business Hosting.
"You can expect to spend a minimum of $30-$40 per month for hosting." This is especially true when there are videos, audios, and multiple customers in multiple geographical locations all accessing your content regularly.
Marketing Strategy
Membership-only-business-models generally hide most of it's greatest content behind a paywall. This makes it difficult for potential new members to see the value of the membership.
Matthew overcomes this challenge by making a small component of his "Members Only" content available for free. This can be available on various platforms like blogs, Youtube, podcasts, social media, etc.
Remember that any free content you give away should reference your paid content that is only available to your paid members.
Build Your Course Today
Are you ready to start growing your online course business and attracting new students?
With Paid Memberships Pro, you can create free and paid subscriptions to your course content, benefit from a wide variety of Add Ons and integrations specifically designed for selling online courses, and manage your course on WordPress.
We know that a WordPress site has tons of moving parts. Choosing the right plugins, themes, hosting, third party services, design assets, and more can feel overwhelming.
Paid Memberships Pro is a comprehensive platform built for any kind of eLearning environment. Learn exactly what you'll get — the plugins, the support, and the training — when you build your online course with Paid Memberships Pro.
Was this article helpful?