The best way to grow your paid membership website could also be one of the least intuitive — start offering free content.
Building a "freemium" phase into your sales funnel will help you grow your list of potential customers. One study from Aberdeen shows conversion rates are nearly six times higher for those who market with free content versus those who don't.
With a faster conversion process and increased lead generation, you'll be well on your way to converting more prospects into lifelong users. Read more to learn how you can use WordPress and Paid Memberships Pro (PMPro) to implement a free membership model and connect with a wider audience.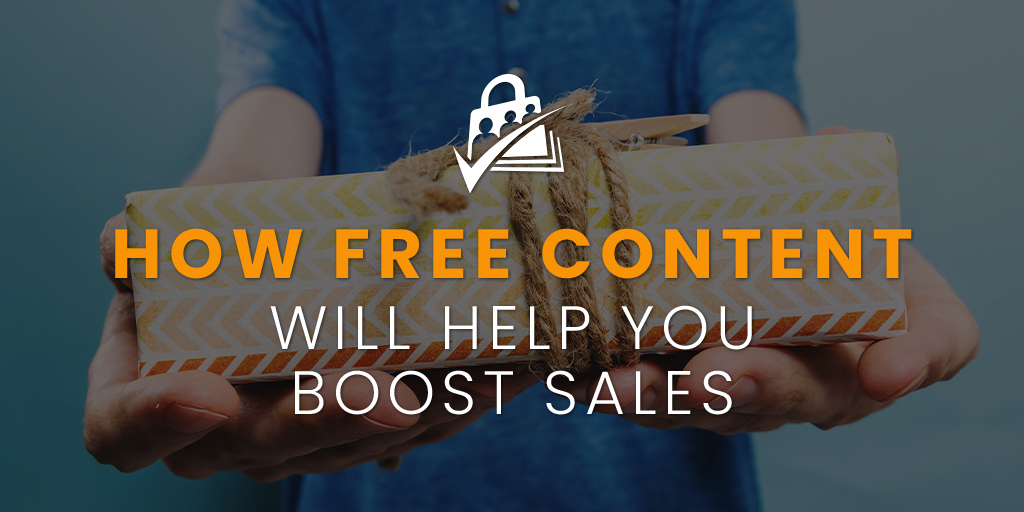 What Should Free Users Receive for Signing Up?
The type of freemium content you'll offer is entirely up to you.
Some of the most popular examples of free content include:
Helpful blog posts
Instructional videos
Free trials
Limited feature use
E-books
Some free content makes more sense for the type of site you own and the resources you offer. For example, e-books are a powerful asset for educational platforms. Free trials can pique interest in a community-based organization, like an association website.
Whichever type of free content you use, make sure the user provides their contact details in exchange for access.
A free user is more likely to convert to a paying membership tier if you continuously demonstrate the value of your website. This strategy will build out your sales funnel and offer new opportunities to improve your product or service as receive more feedback.
Once a free member signs up, you keep doing what you're already doing — providing quality content.
Using Paid Memberships Pro to Build a Customer Database
As you grow your user base and collect their contact information, what do you actually do with all of those emails?
PMPro empowers you to easily build and maintain a database you can leverage to create meaningful, personalized marketing campaigns.
Start by installing and activating PMPro. For a general walkthrough of these steps, check our initial setup video.
Note: We practice what we preach! When you sign up for our free membership you'll be able to view the video.
Once PMPro is ready to go, complete the following steps to offer free content.
Creating a Free Membership Tier Using PMPro
Creating a free tier on your membership website with PMPro is a straightforward process: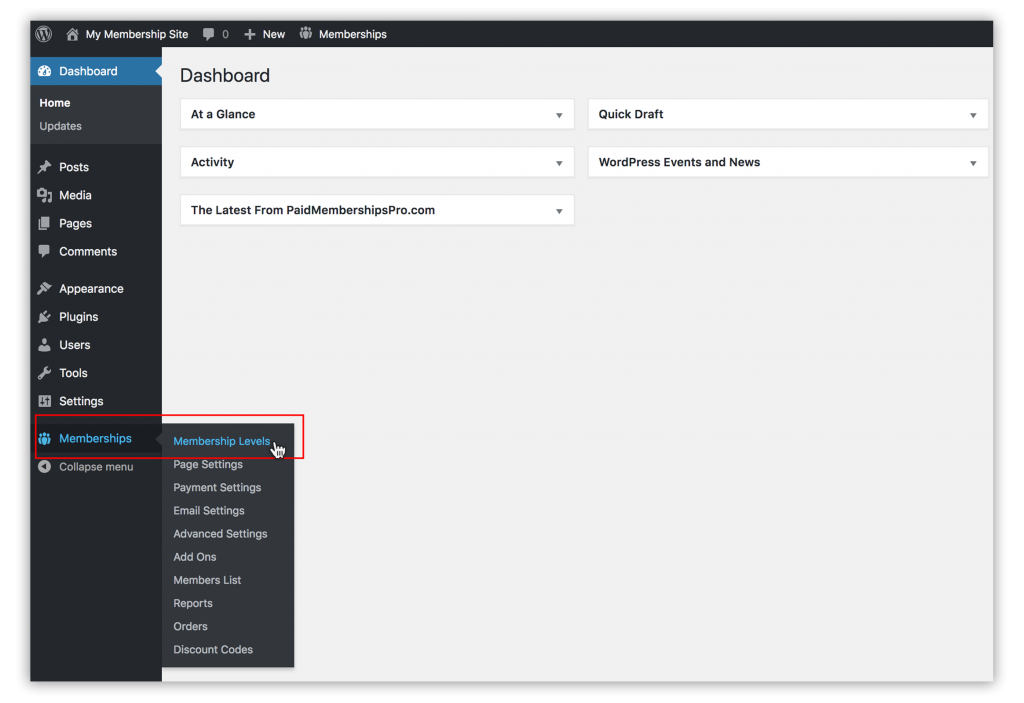 Navigate to Memberships > Settings > Levels in the WordPress admin.
If this is the first time you're creating a membership level, click the "Create a Membership Level" button.
If you're adding a new level to your existing ones, click "Add New Level."

Navigate to "Membership Levels" to check that your new level was created and saved.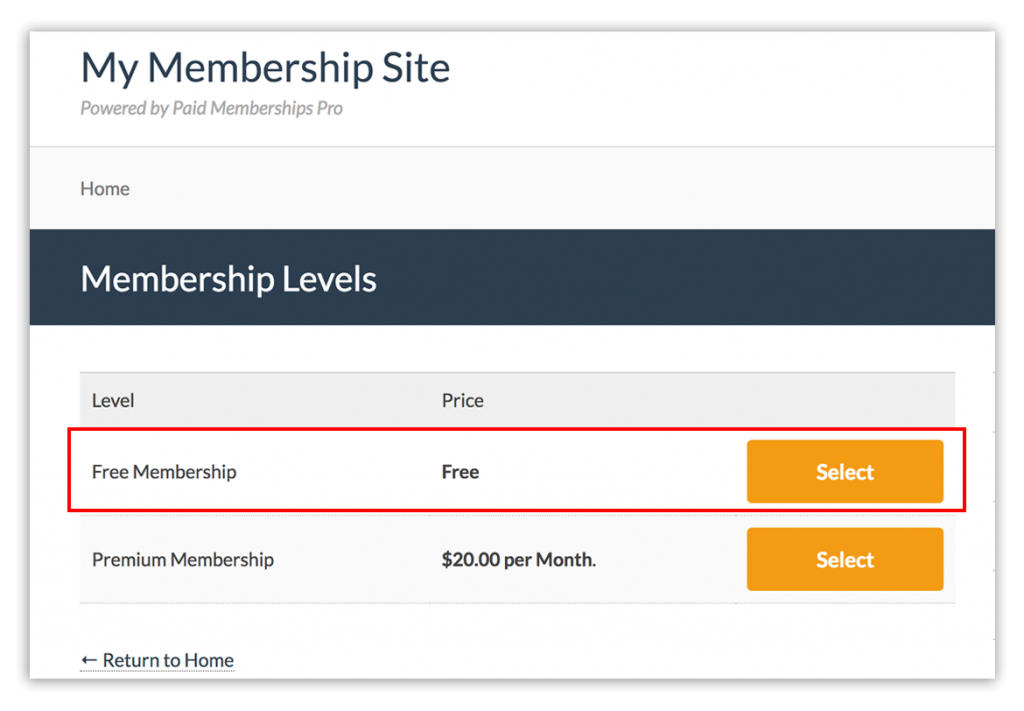 Setting up an Email Marketing Platform
Although there are several email platforms that integrate with PMPro and WordPress, one of the most popular is MailChimp. PMPro's free MailChimp Integration Add On lets you add users to mailing lists depending on their membership level. This makes it easier to send messages tailored to a user's current status.
To install the Add On:
Upload the "pmpro-mailchimp" directory to the "/wp-content/plugins/" directory of your site.
Activate the plugin through the "Plugins" menu in WordPress.
Navigate to the "PMPro MailChimp" admin page in the WordPress dashboard.
From there, configure your MailChimp API Key and Lists.
If you're not sure how to locate your MailChimp API Key, follow these steps:
Log into your MailChimp account.
Click your profile name in the upper right corner to expand the Account Panel, and choose "Account."
Click the Extras drop-down menu and choose "API keys."
Copy an existing API key or click the "Create a Key" button.
Name your key descriptively so you know which application uses which key.
Copy and paste your MailChimp API key into the "MailChimp API Key" field under the PMPro MailChimp settings in WordPress.
Now you're ready to add free members to their unique mailing list.
Adding Free Members to Mailchimp Lists
You've loaded your API key into the integration options, you'll see all the MailChimp lists available in your account. Select the appropriate lists for members based on their level. (If you need to create a new list, you must do so in your MailChimp account dashboard.)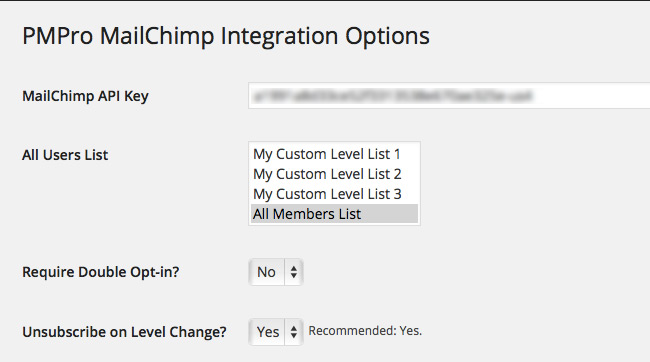 You can also offer double opt-ins with this integration. This is especially important for European users, given the rules outlined by the General Data Practice Regulation (GDPR).
Double opt-in requires two different confirmations — one in the web-based subscription form and another in a link they receive in their email. This step is easy to forget or ignore. But without it, a user might not complete the sign-up process.
You can also segment users based on PMPro's default contact merge fields. This offers a more cost-effective approach to handling your lists. MailChimp charges you twice when a subscriber's contact information is on two separate lists.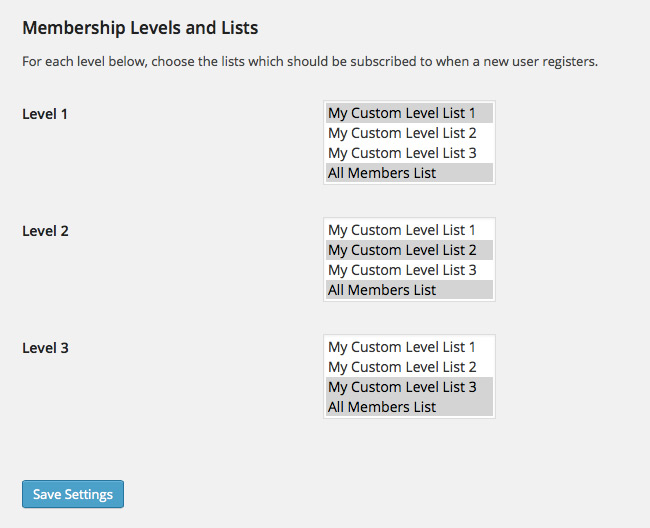 Once your MailChimp integration and settings are complete, you can deliver the exclusive content that initially interested your website's users.
Engaging with Non-Paying Users
How do you deliver your freemium content? That's up to you.
One popular option is to set up an automatic welcome email with a link to the content that made them decide to sign up. You can also include additional links that point to useful sections on your website that may be of interest. PMPro also offers a Download Monitor Integration tool to ensure only registered users can receive and view your content.
If you offer an instructional video, you could add your content to their confirmation email, or use the Nav Menus Add On to provide a link to a members-only category on your site.
Most importantly, make it easy and intuitive for new members to access content themselves.
Start Offering Free Content
If you're looking for a new way to start generating additional revenue through your membership website, free content might be the answer. As you attract more non-paying members, you can build out personalized marketing campaigns that result in higher conversion rates and loyal customers.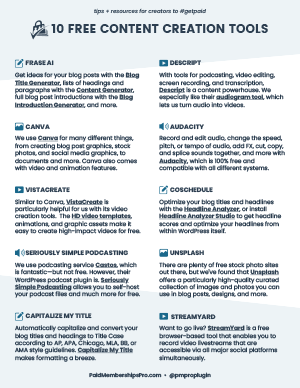 DOWNLOAD 10 FREE CONTENT CREATION TOOLS NOW
Looking to start creating graphics, videos, and voice content for your membership site? This cheatsheet shares the top 10 free tools we use to create rich media at PMPro. Use these tools to create rich media content like PDFs, commercials, audiograms, blogs, social graphics, and more.
At Stranger Studios, we offer the most complete WordPress membership plugin for businesses that want to restrict content and manage subscriptions. Through our Add On plugins, you can explore new features and functionalities, and integrate with third-party services to create the right experience for your users.
Limited (but useful) Feature Software
If you're ready to build your free membership site, get started by downloading Paid Memberships Pro's free software! With 19 Add Ons, you'll have all the tools you need to turn your premium content into a sustainable business.
Was this article helpful?