How it Works
For users running Paid Memberships Pro: Allows admin to set which audience each level should be subscribed to. Note that this plugin works without PMPro as well. The integration requires a Mailchimp account, so if you do not have an account you can use the link below to sign up.
Sign Up for Mailchimp
---
Installation
Upload the 'pmpro-mailchimp' directory to the '/wp-content/plugins/' directory of your site.
Activate the plugin through the 'Plugins' menu in WordPress.
Navigate to the 'PMPro Mailchimp' admin page in the WordPress dashboard Settings Menu to configure your Mailchimp API Key and Audiences.
---
Locating your Mailchimp API Key
Log in to your account at Mailchimp.
Click your profile name in the upper right corner to expand the Account Panel, and choose Account.
Click the Extras drop-down menu and choose API keys.
Copy an existing API key or click the Create A Key button.
Name your key descriptively, so you know what application uses that key.
Copy and paste your Mailchimp API key into the "Mailchimp API Key" field under Settings > PMPro Mailchimp.
---
Action and Filter Hooks
pmpro_mailchimp_listsubscribe_fields
apply_filters

(

 

'pmpro_set_max_user_per_export_loop'

,

 

$max_users_per_loop

 

)

;
apply_filters

(

 

'pmpro_mailchimp_listsubscribe_fields'

,

 

array

(

 

'FNAME'

 

=>

 

$user

->

first_name

,

 

'LNAME'

 

=>

 

$user

->

last_name

 

)

,

 

$user

,

 

$audience

 

)

;
apply_filters

(

 

'pmpromc_profile_update'

,

 

$update_user

,

 

$user_id

,

 

$old_user_data

 

)

;
apply_filters

(

 

'pmpro_memberslist_csv_dateformat'

,

 

$dateformat

 

)

;
apply_filters

(

 

'pmpro_addon_mc_api_timeout'

,

 

$timeout

 

)

;
apply_filters

(

 

'pmpromc_api_timeout'

,

 

$timeout

 

)

;
apply_filters

(

 

'get_mailchimpapi_class_instance'

,

 

$GLOBALS

[

'pmpromc_api'

]

 

)

;
---
Screenshots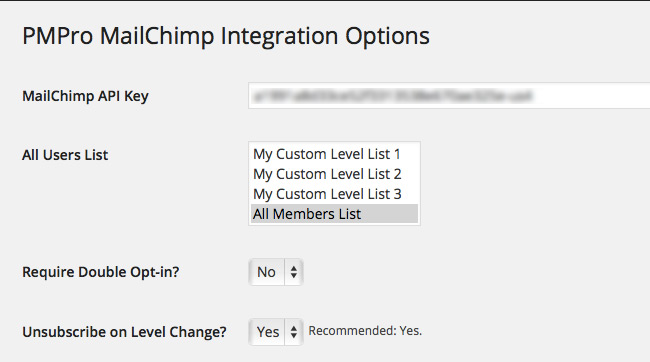 ---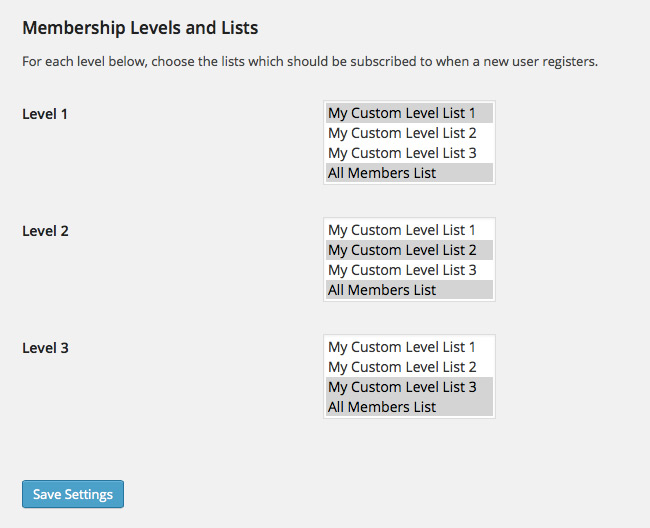 ---