Membership site owners often focus on generating new leads to enter their sales funnel. This practice can distract you from the list of prospects already in your network: expired and cancelled members.
In this article, we will cover a few ways to create a list of leads and execute a win-back strategy focused on your current offerings or promotions. The goal is to re-engage your past members and regain their interest in your membership.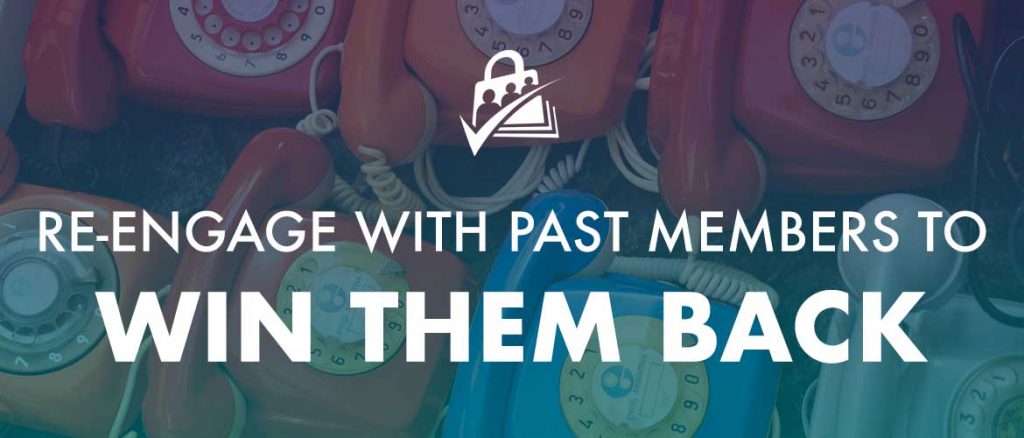 Why should you connect with expired or inactive members?
Lapsed membership often catches us by surprise, and your members are no exception. Memberships can end for a variety of reasons such as a natural expiration, the choice to cancel, or a billing failure on recurring payment. As the site administrator, you need to regularly check your Members List so you can keep in touch with members who become inactive.
You should look at reengaging with past members as a friendly way of showing them that you are aware of their account change. Rather than looking at this process strictly for financial gain, consider these reasons you would want your past members back:
Launch of a new series, event, course, or other membership product you believe will benefit them.
Offer for special features only available to returning members, such as a private consultation, one-time download, or upgraded access for a reduced rate.
Share a crazy discount you have made available to new members that you want "old" members to benefit from, too.
Provide a discount on their membership renewal as a monetary incentive for coming back.
The first step is to isolate the list of members you want to reach. The next step is to send them a personalized email. If you have their phone number and can invest the time, consider a personal phone call. These gestures will go a long way in convincing someone to come back.
Getting Your Expired and "Old" Members Back
Let us dive into a few methods you can use to build a list of past members to contact. Targeting past members is a two-part process:
You need to create a list of members to target.
You need to craft a compelling message to send them (via email, phone call, or shared video).
The content of your re-engagement message should be unique to what your win-back strategy is "pitching".
Send a personalized video explaining new features. Bonjoro is a fun tool to explore for video mail.
Send an email and attach a PDF of some current members-only content. To do this, use Google Docs and choose a template from their gallery. Then, copy a recent post into the doc, create a cover sheet, and download it as a PDF file.
Include other freebies you think will encourage them to return, such as a one-time course access link, one time discount on products in your store, or a private YouTube video link.
Let us continue with the methods to build your target list and our recommendations for how to message them.
Manually Contact Your Past Members
In this method, you will first filter your Members List in Paid Memberships Pro, then download a CSV you can use to build your target list.
Navigate to Memberships > Members in the WordPress admin.
Filter the list by Expired, Cancelled, or Old members.
Click the Export to CSV button. This feature will export a list of expired or old members, including some default user data, last membership level, expiration or cancellation date, and any custom data you added to this list.
This is the list of people to potentially reach out to. Sort the list by end date to see the most recently lapsed members.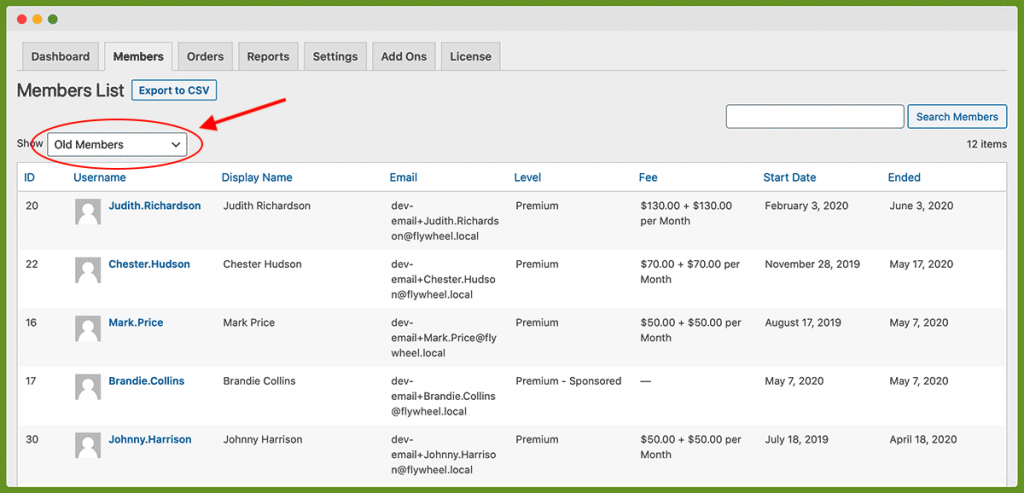 Try sending a personal email directly through your business email account. An individual message per user will allow you to craft the most personalized content. As a faster alternative, you can send a bulk message to all users using the "BCC" email feature.
Use an Email Marketing Platform
Our MailChimp Add On for Paid Memberships Pro creates two merge fields to show the user's current level data: PMPLEVEL and PMPLEVELID. You can use these merge fields to segment a list of non-members and create a unique email campaign just for your win-back strategy. Refer to this guide if you need help creating a segment in MailChimp.
You will only be able to segment by this merge field value if you are maintaining a default list for non-members in your Mailchimp account.
Navigate to Settings > PMPro Mailchimp in the WordPress admin.
Under General Settings select Non-member Audiences.
Choose the Audience for Non-members. This will add all users, regardless of membership level, to a single list.
Proceed to assign Membership Levels to your Audience
Save changes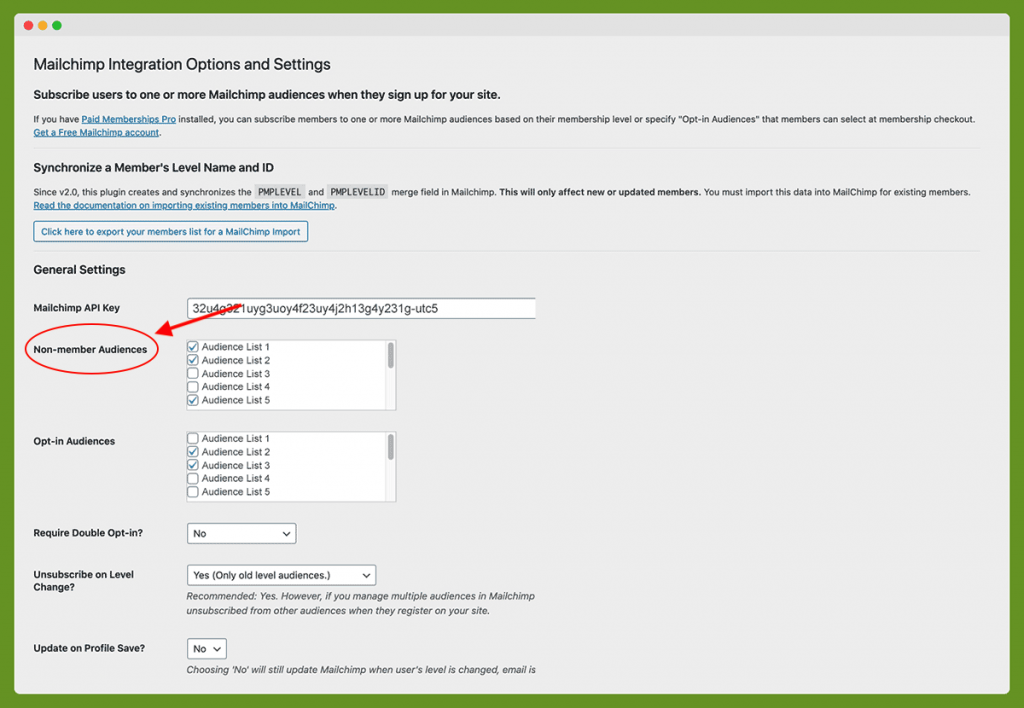 Once you've associated Audiences with Membership Levels, your email marketing program can maintain a unique subscriber list for each of the membership levels. These settings will only apply to new users and members in your WordPress site. Note that you may need to do a bulk import into your Mailchimp account if you want to use this method to target past members.
Check this guide if you want to explore some other methods of sending bulk emails to Members-only lists.
Bonus Tip: Sorting Users by the Last Login
The first two methods of reaching out to past members targeted members that have recently cancelled or expired. The approach below will show you how to filter past members by recent login activity.

Method 1: Using the When Last Login Plugin
When Last Login is a plugin that allows you to see both active and inactive users according to their last login date and time. This plugin, developed and maintained by our team member Andrew Lima, offers integration for Paid Memberships Pro.
You can use this plugin to sort inactive members based on their last login dates and extract their emails for targeted campaigns. With a focus on recently active members, your win-back campaign will be reaching the people that were using your membership product. We recommend using this plugin alongside the Export User Records plugin so that you can export all user login records into a CSV or JSON file.
Install and active When Last Login and Export User Records then follow the steps below:
Navigate to Export User Records > When Last Login in the WordPress admin.
Click on "Export User Records".
Choose to export as a CSV or JSON file.
Your file of choice will download automatically.
You can sort your downloaded data file by the last login to see the recently active users and target them with your reengagement strategy.
Method 2: Use the Visits, Views, and Logins Report
Another method to contact users that have stopped accessing your site is the Visits, Views, and Logins report available in Paid Memberships Pro. This report gives more in-depth details on when members have last used your site.
Navigate to Memberships > Reports in the WordPress admin.
Locate the "Visits, Views, and Logins" report.
Click the "Details" button to view the full report.
From here, you can sort inactive members based on their last login.
Now that you have a list of "hot leads" to contact, send them an email or reach out using one of the methods outlined earlier in this guide.
Was this article helpful?