This post covers a few options to send email to your members list. There are many options for communicating with members via email. Your selection from the options below depends on the list size, email tracking needs and your preferences for automation vs. customization.
Topics Covered Include:
---
This plugin makes it easy to kick off an email to your WordPress site users directly in the WordPress admin. You can segment users by a few criteria, including their "Membership Level". While Email Users hasn't been tested with the latest version of WordPress, it may still be a functioning plugin.
The plugin's settings page (Settings > Email Users) allows you to configure some email defaults, design a "new post" notification email, as well as set up a custom email footer message.
To email a specific membership level or group of membership levels, navigate to Email Users > Send to Group(s). From here, you can set up your direct email and multi-select the membership levels you want to distribute the message to.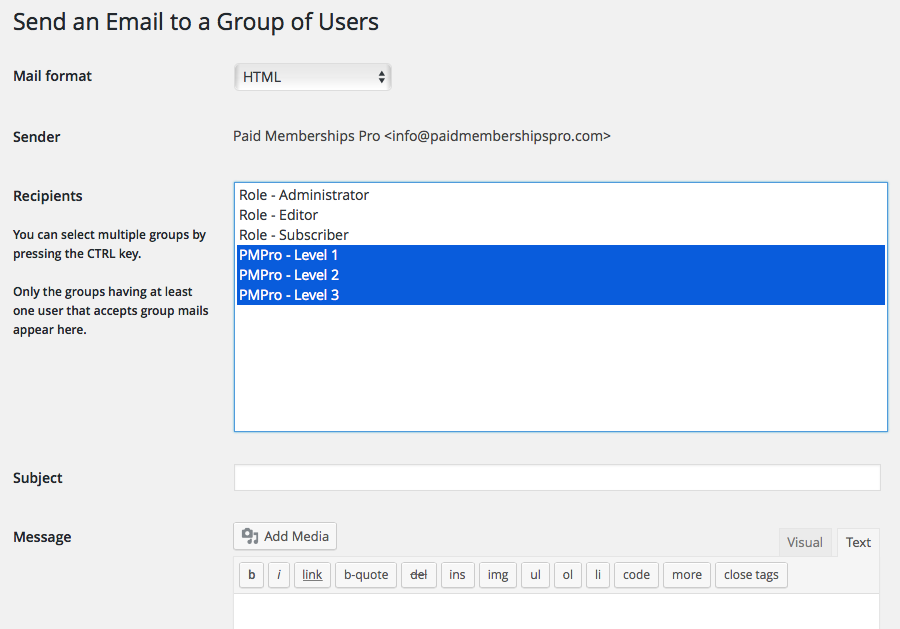 Members can manage their email preferences from the "Edit Profile" page. Options include subscribe/unsubscribe from direct messages, new page/post notifications and bulk/group messages. If you do not want your members to be able to mange these preferences or you want to update the default settings for a new member, navigate to Settings > Email Users > Default User Settings.
Download Email Users
---
The Pitfalls of Distributing Bulk Email from Your Web Server
There are a few limitations of sending bulk email directly from your WordPress site. First, the two options above have no built in "throttling" of email distribution. This means that your mail distribution can "time out" or "crash", leaving you with no way of knowing who received the email, and who didn't.
The second obvious pitfall is that mail sent directly by your WordPress site may be marked as "spam", or even worse, totally rejected. InMotion hosting has a good article on email delivery with some steps you can take to help improve the delivery rates of your server-generated email.
The main approaches to improve server-generated mail delivery rates include:
If you run into trouble distributing bulk email to a large members list via your WordPress site, explore a transactional email service like wpMandrill. This will not only provide you with the ability to distribute to large lists, but also provides stats about your wp_mail (delivered, bounced, rejected, opened, clicked, country and more).
---
Paid Memberships Pro has integration for some of the top email marketing services. Browse available integrations on the Add Ons page for plugins in the email category.
With each integration offered, you have the ability to associate "lists" with "membership levels". This means that your email marketing program can maintain a unique subscriber list for each of your membership levels.
We use MailChimp for email marketing, and we've configured it so that new posts in the "newsletter" category are automatically distributed every Tuesday and Thursday at 1pm ET. This is set up using MailChimp's RSS-to-Email feature. PMPro Plus members can watch our MailChimp webinar for instructions on how to set up an RSS-driven campaign.
Each email marketing program we integrate with has the ability to bulk email an individual campaign to one or more of your member lists. This method offers the full tracking options provided by your email marketing service, as well as the higher delivery rates of the bulk sender.