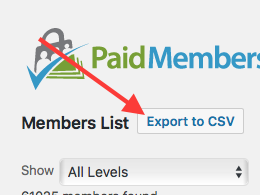 This post covers how to export your Members List to CSV. We'll cover the default columns included in the export, as well as a method to add additional user data to the file.
---
Access the Members List Export
The "Export to CSV" feature of Paid Memberships Pro is located on the Memberships > Members List admin page. Here you will see your full Members List, which can be filtered based on several features, including Membership Level, Status, or via search. The exported CSV file is based on the active filter in the current view. If you would like to add additional data to this admin page or allow for more detailed filtering, see:
---
Default Fields Included in the Members List Export
The basic CSV export will include these fields:
id
username
firstname
lastname
email
billing firstname
billing lastname
address1
address2
city
state
zipcode
country
phone
membership
initial payment
fee
term
discount_code_id
discount_code
joined
expires
---
Adding Additional Data to the Export
There are a few methods to add data to your CSV export.
The easiest method applies to fields that are created via the Register Helper Add On. The code that adds your additional fields will simply need to be updated with attribute memberslistcsv => true. See detailed information on adding fields via Register Helper here.
If you need to add fields that were not created via Register Helper, you will need a custom function that uses the hook: pmpro_members_list_csv_extra_columns . For example, the code recipe below demonstrates how to add fields from the wp_users or wp_usermeta tables as well as fields added via BuddyPress. There may be other custom tables you need to pull in data from, in which case you'd need to access the user information in another way (dependent on the plugin you are trying to interact with).
---
The Code Recipe
---