Running a membership website is a lot like taking care of a plant; Just as a gardener must ensure a plant gets enough sun and water, site owners must manage membership engagement to encourage growth and long-term success.
Fortunately, unlike gardening, keeping your members engaged is pretty straightforward when you have the right tools and strategies.
We've rounded up some of our best tips for managing membership engagement in this post.
You'll learn:
Why membership engagement is so important
Essential elements for building an extraordinary member experience
Strategies to manage membership sites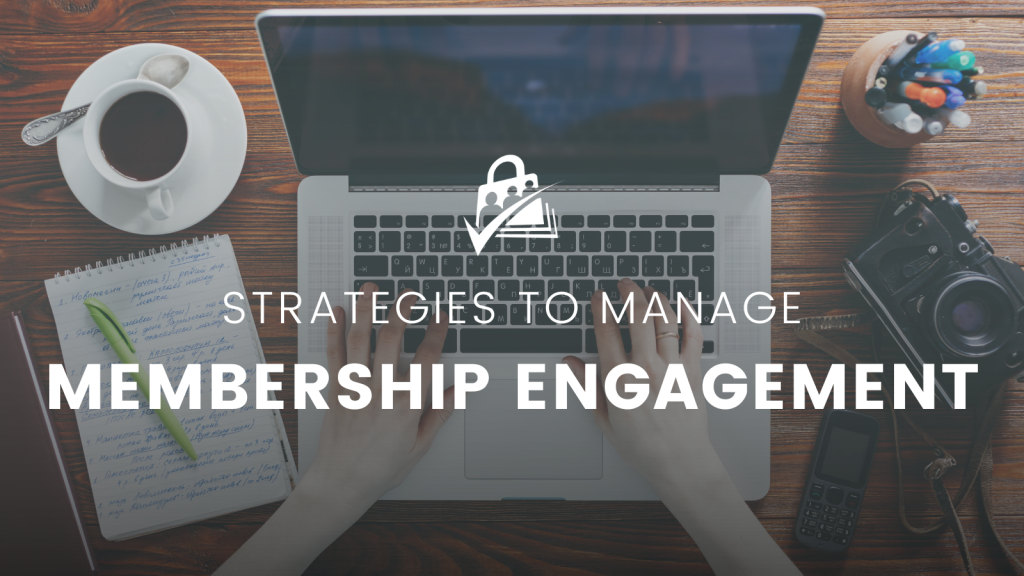 Why Care About Member Engagement?
Membership engagement is about fostering a relationship with your members. Their relationship with you and how they view your service ultimately determine your business's long-term success.
Reasons to adopt a membership management strategy include:
Engagement. A plant won't grow without sun and water, and a thriving membership site requires an active and engaged community. Getting people engaged and using your site requires nurturing relationships and implementing careful planning.
Retention. If people fail to engage with your site, they won't renew their memberships. You need a membership management strategy that helps people fall in love with your site if you want them to keep coming back.
Revenue. Improving retention has an obvious impact on your revenue; It's much more expensive to convert a new visitor than to sell a renewal to an existing customer. Engaged members are also more likely to respond to upselling and cross-selling.
Reviews. Engaged and happy members lead to better reviews and testimonials. Social proof touting the value of your membership program can significantly improve the conversion rate of your membership registration page.
Inspiration and Validation for New Content or Business Ideas. An active membership community is like having a built-in focus group. You can run a pilot program or easily solicit feedback to test new ideas.
Logistics for an Extraordinary Member Experience
What do you need to deliver a great membership experience? Before we talk about some key strategies, let's make sure you have the right tools.
Essential elements to help you manage membership engagement:
Complete membership software. You need an intuitive and fast membership plugin. The plugin should blend in seamlessly with your website and offer robust back-end functionality so you can effectively manage membership engagement.
High-level security. Pick a plugin with exceptional security features, like an SSL certificate to encrypt financial data and log-in authentication. You want your members to feel comfortable sharing their data and engaging there. Take visible steps to show members that your site and their data are secure.
Careful segmentation. Utilize segmentation to show people the content they'll find most relevant. If you waste too much time and landscape talking about premium content, people on lower-priced tiers will feel like you don't care about them.
Reliable support. Make sure you have a support system in place to solve member issues quickly. 
Strategies to Manage Membership Engagement
Follow these best practices to improve your member engagement and experience, helping your site grow and thrive.
Get to Know Your Members
Utilize your analytics to learn the preferences and habits of your members. Don't stop at data; Talk to your customers. Get to know them.
Consider things like regular check-ins to talk about goals, pain points, and build relationships through real discussion. Data is important, but people ultimately join membership sites to meet and learn from other like-minded people.
In between regular meet-ups and real-time discussions, use discussion boards or private Facebook groups to interact with members. You want them to know you and feel connected to you. The more engaged you are with your members, the more engaged and committed they'll be to your membership site.
Map Your Customer Journey
Going from a stranger to an engaged member doesn't happen by accident. You can help guide your members by planning out the buyer's journey—from initial discovery to super fan status.
Consider the following questions:
What steps will a member take?
What content and tools do they need at each step?
How can you motivate them to continue on the journey?
Communicate Consistently
Part of keeping members engaged is communicating with them regularly. Consider a weekly members newsletter to keep people updated on new content and other offerings.
Personalize The Member Experience
Members who feel valued are more likely to stick around. Focus on personalizing anything you can. For example, one of the most basic examples is using member names in web and email templates.
Once you know more about your members, you can start personalizing other things, like a list of recommended content.
Craft Opportunities for Community Connection
Encouraging communication between members improves member engagement. This engagement incentivizes people to join your site, remain active members, as well as recommend it to others.
Communication with members shouldn't be one-way, though. You need ways for members to communicate with you and each other. Real-time communication that goes beyond discussion boards can help as well.
When creating opportunities to connect with your members, be sure you act as a moderator to facilitate discussions and uphold any community standards you set forth.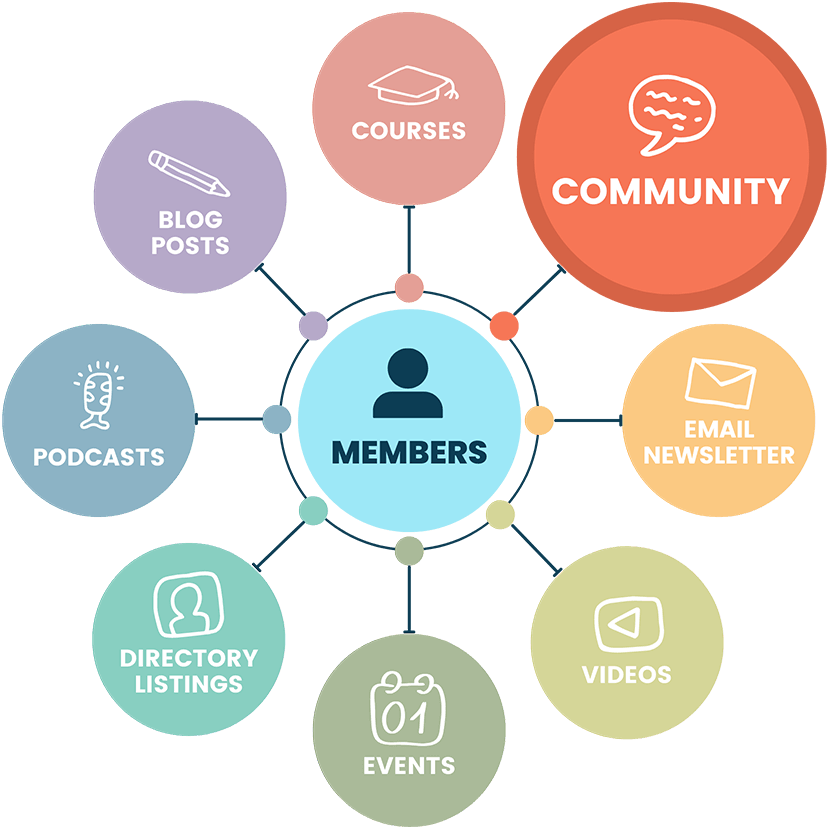 Run Your Online Community with WordPress and PMPro
Paid Memberships Pro is the most robust membership plugin to sell access to your online community on WordPress.
We always say, "Own the land your business is built on," and with an online community, this could not be more relevant. With some other hosted solutions, you don't have the same ownership.
Bring together like minds and niche groups of people while earning a reliable income through a fully customizable online business. With open source, free tools like WordPress and PMPro, you can build and grow an online community that you control.
Create a Perks Program
Using a perks or rewards program can do wonders for member engagement. Rewards can be things like:
Badges for contributions and interaction
Gift cards for regular shopping
Loyalty points for recurring purchases
Don't forget intangibles like giving a shoutout on your podcast or getting access to a new video one week early. Remember: Perks don't have to be costly.
Involve Your Members
Let people participate in a way that gives them a sense of belonging in the group. For example, you could allow members to:
Contribute suggestions and resources
Help to moderate your community
Lead discussions
Polls, gamification, and group challenges work, too. Adding the element of competition through badges or community recognition can also help to engage your members.
One of the best things about involving members is that it takes some of the pressure off you.
Recap: Manage Membership Engagement for Growth
Engagement is a vital part of running a successful membership business. After all, membership sites depend heavily on long-term member loyalty, which is driven by how connected members feel to your site.
Here's what to remember if you want to do it well:
Your membership management strategy should be focused primarily on driving engagement and creating a positive experience for members
Engaged members are more likely to renew their subscriptions and buy additional products
Using the right software and tools is crucial for creating a great user experience
Following the best practices in this post will help you encourage conversation and participation from your members
Paid Membership Pro gives you everything you need to build an engaging membership site that members want to return to again and again. Even our free plan comes with all of the essential features to help you run a complete membership business.
Member Engagement For Online Communities
Are you ready to build and grow an online community that you completely control?
With Paid Memberships Pro, you can sell free and paid subscriptions to your community, benefit from a wide variety of Add Ons and integrations specifically designed for community websites.
We know that a WordPress site has tons of moving parts. Choosing the right plugins, themes, hosting, third party services, design assets, and more can feel overwhelming.
Paid Memberships Pro is the most robust membership plugin to sell access to your online community on WordPress. Learn exactly what you'll get — the plugins, the support, and the training — when you run your online community with Paid Memberships Pro.
More Content About Membership Site Data and Analytics
Was this article helpful?