Whether you're just starting your membership business, or you already run an established membership site, having a professional logo is an essential piece of the marketing puzzle.
A high-quality, easily-identifiable logo not only helps your audience recognize your brand across all platforms, including your website, social media channels, and email marketing; It also gives your business credibility and a polished look.
So, how do you get a logo that will help you solidify a cohesive brand? In this post, we'll talk about a few different options.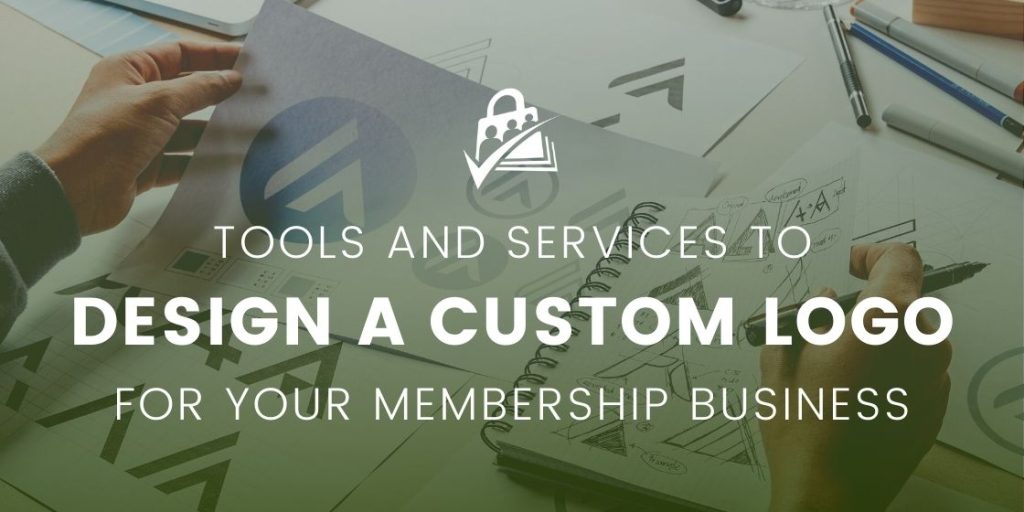 Past vs. Present Methods
Large companies and funded startups used to work with expensive agencies to develop brands and logos. This would sometimes result in a highly-detailed and valuable corporate brand direction.
Today's small businesses, startups, and solo entrepreneurs have new ways to direct their brands using a variety of inexpensive and powerful logo development tools—all available online. Many large companies are now using these same methods as well.
Let's look at the different types of online logo design tools, including:
Questions to Consider Before You Get Started
I used to do logo design for a consulting company, and at the start of any logo project, I'd ask a few key questions. These questions are designed to help you create the most high impact and usable logo from your logo design project.
What are your brand's current colors? Are these changing as of this brand redesign?
Do you prefer a logo that uses an icon/graphic or a "wordmark" (fancy/stylized text only)?
Would a portrait or landscape logo orientation better match the customer's main marketing outlets?
Does the customer use the logo more often in physical/printed materials or in a digital format?
Do we need a logo version that is icon only?
Do we need a version with a tagline or variety of taglines?
Is the logo used on a dark background or light background (or both)?
and, lastly, What are some other logos you have seen that you like?
Answering these questions helps to guide the logo design process. After all, designing a logo isn't just about what you think looks good (even though that last question is all about preference).
Your logo has to function for your business in the places you use the logo most.
The truth is, there's a happy medium between your personal likes/dislikes and functional logo design.
Now, onto the logo design options!
DIY Logo Generators/Builders
These DIY logo tools offer templates and inspiration that you can tweak to your heart's desire, including colors, font, layout.
Fiverr Logo Maker x WordPress.com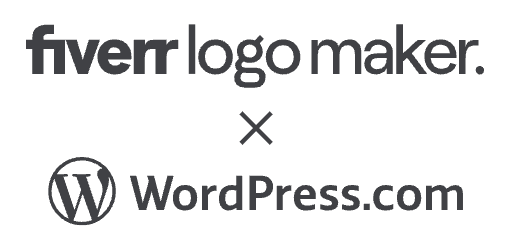 How Fiverr Logo Maker works:
Get started for free
Enter your business name, industry, and services.
Define your brand's desired look and feel.
The tool generates logo ideas using a wide selection of logo designs made by designers on Fiverr.
After selecting your logo, you can adjust the appearance using their web-based design tool.
Pricing: Free to create a logo. Prices start at $30 to download your logo and branding package. View More Details »
Tailor Brands
How Tailor Brands works:
Get started for free
Enter your logo name, choose your product type and industry, and select a logo type (icon based, name based, or initial based)
Answer a few quick "this or that" questions about your style
The results will be a collection of logos you can choose from and customize
After selecting your logo, you can add on a brand book, letterhead and business card layout, social media covers and profile pictures (Facebook, twitter, etc.), and a basic presentation layout
Pricing: The Basic Bundle includes logos for web and print for $39. View Full Pricing »
GraphicSprings

How GraphicSprings works
Select your industry or keyword to browse the gallery of high-quality logo designs
Fully edit any pre-built logo with your business name, graphics/iconography, and colors
Save and download for unlimited use
Pricing: Build your own logo and download for $19.99. Full custom logo design for $99.
Tournament-style/crowd-sourced Flat Fee Logo Design
In a tournament-style logo project, you receive 30+ logo designs submitted by international designers based on your design brief. Review feedback, refine, iterate, and download!
The features of the tournament-style design sites are all quite similar:
Set up your logo contest by providing general brand information and logo preferences
Define your content's prize amount (higher prize amount attracts the higher-quality logo designers)
The tournament lasts around 2 weeks from start to finish. This includes the initial design period (1 week), the selection phase, and then the iteration phase where you and your selected logo's designer work to tighten up the final product.
Your selected logo is delivered in a variety of formats, including a vector EPS that you can shrink and scale without pixelation.
The bonus of this method is that you will get hundreds of entries from multiple designers who can iterate and provide feedback along the way. This results in a custom-tailored logo.
The key to success with a crowd-sourced logo is the feedback that you provide the designers. If you can, try to select the most "designer-like" member of your team to give this feedback. You will want a creative person who can see potential in the submitted logo options—not just take them at face value.
More keys to success:
It's important to give feedback on every design you receive, so that there is guidance for each iteration of individual logos as well as the entire tournament (all designers can see other designers' logos and your feedback).
Remember that there are humans on the other side of the process, so be kind. With how automated the process is, it's easy to forget this aspect and be too harsh.
However, make sure you aren't wasting their time, either.
Some designers will wait to submit anything before you've given other designs some ranking/feedback, so be diligent about providing feedback at least daily.
99Designs
Pricing: The Bronze package is $299. Visit the 99Designs website »

Designhill
Pricing: a "Fast Track" logo package starts at $129. Visit the Designhill website »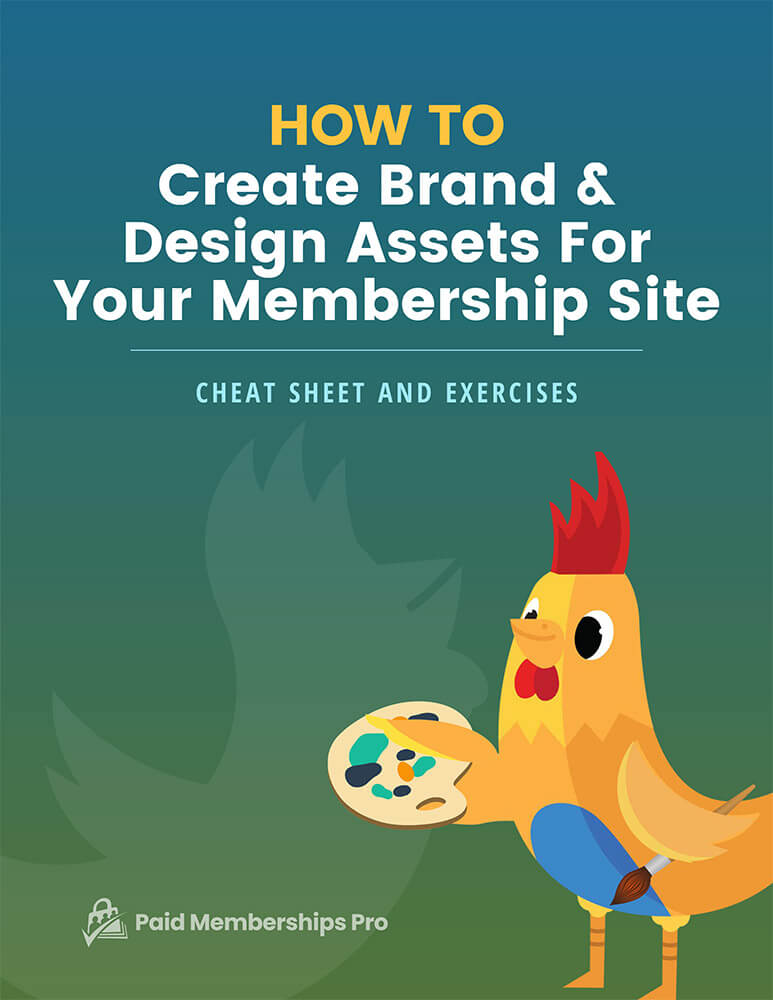 DOWNLOAD NOW
Grab the free cheat sheet and exercises for help designing your membership site brand guide, website graphics, and pricing page. This guide will help you create a cohesive look and feel that tells your membership's story across everything you publish.
Pre-Designed Logo Templates
Buy a pre-made logo, add your name, customize the font, and download.

Logology
Take a brand identity test and get matched with a pre-made logo from a catalog of over 500 designs. Make unlimited brand name, color, and font changes, and re-download your files as many times as you need. Start and Grow tiers include a non-exclusive logo, but can buy the highest-priced tier if you want a unique variation of any logo with full exclusivity and trademark rights.
Pricing: Logos start at $69. Visit logology.co »
Brand Crowd
Browse the gallery of pre-designed logos and logo templates. Designs are only sold once (exclusive and full copyright). You can instantly customize the logo with your business name, change the font, or work with the designer for changes.
Pricing: Logos start at $99. Visit Brand Crowd's website »
Get Started With Your Logo Today
As you can see, there are many methods to help you get the logo of your dreams. The one you choose will depends heavily on the vision you have at the start of the process.
Which is more important? Budget or exclusivity? You might choose a non-exclusive logo to start out, but that doesn't mean you can't change or alter it later on.
The bottom line is:
We used Logo Tournament for the Paid Memberships Pro logo and we're very happy with the outcome. Even though I'm confident in my design skills, I chose to outsource our logo design because I wanted someone else to see our brand with fresh design eyes. If you're feeling the same, you should consider trying a tournament/crowd-sourced option.
Was this article helpful?