Have you reached the point where managing your membership site feels like a juggling act? It might be time to hire a membership manager.
In this article, we'll walk you through the critical role a membership manager plays in overseeing your Paid Memberships Pro-powered website.
From handling settings and operations to nurturing customer relationships, a membership manager can take care of it all.
We'll delve into 24 tasks they can handle, including general responsibilities applicable to all sites and specialized duties tailored to different types of membership sites. Next, we'll show you where to look when it's time to hire the right individual for the job.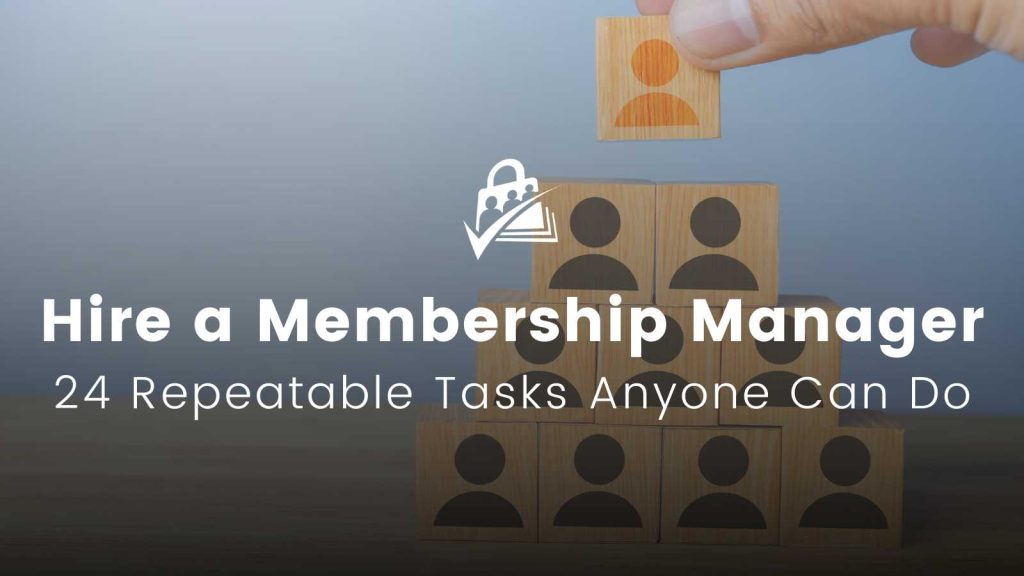 What is a Membership Manager?
A membership manager is an individual who takes on the responsibility of handling various aspects of a membership-based business or organization. They serve as the point person for managing the repeatable day-to-day operations in your membership business.
While the specific tasks and responsibilities vary depending on the organization and industry, the core role of a membership manager is to maintain the processes you've put in place when you were a company of one.
Hire someone you can trust to learn the ropes and free up your time, so you can continue growing your membership business.
A membership manager can be thought of as a virtual assistant or an administrative professional who focuses specifically on the ongoing management required in a membership-based setup. They can work virtually or be located in-person—your pick.
What to Look For When Hiring a Membership Manager
General Tasks For Membership Managers of Any Membership Site
Below is a list of general tasks for a membership manager. These are the tasks that apply to almost all membership sites, some of which are important no matter how large a membership site you run.
Order Management: Conversion Rate Optimization, Combat Churn, and Reporting
Customer Success: Onboarding, Member Retention, and General User Management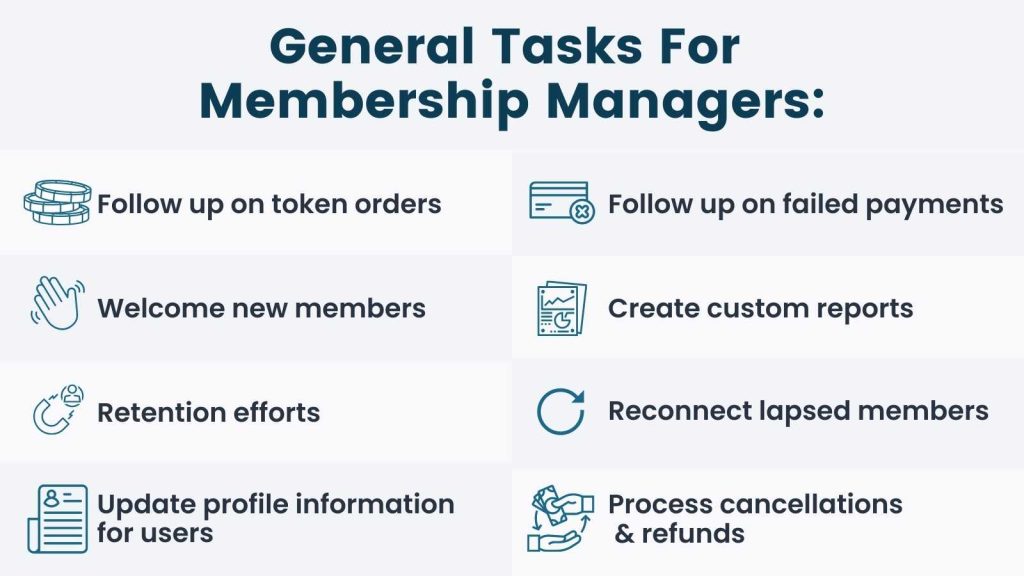 Specific Tasks for Different Types of Membership Sites Use Cases
We know that no two membership sites are completely alike. That said, there are 8 key use cases that share common needs. Check out the list below to see tasks for each unique membership site type and how they could apply to your membership.
Associations & NPOs
Blog & News
Communities
Courses & Coaching
Directory & Listings
Paid Newsletters
Podcasting
Video
Finding and Hiring a Membership Manager
When it comes to finding the right manager for your membership site, start by considering your business' specific needs and available resources. Aside from contractors for development or video editing, the membership manager may be the first team member you hire for your membership organization.
Here are some ideas to help you find the right person or team:
Look Within Your Own Membership
Start by looking within your existing community. You might find individuals who are already active and stand out as helpful and engaged members.
These individuals may possess the necessary skills and passion for taking on the role of a membership manager. They are already familiar with your organization and can bring a unique perspective to the position.
Consider Budget and Resources
For small organizations with limited budgets, hiring a dedicated membership manager may not be possible.
In such cases, you can explore options for volunteer management. Reach out to committed members who are willing to share their time and skills to support the organization.
Assess Task Complexity and Scale
Larger organizations with extensive membership operations may require multiple individuals serving in different roles such as an accounts manager, a member success specialist, and more.
Assess the complexity and scale of your tasks to determine if a single membership manager or a team approach is more appropriate for your needs.
Seek Internship Opportunities
Consider local high schools or career and technology centers to find potential interns interested in gaining experience in website management and membership operations. Or even someone interested in your membership's specific topic that already has a deep interest in your mission.
Interns can offer fresh perspectives and may be eager to learn and grow alongside your organization.
Engage Local Communities
Utilize platforms like Nextdoor or local online forums to post about your need for a membership manager.
You may find individuals who are passionate about your cause and interested in taking on a role that contributes directly to the success of your organization. Having someone local can also provide the benefit of easy face-to-face collaboration and knowledge sharing.
Network Within Professional Communities
Participate in industry-specific conferences, events, or online forums related to membership management, community management, or non-profit organizations.
Engage with professionals who handle operations to build relationships that may lead to finding a qualified person for your business. Networking can help you connect with experienced individuals who understand the nuances of managing membership websites.
The Membership Geeks have a great podcast and doc on hiring your first employees for your membership business if you want to explore the hiring topic some more.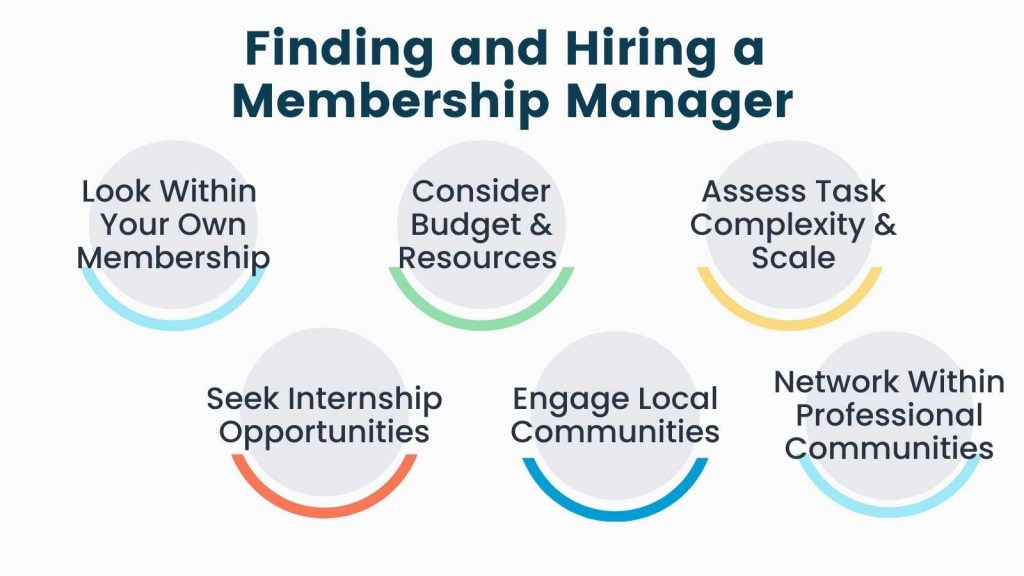 How to Assign Membership Manager
Since this post is on the Paid Memberships Pro site, we'll share how to assign a WordPress user to the Membership Manager Role in WordPress. If you're not using PMPro, access to membership management features will vary. We suggest reaching out to your plugin's tech support team to get help with custom capability for your managers.
Here's how to set up the Membership Manager Role Add On and assign the role to a user:
Install and Activate the Membership Manager Role Add On.
Navigate to the Users screen in the WordPress admin.
Locate an existing user to promote or add a new user.
Locate the Role field on the Edit User / Add New User screen.
Change the Role to Membership Manager
Save the User.
That's it. Users with the Membership Manager role can access the Memberships menu in the WordPress dashboard, edit your users, and edit the Require Membership settings while editing posts and pages.
Video Tutorial: How to Use the Membership Manager Add On
Membership Manager Access for Third Party Platforms
This guide also shared some ways a membership manager can help you outside of your WordPress site. These may include adding someone to your Analytics tool, your YouTube brand account, CRM or email newsletter admin, and more.
It goes without saying that every third party tool has a unique way to add users and control their access. One word of advice, though, before you begin adding a new team member to all your tools:
Why? Because not every team member lasts forever. This small step protects your future self in the event that you and your manager part ways: you just need to reclaim control of that custom email account and they will no longer be able to log into your platforms.
Free Your Time and Get Fresh Perspectives When You Hire a Membership Manager
Membership managers play a crucial role in managing and optimizing membership websites.
Their tasks cover a wide range of general skills: from customer service, to marketing, and even some sales strategies.
Once your membership site has grown to a certain size, you will know that you cannot keep handling it all. Once you find the right person with the skills and willingness to learn, you'll have new found free time to work more on providing value to your members—and maybe a little extra time for providing value to yourself, too.
Check out the Membership Manager Role Add On today. This Add On gives you a safe and secure way to extend your manager's admin access so they can do their job, while protecting the rest of your website.
Was this article helpful?