When you're creating content for an international marketplace, or simply serving a unique regional audience, you need a payment gateway that supports your customers' specific payment requirements. With Stripe International payments and Paid Memberships Pro, you can now offer unique ways for customers to pay, regardless of their location or local currency.
Offering diverse payment options isn't just a nice to have: it's the ticket to building a thriving membership, free from boundaries.
With PMPro and Stripe International payments, you can now explore 48 innovative ways for your customers to pay. This means you can:
Connect with regional customers using their preferred currency and payment method.
Offer memberships and subscriptions to a global audience.
Support price-sensitive buyers or ultra high-ticket membership products with "buy now, pay later" payments.
This isn't about adding a few more payment options. It's about providing an all-access pass to potential markets worldwide, ensuring your business is ready to conquer the international stage.
With these 48 Stripe international payment methods fully integrated into the free, complete Paid Memberships Pro plugin, your business stands ready to seize global opportunities and leave a significant footprint in the marketplace.
Let's explore your new horizon with Stripe International Payments and Paid Memberships Pro.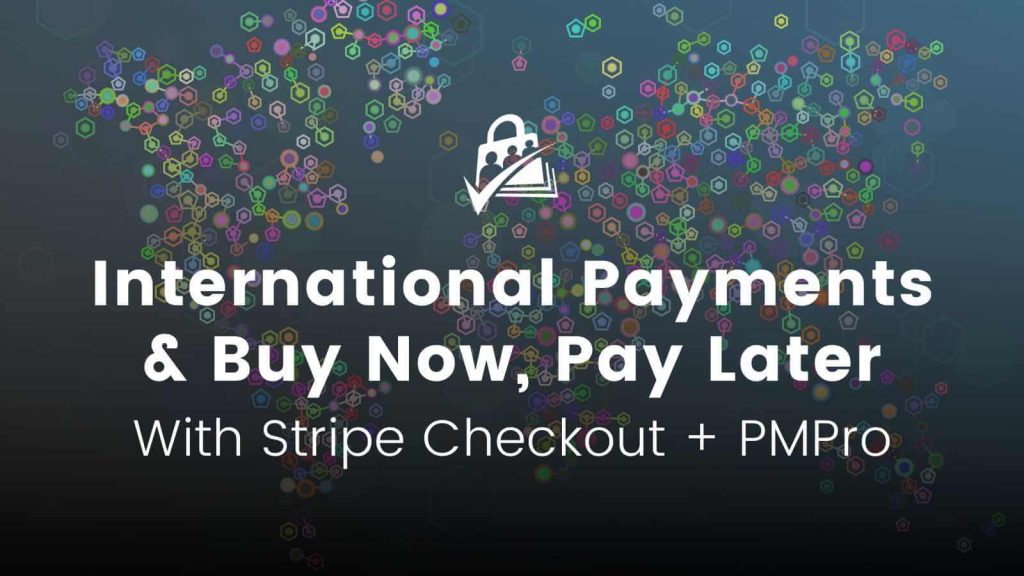 Offering Regional Payment Methods
In an increasingly globalized economy, understanding and accommodating regional payment preferences is pivotal for businesses. These preferences often reflect the unique financial cultures and infrastructures of different countries, and as such, they can be the key to unlocking new markets.
Consider the Netherlands, for instance. Here, a payment method known as iDEAL dominates the digital transactions landscape.
This online payment system connects customers directly to their banks during online purchases, making it a trusted and efficient solution for Dutch consumers. For businesses wanting to expand into the Dutch market, offering iDEAL isn't merely an option—it's a necessity.
This pattern repeats across the world. Each region has its preferred payment methods, and failing to offer these can severely restrict your business's ability to grow in these areas. By integrating Stripe International Payments into Paid Memberships Pro, we aim to bridge this gap.
Now, you can offer payment methods that resonate with customers no matter where they are based, from the bustling markets of Europe to the ever-growing economies in Asia.
It's all about making sure your business can cater to the world's diverse payment preferences. An action which not only expands your business, it also shows a commitment to customer convenience and trust that will foster long-lasting relationships.
Embracing the Global Market with Stripe
With Stripe's wide-ranging payment options, your business can explore untapped markets and attract customers from all over the globe. The integration of Paid Memberships Pro and Stripe International Payments facilitates seamless transactions that truly take your business beyond borders.
Expanding the Euro Payment Horizon
The Euro stands as a formidable currency in the digital realm. With 20 out of 27 EU member states dealing in Euros, accepting this currency opens up a considerable market segment.
To capitalize on this, Stripe provides 11 secure and convenient ways to accept payments in Euros:
SEPA Direct Debit
The Single Euro Payments Area (SEPA) Direct Debit allows businesses to collect Euro-denominated payments from accounts in the 36 SEPA countries and associated territories. It's an efficient and cost-effective way to collect recurring payments like memberships or subscriptions.
iDEAL
Predominantly used in the Netherlands, iDEAL is an e-commerce payment system linked to a customer's online banking account. During checkout, the customer selects their bank and is redirected to their online banking environment to confirm the payment.
Bancontact
The most popular payment method in Belgium, Bancontact enables customers to pay directly through their online banking environments, ensuring secure and instantaneous transactions.
Giropay
Giropay allows customers in Germany to pay directly through their bank account, ensuring real-time transactions. A confirmation number is given immediately following the transaction.
Klarna
Klarna is a popular 'Buy Now Pay Later' platform originating in Sweden. It offers interest-free payments if customers pay on time and provides a "pay in 30 days" option, making transactions flexible for customers.
Sofort
Used in Germany, Austria, and Belgium, Sofort allows direct and swift bank transfers. The system uses multi-level authentication, ensuring maximum security.
Przelewy24 (P24)
An online payment system in Poland, P24 supports over 165 banks, enabling customers to make real-time bank transfers conveniently.
EPS
EPS is an Austrian payment method that enables simple, secure, and fast payment processing via online transfer from the buyer's bank account.
Afterpay & Clearpay
These platforms allow customers to instantly make a purchase and pay for it in four installments, due every two weeks. There are no interest charges for on-time payments. Learn more about Afterpay/Clearpay on Stripe.com.
Alipay
China's leading third-party online payment solution, Alipay provides an escrow service that reduces transaction risk for online consumers. It has partnered with many leading banks around the world to facilitate payments in Euros.
WeChat Pay
WeChat Pay is a digital wallet service incorporated into WeChat, China's super app, offering users multiple payment methods, including credit cards, QR code payments, and in-app web-based payments.
Each of these options offers its unique benefits, ensuring your customers experience ease and security in their transactions.
But you're not limited to Euro payment methods alone. There are actually 48 unique payment methods that we support when using Stripe with Paid Memberships Pro. View the full list of all 48 international payment methods supported by Paid Memberships Pro here.
Validating Your International Audience: Are You Reaching a Global Market?
Before taking the leap into accepting international payments, it's crucial to understand your current audience base. This understanding helps confirm whether you're reaching an international audience that would benefit from diverse payment options.
An analytics tool like Google Analytics can provide insightful data about who is visiting your site and from where. Here's a simple step-by-step guide to using Google Analytics 4 (GA4) to track your international audience:
Sign In to Google Analytics: Log into your Google Analytics account.
If you manage multiple GA4 accounts, Select the Property you want to view reports for.
Navigate to Reports > User > User Attributes > Demographic Details.
Analyze Your Data: By default, you'll see the list of countries your visitors are coming from. Adjust the timeframe to see if popular locations have changed over time.
Consider Time on Site and Bounce Rate: Don't just look at the number of users from each country. Consider other metrics like Engaged sessions and Average Engagement Time. These metrics can give you a sense of whether visitors from a specific country are engaging with your content or quickly leaving your site.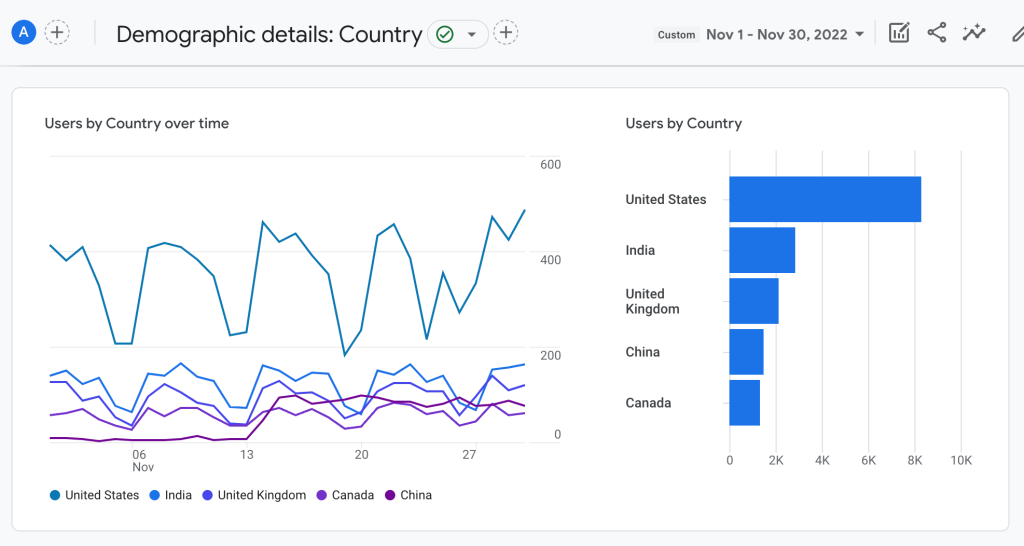 Remember, numbers alone can be misleading. A high number of visitors from a particular country doesn't necessarily mean you should start accepting payments in that country's currency.
Consider other factors such as your target market, your product's relevance in that market, and your capacity to provide customer service in that region.
By leveraging analytics data, you can validate whether you're already reaching an international audience. If you are, it might be time to consider how you can better cater to that audience, such as by accepting international payments through Stripe and Paid Memberships Pro.
How to Enable International Payments in Your Stripe Account
Enabling international payments through Stripe is straightforward and can be achieved in a few simple steps. Here's how you can go about it:
Sign in to your Stripe Dashboard: Navigate to the Stripe website and log in to your account.
Navigate to Settings by clicking the gear icon in the upper right corner of the dashboard.
Select Payment methods in the Payments section.
Enable payment methods: This screen shows a list of available payment methods, grouped into categories like 'Wallets, 'Cards, and 'Buy now, pay later'.

Turn on the methods that you want to offer to your customers. Note that certain payment methods, like iDEAL, require you to accept payments in the currency of the respective region.

With these steps, your Stripe account will be ready to accept international payments.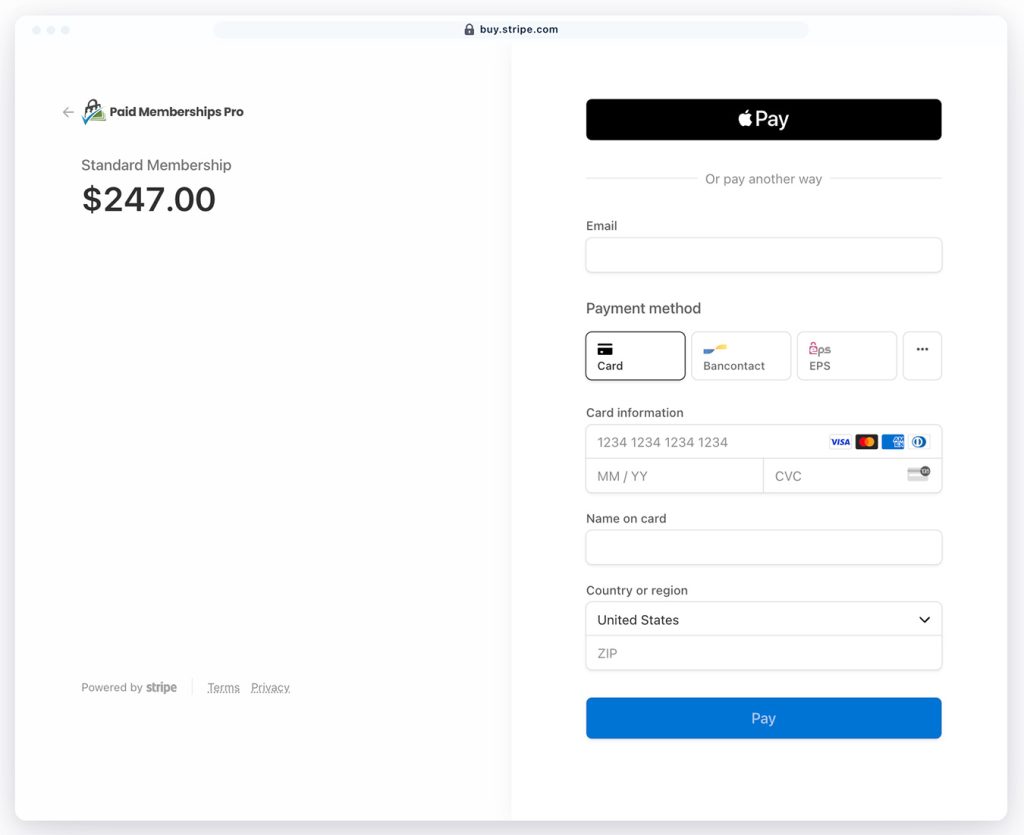 How Stripe International Payment Methods Work with Paid Memberships Pro
There are two steps to configuring multiple payment methods for Stripe and Paid Memberships Pro:
Enable the payment methods you want to accept in your Stripe account (covered earlier in this guide).
Set up PMPro to use the Stripe Checkout gateway.
That's it. When using Stripe Checkout, PMPro will take customers to the Stripe checkout page to pay.
Stripe's checkout page automatically determines the most relevant payment methods to display for that user. Boom.
Offer 'Buy Now Pay Later' in Paid Memberships Pro
In the ecommerce space, 'Buy Now Pay Later' (BNPL) options are gaining remarkable traction. These models provide customers with the flexibility to pay for their purchases over time, thereby enhancing the shopping experience. Moreover, they contribute to:
Improved conversion rates
Higher average order values
Increased customer loyalty
But not every membership site needs to accept BNPL—and its important that you don't simply turn these payment methods on because you think it will improve checkout conversions. Here's a few helpful checklists to help your consider whether BNPL is the right fit for your business:
When to Consider Offering a BNPL Option
High-Value, 'Sticker Shock' Memberships: If your membership fees are higher than the industry average, a BNPL option could make your offering more accessible to a wider audience. It breaks down the cost into more manageable payments, which can make high-cost services seem more affordable.
Price-Conscious Customers: If you know that your target customers are budget-conscious, a BNPL option allows them to better manage their finances by spreading out payments.
Competitive Differentiation: Offering BNPL could set you apart from your competitors, particularly if they don't provide similar options.
Increase Conversions: If you find potential members are hesitant to commit due to the cost, BNPL can help overcome this barrier and increase conversion rates.
Seasonal Demand Fluctuations: If your business has peak seasons where customers may spend more, BNPL can be an attractive option during these times.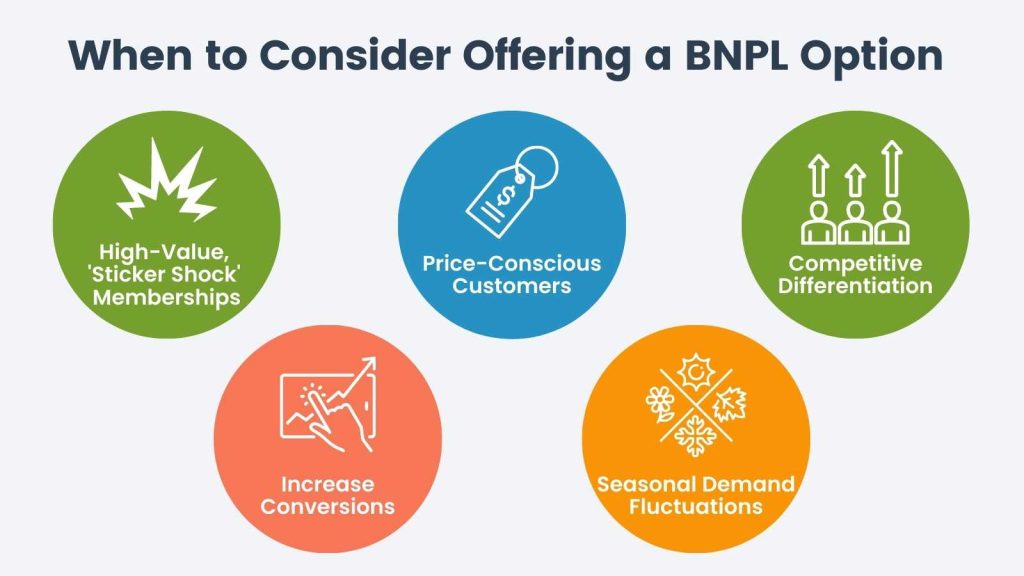 When Not to Offer a BNPL Option
Low-Cost Memberships: If your membership fees are already low and affordable, a BNPL option might unnecessarily complicate your payment process.
Stable Customer Base: If you have a stable customer base that consistently pays on time and doesn't show a demand for BNPL, it may not be necessary to implement.
Additional Management and Costs: BNPL services often come with additional fees and require more administrative management. If these outweigh the potential benefits, it might be best to skip this option.
Potential Default Risk: BNPL can lead to increased risk of payment default. If your business model can't absorb this risk, it might be better to avoid it.
Contradicts Business Model: If offering credit doesn't align with your business model or philosophy, or if it may encourage irresponsible financial behavior in your customers, you might prefer not to offer a BNPL option.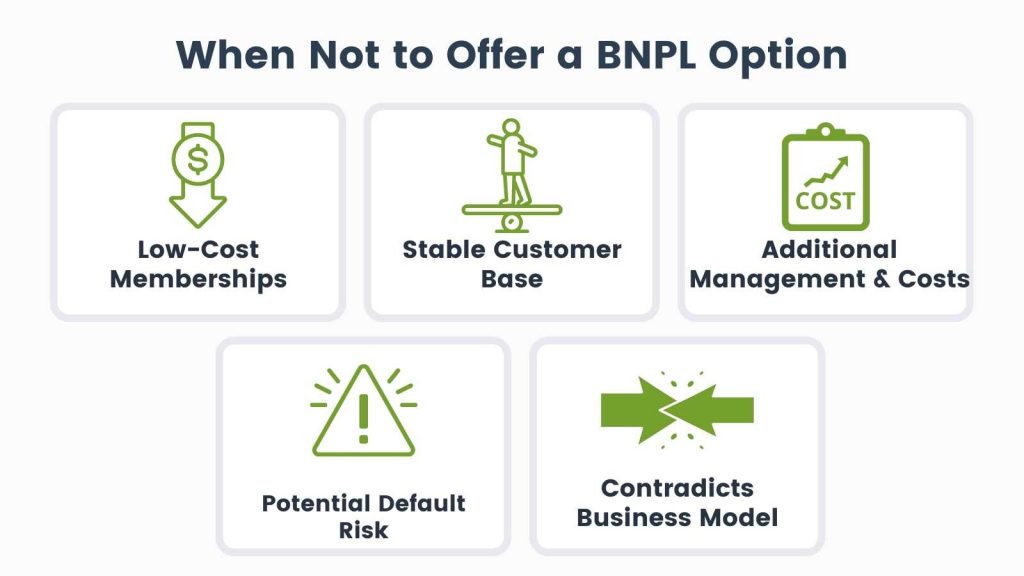 Remember, the decision to offer BNPL should align with your business strategy, customer needs, and your operational capacity to manage such an offering.
Stripe Payment Methods That Support BNPL
To keep up with this growing trend, Paid Memberships Pro and Stripe Checkout offers integration with three leading 'Buy Now Pay Later' platforms:
Klarna: Klarna is a Swedish fintech company that offers interest-free services if customers pay on time. Klarna also provides a "pay in 30 days" option. (Supported currencies: AUD, CAD, CHF, CZK, DKK, EUR, GBP, NOK, NZD, PLN, SEK, USD)
Affirm: Affirm offers installment loans for consumers at the point of sale, providing transparent, fixed monthly payments with no late fees or prepayment fees. (Supported currency: USD)
Afterpay & Clearpay: Afterpay & Clearpay allow customers to instantly make a purchase and pay for it in four installments, due every two weeks, with no interest charges for on-time payments. (Afterpay supported currencies: USD, NZD, AUD; Clearpay supported currencies: AUD, CAD, GBP, EUR)
These platforms provide flexibility to your customers and can significantly boost your sales.
Stripe International Payments: The Key To New Growth
We live in an interconnected, fast-paced digital age where boundaries are becoming increasingly blurred. As a membership site owner, you have an opportunity to reach out to audiences from every corner of the globe.
But to do so effectively, you need to provide a seamless and locally resonant payment experience. That's where the power of Paid Memberships Pro and Stripe International Payments comes into play.
Moreover, the flexibility of Stripe's 'Buy Now Pay Later' options caters to your price-conscious buyers and can prove invaluable for high-ticket membership products.
Here at Paid Memberships Pro, we're committed to empowering your business with the best tools for success, making Stripe International Payments integration just the latest in our ongoing efforts.
Ready to break through the boundaries and give your members a payment experience they'll love? Sign up for Paid Memberships Pro today and set up Stripe Checkout.
Remember, this isn't about adding a few more payment options. This is about unlocking a world of possibilities and setting the stage for your business to thrive on an international scale. You've got the tool. Now, let's create something incredible.
Was this article helpful?