When you're start an online business focused on recurring payments, you may encounter strategic guides that use the terms membership and subscription interchangeably. Some people will use the word subscription in reference to what is more accurately described as a membership, and vice versa.
In this guide, we break down the purpose behind each term: memberships vs. subscriptions.
While these terms technically represent two unique business practices, there is no strict definition you must follow. My hope is that by precisely defining and understanding the distinction between memberships and subscriptions, you can more effectively articulate your services to prospective clients.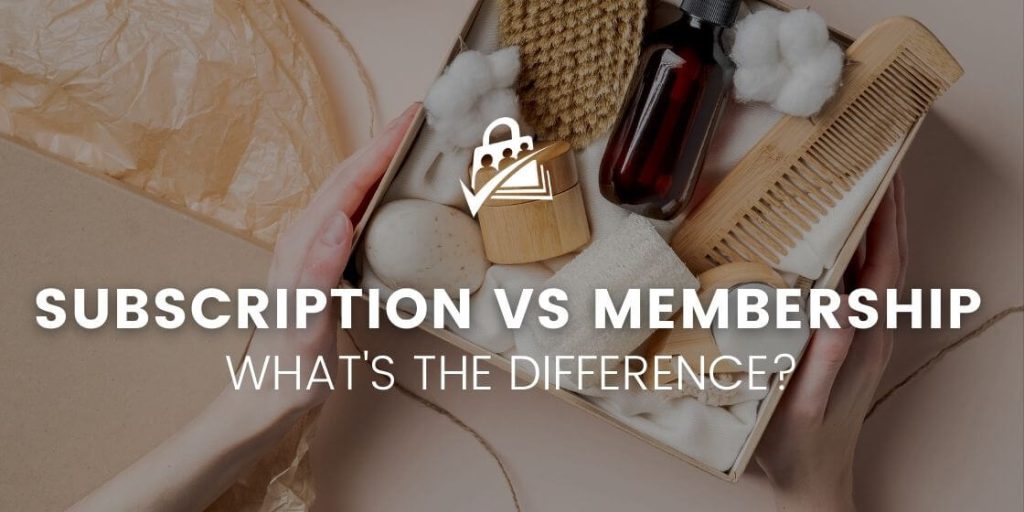 The Basics of Memberships vs. Subscriptions
On a basic level, subscriptions provide a certain monthly (or yearly) level of access to content, tools, or services in exchange for a recurring subscription fee.
For example, think about daily digital news subscriptions or weekly magazines. Subscribers stay regularly connected to these resources because they are receiving a constant flow of content.
Paid Memberships Pro, the WordPress membership plugin whose website you're on right now, supports both subscription and membership models. The distinction lies in how you choose to set up your unique WordPress business.
Difference #1: Subscriptions Deliver Benefits on a Regular Basis
With a subscription, the customer receives some form of benefit on a regular basis. For example:
Entertainment
Digital assets to use in their creative projects
Services that help them in some way
Physical goods they can use or consume
Alternately, consider something like a gym or library membership. In these examples, the customer not only gains access to the gym or library facilities; They also become a part of an exclusive community.
Difference #2: Memberships Foster a Sense of Community
The community aspect of a membership provides the customer with a sense of belonging.
The community aspect of memberships make them particularly advantageous in an online environment where businesses feel constant pressure to retain their customers and generate more revenue. In fact, it can make or break the customer experience for certain business niches.
Understanding the difference between a membership and a subscription helps you:
Decide how to grow your business in a way that suits your brand and business goals
Make the most out of your products and services
Ensure that you're providing the right thing to the right audience
All of these processes are critical for building a thriving online business. Choosing the wrong model (or using the wrong terminology) can negatively affect your business by:
Confusing site visitors and creating friction for the buyer
Falsely advertising what you have to offer
Requiring resources or features that you can't provide
Under-selling the true value of your product or service
For example, suppose that you introduce a membership into your business without providing any infrastructure to build a community. This would allow little or no interaction between your members.
The lack of interaction would amount to little or no momentum for growth, and ultimately, a waste of your time and resources. In this post, we explore the differences between memberships and subscriptions and offer some tips to help you choose the right model for your business – and reach your business goals.
Subscription and Membership Business Models Explained
The goal of the subscription model is to provide customers with a constant stream of content or access to a service in return for a recurring payment. Some popular examples of subscription businesses that charge customers a recurring monthly fee to enjoy their services include:
Netflix
Amazon Prime
Spotify
The subscription model is becoming increasingly popular. In fact, Juniper Research expects the global subscription economy to grow by $51 billion in 2022.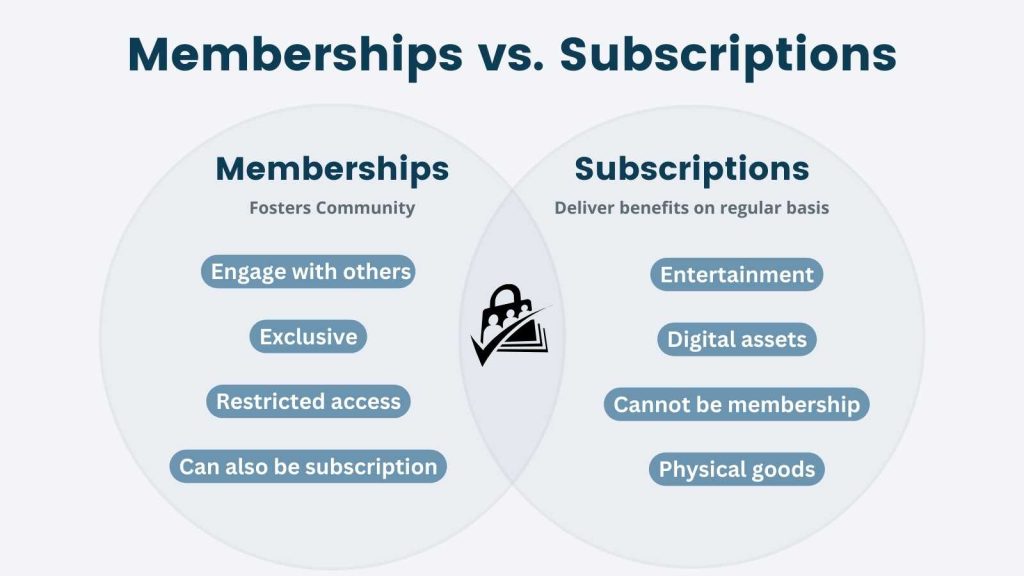 Memberships, on the other hand, are not just about the product or service. The word "member" itself highlights the significance of a community and social network.
Memberships are about building a community of individuals with shared interests and creating a knowledge network.
One of the most important benefits of belonging to a membership is that it provides a platform where people can:
Engage with each other
Share ideas
Enjoy the benefits of a product or service
According to a 2021 Marketing General report on membership marketing, 63% of people join memberships because they want to connect with peers. For example, Fizzle and AppSumo Plus are examples of memberships where the community plays a strong role.
Key Differences Between Memberships and Subscriptions
Although the words membership and subscription are not interchangeable, the payment structure for membership models is similar to that of subscription models. This means if you run a membership site, you'll probably ask your members to pay a recurring membership fee.
1. Community-Focused Approach
Memberships have a community-focused approach with the goal of building a strong network. By becoming a member of such a community, the audience is promised access to exclusive content and meaningful relationships.
Since one of the biggest selling points for the membership model is access to an exclusive group, membership businesses should focus their efforts on community building.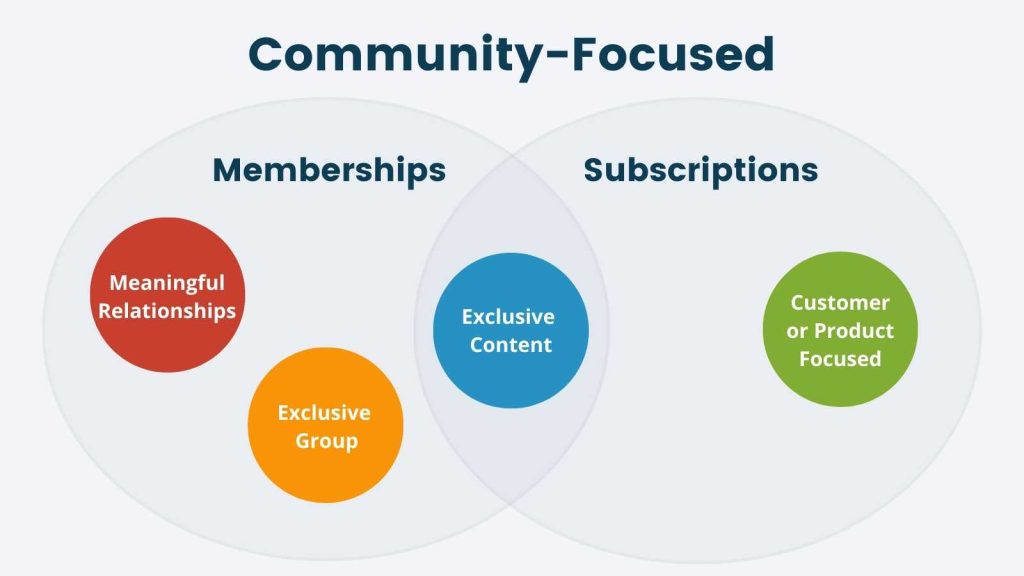 In contrast, subscriptions are almost entirely customer or product-focused. This means that when you subscribe to a service, you receive exclusive benefits. However, you do not necessarily get access to a specific community.
For example, when you buy a digital subscription to a magazine, you get to enjoy the content, but don't usually get access to a network of readers who want to discuss the magazine.
2. Customer Engagement
In general, online businesses thrive on customer engagement. In fact, 75% of customers sever ties with a business based on a single poor experience, according to Sitel Group.
Therefore, one of the best ways to get customers to come back and buy again is by providing an enriched customer experience. This is why memberships and subscriptions are so popular.
However, the best ways to create engagement depends on which model you choose.
With subscription businesses, it's crucial to maintain or increase the quality standards of your content — such as adding new features and providing regular updates for digital products and services.
The subscription businesses that are most successful tend to be those who improve their content standards over time. This keeps customers interested and engaged.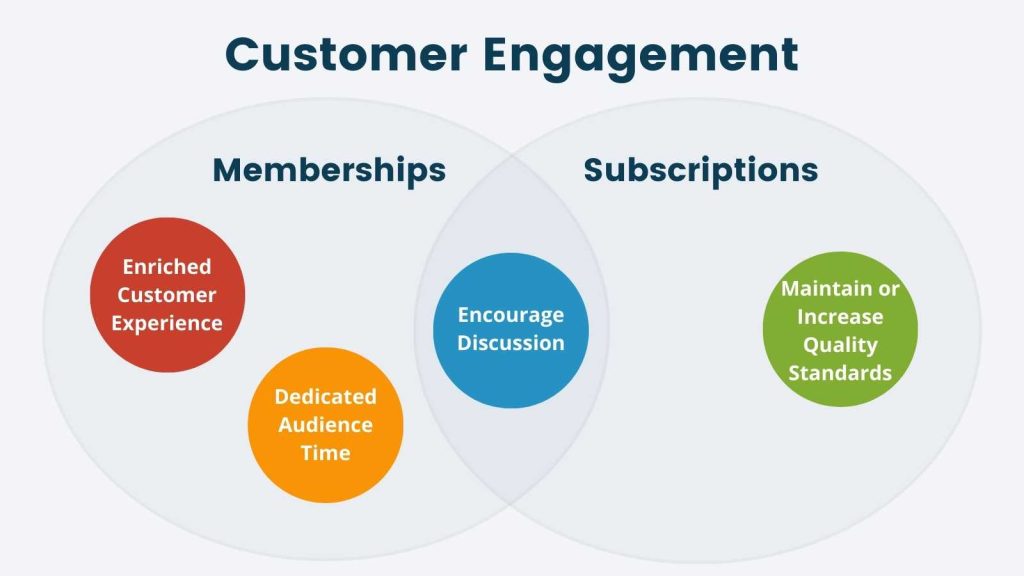 For memberships, the approach to customer engagement involves conversations and dedicated sessions that help to meet the audience's needs. For example, you could provide learning opportunities via webinars to add more value to the customer experience.
Additionally, it's important to use content delivery mediums that enable users to engage in these conversations. Focus on encouraging discussion as much as possible if you want to strengthen your membership community.
3. Content Frequency
The success of both membership and subscription businesses often depends on frequent, quality content creation in the digital environment. The content quality is equally important for memberships and subscriptions as well.
However, the rate at which you need to produce new content varies between the two.
A subscription service may not need to release content very frequently, depending on the type of business. However, most subscriptions cannot survive without regular content releases because the average consumer is accustomed to a high level of consumption.
For example, if Netflix did not release new content weekly, it would fall behind its competitors. In fact, the high demand for larger volume of audience-centered content pushed Netflix to create Netflix Originals.
However, producing more content should not mean compromising on quality. If there's a drop in content quality, a business can start losing its subscribers very quickly.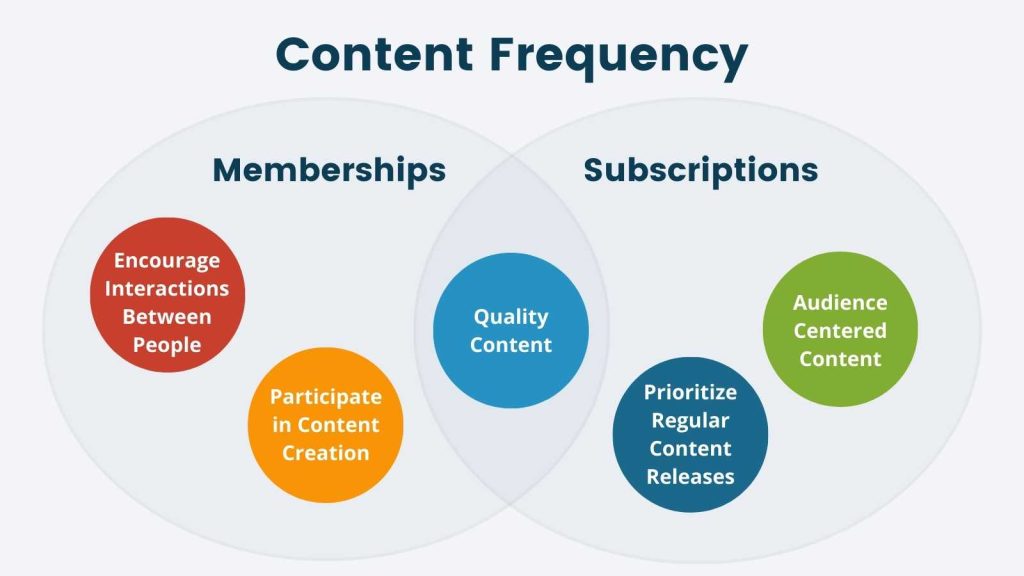 In contrast, memberships thrive on interactions between people (as well as the quality of content). Members typically expect a membership business to provide them with resources and help them establish and participate in a knowledge network.
Sometimes, members may even participate in content creation for a membership business. That's why the expectation of content frequency is not as high with the membership model as it is with the subscription model.
4. Access Management
The underlying idea of a subscription is usually to get as many customers as possible and generate revenue based on the number of subscribers. So, subscriptions are generally open to everyone.
For example, Spotify is open to anyone who pays the monthly subscription fee. All you have to do is to create an account, pay the fee, and enjoy the content.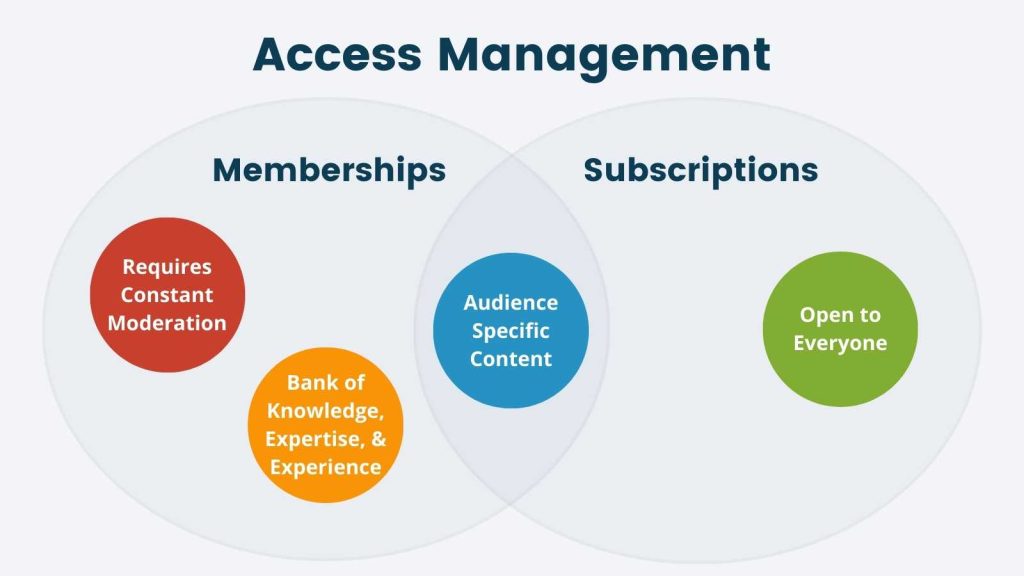 Memberships have a different approach to access management. After all, being a part of a community means that every member brings some kind of knowledge, expertise, or experience.
Therefore, memberships naturally tend to exclude some individuals. For example, you would only join Fizzle if you're a content creator and want to learn more about this field.
Additionally, memberships require constant moderation. All members must adhere to the membership's general rules and the business usually has community moderators for this reason.
5. Marketing Strategies
Both memberships and subscriptions require a user-centered approach that focuses on providing real-world benefits instead of just adding new features. However, they tend to differ in their marketing strategies.
Subscription businesses usually attract customers by offering a trial period where customers can enjoy all of the benefits of the subscription for a limited time. The quality of this experience and the value that the customer perceives then drive the user to purchase a subscription plan.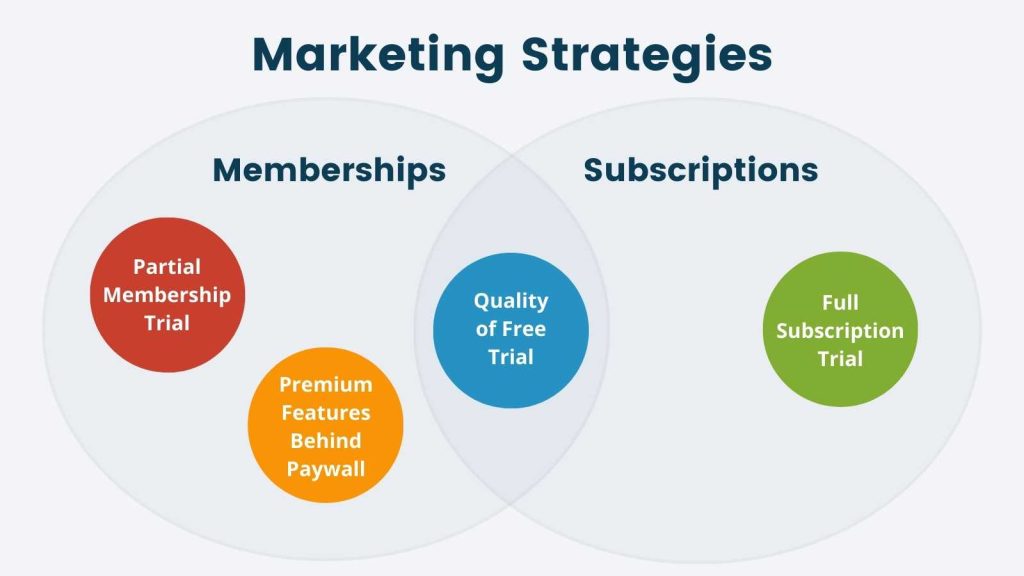 Membership models, on the other hand, often attract customers by providing trial or free memberships with restricted access. Premium features like community access (which is often where members can benefit the most) are generally kept behind a paywall.
Therefore, this marketing strategy is driven by the quality of the trial or free membership combined with the promise of connecting with an exclusive community.
Choosing the Right Business Model
All modern businesses need some kind of competitive edge in order to survive and bring in a healthy cash flow. This is particularly true for online businesses where the competition is extremely intense.
To choose between the membership and subscription model, you should consider what is most appropriate for your business. Important factors include:
Short and long-term goals of the business
Your audience's nature, needs, and spending capacity
Quantity and quality of the content you can produce
Frequency at which you can deliver content to your customers
Existing trends and competition in the market
Availability of financial, technological, and staff resources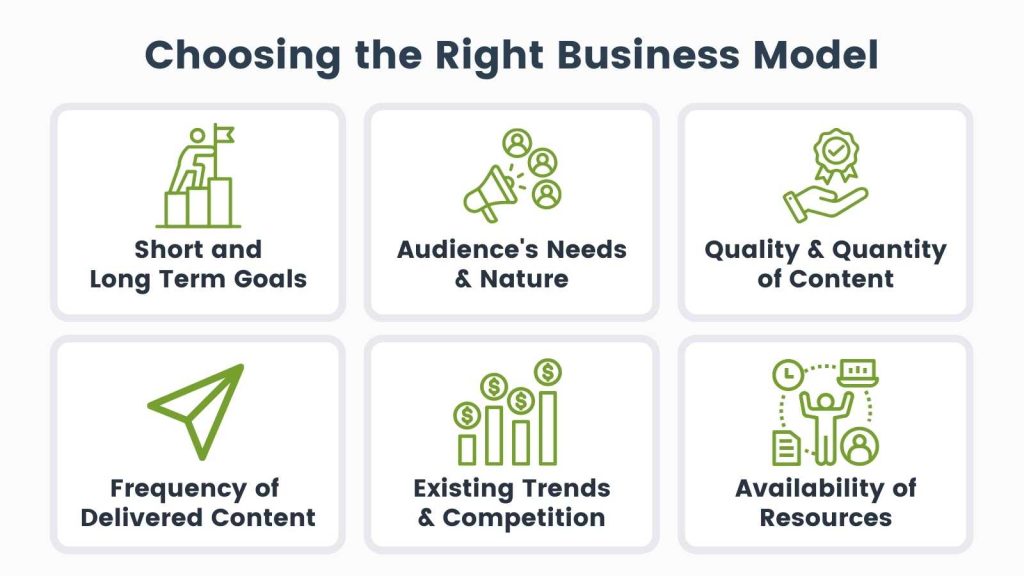 Recap: The Differences Between Memberships and Subscriptions
We've talked about how the terms membership and subscription actually refer to two different business models, even though they are sometimes used colloquially to refer to the same thing.
We've also talked about the different content production requirements, access management practices, and marketing strategies of both.
Key Differences of Memberships and Subscriptions Compared
| Subscriptions | Memberships |
| --- | --- |
| Give the customer content, products, or services on a regular basis | Give the customer access to an exclusive community |
| Cannot also be memberships | Can also be subscriptions |
| May cost less to run than a membership | May cost more to run than a subscription |
| Customer or product-focused | Community-focused |
| High demand for frequently-released new content | Moderate demand for frequently-released new content |
| Goal is to increase monthly recurring revenue | Goal is to attract the right customers and help them succeed |
| Attract customers with trial periods | Attract customers with trial or free memberships with restricted access |
Always keep in mind that selecting between a membership and a subscription model relies on several factors:
Know your goals: Memberships typically foster a sense of community, while subscriptions can cater to solitary users
Understand your audience: Members value exclusivity and personalized experiences, while subscribers want a simple, hassle-free transactional relationship.
Factor in your time and resources: Subscriptions demand continual content creation from the owners, while memberships can leverage user-generated content like chat, forum posts, and events.
Memberships and subscriptions are gaining momentum in today's fiercely competitive marketplace, operating both digitally and physically. Regardless of whether you call them subscriptions or memberships, the emphasis should be on fostering deep engagement and forging robust connections with your target demographic.
If you run a member-focused business or organization, you're going to benefit from choosing a membership platform over a simple subscription payment processor like Stripe, for example.
Paid Memberships Pro provides you with the best features for managing these relationships, as members are the center of our platform.
Explore how Paid Memberships Pro kickstarts your journey in creating a thriving membership or subscription-based business today.
Was this article helpful?