Creating content for your website and social media is standard marketing practice these days, but wouldn't it be great if you could be paid for the content you create? Paywall content allows you to require payment for some of the content on your site.
This post further explores the question, "What is paywall content?" It also explains how you can make it work for your business.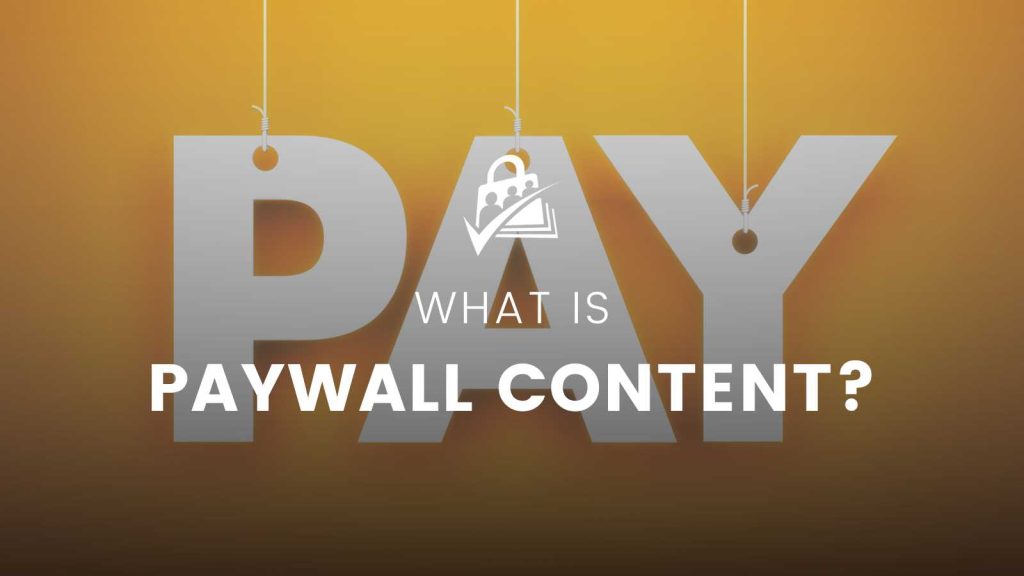 What is Paywall Content?
Paywall content is content that's exclusive to the people paying for it. Newspapers, perhaps the most common example of paywall content, offer subscriptions so their readers can pay for access to their content online. In the 2010s, as newspapers transitioned from print to digital, they implemented paywalls to compensate for declining print subscriptions. They offer readers a certain number of posts for free, after which they're asked to pay to keep reading.
But paywall content isn't exclusive to news agencies. You can put any worthwhile online content behind a paywall. Many businesses create online memberships full of resources like blog posts, videos, and podcasts, and those resources are only available if you pay the membership fee.
Benefits of Paywall Content
Paywall content is great because you create it and then get paid for it. But that's not the only reason you should consider it. Paywall content can be a crucial part of a business strategy to help you earn income and strengthen your brand. Here are some of the benefits of paywall content.
Generates Revenue
You regularly generate revenue when you create a membership or subscription for your business. If you create a monthly membership, you can expect to see money coming in each month.
Not only does this income help boost your profits, but it also helps you predict your monthly revenue. After a few months of running your membership, you'll have enough data to predict how much you'll likely earn from memberships and new signups.
And then there's the bonus of potential brand collaborations. A dedicated subscriber base is incredibly attractive to other brands looking to advertise on your platform. If you have a group of engaged members, brands are more likely to want to partner with you on projects or campaigns.
Better Quality Content
The majority of content online is available for free. But when a website has a paywall, that can indicate the site has higher quality content. Paywalls tell site visitors that you offer something above the standard free content. In many cases, the content behind a paywall takes more time and research to create. People expect a level of professionalism and depth in paywall content that isn't always there with the free stuff.
These expectations mean that the content creator should make sure the content they have is worth the price of the paywall. If you create a paywall for your website, make sure your content is worth what you're asking people to pay.
Increased Credibility
What is paywalled content if not an indication of higher quality content? Paywalls also denote credibility. Credibility and quality go hand in hand. When others know that customers are paying for your content, it enhances your credibility.
Paywalls also amplify your authority. If you're creating content for a specific subject and people are willing to pay for it, you're lifting yourself above the others in that particular space who don't charge. This authority can go a long way to help your brand reputation.
Improved Customer Experience
One of the benefits of paywall content for the customer is the lack of ads. Most websites monetize content by placing intrusive ads and popups throughout a post. If you have a paywall, you can offer your subscribers that same content without all the advertisements.
And if you create a membership, you can always offer your members perks for signing up. Consider creating special posts for members or offering discounts on your other products or services. Your members will enjoy the experience and see the value in paying for your content.
Increased Customer Loyalty
Paywalls create exclusivity. Only those people willing to pay for your content get to see it. And if you're providing valuable content with a great customer experience, you will create incredibly loyal customers who engage with your content.
When paywall content is part of a membership, it can have a compounding effect. In addition to the engagement you see with paywall content, you'll have a loyal community of members. Those people will engage not only with your content and with one another. Your members will become a tight-knit group who believe in the work you're doing, and they'll continue to support you for years to come.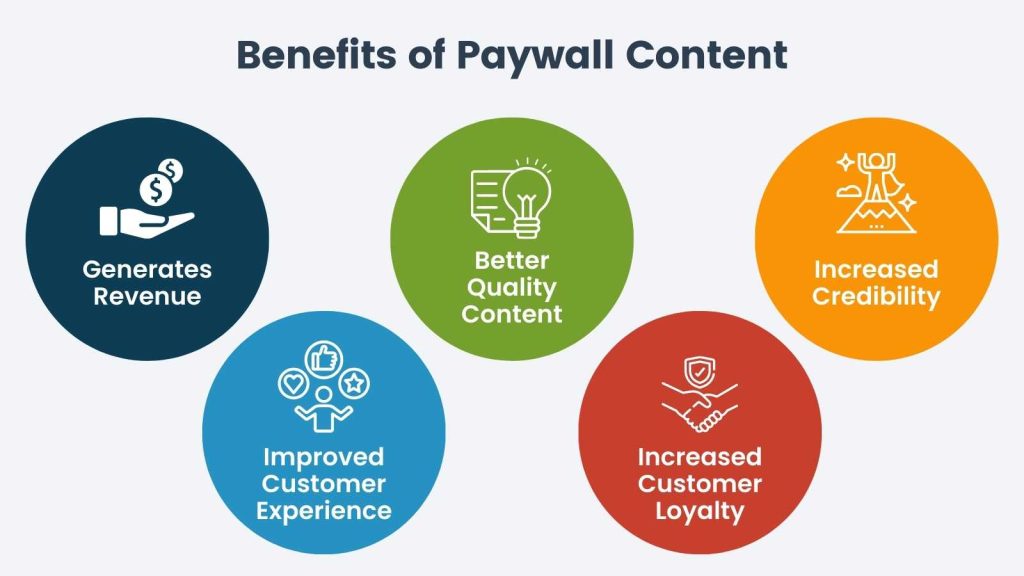 Challenges of Paywalls
You may be ready to set up a paywall right now, but hold on just a second. Paywalls have tons of benefits for your business, but they can bring challenges too. Before you create a paywall for your content, here are some obstacles to consider.
Setting the Right Price
People will pay for paywall content, but it has to be worth the price. Paywall content is often more in-depth and goes beyond the norms for the free stuff. You have to make sure you're offering your customers something special while at the same time pricing it competitively. And when you do price it, you can't price it so low that maintaining your paywall isn't sustainable.
Think about what value means to your audience. Then consider how you can create that value consistently and sustainably. What is that worth to you, and what do you think your audience is willing to pay?
The answer will be different for everyone. So take your time when you're trying to figure out the best price for your paywall.
Risk of Alienating Readers
If you've offered your content for free for a long time, you may alienate some readers when you create a paywall. When people are used to free, some won't take kindly to change.
Even if you think your audience will be willing to pay for your content, do a little research before you set up a paywall. Knowing your customers' pain points and the types of content they need will make them more likely to pay for it. You can create a survey for your readers to learn more about them and their needs.
Beyond that, think about your customer demographics. Do they have the disposable income to cover the cost of the paywall? Can they find what you plan to offer somewhere else for free? What sort of content would really persuade them to pay? These questions are a great place to start for figuring out what you need to make your paywall profitable.
Implementing Paywalls
When it comes to implementation, there will be growing pains. You'll likely be adding new plugins to your WordPress website to make it happen, and they might not play nice with the plugins you already have. Making sure you have the time and mental energy set aside to deal with any tech issues that may arise is a good idea.
Search Engines Can't Completely Optimize Paywall Content
If you rely on search engine optimization to bring new visitors to your site, you may see a drop in traffic when you create a paywall. Paywalls put a barrier between the reader and the content, and only those who pay can access it. That means search engine traffic will drop when your content isn't available for free.
This traffic loss is an unfortunate side effect of paywalls, but the benefits outweigh this challenge. There will be an initial decline in traffic, but as your brand reputation strengthens from the paywall and your engaged community, you'll find that your subscriptions and revenue rise. In other words, you may have fewer visitors to your site, but most of those there will pay.
Establishing an Audience
All your content can't be behind a paywall, especially if you're just starting. Your audience needs to get a taste of what you have to offer before they're willing to pay for your content. Keeping some of your website's content outside the paywall can help. Offering free trial memberships to people who may be interested but want to see what it's like behind the paywall before they commit can work too.
Social media can also help attract new readers. Use your social platforms to share snippets of your content. Go live and share your expertise in a Q&A video stream. It's extra work to create content for social media, but it can help build your reputation and entice people to pay for your website content.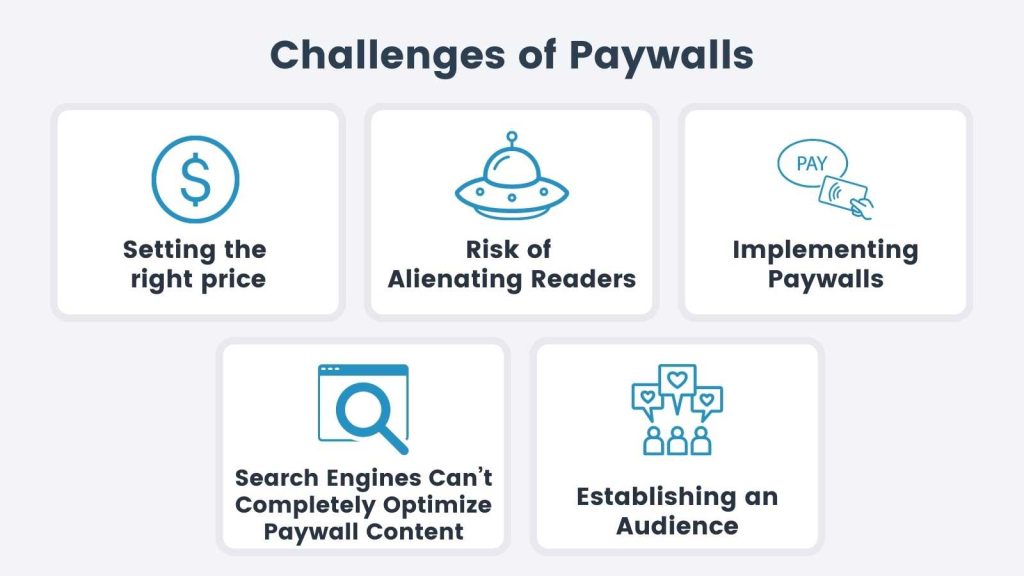 Types of Paywall Content
There are three main types of paywall content. Each option is great, but before you choose, think about what will work best for your business.
1. Freemium Model
In a freemium model, both subscribers and non-subscribers can access the content. Subscribers benefit from an ad-free experience and subscriber-only content, and non-subscribers can only access content with ads and excerpts of subscriber-only content.
The freemium model is great because it allows you to monetize both subscribers and non-subscribers. The downside is that some people won't subscribe if they can get the content for free.
2. Metered Model
You've likely encountered a metered paywall before on a news website. In this model, site visitors can access content for free, but there's a limit to the number of free posts they can get.
Browser cookies allow the website to limit post views, meaning that a website can track how many posts a reader accesses and prevents them from going over the limit. When the reader reaches the limit, they have to purchase a subscription to continue reading. This model allows potential subscribers to get a taste of your content before they subscribe.
3. Hard Paywall
With a hard paywall model, those who don't subscribe don't have access to the content. Hard paywalls aren't common because it's unlikely someone would subscribe to receive content unless the website is well-known. If your brand isn't a household name, a hard paywall means you won't receive many site visitors, and those who stumble onto your content but can't access it may find the information they need elsewhere.
Note: You can also use a combination of freemium and a hard paywall. In fact, we do that here at Paid Memberships Pro. More specifically, we offer some free content to collect email addresses, but other content (like code recipes and downloadables) is behind a paywall.
Strategies to Maximize Paywall Content
Before you set up your paywall, make sure you have a plan. These strategies will save you a ton of trouble:
Install the right membership plugin. Think about what you need and find the plugin to match. Paid Memberships Pro offers tons of features and is free.
Offer subscription levels. Creating levels at different prices can help you attract many types of audience members. It also prevents you from excluding those who can't afford a subscription while also ensuring those who can pay for a more premium experience have the opportunity to do so.
Establish an engaging user experience. Keeping your subscribers on your site for longer helps them get the most out of your content and enhances the value of your subscription.
Utilize metrics to improve. When you see something that isn't performing as well as it should, use that data to improve it. Consistent improvement will go a long way in keeping your subscriber base happy.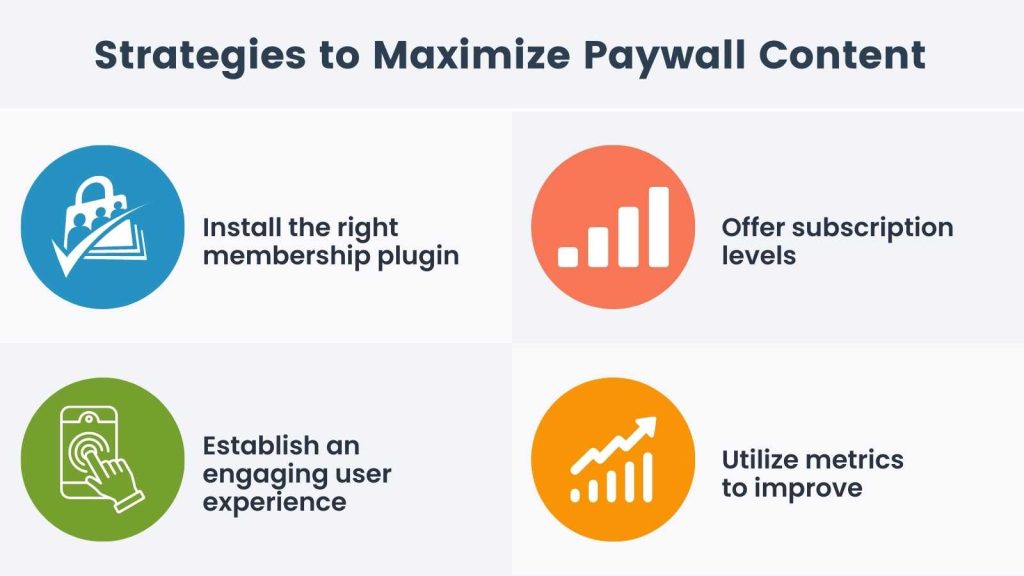 Will Paywall Content Work for Your Business?
Paywalled content can create a new revenue stream and serve your audience at a different level. But will it work for your business? Adding a paywall to your content doesn't have to be stressful, especially since you now know the challenges paywalls can bring. If you'd like to see how Paid Memberships Pro can help you create a paywall, check out our customer showcase.
Was this article helpful?