Subscriptions are everywhere, from music and video streaming services to online shopping and subscription boxes.
A 2021 Deloitte study reveals that the average U.S. household pays for subscriptions to at least nine different services. However, too many subscriptions can be frustrating for the consumer and challenging for businesses as well.
One reason is that it's often difficult for people to keep track of so many different subscriptions.
Another is that multiple regular monthly payments can quickly and easily accumulate, creating a feeling of financial burden for the consumer.
These frustrations can lead to a phenomenon known as subscription fatigue.
The same Deloitte study also states that one half of all consumers are frustrated by having too many recent subscriptions.
This is not ideal for businesses using the subscription model – and it means that subscription eCommerce companies should take special care to prioritize improving customer loyalty while attracting new customers at the same time.
In this post, we explain more about the reasons for subscription fatigue and share some insights to help you avoid or overcome this problem with your own subscription or membership business.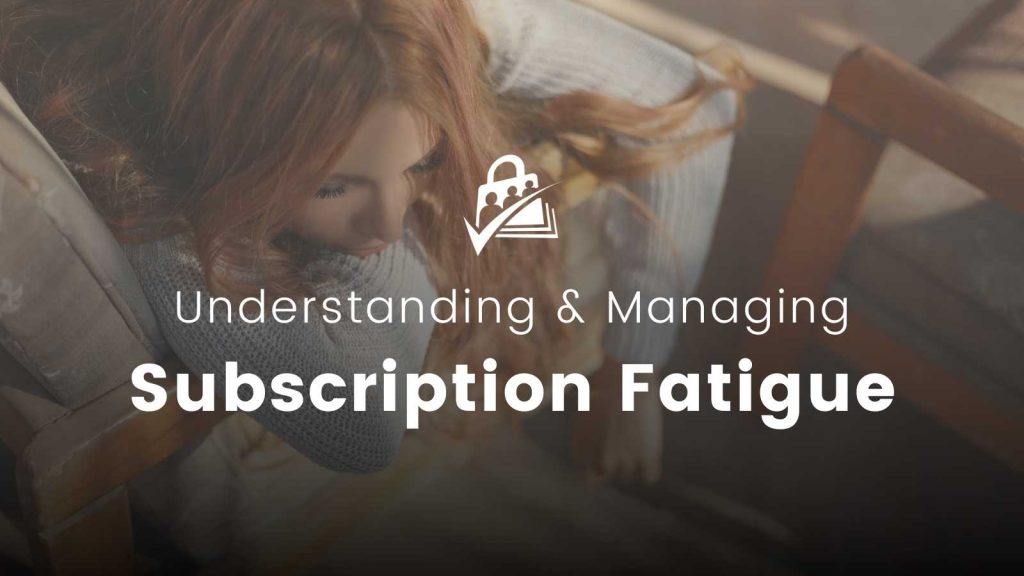 What is Subscription Fatigue?
Subscription fatigue occurs when customers lose interest in, or get tired of paying for your subscription product or service over time.
With a growing number of competitors and subscription offerings out there, there are a variety of incentives for customers to start canceling their subscriptions.
This is one of the major obstacles for subscription business owners.
Why Subscription Fatigue Occurs
If you run a subscription business, it's crucial to understand why there is a rise in the cancellation of subscription services. If you know why you're losing your customer base, you can figure out what you can do about it.
There are two main reasons for increased cancellations within the subscription industry:
Poor user experience
Lack of customer satisfaction
With so many alternatives on the market, users have increasingly high expectations from any service they subscribe to. This is why it's increasingly important to focus on these elements of your subscription business.
Subscriptions Can Become Overwhelming
Many businesses today use the subscription model to offer their products and services on a recurring basis. This business model is especially popular because it can lead to more reliable, predictable revenue and long-term customer loyalty.
However, for the consumer, managing a lot of subscriptions can be hard to handle.
According to Future Today, 35.5% of subscription customers plan to reduce their streaming subscriptions because they simply have too many of them.
People can become easily overwhelmed by the number of subscriptions they have to pay for every month. This frustration can then lead them to press the "cancel" button.
And just like that – the subscription business starts losing customers.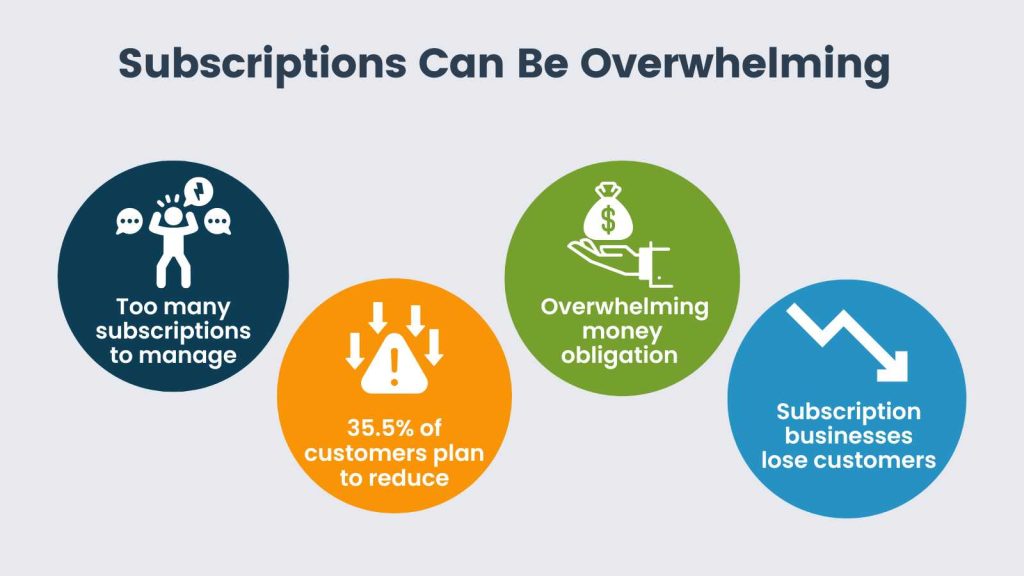 This is true for more than just streaming subscriptions, too.
McKinsey & Company found out that almost 40% of eCommerce subscribers end up canceling their services due to subscription fatigue.
Monthly Subscription Costs Add Up
The way a subscription business model works is by charging a recurring monthly fee for access to products, content, or services. While the recurring revenue from these monthly subscription costs is essential for the business, it can be a big concern for users.
SurveyMonkey reveals that cost is the primary concern for 36% of customers who plan to cancel their streaming subscriptions.
Cancellations due to cost concerns also tend to increase if consumers feel they're not receiving adequate value for the money they've invested.
This means that subscription businesses have to regularly innovate and meet the needs of their customers to avoid churn.
Standards May Decrease Over Time
Sometimes, a successful subscription business can become stagnant, neglecting to release fresh content or maintain the quality standards that their subscribers expect.
If this happens over time, it's easy to lose existing customers who may previously have been loyal.
What's more: If the quality standards decrease, bad reviews can start to pile up, ultimately affecting the company's ability to convert new subscribers as well.
This is one of the most critical and often-ignored problems with subscription businesses. It's also the reason why continuing to pay attention to what the audience needs is so important.
Subscription businesses have to regularly innovate and meet the needs of their customers to avoid churn.
If a subscription business continues to add value to the lives of its customers over time, it may be able to avoid subscription fatigue altogether. 
Challenges for Subscription Businesses
Offering subscriptions is a tempting solution if you want to start a business that brings in recurring revenue and caters to the modern-day consumer's need for convenience.
However, businesses should be aware that there are some challenges that go along with the subscription model.
Whether you're offering a video service like Netflix or Hulu, or a subscription product delivery service like Ipsy or Dollar Shave Club, meeting the customer's needs should be central to everything you do.
But don't forget that sometimes it can be more about the quality than the quantity; Creating more content is not always the right solution.
For example, if a digital subscription service creates more content without focusing on quality, it can actually reduce the value of the subscription.
In this case, releasing content that is less in quantity, but higher in quality might be the best way to please customers and keep them around.
Of course, doing both can be high-impact. Just remember: In order to keep your audience from getting bored or frustrated, you'll need to maintain or improve your quality-to-quantity ratio over time.
It's important to keep customers engaged as much as possible without compromising the quality of your product, content, or service. When it comes to streaming platforms or e-commerce subscription solutions in particular, you should never ignore the user's concerns.
In order to keep your audience from getting bored or frustrated, you'll need to maintain or improve your quality-to-quantity ratio over time.
How Subscription Fatigue Impacts Businesses
Subscription fatigue can hurt the growth and progress of any business that accepts recurring payments.
For example:
More cancellations can be a huge financial blow to the business.
If a business relies heavily on the subscription model and it starts losing subscribers, the business can lose its competitive edge, or even go out of business entirely.
Subscription businesses have to regularly monitor market trends and competition to stay afloat. If a competitor offers the same or similar features with better quality and/or a reduced price, quick action may be required quickly to compete.
With subscriptions being so popular, subscription businesses have to find unique ways to stand out to new subscribers while preventing their existing subscribers from churning.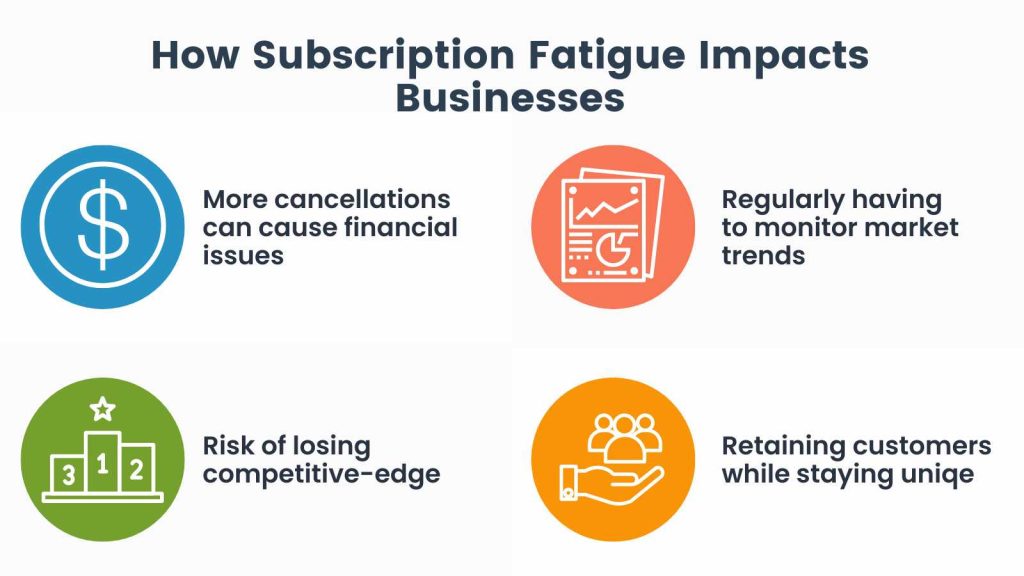 What to Do About Subscription Fatigue
A business must carefully track new and existing subscribers in order to effectively deal with subscription fatigue.
To do this, you can implement things like setting up your membership site to receive regular updates – including the number of subscribers you have, as well as their level of engagement.
It's also important to remain focused on your target audience's needs.
Your goal as a digital subscription business should be to increase customer satisfaction by providing engaging content and solutions to your the customer's problems.
Using an audience-centered approach helps to boost customer retention and results in subscription growth – benefiting your business in both the short term and long term.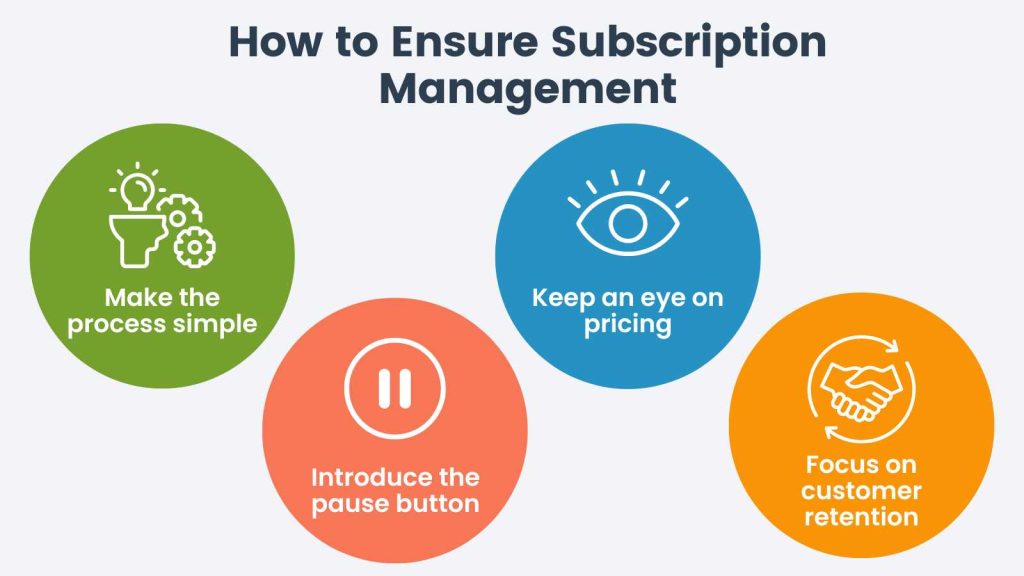 Make the Subscription Process Simple
The first interaction with customers is important for any businesses. With this in mind, it's wise to make the subscription process as simple as possible.
If users find it difficult to subscribe to your product or service, a they are likely to just leave your site altogether before completing the process.
Potential customers should also be able to clearly see all of the critical information that they need in order to make a decision about subscribing.
This includes things like:
Pricing information
Billing frequency
Subscription plan options
These key points should also be clear, easy to read, and not misleading.
Keep an Eye on Pricing
One of the primary ways to encourage people to subscribe to your product or service is by offering flexible pricing plans. This means that your subscription business should have different plans at competitive rates according to the industry and services offered.
Even if your price point is high, you can still incentivize particularly price-conscious customers with things like:
Financial assistance (discounted subscriptions based on need)
Low-cost plans with very limited features
Free plans
Rent-to-own options
Introduce the Pause Button
Once a user clicks the "cancel" or "unsubscribe" button, it's more difficult to win them back. Instead of dealing with this predicament, consider letting users pause their subscription or membership.
This way, if a customer wants temporary relief from the monthly cost of your subscription, they can have that without canceling completely. Plus, this makes it easy for customers to resume their subscriptions in the future (as many do when their situation or preference changes).
Not only is this approach good for customer retention; It also shows customers that you consider their needs, financial constraints, and busy schedules. This builds rapport between you and your customer.
Remember that if you allow members to pause their subscriptions, you may also want to limit their access to your content as well. At Paid Memberships Pro, we have a code recipe that lets you block or pause a specific member's access to restricted content.
In addition to offering a pause option, you can also customize the member cancellation process with contact forms, surveys and feedback modules, and downgrade options.
Focus on Customer Retention
Businesses that use the subscription model (especially startups) often focus their resources on attracting new subscribers instead of retaining existing customers. While new customers are always important, neglecting existing customers has the potential to hurt a business that has a lot of competitor alternatives.
A successful subscription business always improves the quality of its products and services, focusing on providing real ongoing value to existing subscribers – something that's paramount to creating a quality user experience and nurturing a loyal customer base
Ultimately, loyal customers often bring in the most revenue over time, even during challenging times like pandemics.
Final Thoughts
Subscription fatigue is a serious concern for modern businesses, and many subscription businesses may lose customers if they don't do something about it.
Fortunately, there are some strategies for avoiding or overcoming subscription fatigue, and hopefully this post has been helpful in illuminating them.
If you're looking to start your own subscription business, Paid Memberships Pro equips you with all the tools and services you need to:
Effectively manage subscriptions
Allow users to pause their subscriptions
Create flexible pricing plans
Much more
Try Paid Memberships Pro risk-free and start selling subscriptions to your products, content, or services today.
Was this article helpful?