Are you thinking about creating a new membership website? The start of a new year is a great time to begin.
Around this time, people are thinking about investing in themselves, new skills, and taking up new hobbies—and they're looking for resources, courses, and communities to help them get there.
Plus, in a post-pandemic world, it's more important than ever to choose a business model that can give you reliable income, long-term stability, and growth opportunities.
All of this makes a membership website an excellent business idea for the start of 2023.
But what kind of membership site should you start?
There are countless business niches you'll encounter when looking for a membership idea. But to transform an idea into a profitable business, you'll need to choose something that suits your skills and interests.
To help you get started, we've put together the best new membership site ideas for 2023.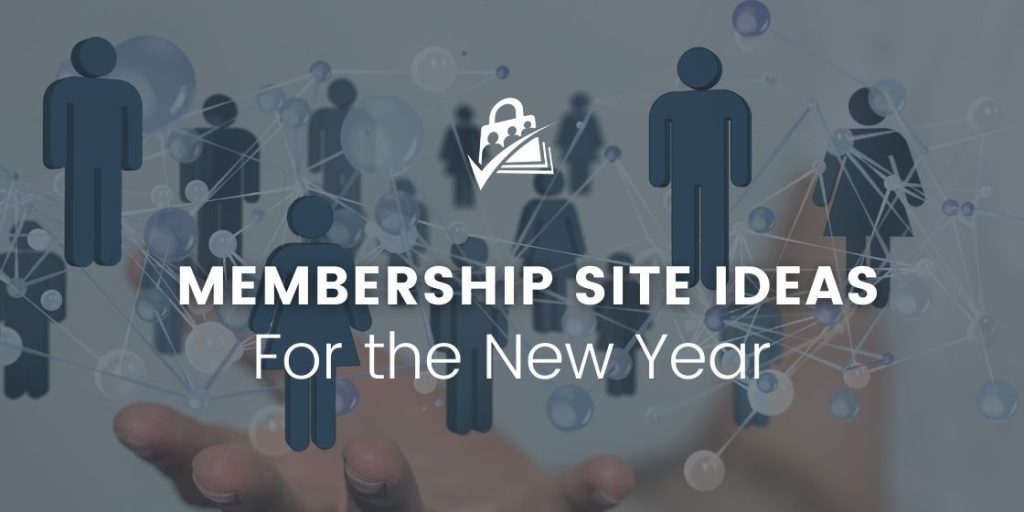 Good News: The Membership Model is Still on the Rise
According to the Business Research Company, the size of the subscription market worldwide is projected to reach $904.28 billion in 2026. That's well over a 1,000% projected increase from $72.91 billion in 2021.
In other words: The membership model is more than thriving! But what makes it so popular?
The fact is: The rise of online learning and the growth of the digital economy have created a continued demand for memberships. This business model has proven itself to be appealing to consumers, who enjoy the simplicity, reliability, lower monthly payments, and community elements (among other benefits).
Plus, with memberships, consumers enjoy products and services on a regular basis, not just after a one-time purchase.
But there are many benefits to business owners as well!
Why You Should Start a Membership Site
Starting a membership site can be a great way to generate recurring revenue and build a loyal community of members who are invested in your content. With the right strategy and a commitment to providing valuable content, you can create a successful and sustainable business that provides value to both you and your members.
The key benefit for business owners is more reliable and predictable income. This can help you plan and budget for the future, but it can also enable you to invest in creating high-quality content for your members.
More reliability creates more security, and more security creates a better foundation for innovation. At the end, you have a cycle of value, revenue, and creativity that feeds back into itself.
Whether you're an expert in a particular field or you just have a passion for sharing your knowledge, starting a membership site can be a rewarding and exciting venture that helps you make recurring revenue and turn your passion into a successful online business.
How to Choose the Right Membership Site Idea
There's a lot of brainstorming that goes into choosing the right membership idea for your skills and interests. Here are a few questions to ask yourself:
What are you passionate about?
What are your niche skills, talents, and areas of knowledge?
What do people come to you for advice on?
What type of content do you want to create?
What can you sustainably create and deliver over time with the resources available to you?
What Makes a Membership Site Idea Worthwhile?
Ok, so, you're probably thinking: "Being passionate is great, but what about the income potential?"
Great point! Choosing a membership site idea isn't just about what you like; It's about what people actually want—as well as monetizing your skills and expertise.
Here are 4 main factors to look for in a membership site idea:
It's either timely or timeless. Evergreen membership sites may have more longevity, but trendy membership sites can offer a lot of immediate revenue generating potential. Either of them are potentially good options.
You're passionate about it, or at least interested in it. You might not want to waste your time, energy, and resources on a membership site that revolves around something that doesn't get you excited.
There's market demand. Be sure that there are people who are actually willing to pay for the membership idea you choose. You can learn about how to figure this out in our post about testing your membership business idea with a minimum viable product (MVP).
It has growth potential. The objective is to grow your income over time, so you need to make sure your membership idea is something that you can scale.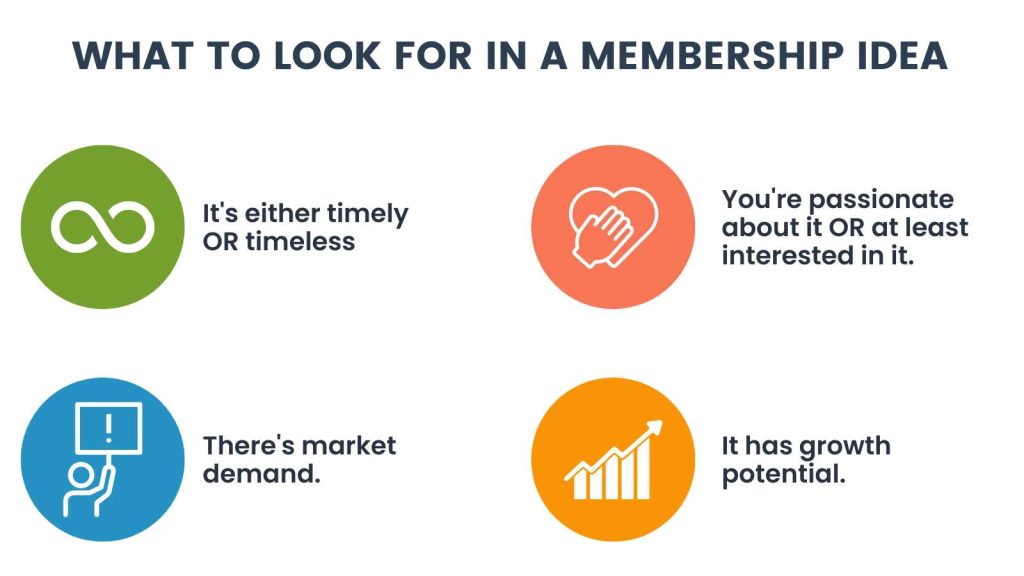 Ready to discover the best niche for your very own membership business? Let's look at our list of the best membership site ideas for 2023.
The Best New Membership Site Ideas for 2023
Ad-Free Experiences
This is an often overlooked way to create a membership if you're already producing content, or if you want to give a lot of your content away for free.
Selling an ad-free experience as a membership does one primary thing: It enhances the user experience. The truth is that many people are turned off by online advertising, and they are often willing to pay for an ad-free experience.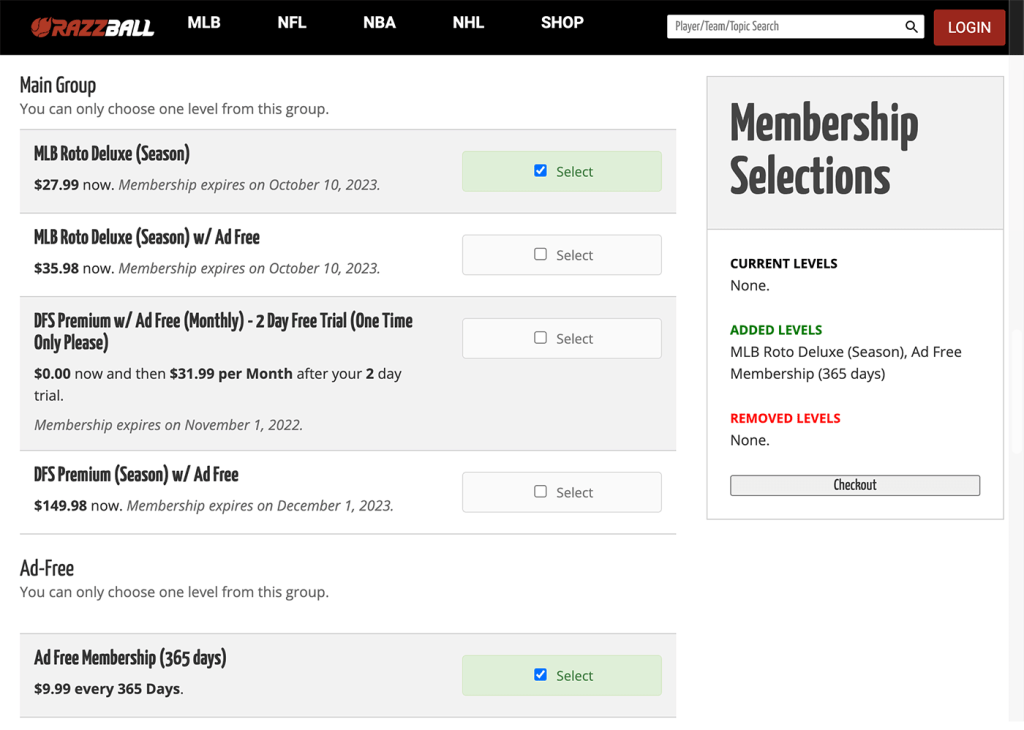 This strategy can give you an entirely new revenue stream. The best part? Ad-free memberships require little-to-no additional work! The content that you give your members remains the same—the only difference is the lack of advertising.
Overall, ad-free memberships can help you attract and retain engaged members who are looking for a more enjoyable and immersive experience, while boosting your revenue at the same time.
If you're into this strategy and using PMPro, check out this companion guide with instructions on how to set up ad-free membership on your WordPress site.
Premium Content Subscriptions
A premium content subscription is a service that allows users to access exclusive or premium content for a fee. This content is often high-quality, in-depth, better organized, or otherwise unavailable to non-paying users.
For example, you could offer subscriptions to things like:
Private videos that you release every week
Exclusive content that your YouTube subscribers don't normally have access to
Behind-the-scenes footage
One-to-one communication with your subscribers
Streaming music or video
Any type of top-tier content
Fan fiction writing
Exclusive publications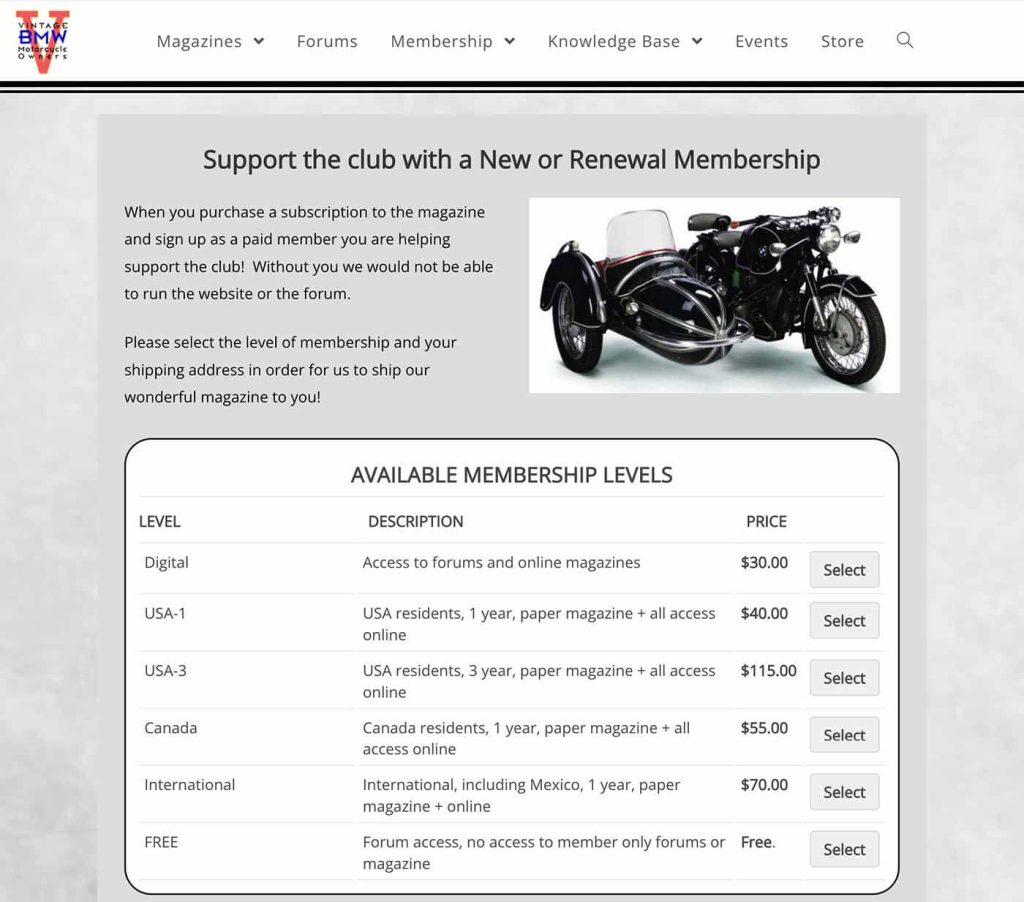 Premium content subscriptions are popular because they:
Give users access to high-quality, exclusive content that they can't get anywhere else. This can be particularly appealing to consumers who are looking for in-depth, specialized information or entertainment.
Provide a convenient and cost-effective way to access a wide range of content. Many subscription services offer access to a vast library of content, making it easy for users to find something that interests them. In addition, subscribing to a service often costs less than purchasing individual items, making it a more economical option for users.
Offer users a more personalized and tailored experience. Many subscription services use algorithms and other technologies to recommend content based on users' preferences and interests, which can help users discover new content that they may not have found on their own.
With all these content types, you can really start anywhere with a premium content site. If you're using Paid Memberships Pro, check out our guide on protecting over 28 unique content types on WordPress.
"Best Of" Curated Resource Websites
A curated resource website offers paying members a carefully selected collection of resources on a specific topic or theme. This can include articles, videos, images, and other media that has been chosen for its quality, relevance, and value to the site's audience.
If you have expertise in a specific topic, niche, or industry, you can provide great value to your members by finding and curating reliable, high-quality information on a particular subject. What's more? Your members come to count on you for their information, which can significantly boost your industry authority.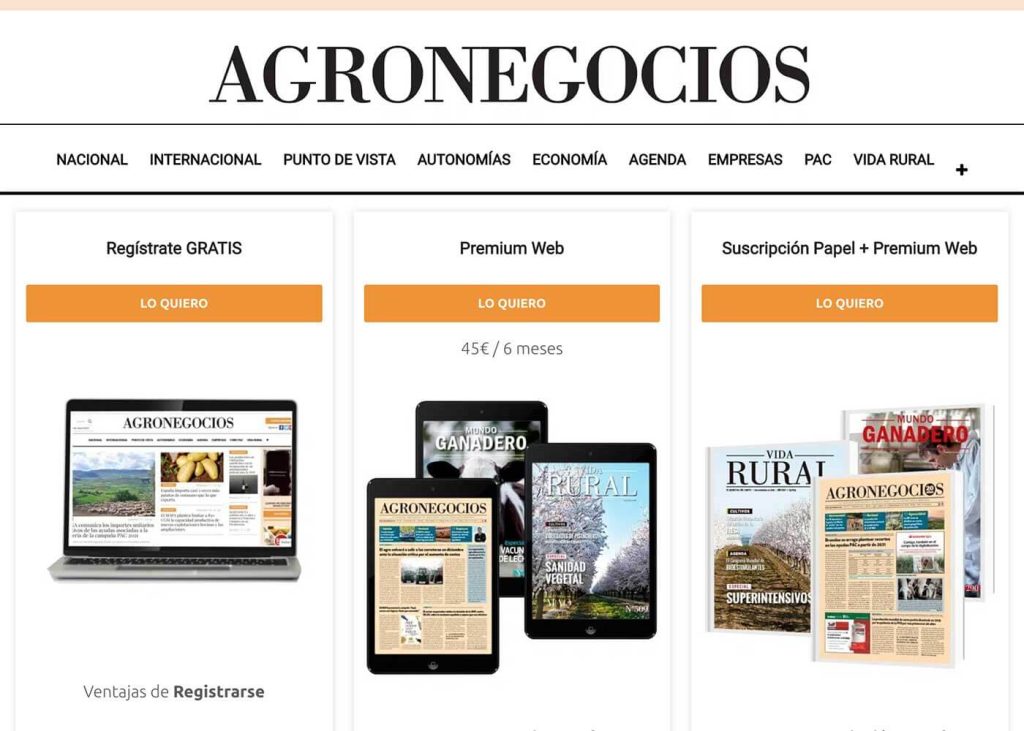 For other registration and subscription options visit our Store.
Curated resource website ideas include:
Industry-specific resources, such as a list of green energy publications and organizations
A list of the best books and podcasts on a topic
The latest news pertaining to a specific community
Travel tips, destinations, and experiences
Articles and videos about a certain topic, such as science and technology
The best examples of a craft like photography or sculpture
One-to-One Coaching and Online Lessons
If you have knowledge or expertise in a specific niche, you may be able to offer online lessons or coaching sessions—both of which can easily be packaged into monthly subscription offers.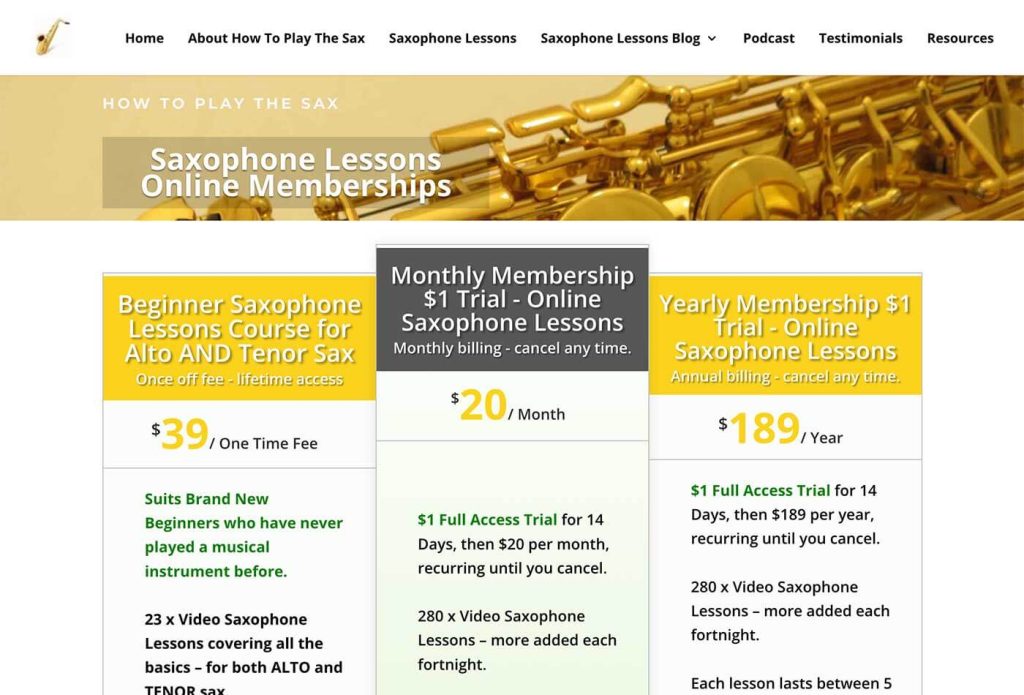 Coaching sessions are typically offered as one-on-one or small group sessions in which a coach helps an individual or group to set goals, develop strategies, and take action to achieve their desired outcomes. They are often tailored to the specific needs and goals of the individual or group, and may include a variety of techniques and tools, such as goal-setting exercises, reflection and self-assessment, and action planning.
Some common examples of types of one-to-one coaching include:
Career coaching
Personal development
Business coaching
Fitness coaching
Relationship coaching
Online lessons, by contrast, are typically focused on a specific skill, such as:
Proficiencies and certification pathways
Test preparation
Languages
Performance arts
Sports
Cooking
Visual arts
Other hobbies
Both one-to-one coaching and online lessons are typically delivered using video conferencing or other online tools.
Subscription Service Memberships
Many freelancers and independent business owners earn a living selling their services online. Some examples include:
Web development and maintenance packages
Customizing Wix, Carrd, or Squarespace websites
Creating product images and graphics
Managing social media accounts
Resume and cover letter writing and editing
Managing Shopify stores (uploading products, writing descriptions, etc.)
Writing blog posts and web content
Copywriting
Video editing
Voiceover
Product photography and modeling
If you already sell services online, it's easy to add subscriptions to your business. To get started, simply take a look at how often people are buying your services to get an idea of how much to include in your monthly subscription offering. From there, you can more easily create packages that will incentivize them to sign up for your membership.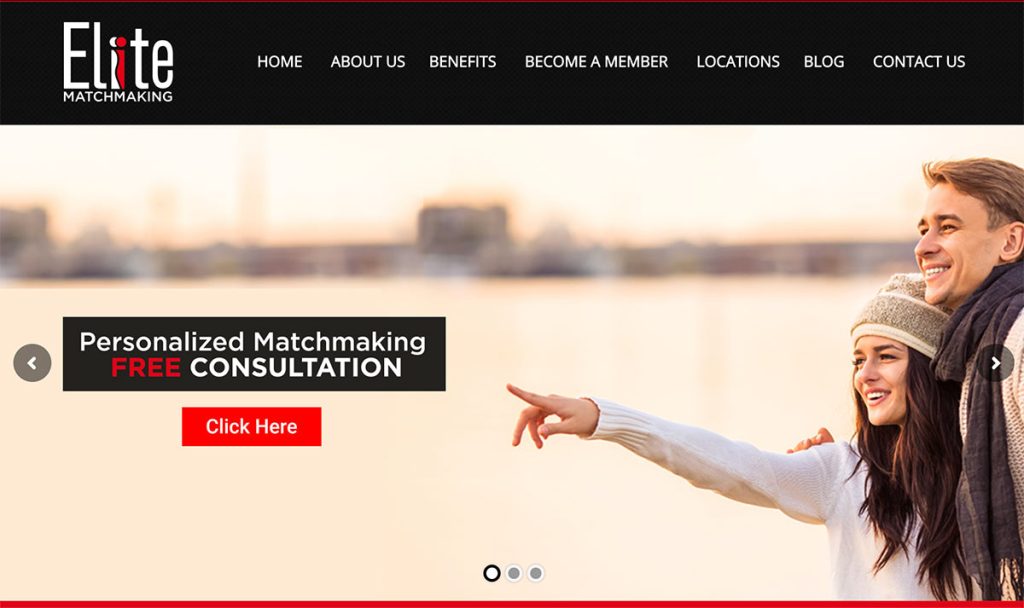 If you need to ease your customers into the membership model, you can always offer them discounted packages of multiple services that they can use on their own timeline. If they end up using them in a similar time frame to your desired membership offering, you've got a winning solution.
Digital Asset Libraries
A digital asset library subscription gives users access to a variety of digital media files, such as images, videos, audio files, and documents for use in their creative projects. These assets can be used in a wide range of applications, including marketing materials, websites, social media posts, and print publications.
Educators, creative freelancers, artists, and other service providers use asset libraries to enhance their educational materials and creative projects as well. For example, Adobe Stock is an asset library that allows users to access and license millions of high-quality images, videos, and other digital assets for use in their creative projects.
School Tools TV is an online educational video membership website that provides resources to educators: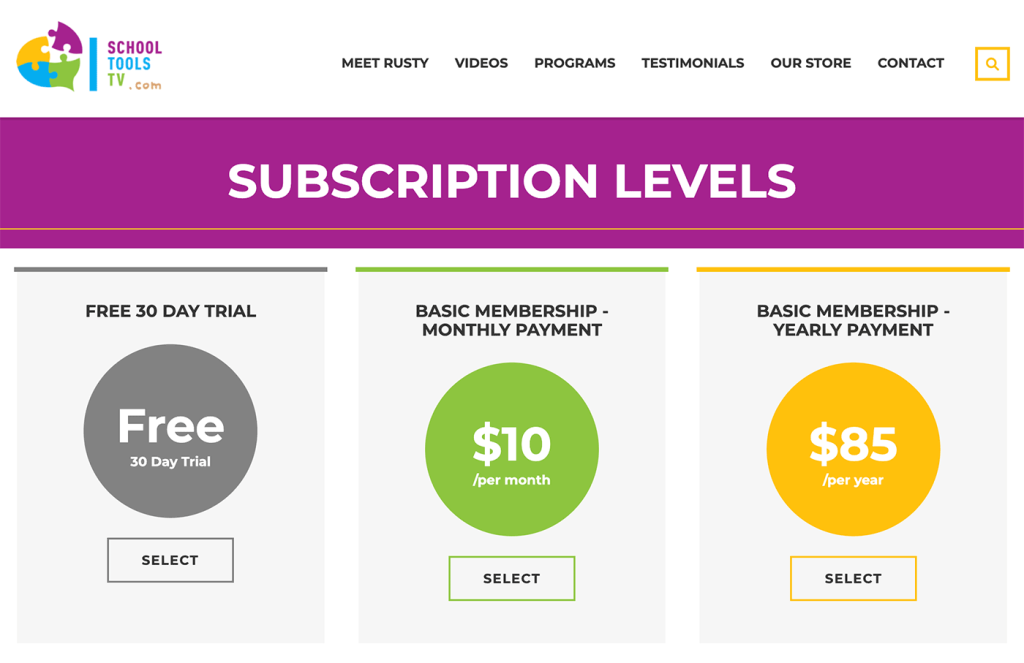 Here are a few ideas for types of asset libraries you can create and sell subscription access to:
Homeschooling resources
Worksheets for teachers
DIY and craft patterns
Graphic design templates
Software presets
Construction blueprints
Legal document templates
Audio samples
Royalty-free music
Remember that with digital assets, you may need an end user license agreement that specifies how the content can be used.
Associations, Societies, and Online Communities
After multiple years of lockdowns and isolation, social groups are more important than ever. Humans are social beings, and we love being in the company of like-minded people.
So, creating an association, society, or other type of online community is another great option for a membership site. Online community membership sites help members engage in discussions, share information, and participate in activities related to a particular topic or interest.
Some examples of online community membership sites include:
Associations
Professional organizations
Local community groups
Buy and sell groups
Exchange groups (recipes, used goods, services)
Forums
Social networking sites
Support groups
Activist groups
Niche interest groups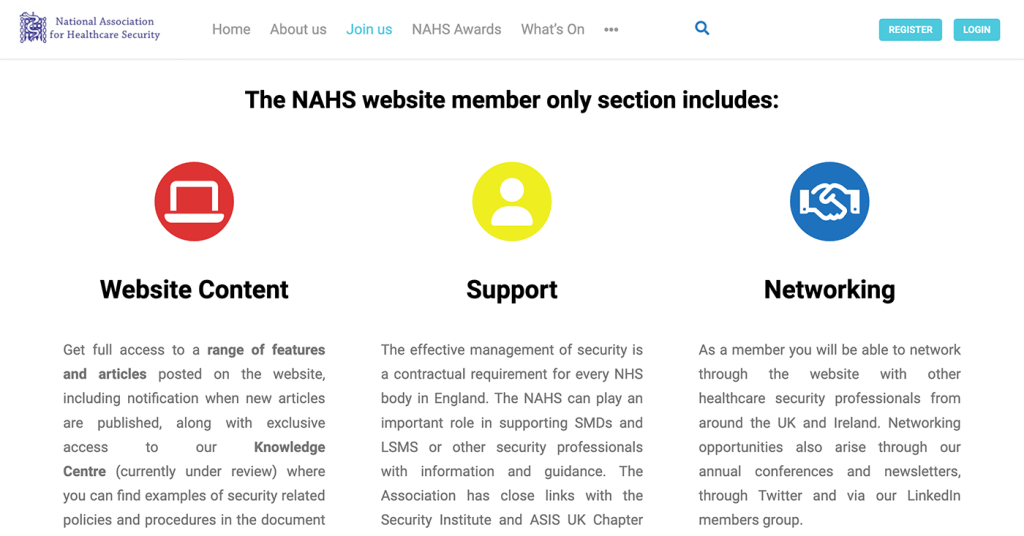 These sites can provide a sense of belonging and support for members—one of the primary advantages of adding community elements to your membership site, no matter the niche. We talk more about this in our post Memberships vs. Subscriptions: What's the Difference?.
Patron Memberships, Crowdfunding, and Fan Sites
A patron membership site is a way for artists and other creatives to connect with their fans and supporters, and to generate income from their work. For example, you've probably seen independent creators using platforms like Patreon for this purpose.
If you're an artist or content creator, or you have an online personality, regular industry presence, or you're otherwise contributing to a niche community in some way, you could benefit from creating a patron membership.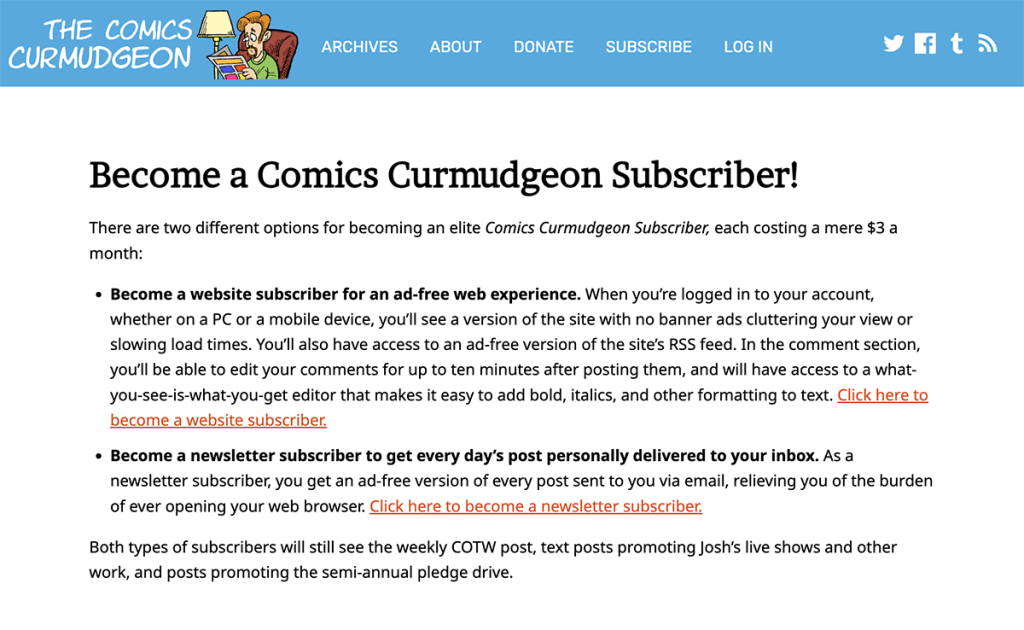 Many creators who manage patron memberships give patrons benefits like access to exclusive content in exchange for their monthly financial support.
Common benefits include:
Early access to new releases
Production credit
Shoutouts
Access to full-length or more in-depth content
Invitations to exclusive events
Swag, exclusive merchandise, or other gifts
Or, let's say you're a fan of a celebrity, individual, or group. In this case, you could start a dedicated fan site and charge other fans a monthly subscription fee for access to exclusive content like:
Photos
Videos
Forums
Discussion groups
Event listings
Contact directories
Online Course Memberships
Learning a new skill is a popular new year resolution—and an online course membership is the perfect type of membership to appeal to this trend. Online course memberships are one of the most convenient and flexible ways for people to learn all kinds of different things.
It's also a particularly good choice if you have a specific skill or area of expertise and you have a passion for teaching or helping others.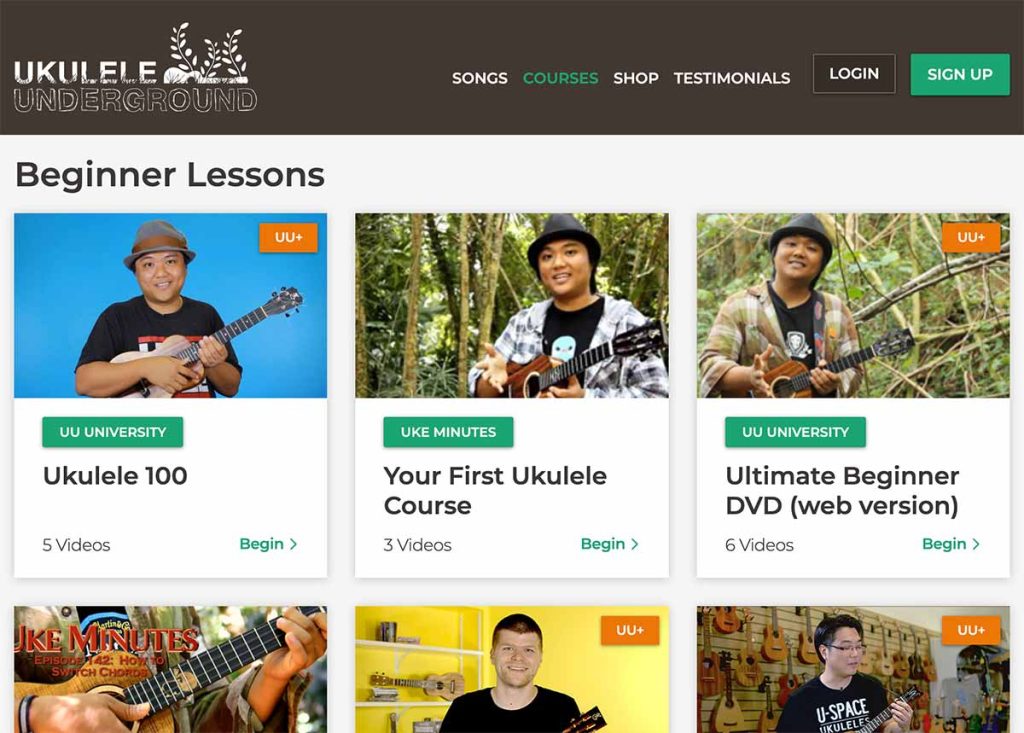 The eLearning industry is projected to hit $325 billion in revenue by 2025, according to Forbes. People selling eLearning and online course memberships also account for 40% of our customer base at Paid Memberships Pro.
Online learning sites tend to offer students content like:
Self-paced video courses
Downloadable eBooks and other written materials
Webinars and video lectures
Step-by-step guides
Workshops
Workbooks
Tests, quizzes, and interactive exercises
Online courses may also include any additional resources that help students learn and apply the course material. Some online course memberships even offer support from instructors and peers through online forums and live Q&A sessions.
If you're thinking that starting an online course membership sounds intimidating, never fear! We wrote a huge post about creating online courses, so be sure to check that out if an online course membership sounds right for you.
What Kind of Membership Site will You Start?
If you've been thinking about starting a membership, now's the time! Hopefully this post has sparked your imagination and given you a better idea of the type of membership site that will work for you.
Do you want to bring your new membership site idea to life in 2023? Download Paid Memberships Pro today and get the most complete membership plugin for WordPress—100% free.
Was this article helpful?