So you've created something pretty extraordinary and you're ready to share it with the world. Now, you'd like to get paid for your time, talent, and content.
After all, no one wants to be a "starving artist."
Patreon was the first platform to allow creatives everywhere to make a living doing what they love. But like anything that comes first, alternatives emerged in the marketplace.
In this post, we'll explore the best companies like Patreon that you can use to reach your audience—and get paid.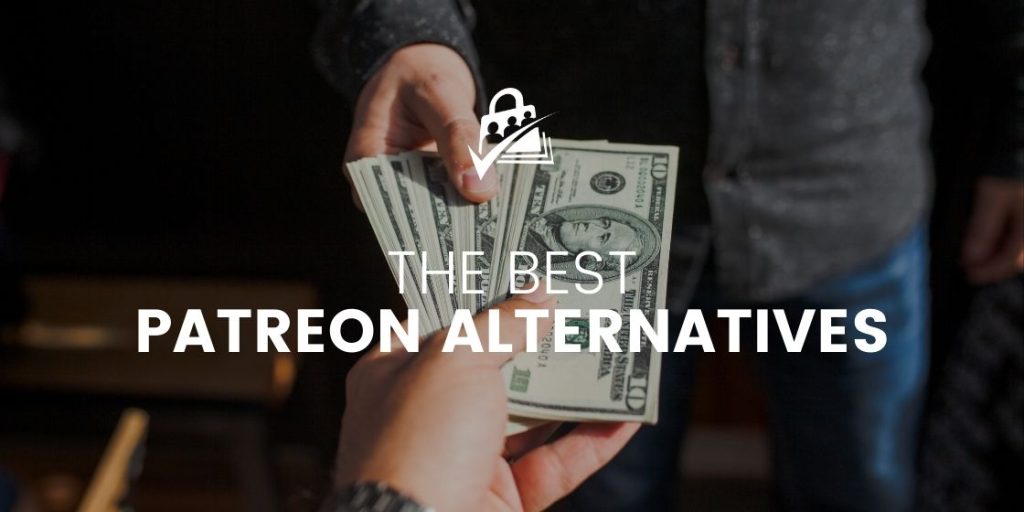 What is Patreon?
First, let's explore why Patreon is so successful. Here's a little backstory:
Jack Conte and Sam Yam launched Patreon in 2013 to enable fans of Conte's music to pay him directly. It was one of the first subscription crowdfunding platforms that allowed relatively tech-savvy creators such as podcasters, writers, artists, influencers, and YouTubers to quickly and easily connect with a broad audience.
Ultimately, Patreon allowed creators to produce a steady, reliable income stream based on a monthly contribution of any desired amount.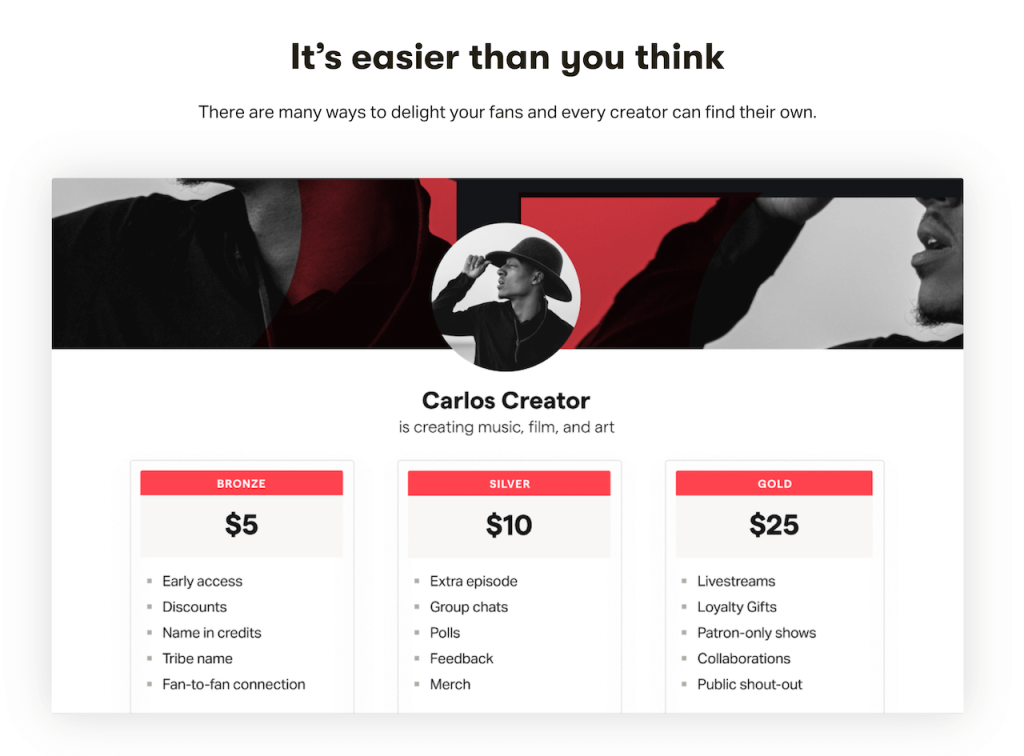 Some of the most used Patreon features help users acquire and manage their memberships in a thoughtful, intentional manner. Fans also gain access to unique, exclusive content that increases in value and exclusivity along with different membership levels.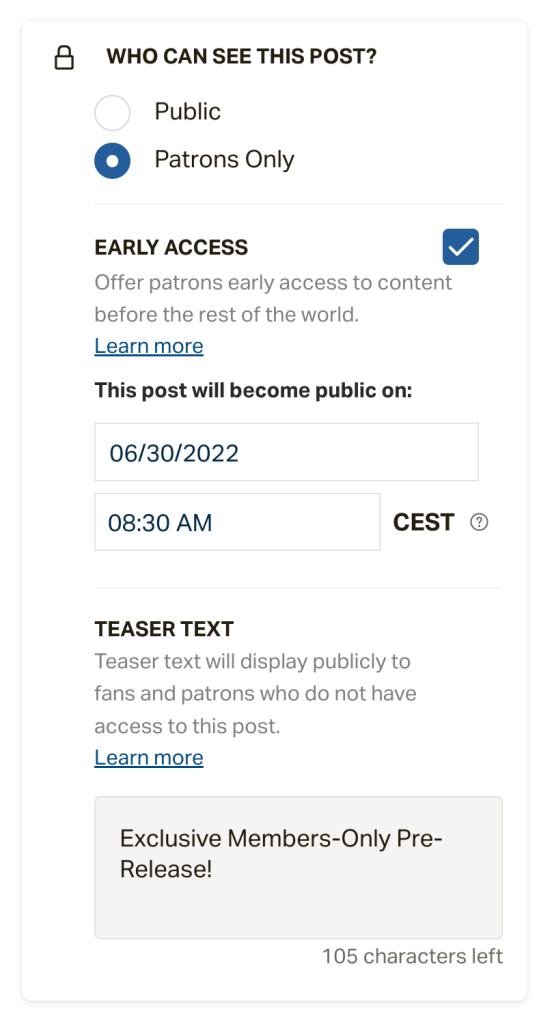 Unfortunately, price hikes and some negative buzz around the platform have left some creators scrambling for an alternative platform that delivers the same benefits as Patreon—ideally, more.
Reasons You Might Need an Alternative
Like many "OG" platforms, Patreon has struggled to keep up with ever-increasing competition. As a result, some newer platforms have capitalized on some of Patreon's limitations.
Why You Should Consider a Switch
Costs. Patreon's pricing model is based solely on a percentage of your total revenue earned. For entry-level users, it's 5%, while middle subscribers pay 8% and premium subscriptions pay 12%.

This model means the more you earn, the more you pay—without additional benefits or services; The amount you pay Patreon is not capped.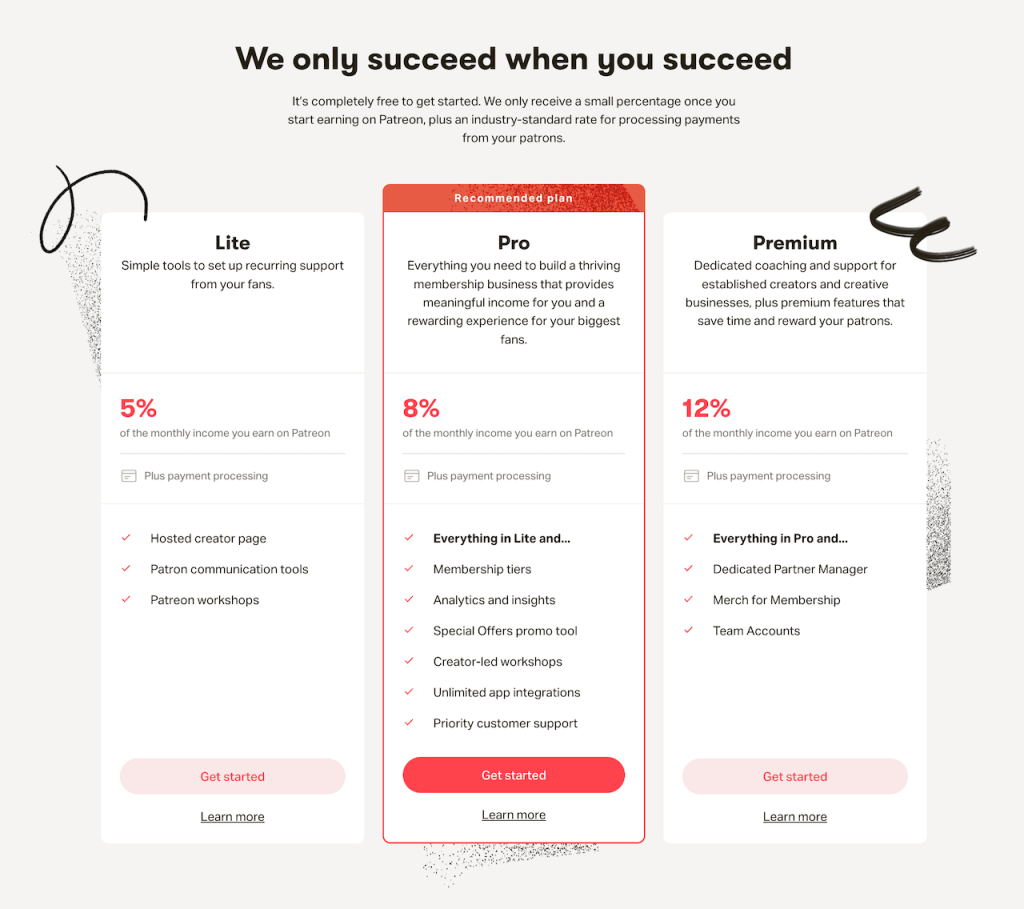 Features. There are some clear limitations to what Patreon provides in comparison to member expectations. Your members will likely go directly to Patreon to access your content, instead of looking on your branded website.

Patreon also has fairly limited options to connect members, which has led many users to maintain digital handles outside of their Patreon account. As a result, many creators end up using social media platforms (video hosting sites in particular) to enhance the user experience.

Some Patreon alternatives have solved this issue, which makes managing your online reputation much easier.
Growth. Patreon's monthly membership packages don't offer much flexibility. For example, there's no option for one-time donations, so your only income source is subscription revenue.

Other platforms offer an array of more customizable payment options.
What to Look for In an Alternative
It's never a good idea to switch platforms just for the sake of changing things up; You should always be purposeful about these decisions.
It's best to know exactly what requirements you need met. Remember to always research your options before deciding to publish your work exclusively on a single platform.
Look For:
Enhanced User Experience. Pick a platform that offers every member a unique avenue to communicate. Custom designs and intuitive navigation tools make for happy followers.
Seamless Site Integration. A seamless user experience is a must. Allow users to manage their profile information, and make your member account dashboard as simple and straightforward as possible.

A good platform will integrate these features into your site without requiring an add-on or being glitchy. An open-source program is ideal because you can run it hassle-free on any platform.
Marketing Tools. Subscription management plugins can be limiting if they don't offer the ability to track marketing metrics.

You should be able to export relevant customer directory information to a single source of truth, which you can use in custom reports or with CRM tools to promote your content and create more visibility.

You should be able to measure and use your marketing data—and your subscription service should help.
Community Building Capabilities. Whichever platform you choose, make sure you can build a social community on top of WordPress, as well as through connected social media channels.
Best Alternative Companies Like Patreon
Now that we've explored why you might need an alternative to Patreon and what to look for, let's review some competing solutions.
Paid Membership Pro
Paid Memberships Pro ranks at the top of the list for membership flexibility. You can customize membership types specifically to fit your online community.
PMPro offers all basic features for free, allowing you to require membership for exclusive content and merchandise.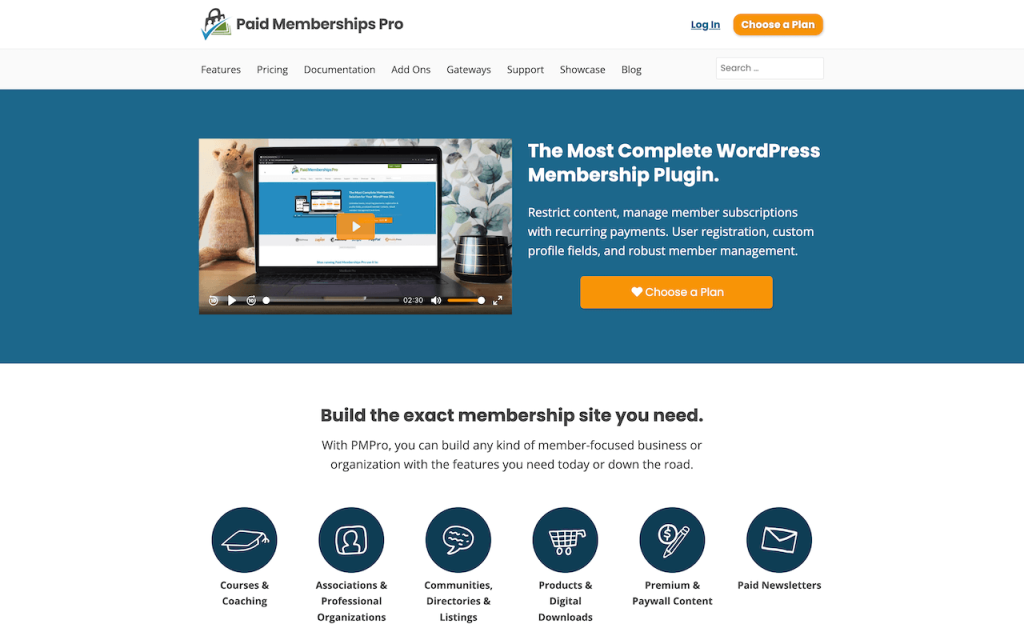 It integrates seamlessly with your WordPress website, comes with robust reporting features to help you track your membership site KPIs, and works well with a variety of third-party platforms that enhance your user's experience.
PMP Pro is the most complete membership plugin for WordPress, and it offers highly competitive pricing as well. Check out this post if you want to figure out which Paid Memberships Pro plan is right for you.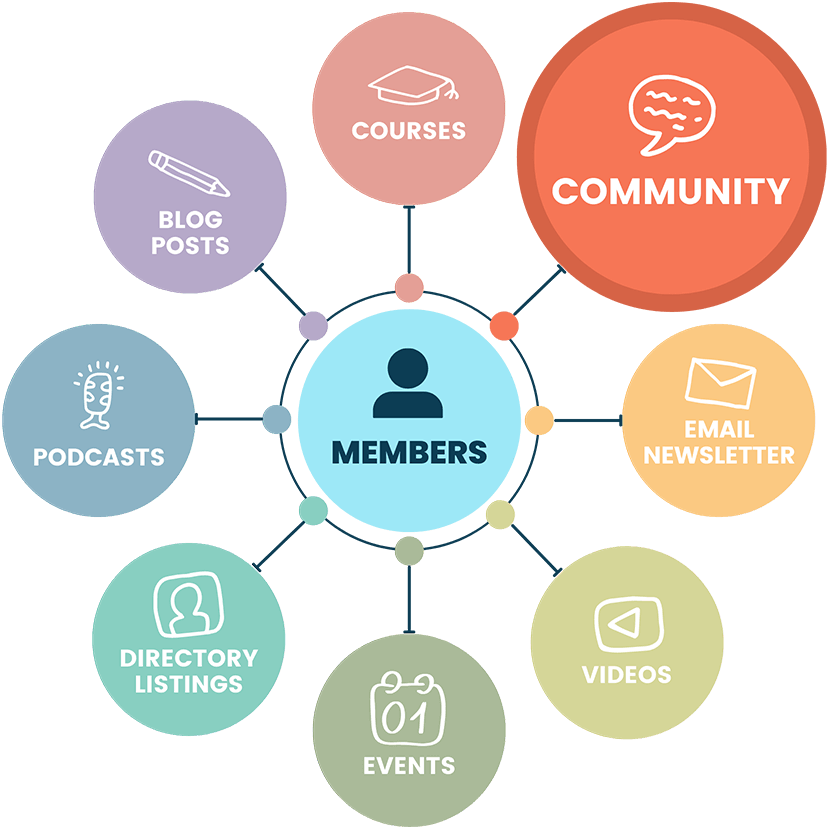 Run Your Online Community with WordPress and PMPro
Paid Memberships Pro is the most robust membership plugin to sell access to your online community on WordPress.
We always say, "Own the land your business is built on," and with an online community, this could not be more relevant. With some other hosted solutions, you don't have the same ownership.
Bring together like minds and niche groups of people while earning a reliable income through a fully customizable online business. With open source, free tools like WordPress and PMPro, you can build and grow an online community that you control.
Mighty Networks
Mighty Networks is particularly easy to set up and offers hundreds of features, but it's best known for its community-building capabilities and mobile app.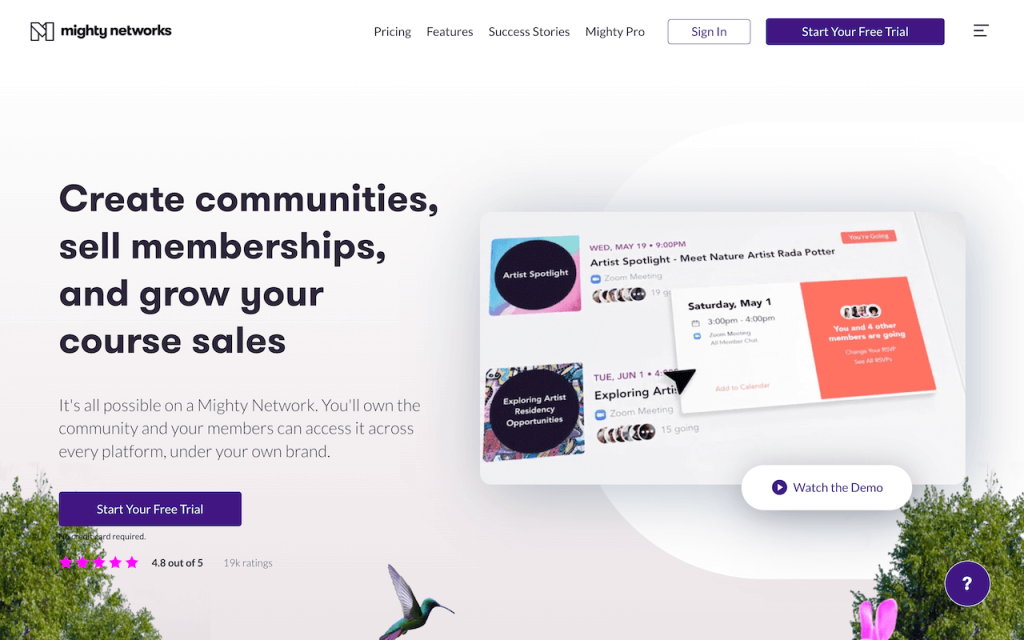 This platform might be overkill if you don't need an incredibly extensive community building and engagement tool. If so, you could end up paying $33-$99 a month or more for power that you don't need.
Memberful
Memberful facilitates steady and predictable revenue for content creators, and also easily integrates with most sites. The cost ranges from $25 to $100 a month, depending on your needs.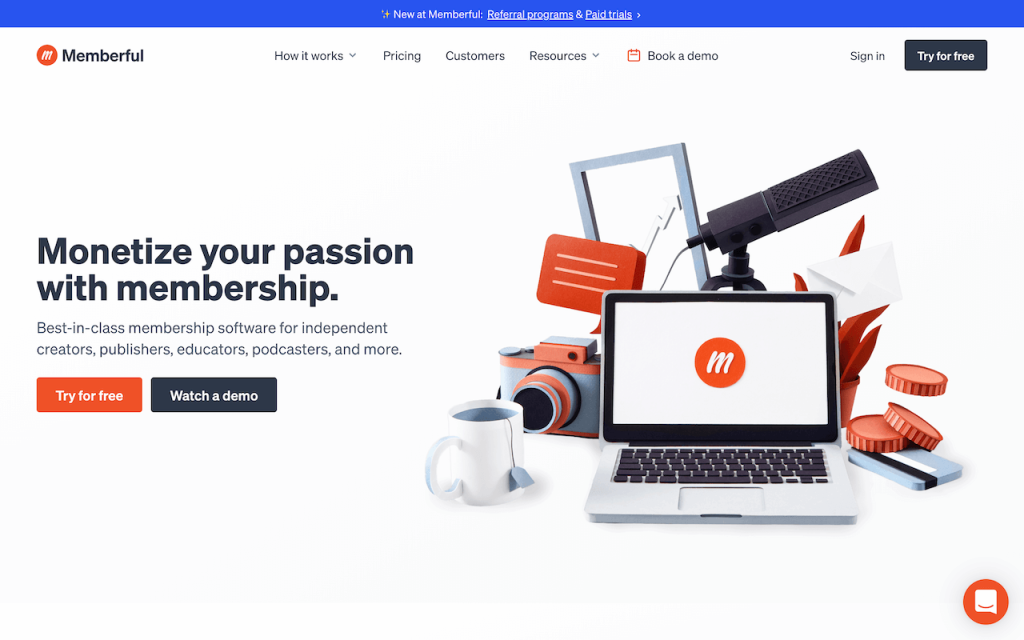 However, Memberful lacks individual member login capabilities. This means that you must share exclusive content through different channels.
Ko-fi
Ko-fi is a dream for artists who rely on tips. Its most attractive feature is the ability to leave customized commissions.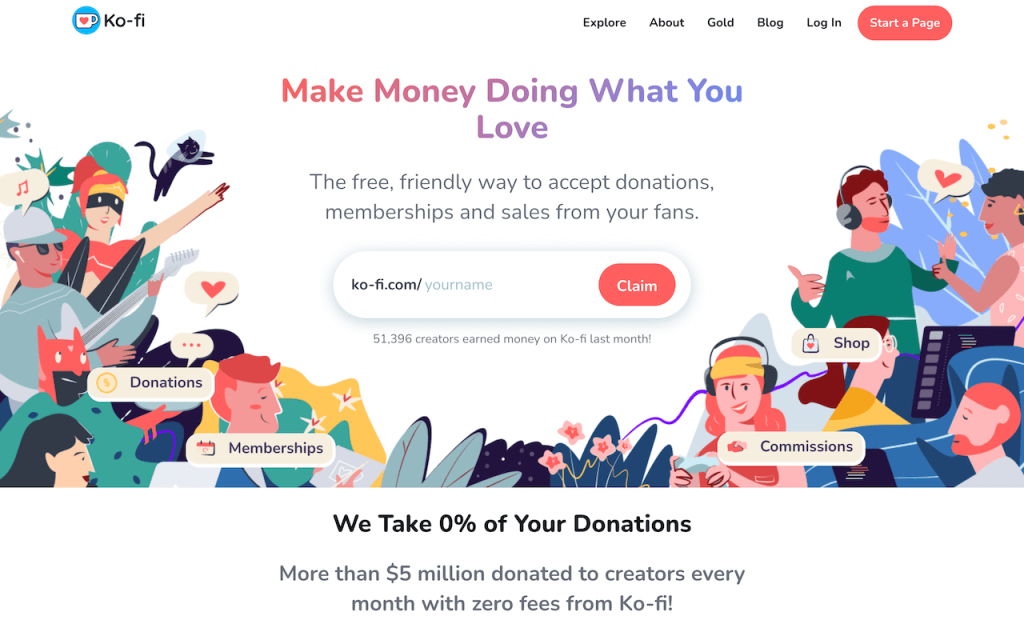 The main drawback with Ko-fi is that there are no marketing tools built-in, making it more difficult to attract new customers. Ko-fi doesn't charge for memberships or collect a fee, but there is an upgraded account it claims gets more attention.
Podia
Podia draws frequent comparisons to Patreon, but instead of paying a percentage of your earned revenue, you pay a flat monthly fee of $33 to $166, depending on your needs.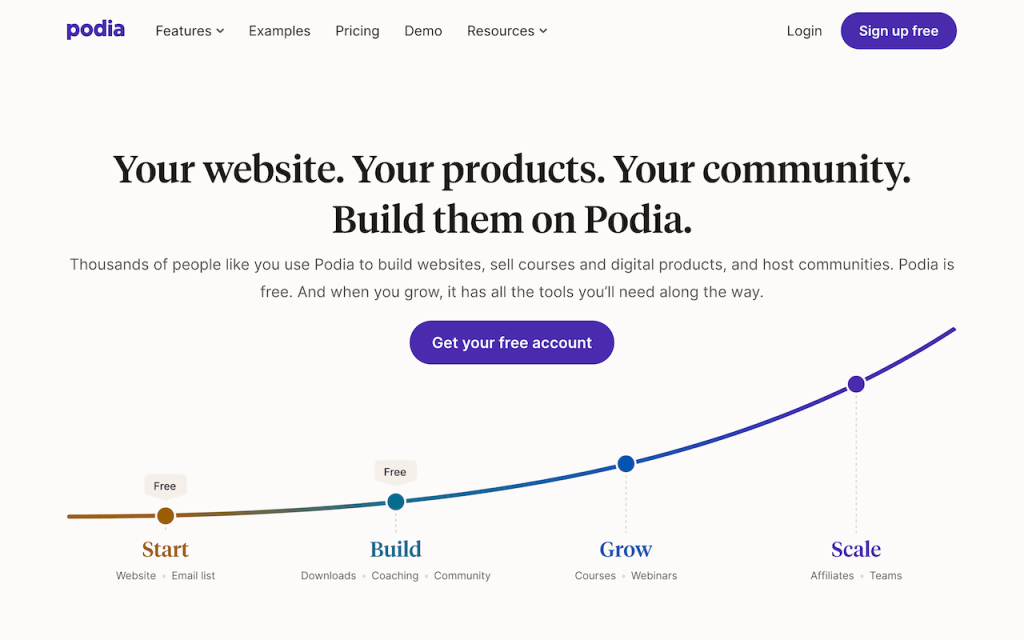 If you earn a significant amount each month, you could save money by switching to Podia. But if you don't, it might be the more expensive option.
Seeking Change
Patreon may serve you well. If that's the case, don't change what isn't broken. But if Patreon isn't working for you, there are lots of alternative platforms out there to choose from.
Change can be daunting, but there are options out there that are more flexible and require less revenue share.
The trick is deciding which one is right for you—as well as your budget, content, audience, and membership goals.
Ready to Switch Up Your Site's Membership Management?
Are you ready to build and grow an online community that you completely control?
With Paid Memberships Pro, you can sell free and paid subscriptions to your community, benefit from a wide variety of Add Ons and integrations specifically designed for community websites.
We know that a WordPress site has tons of moving parts. Choosing the right plugins, themes, hosting, third party services, design assets, and more can feel overwhelming.
Paid Memberships Pro is the most robust membership plugin to sell access to your online community on WordPress. Learn exactly what you'll get — the plugins, the support, and the training — when you run your online community with Paid Memberships Pro.
Was this article helpful?