Creating online courses is one of the best ways to earn passive income, but it can be a lot of work! This includes:
Figuring out what to teach
Writing scripts
Recording videos
Marketing your course
If you want to turn your expertise into more than just a hobby, you have to earn a profit. Selling one-time or recurring memberships to your course content is one of the best ways to do this.
The right membership tools will allow you to give free trials, prorate your fees, offer multiple membership levels, and create corporate accounts—but where do you start?
Should you use an LMS to build your course business? Or should you create your own course website with a robust membership plugin?
We hosted a debate with Chris Badgett from LifterLMS and Patrick Rauland from PMPro to decide.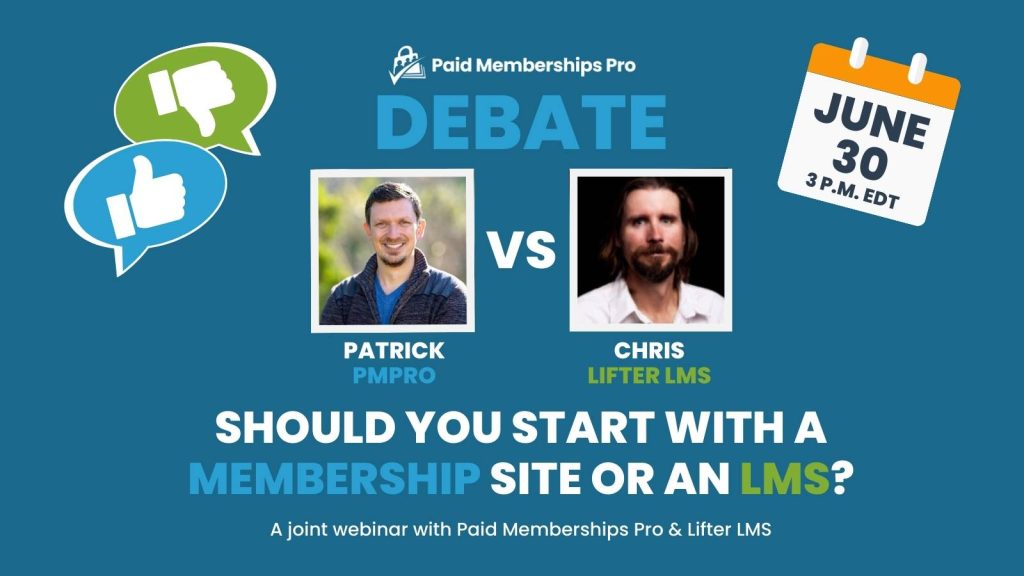 Watch The Debate: Should You Start With a Membership Site or LMS?
Watch on YouTube
Attendees
Patrick Rauland (PMPro) tells you why a membership plugin is absolutely the best option
Chris Badgett (LifterLMS) tells you why an LMS plugin is the best option
Start with the Basics
What is a Learning Management System?
Chris: Tool that facilitates an online learning experience
Broken down into buckets
Online learning- reporting, student dashboard, progress tracking, student experience
E-commerce- ability to see the course
Membership- protecting the content
Engagement- gamification and personalization
What is a Membership Site?
Patrick: Premium content, associations, private community, e-commerce ties it together
Why should I pay for a membership plugin when I could just password protect a page?
You want to charge access for it! And make it easy for people to pay you
When you outgrow the one page, membership software makes it easy to require paid access to multiple pages
As far as giving access to content, is there a lot of overlap between a course and a membership?
Chris: Yes. And while you can use the work around that Patrick described, it lacks the user experience and personalization you can get out of a membership. Its really about structure and experience.
Why would I need an LMS when I could just charge for a membership and lay out the videos?
Chris: Content is just one piece of a learning experience. You also need to consider the players involved, i.e. HR may need to see the reporting for each individual throughout the course.
13 Use Cases for LMS (broken down in 3 buckets)
Expert Industry
Internal Training
Traditional School (k-12, higher ed, continuing education)
LMS is a very valuable specific tool whereas memberships are much more flexible.
"I'm an expert. I want to just teach what I know. I don't need reporting. Can I just use a membership?"
Patrick: PMPro has some similar functionality as LMS, but reporting is not something we support. However, we integrate with a lot of great LMS's. We build a simple tool for people to start their course.
"If I just want to start a basic course. Should I start with a membership site or LMS?"
Chris: You can start with either. It really comes down to what your long term goals are for this project and where you want to go.
Community
How Does a LMS Help You Build Community?
Chris: Having a course to get people in the door and then having the experience to "find the others" is really powerful with an LMS. There are 3 main ways to create community within an LMS. The easiest way is through some type of social media group, whether that be a Facebook group or a Discord channel. Another way with LifterLMS is their social learning plugin. There are also other WordPress solutions like BuddyPress and BuddyBoss to create a community on your site as well.
"Come for the course. Stay for the community."

Chris Badgett
Patrick: Membership software has integration with other software like Discord and BuddyPress as well. "I (Patrick) really enjoy the private communities. I will gladly pay a fee to get rid of the trolls." You can also have your audience decide who joins the community by allowing them to have one invite.
What is Better for Creating an Audience? LMS or Membership?
Patrick: You can offer multiple avenues for people to join your membership. For example, if you have a podcast, you can offer a membership for people to listen to it as well as go to cons. You can also offer extras with your podcast or membership. A membership is a wider surface area for people to come into your community.
Chris: My favorite strategy in business is moving the free line. I really like to challenge people on what you can give away for free. Depending on that, depends on what can create a better audience for you. Free is the name of the game for list building and building trust.
How Do You Decide What Community Platform to Use?
Chris: Figuring this out requires knowing what is the primary channel for your community. Different groups of people have a preferred channel. For example, the WordPress community is really present on Twitter and Slack. There are also in person events, like WordCamps.
Patrick: I agree with everything that Chris said. I will add I am a very distractible person. I like to have my community with less distractions. For Patrick, Slack is for work and Discord is for fun. One tip if you want to have a relaxing "hang out" place for your community and you know your audience uses Slack for work, put it in Discord or vice versa.
Note: Community is not a feature you simply add to your sales page. It's a big investment so take it seriously. It's a lot of work and built by one relationship at a time.
WordPress
Why Should I Use WordPress When So Many Other Options Are Out There?
Patrick: There is an expression in the open source world, "Build your business on land you own instead of land you rent." I always advocate when people are starting a business to own the platform. That is why WordPress is incredible. No one can take it away. Even with PMPro and LifterLMS, if you stop paying for premium features, you will not lose access to using the plugin.
Chris: If you don't have time for the learning curve, WordPress may not be your answer. With great power comes great responsibility. These 4 main aspects of why you should use WordPress.
Ownership- as Patrick discussed
Customizability. "It's a canvas you can paint your masterpiece on." It is customizable from your logo, to your brand, to the experience you deliver to your audience.
Open Source. With the openness, you can build a specific feature to make you 100% happy with a plugin and your site.
Cater to the beginner but also develop it in a way that the expert can develop something out of the box
How Can WordPress Be Easier for No Code Users?
Chris: The easiest thing to do is to plan. LifterLMS recently created resources to help people plan first so they are better prepared to get into the software. While it can be easier to start with something like Astra with a starter site, people really just need to focus on that commitment. If you are building an asset, build an asset.
Patrick: WordPress can be overwhelming because there are so many plugins and options. Being open source is great but it can also be too much information at one time. To get started, go to conferences and WordCamps, talk to WordPress professionals.
Closing Argument
Patrick: Membership is a broader topic. You can build courses but you can also do things like build a podcast, associations, and private events for people. Membership plugins bring a lot of flexibility. That's where you want to start. Start with flexibility and then grow your business organically.
Chris: If you know you are going to do a course, many courses, or build a community of course creators, you are going to get into one of those 13 use cases where an LMS really shines. If you care about reporting, student dashboard, gamifying a learning experience and instructional design, you are going to want an LMS.
Ready to Build Your Course?
Are you ready to start growing your online course business and attracting new students?
With Paid Memberships Pro, you can create free and paid subscriptions to your course content, benefit from a wide variety of Add Ons and integrations specifically designed for selling online courses, and manage your course on WordPress.
We know that a WordPress site has tons of moving parts. Choosing the right plugins, themes, hosting, third party services, design assets, and more can feel overwhelming.
Paid Memberships Pro is a comprehensive platform built for any kind of eLearning environment. Learn exactly what you'll get — the plugins, the support, and the training — when you build your online course with Paid Memberships Pro.
Was this article helpful?