If you have a unique skill or expertise on a specific topic, you can build an online course—and create a new passive revenue stream for yourself. 🙌
When you create and sell online courses, you'll be able to make money from areas of interest you already have.
So now you're probably wondering how to create your online course, and thinking:
Is selling online courses profitable?
How do I create and sell my own online course?
Where should I sell my online course?
What kind of courses sell the most?
In this guide, we will answer these questions and cover the most important information about creating and selling online courses. By the end, you'll be ready to start earning from your knowledge and expertise.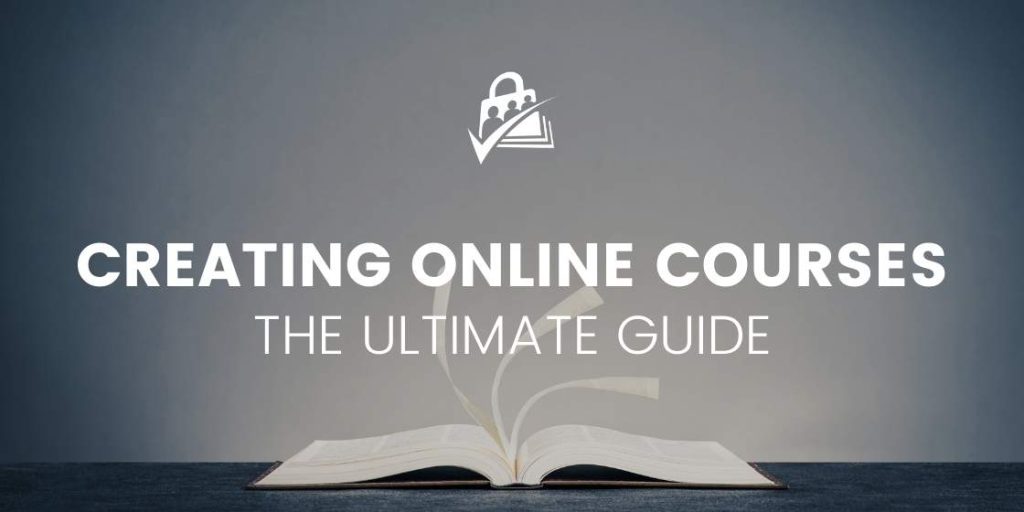 Why You Should Create an Online Course
E-Learning is the future.

Forbes
According to Forbes, the eLearning industry is expected to reach a global revenue of $325 Billion by 2025. In other words, there is a massive amount of money to be made with online courses. 🚀
In fact, eLearning accounts for around 40% of our customer base here at Paid Memberships Pro.
Creating online courses is a fun and exciting way to:
Monetize your knowledge and skills
Help people learn new things
Build a foundation for bigger things (like a membership business)
Who Can Create an Online Course
Hey, you! Yes, you.
You probably have expertise in something that you can share with others. 👩‍🏫
And chances are, there are people who are willing to pay to learn what you already know.
At Paid Memberships Pro, we love to see everyday people improve their lives (and the lives of others) by turning their knowledge and skills into content, products, and services that they can sell.
For example, are you really good at using a certain app or software? Consider teaching your favorite tips, tricks, and processes by creating an online course.
Do you already offer services like 1-to-1 coaching or consultation? You can package your advice into an online course and expand the reach and revenue potential of your knowledge.
Here are a few more examples of people selling courses in different niches:
How Much Do Online Course Creators Make?
The revenue potential of online courses varies widely. Some course creators make next to nothing, while others make tens-of-thousands per month.
It all depends on how much you charge for your course and how many people want to buy it.
For example, your course might cost $100, but if you have a tiny audience, your course may not sell as well as a $10 course with marketing access to a bigger audience.
Your audience size and loyalty has a lot to do with how much money you can make selling online courses. If you already sell your own products and services or you're well-known for something online, chances are you'll convert more sales by default.
If you're relatively unknown, there's more work to do if you want to see high conversion rates right out of the gate. More on that later.
Influencer Marketing Hub's Online Course Revenue Estimator can give you a rough idea of how much your online course could make: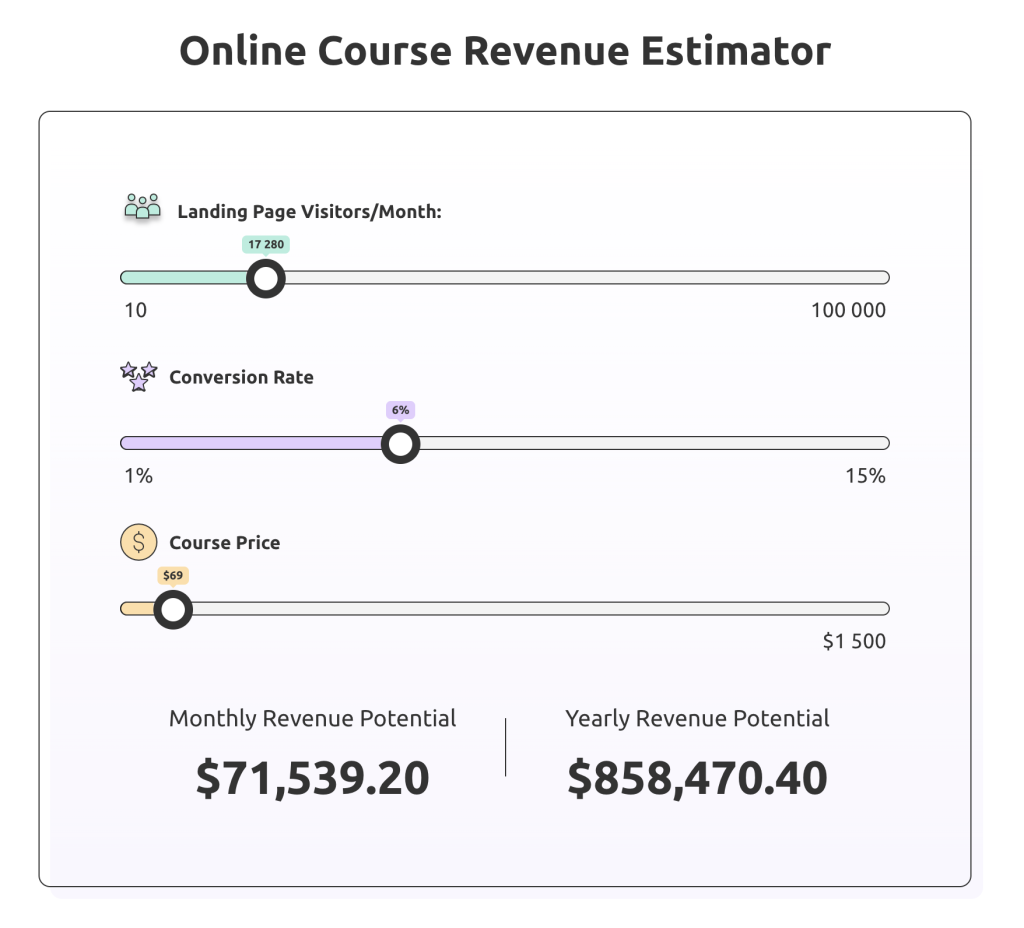 It also shows you what traffic and conversion rate benchmarks you need to reach—or changes you need to make to your pricing—in order to reach a certain amount in revenue.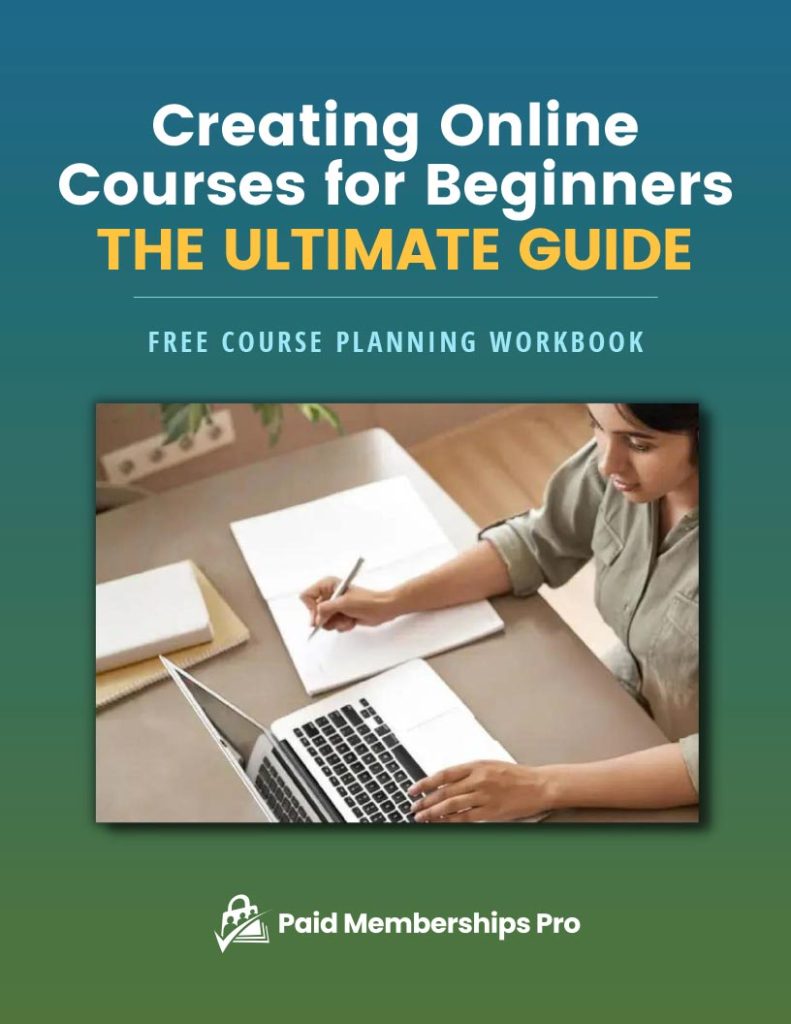 ONLINE COURSE PLANNING WORKBOOK: DOWNLOAD NOW
Download the companion workbook to plan your online course. It's packed with 12 worksheets to help you narrow in on your course topic, create course content from what you already have, and develop a marketing strategy to drive sales.
Complete the workbook sections as you read this post then keep it handy as you build your online course business.
What Should You Teach?
When it comes to creating online courses, deciding what's worth your time can seem difficult—but it actually comes down to two very simple questions:
What are you best at? 🏆
What kind of online courses sell well? 💰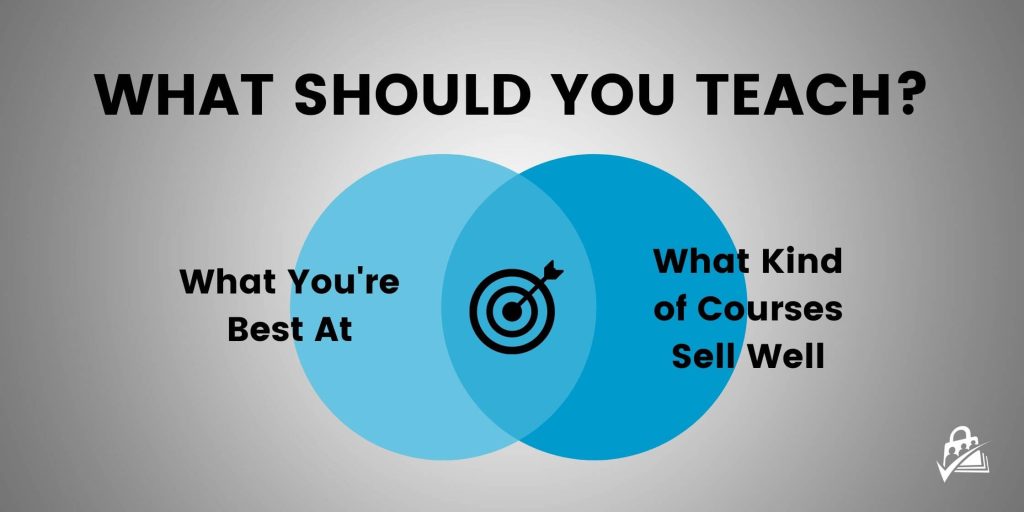 What Are You Best At?
Chances are, there is at least one skill or area of interest that you already excel in. Even if you're just a few steps ahead of your audience, there are likely people out there who are willing to pay for what you know.
Start with your existing expertise:
What are you passionate about?
What are you knowledgeable about?
Where is your experience?
What do you already spend a lot of time doing?
What can you do better than most people?
Think about the skills that you already have, your natural talents, and what you spend your time doing. Is there an area of expertise that you gravitate toward? Do people come to you for advice about something specific?
Are you already really good at something? Chances are, there is at least one skill or area of interest that you already excel in. Even if you're just a few steps ahead of your audience, there are likely people out there who are willing to pay for what you know.
When deciding what kind of online course to create, it's most effective to focus on what you're passionate about, knowledgeable about, and naturally interested in; After all, courses are extra-compelling when they come from experts and true enthusiasts!
For example, in his series Building Your Online Course, Curtis McHale talks about how he created his own courses to help people learn Obsidian—a software that he was already using for his own projects.
What Kind of Online Courses Sell Well?
In our post The State of Online Courses, we talk about the most currently-in-demand course topics, including:
Programming languages like Python, Java, C#, and C++
Data science, including machine learning and artificial intelligence
UX Design
Business topics like entrepreneurship, leadership, startups, and business strategy
Personal development, including productivity, communication, and time management
These topics are some of the most popular online courses on Class Central and Udemy, but you can also check out other platforms like Coursera.
The most popular courses on the platform in 2021 included things like:
First Step Korean
English for Career Development
Technical Support Fundamentals
Foundations of Project Management
Validating Your Online Course Idea
If there's no demand for your course, you won't make much (if any) money. This is why it's a good idea to validate your course idea before you commit to starting an online course business.
If you create a bad course, it'll be obvious—you'll get a billion refunds. So, the idea is to avoid that situation altogether and figure out if your course is good enough before you invest a lot of time and resources into it.
Do people want to buy what you're selling? 🤔
A Minimum Viable Product (MVP) is the simplest, most basic version of the online course that you want to sell. An MVP allows you to test your idea on the market to find out if people think your course is worth paying for.
For example, if you are creating a 20-part course, you might decide to sell the first 10 parts early to gauge its viability. You mostly want to see if people actually buy, but you can also gather useful feedback from your target audience about what they're looking for as well.
Once you know that you're making money, it makes sense to finish the other 10 parts. Following this process, you minimize your initial investment until you're 100% sure that you are going to get a return.
Plus, you can measure the feedback you get from your MVP to help you refine your content.
This includes things like:
The effectiveness of the course content itself. Measure by testing knowledge retention with a quiz and scoring it with a percentage.
How much students enjoyed the experience, or a particular element. Survey students at the end of your MVP and ask them to rate the experience 1-10 for different factors like visual appeal, ease of navigation, interactive elements, etc.
In general, online courses are particularly well-suited for gaining feedback because of the interactive nature of course components like tests and quizzes, which prompt students to respond.
Remember: Don't worry about perfecting your content before you prove (with sales) that customers actually want it.
Even after you start selling your online course, you will continue to discover new things about your audience, and come across new tools and industry trends that inspire you to make changes.
The purpose of testing your idea before producing a full course is to find out how viable your course idea actually is, as well as what your target audience wants. This process minimizes the risk of wasting your time and resources, and gives you the best chance of producing a successful online course.
Designing Your Online Course
So, you've decided on a topic for your online course. Great! Now, it's time to plan out the content of your course.
In our post about scenario-based learning, we talk about how there are unique challenges with online learning—appealing to people with different learning styles and creating a hands-on problem-solving environment, for example.
Incorporating media elements, stories, and interactive exercises into your courses helps to make them as effective as possible for different segments of your audience.
A European study showed video, curated, micro-learning, and mobile content to be the highest-rated form of educational material.

Mirasee
Choosing the Right Format for Your Course
Choosing between a written, audio, or video format is an important decision that depends on the topic of your online course, your desired outcome, and your target audience.
For example, let's say that you're creating a course that guides full-time professionals who want to transition from office jobs to independent remote working. In this case, you might decide to produce your course in audio format, so your audience can easily listen to it on their way to work.
On the other hand, if you're creating a tutorial-based course for DIY projects like sewing, furniture building, or home renovation, video is an effective format since people naturally learn hands-on skills by emulation.
Curtis McHale talks more about this in the second part of his series Building Your Online Course: Choosing the Right Delivery Method:
Showing off Obsidian in a video lets people see exactly what I'm doing. So, even if I don't explain something perfectly, they can still follow what I'm doing and see what I click on within the software interface.

Curtis McHale
Producing Your Online Course
Once you've decided what you're going to teach, and you've chosen the right format for your online course, it's time to start creating. But where should you start?
Take Inventory of What You Have
The first step is to take inventory of any materials that you have already created and are relevant to your chosen topic. This can include things like:
Digital assets: audio files, graphics, photos, videos
Discussions: Facebook groups, Quora threads, Subreddits, or other forums where you have shared your expertise
Documents: checklists, presentations, spreadsheets, worksheets
Social media posts
Website content: blog posts and website pages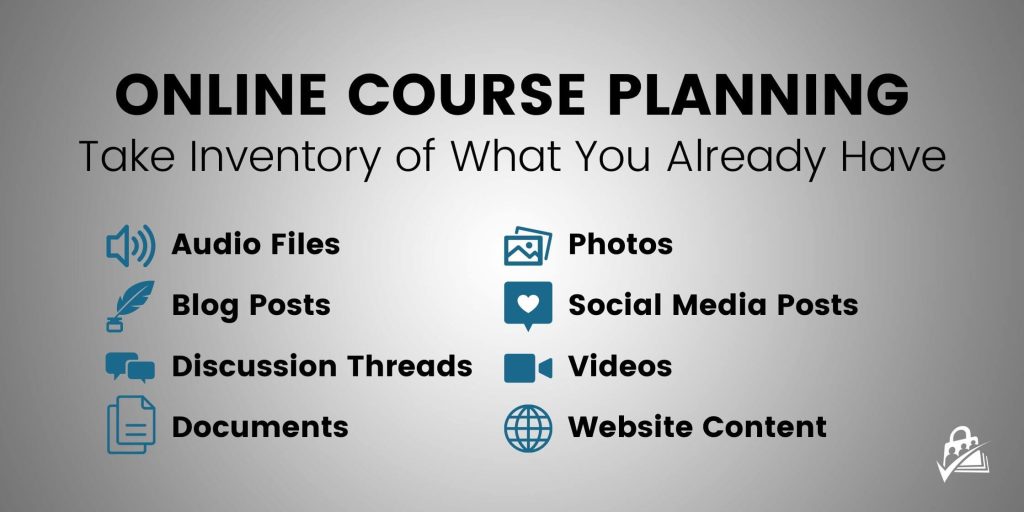 Begin to logically-organize these materials into sections that you can later form into course modules. Don't overthink it; you can move things around later.
Outline Your Course
Now that you have taken stock of the existing materials you have at your disposal, start to create an outline of your online course, including things like:
A table of contents
An introduction or overview of the course contents
Your major course sections or modules
A review section or final recap
Once you have a rough outline, start to fill it in with other components like:
Sub-sections or module components
Ideas for quizzes, tests, forms, worksheets, or interactive elements that you want to include
Quotes, images, videos, or any other content you want to reference
Choose Your Tools
Do you already have a set of tools you like to use for producing content? Sometimes the best tools are simply those you know well.
However, what you decide to use to produce your online course largely depends on the format that you chose.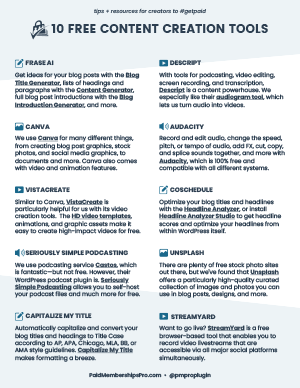 DOWNLOAD 10 FREE CONTENT CREATION TOOLS NOW
Looking to start creating graphics, videos, and voice content for your membership site? This cheatsheet shares the top 10 free tools we use to create rich media at PMPro. Use these tools to create rich media content like PDFs, commercials, audiograms, blogs, social graphics, and more.
Video Courses
If you're producing a video course, for example, you will need things like:
A video camera (or smartphone that can capture high-quality video)
A tripod for capturing steady, consistent shots
Video editing software
If you're an Apple user, you already have free access to iMovie for video editing. Other options for free video editing software include Blender, Lightworks, and DaVinci Resolve.
In the third part of his Building Your Online Course series, Curtis McHale talks about editing video courses and the tools he uses himself. He also stresses the importance of audio quality:
"You could have the best video out there, but bad audio makes it particularly unlikely that many people will actually get through your course."
Curtis recommends buying an inexpensive lapel microphone, a Rode Video Micro, or even renting a microphone if you don't want to buy one.
Written Courses
If you're creating a written course, you might be able to get along with as little as a word processor—even Google Docs lets you export PDF, HTML, or ePUB files, for example.
Everything depends on your content and how you want to present it.
Curtis also says:
"If you want to power-up your course-making, I recommend software like Obsidian, Craft, RemNote or ThunkNotes for organizing your thoughts. Personally, I use Obsidian and the Kanban plugin to build my courses. This combination helps me keep track of where I am in the production of individual lessons in particular."
If you want to add visual interest to your written course, you can use free tools like Canva to create original graphics that highlight important concepts, or insert stock photos from free sites like Unsplash and Pixabay.
Audio Courses
When it comes to producing professional audio courses, USB microphones like the Blue Yeti are a popular choice. If you want ultra-high audio quality, you could get a professional condenser or dynamic microphone, along with an audio interface.
In theory, you could even record an entire course on your smartphone—the latest iPhones and similar produce surprisingly high-quality audio recordings, after all. However, you would probably still need to do some editing afterward (unless you make zero mistakes).
No matter the recording setup you choose, you'll need audio editing software to capture and edit it. Audacity is a popular choice (and it's free), but there are many options available.
The truth is, if your course is entirely audio-based, it's worth investing in high-quality equipment. Even if you decide to use a cheaper setup, you can use post-production tools like Descript to quickly add a professional sound to your recordings.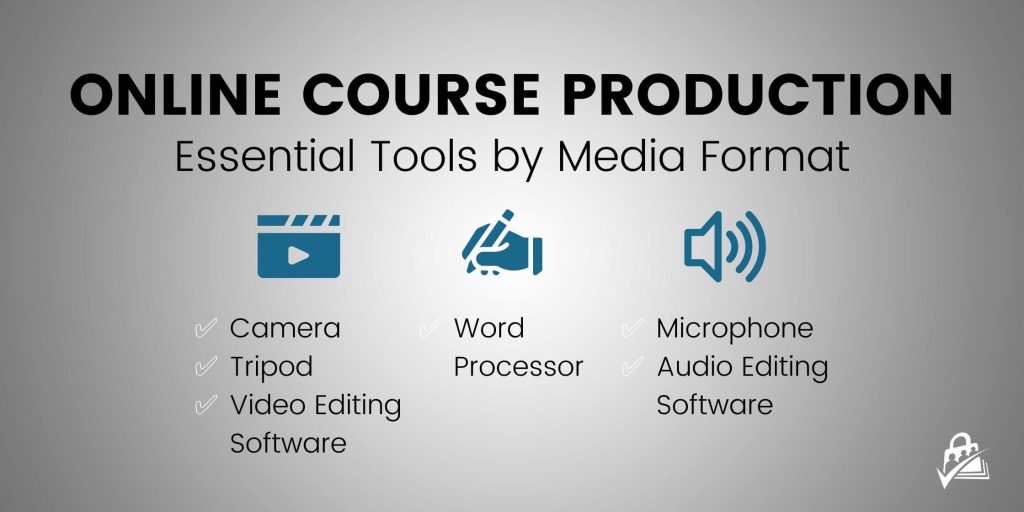 Batch Create Content Whenever Possible
Although it applies less to your very first course, batch creating content can save you a lot of time and effort in general. For example, if you want to create six modules for your online course and have a video at the end of each module, record all of your videos in a single session.
In addition to being more efficient for your production process, this also ensures that there's a consistent look and feel to your content—and makes your entire course more cohesive.
Where to Sell Your Online Course
Your Own Website vs. a Learning Management System (LMS)
At Paid Memberships Pro, we think it's best to own the land that your business is built on. That's why we created a WordPress membership plugin in the first place!
With your own website, you simply have more control—and it can be much less expensive in the long run, among other things. However, there are certain people who might benefit from using a Learning Management System (LMS).
An LMS is a type of cloud-based software application for delivering training and educational programs online. Many course creators use an LMS to design, distribute, and track their online courses.
How do you know if an LMS is right for you?
Benefits to Creating Online Courses with an LMS
Consider these benefits:
An LMS is usually an all-in-one solution that can be more accessible for less tech-savvy people
It can be easier to incorporate interactive elements like quizzes, user-to-user communication, and gamification with an LMS
Most LMS platforms provide some kind of built-in analytics and tools to track how well students are performing and what elements they respond to most
However, there are some key downsides to using an LMS as well.
Downsides to Creating Online Courses with an LMS
If an LMS site goes down, so does your course. Access to your courses depends 100% on the LMS, as opposed to being within your control (like it is when you run your own site).
When you sell courses through other platforms, you are subject to their rules and requirements. That means less flexibility for you, more adjustments to your content, and more details to keep track of. It also means your course can be taken down by the LMS at any time. Selling courses on your own site lets you play by your own rules.
There are fees involved, whether it's per sale or per month or year for access to the platform. For example, Thinkific costs $99/month, which adds up to well over $1,000 per year. While there are certainly costs involved in running your own website, you can do it for much less than that. Plus, you can always sell your own online courses for free with Paid Memberships Pro.
Some other popular LMS platforms include Blackboard, Lifter LMS, LearnDash, Podia, and Kajabi. To use an LMS in tandem with your WordPress site, check out our post How To Create an Online Course With WordPress Using a Learning Management System.
If you're looking for the simplicity of an LMS, but you don't want to deal with the fees and restrictions, you can easily set up a new course website or add a course to an existing membership-driven website using Paid Memberships Pro and its Courses for Membership Add On.
Pricing Your Online Course
Deciding on a price for your course depends on a variety of factors. The first thing you should consider is whether you want to sell:
A single course that customers will buy only once. For reference, single courses on Udemy can technically cost anywhere from $12 to $200, but many one-off courses fall within the $20–$50 range. This could be something with a specific outcome and natural endpoint—test preparation, for example.

A series or collection of courses that customers buy as a package. Bundle pricing usually gives the customer a discount compared to buying each course individually. This incentivizes customers to make larger purchases, and can be particularly effective for certain learning pathways that cover multiple course topics. Course bundles often come with a higher price point, between $50 and $100.

An entire catalog of courses that customers can purchase access to for a recurring monthly or annual fee. Some course creators decide to create a membership site dedicated to a certain niche, often allowing students to interact with each other and benefit from unlimited learning and community access. It's not uncommon to charge a monthly (or yearly) fee of somewhere between $10–$20, which is lower than a one-off course. However, it can actually bring in more revenue over the long term.
Once you've decided if you're selling a single course, a series, or membership access to a course catalog, it's a good idea to browse your target niche to get an idea of what typical prices are.
Can You Justify Charging a Recurring Fee?
When you're just starting out and you only have one course to sell, a one-time fee makes more sense. It's hard to justify a recurring fee for a stand-alone course—or even a handful of courses.
In order to charge a recurring fee for a stand-alone course, you'd need some other components of the course experience that continue to deliver value after the education is complete. Community, webinars, and one-to-one coaching are just a few examples.
If you continue to produce more courses and add more to your library, you might start to think about bundling your courses into series and packages, or even creating a full membership site around your course content.
Value-Based Pricing
Traditional pricing strategies focus exclusively on things like costs for materials, time spent creating the course, and market competition. While these factors are important, value-based pricing is a strategy that brings the focus to the results that the customer experiences.
For example, let's say you created a fitness and nutrition course that brought your customers incredible weight loss results. Wouldn't the value of that product be something more than just the time and resources spent on creating it?
With value-based pricing, the goal is to assign a specific dollar amount to this value.
When you're validating your online course idea, it's a good time to gather feedback about pricing as well. For example, some course creators start by asking people something like, "How much would you pay for [desired outcome]?"
Remember to focus on the real-world emotional benefits of your course, like:
Making more money
Becoming skilled or knowledgeable in something
Getting more recognition
Feeling happier and more satisfied
Other Pricing Factors
In order to settle on the right price for your online course, you'll also want to consider everything that it has to offer potential students.
Beyond the standard content, what else does your course offering include? Here are a few elements that you should factor into your pricing:
Audio files
Community access
Creative assets
Exclusive discounts
One-to-one coaching
Video tutorials
Webinars
Workbooks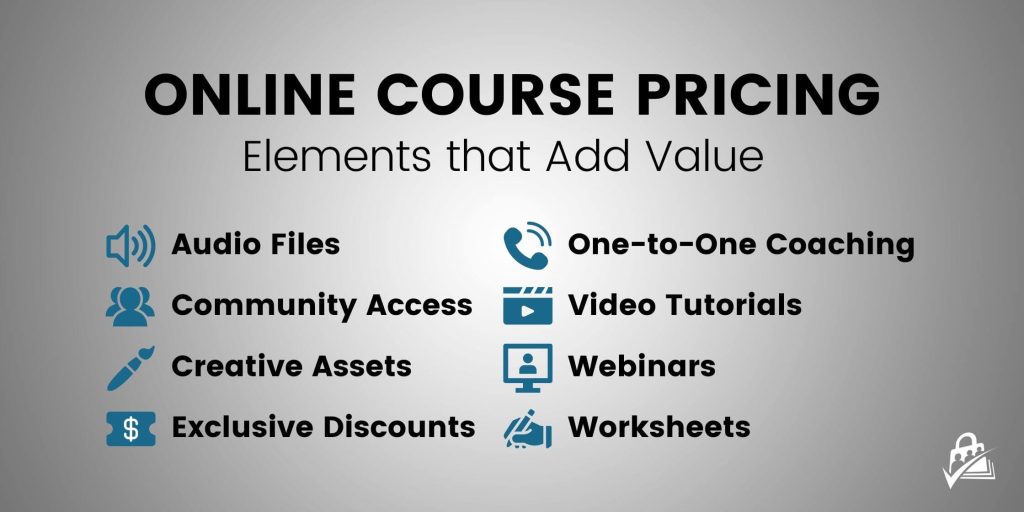 Of course, you should also consider your competition and what they're charging. Furthermore, you should consider what your course offers that your competitors do not.
This can give you a competitive edge when it comes to marketing. For example, if your course covers the same content as your competitor's course, but yours also includes a companion PDF and audio guide, you can charge more than your competitor.
Competing on Price: A Warning ⚠️
Remember that when you compete on price, the only way to go is down. So, keep this in mind when analyzing your competition.
While matching or undercutting competitor prices might seem like a good way to "win over" your customers at first, the truth is that it can affect your ability to make money with your courses in the long run.
Here's why:
Customers may view your course as "budget content" (even if it's not). This dissuades people who are specifically looking for a high-quality learning experience. Plus, people are naturally attracted to premium things—even if they have lower budgets.
Once you broadcast to the world that you provide low-cost courses, customers may come to expect that from you in the future. This can make it difficult for you to charge what your courses are really worth.
Marketing Your Course
When it comes to selling any kind of digital product, marketing is always an important factor. With selling online courses in particular, having an audience is especially helpful if you want to hit the ground running.
Your Online Presence is Your Best Marketing Tool
Don't expect to sell your course without an audience that is already listening to what you have to say.

Curtis McHale
Many course creators establish industry authority and grow an audience by developing an online presence on social media platforms. In Building Your Online Course: Marketing Your Course, Curtis McHale talks about the value of offering advice on Quora, for example.
Interacting with your target audience and contributing to topical discussions on platforms like Quora, LinkedIn, and Twitter gets your name circulating, shows that you have expertise, and helps you establish a presence that supports your online course business.
Ideally, you should focus on becoming the go-to person for whatever field of interest you plan to teach.
Curtis also mentions the value of creating a YouTube channel (and how you can use it to drive traffic to your courses), as well as partnering with businesses within or adjacent to your niche.
Even if you don't already have an audience, you can always sell your courses on marketplaces like SkillShare and on your own website at the same time. Curtis says, "You'll likely start to make money on SkillShare before you make any substantial sales on your own site," but this route can help you build momentum—as well as a mailing list.
What Marketing Materials Should You Create?
Whether you're selling your online course on your own website, an LMS platform, or a marketplace, you'll need to create some marketing materials to promote it.
This may include:
Product Artwork. Since online courses are intangible products, they are best presented with some kind of official cover or artwork.
Video Thumbnails. For maximum effectiveness on YouTube, Vimeo, and other video hosting platforms, it's wise to create professional video thumbnails that communicate exactly what your course is about. First impressions matter, so take a look at other popular course video thumbnails for design guidance.
Promotional Videos. These can include things like a video introduction/overview (helpful to prospective students who want to understand the scope of the course), sales videos, and testimonial videos. A promo video might even include all of these things.

As we mentioned earlier in this post, free tools like Canva (for graphics) and iMovie, Blender, or Lightworks (for video editing) are particularly helpful when you're just starting out.
Should You Regularly Update Your Online Course?
One of the big questions to consider when producing an online course is whether or not you should update the content over time.
While there are course subjects that don't require updating (history, for example), there are a few compelling reasons to make regular updates to your online course:
Your advice will likely change as new information, tools, and industry practices arise. Staying abreast of these developments ensures that the advice you're giving is as relevant and accurate as possible.
"Live" courses have an automatic competitive advantage over other courses that are never updated. Showing prospective students that you're committed to providing them with the most up-to-date information increases the perceived value of your course.
Regularly updating your course provides existing students with more value. This incentivizes them to buy your courses in the future. Plus, if you run a membership site, your members will be much more likely to renew their memberships each month if there's fresh content.
It helps you stay informed and on top of trends that affect your industry. This is important for your industry authority and expertise, regardless of whether or not you actually make a lot of updates to your courses.
It keeps you one step ahead of anyone plagiarizing your content. Unfortunately, every industry experiences some form of theft, but when you add new content to your courses on a regular basis, it's easy to identify
Even with courses that don't require regular updates, the continuous emergence of new trends in content consumption formats and platforms can be enough of a reason to inject fresh content into your course over time.
Making the Most of Your Online Course Content
The content you create for your online course can reach beyond the course itself; You can squeeze a lot of value out of your online courses—it just takes a little creativity.
Repurposing Your Content
From transforming your content into different formats, to using it as inspiration for related content, there are many ways to repurpose your content.
For example, you could:
Pull newsletter topics and segments from your course content
Host webinars on topics derived from your content
Create YouTube videos around your course content (and reference your courses in them, too)
Create audio or video versions of written course content, or vice versa
You can also do things the opposite way and create smaller pieces of content first—then, compile them into a full course later on.
I write a lot of lessons on my blog that eventually end up in a course. So, the blog is the first place I go to test a new idea and make sure it's solid. Then, I'll polish it and put it into my course.

Patrick Rauland, eCommerce Educator
Creating a Community Around Your Courses
"Social learning (learning with and/or from others) increases course completion by 75%."

Mirasee
Community is an often-overlooked component of the eLearning industry that helps students stay engaged and optimize their learning experience. But it's more than just a sought-after feature that students love; It's also a potential money-maker for course creators.
Providing a discussion forum where students can freely interact with one another benefits all parties involved.
Here are a few reasons why:
Students can discuss your course content and help each other learn. This reduces the amount of questions and support requests (if applicable) coming your way.
Building a community around your courses boosts your industry authority. For one thing, it puts you and your content at the center of the group. For another, it creates buzz around your content.
Students may naturally find other courses or content of yours that they're interested in.
Students stay engaged and interacting with your content on a regular basis, which increases the chances they'll stay loyal to your business over the long-term.
You can charge a monthly or yearly subscription fee for access to your courses and web content, which many course creators find appealing due to the more predictable long-term income.
One of the best ways to nurture this kind of community is to create a membership site around your online course business.
Building an Online Course Membership Business
Online courses are perfect for the membership model—especially because the community element is so effective. You can easily transform your online courses into a membership business.
Here are a couple of ways you can do it:
Take the content from your online courses and publish it as posts or pages on your website. Then, restrict the content and charge a monthly fee for access.
Sell monthly membership access to your existing courses in their current formats (downloadable PDF, audio, or video, for example).
A combination of both
However, in order to create a compelling value proposition that incentivizes your audience to actually pay a recurring monthly fee, you might consider a few of the following strategies:
Adding supplemental content to your courses, such as downloadable anytime worksheets, and members-only tools
Giving students a certificate for completing your course, and including graduates in a public directory that validates their experience
Maintaining a vibrant discussion board using bbPress or BuddyPress for course participants to interact with outside of the learning model.
Sending a weekly or monthly newsletter on industry or course topic-related news that your course participants can leverage for their own professional or personal ongoing education.
If you've decided to create a membership site for your online course business, you should look for a membership solution that:
Lets you scale your business as it grows. Watch out for membership plugins and platforms that charge hefty service fees as your sales increase.
Gives you flexibility when it comes to customizing your membership site to suit your needs and the needs of your course students.
Lets you retain total control over your content and who can access it
Integrates with third-party services that are suitable for eLearning
Is compatible with the CMS that you use (WordPress, for example)
Provides high-quality support in case you encounter any issues
Using Paid Memberships Pro on your WordPress website is one of the best ways to create an entire membership ecosystem around your course content, while retaining ownership of the land your business is built on.
Creating Online Courses: Final Considerations
If you're ready to start earning passive revenue from your knowledge and expertise, it's time to create an online course.
As you go through the process of bringing your online course idea to life, keep these important points in mind:
eLearning is an ever-growing industry with a lot of revenue potential.
Creating online courses is a great way to monetize your skills and knowledge, and help others at the same time
It's important to validate your online course idea with an MVP before investing a lot into creating a full course
Start by teaching what you're already good at (and naturally interested in). It's more fun for you, and you'll create more compelling courses for your students, too.
Take inventory of any resources you've already created before designing your course
Using scenario-based learning and interactive elements within your courses helps students retain what they learn, thus helping your courses succeed
We recommend owning the land your business is built on, like charging for monthly access to your course content and community using Paid Memberships Pro on your own WordPress website.
Price your online courses using value-based pricing, and factor in all of the resources you've included in your course offering. Don't compete on price alone.
Building a receptive audience before releasing your course is one of the best ways to create sales momentum.
In your marketing efforts, focus on your unique value proposition—what you have that your competitors don't.
Update your online courses on an ongoing basis to maintain a competitive edge and give your students the value that compels them to stay with you for the long-term.
Repurpose your content by expanding to other formats and using your course content in other areas of your business (i.e. newsletters) to get the most out of your efforts.
Building a membership site around your course content is one of the best ways to nurture a community that keeps your students engaged, and create reliable, recurring revenue for your business.
Are you ready to start growing your online course business and attracting new students?
With Paid Memberships Pro, you can create free and paid subscriptions to your course content, benefit from a wide variety of Add Ons and integrations specifically designed for selling online courses, and manage your course on WordPress.
We know that a WordPress site has tons of moving parts. Choosing the right plugins, themes, hosting, third party services, design assets, and more can feel overwhelming.
Paid Memberships Pro is a comprehensive platform built for any kind of eLearning environment. Learn exactly what you'll get — the plugins, the support, and the training — when you build your online course with Paid Memberships Pro.
Was this article helpful?