Online education is becoming more and more popular these days. You can learn from anywhere in the world, take quality courses from hundreds of platforms, and often create your own schedule.
All of these factors make digital learning an attractive option for students across the globe. So much so that the global online learning and training market is projected to be worth $325 billion by the year 2025.
However, an increase in the number of learners poses a few unique challenges for course creators.
Online courses are available to all kinds of different audience groups, so people with vastly differing learning styles can end up interacting with the same content.
Therefore, one of the most important challenges for online learning platforms is to meet the needs of these different audiences.
Another is the practicality of online learning; Courses need to be designed so that students enjoy the learning process, get hands-on practice, develop valuable new skills, and learn about the practical application of the concepts.
Scenario-based learning addresses both of these challenges.
In this post, we discuss scenario-based learning and how it can help online course creators to meet the needs of nearly all online learning styles.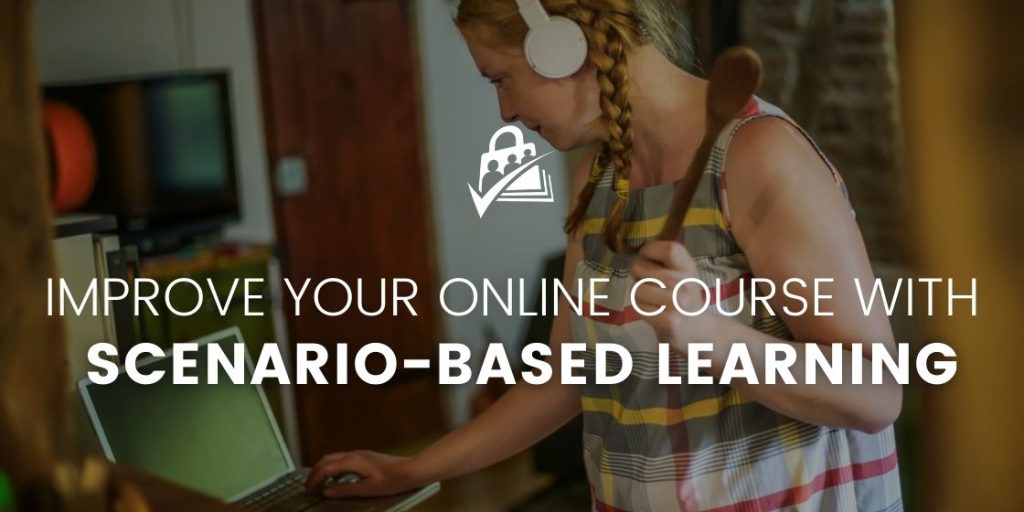 Scenario-Based Learning
Scenario-based learning is an innovative and interactive approach to instructional design. It involves using media elements, stories, and interactive exercises to create an effective learning environment.
Scenario-based learning prioritizes the needs of the learners and makes the learning process interesting at the same time.
Scenario-based learning is also referred to as situational learning, as it makes use of real-life situations and examples of scenarios – adding value to the overall learning experience.
The importance of scenario-based learning strategies is more pronounced online, where creating a hands-on problem-solving environment is more difficult.
In a virtual environment, interactive content and engaging exercises are crucial to ensure the learning outcomes are met effectively.
Benefits of Scenario-Based Learning
There are numerous benefits to scenario-based learning for both students and course designers.
From the student's perspective, it's easier to relate to the content when the learning process is fun and useful at the same time. With interactive exercises performed in a real-world context, complicated concepts become more understandable.
Course creators benefit, too, as they can meet the needs of people with different learning styles by utilizing scenario-based learning techniques.
However, there are many different platforms that offer online courses – so in order to stand out, a course has to offer something different.
A unique selling point is something that interactive scenario-based learning can bring to any eLearning platform.
As the attention spans of learners get shorter and the number of alternatives in the digital world increases, scenario learning continues to be an effective way to create a competitive edge in the market.
Some of the notable advantages of scenario-based learning include:
Learning by experience and performance is one of the best active learning strategies because it helps develop critical thinking and encourages practical application of knowledge.
Scenario-based learning strategies in eLearning courses make the content attractive, interactive, and engaging, which creates an effective learning experience.
The use of real-life situations and examples helps meet the needs of different audience groups.
With the help of interactive media content like games, animations, and videos, scenario-based training aids knowledge retention.
Scenario-based learning can also help make learning accessible for people with disabilities and special needs.
Basic Principles of Scenario-Based Learning
It can be challenging to create effective learning scenarios in an online environment; For one thing, it's important to adhere to best practices and standards set forth by popular learning theories. At the same time, course creators should design the overall learning experience so that students can make the most of it.
Although there are no specific standards for designing scenario-based learning programs, there are still some useful principles you can follow.
Focusing on long-term learning and individual needs are two primary strategies for engaging students of online courses.
Audience-Focused Course Design
One of the most important principles of scenario-based learning is to design an audience-focused course.
This means the content provided should be:
Informative
Easy to interact with
When content is understandable and easy to engage with, the audience has a more pleasant learning experience.
User experience (UX) design principles also play a critical role in online learning. Therefore, online course should be findable, usable, useful, and accessible.
A course with an excellent curriculum can be unsuccessful if the learners get frustrated because of a cumbersome platform or poor presentation. So, it's always wise to consider the user experience when designing your online course.
Engaging Lessons and Exercises
Scenario-based learning thrives on engaging course design. Engagement, however, can mean multiple things based on the course content and the desired outcomes.
Time plays a crucial role in the organization and presentation of lessons. Lessons should ideally be short and focused, for example. Pre-recorded hour-long lessons do not leave room for interaction and are thus a bad choice when it comes to online learning environments.
Another important thing to consider is creating interactive exercises. Online course exercises, just like the lessons, should be short, but engaging. This way, students get a chance to practice and improve their problem-solving skills.
Real-World Application
Often, people who want to learn something online will look for concepts that they can apply to real-world situations. That is where situational learning plays a crucial role.
When designing a course, including real-world scenarios offers course-takers this valuable hands-on practice.
You can achieve this by bringing in examples from the real world and encouraging students to think critically about what they encounter in their daily lives. The exercises should also focus more on practical solutions, and less on memorizing theories.
There are, however, some learning topics and modules that are purely theoretical. In such cases, using techniques like gamification can help students retain their knowledge for a long time.
An Open Environment
It is also important to create an environment that encourages people to collaborate. Some students learn better in a social setting – something that is not entirely achievable in a virtual classroom.
However, there are a few ways to encourage interaction among your students.
The use of discussion forums and/or an online chat feature are two examples. Collaboration and open communication are also helpful when it comes to resolving technical issues during the learning process.
Improving the Quality of Your Online Course Design
We've seen that scenario-based learning is a proven way to improve the quality of your online course. In a virtual environment where people have diverse learning styles, scenario-based learning can help you design a course that meets their individual needs and goals.
Here are some key strategies to consider while designing your online course:
Develop a good understanding of your audience and their learning needs. Remember to conduct a thorough audience analysis before creating your lessons and exercises.
Incorporate interactive media, including images, videos, audios, animations, and gamification techniques into your learning modules.
Create interactive exercises using tools such as H5P. This helps encourage long-term learning.
Encourage students to think critically and engage with your content in creative ways. Always give some type of feedback to aid this learning process.
Gather constant feedback from your students. This improves the quality of your course by helping you keep your content up-to-date and mindful of your audience's needs.
Final Thoughts: Improve Your Course Design With Scenario-Based Learning
When planned and structured appropriately, online courses can be highly-valuable resources for learning and improving one's skills.
According to ThinkImpact, one survey reported that 37% of students preferred online learning over traditional classroom lessons. Therefore, modern instructional organizations should focus on creating engaging learning experiences in the virtual environment.
Scenario-based learning is an excellent approach for designing an effective learning experience online. Whether it's corporate training or a higher education program, incorporating situational techniques is a proven method for increasing knowledge retention and engagement.
Are you ready to start growing your online course business and attracting new students?
With Paid Memberships Pro, you can create free and paid subscriptions to your course content, benefit from a wide variety of Add Ons and integrations specifically designed for selling online courses, and manage your course on WordPress.
We know that a WordPress site has tons of moving parts. Choosing the right plugins, themes, hosting, third party services, design assets, and more can feel overwhelming.
Paid Memberships Pro is a comprehensive platform built for any kind of eLearning environment. Learn exactly what you'll get — the plugins, the support, and the training — when you build your online course with Paid Memberships Pro.
Was this article helpful?