You've heard the saying, "Knowledge is Power," but what about "Knowledge as Product?" As it turns out, you don't need to invent a mind-blowing product to be a successful entrepreneur. Rather, you can turn your existing knowledge and experience into a thriving business model with online courses.
Internet entrepreneurs like Pat Flynn of Smart Passive Income have perfected the art of packaging up their knowledge and selling it in the form of online courses.
Pat's passive income and podcasting courses can generate five to six figures each month.
If you're interested in the power of your knowledge and you want to know more about what the current eLearning industry has to offer, keep reading. We're going to talk about the state of online courses, eLearning industry standards and opportunities, how to start an online course, and the benefits it can bring to your business.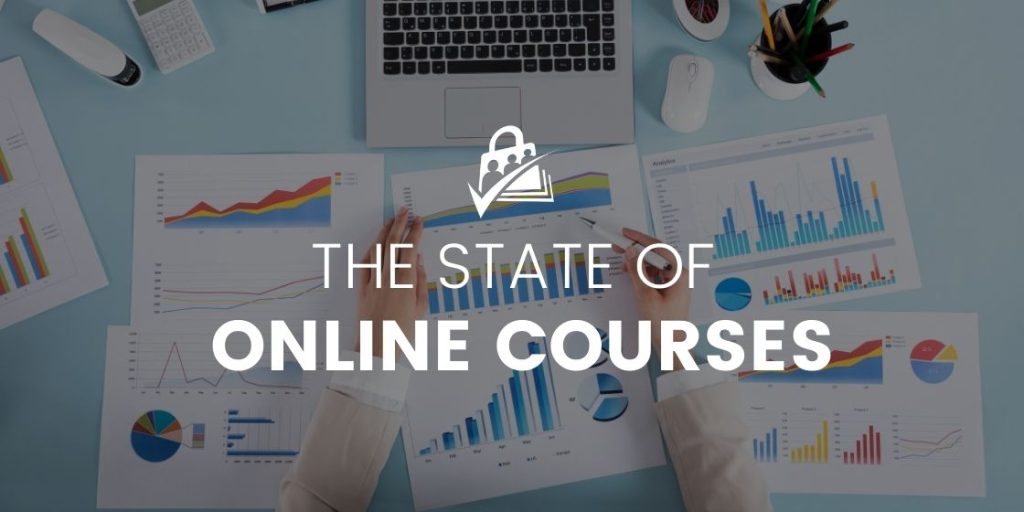 Here's what we'll cover:
Benefits of Providing Online Courses
Starting an online course channel for your business is an effective way to drum up new business, strengthen your brand, and reach bigger audiences.
Here are the top benefits that providing online courses can offer you.
Higher ROI
Many entrepreneurs offer coaching and mentoring services to help others who want to follow the same path. However, these income streams are limited by the fact that they are usually one-to-one offerings.
If you sell online courses, you can take advantage of the one-to-many approach. Where you (the provider) can serve many customers simultaneously, thus scaling your operations.
Increased Brand Authority
Not only can course creators diversify their income and scale their business, they can also strengthen their brand by positioning themselves as thought leaders. When done well, online course creation builds trust, credibility, and authority.
More Customer Engagement
Educating your existing customers is an excellent way to keep them engaged with your brand. Providing online courses that help customers achieve their goals transforms you from a provider to a valuable and trusted resource.
You can also tailor course content to help customers get the most out of your products or services.
Salesforce is an excellent example of a brand that leverages online education to provide added value to its users and encourage them to continue engaging with the product.
Access to High-Quality Leads
Offering a free course related to your paid product is an excellent marketing strategy to generate more high-quality leads. At the end of the course, you have an email list of leads who have invested time with your brand.
When you provide value through education, you build relationships and trust with your audience.
Passive Revenue Stream
Selling digital products such as online courses helps you generate passive income by detaching sales from your time. In other words, you don't need to put in time to generate income.
Rather, you can make money in your sleep.
Think about it.
If you have to clock in to earn revenue, you're limited by the number of hours in a day you can work, but if you create something that can provide value without your actual presence, that's passive income.
Offering pre-recorded webinars, tutorials, and video lessons means you can create the product once and continue selling it afterward.
Here are some examples of courses featured prominently on Udemy.com even years after they were created:
Keep in mind that some topics will require updates, especially if you want to help your students stay on top of the latest trends and technologies. Each course will present its own level of "passivity" based on the topic and whether or not you plan to use live sessions and feedback.
Why People Take Online Courses
The market for eLearning is predicted to grow to $240 billion globally in 2022. The demand for flexible learning options will remain high, even after the pandemic.
After all, many students, professionals, and even other entrepreneurs enroll in online courses to learn new skills that can help them advance their careers.
Here are a few reasons people choose online education over other resources such as books or traditional classroom education.
Flexible and Affordable
Working professionals may find it hard to make traditional in-person classes fit their schedules – not to mention that university courses and programs can be more expensive.
With eLearning, people can attend classes remotely. Plus, if it's a self-paced course, they can tune in when the time fits their schedule.
Even the topic selection for online courses can be more flexible.
For example, someone who wants to learn data analysis can select courses related to their industry and the specific software they want to learn.
Ability to Learn from Thought Leaders
Online courses allow students to learn from the thought leaders and industry experts that they admire. You can see this benefit at its extreme with the company Master Class, which offers classes taught by celebrities such as Alicia Keys and Gordon Ramsay.
But here's the good news: You don't have to be a celebrity to sell an online class.
People ultimately want to learn from someone who has had success in the field they're teaching. for example, after professional writer Elna Cain was able to support herself full-time with freelance writing, she created several courses to help others do the same by learning from her mistakes.
Access to a Community of Learners
Online course students also benefit from joining a community of other motivated individuals, which can double as a networking opportunity.
After all, some people prefer to learn in a social environment where they can discuss with others and connect with people in their industry.
Accountability
Many online learning resources contain information that you can find in books. So, you might think, "Why should I create a course if there are already dozens of books covering my topic?"
Unlike books, the structure of online courses holds students accountable – and there are students who need assignments and regularly-scheduled classes in order to stay focused.
Not to mention, many online courses are more expensive than books. This can make students feel more motivated to complete the work and get their money's worth.
Enhanced Learning Tools
Another benefit of online courses is their ability to cater to various learning styles.
Visual learners may benefit from charts and videos, while auditory learners prefer to listen to a lecture. Some other individuals benefit more from reading over notes and resources.
With an online course platform, you can make all of these resources available so your students can reference the tools that work best for them.
You can also provide quizzes and projects that let your students apply their new skills to real-world problems where the stakes aren't high yet. That is especially effective for coding, web design, and data analysis subjects.
Certification and Proof of Education
Unfortunately, you can't list all of the books you've read on your LinkedIn profile or professional resume. However, students may want to show proof of their skills and continued learning.
This is where online courses can help.
You can offer certificates of completion that students can share with their leadership or future employers.
For example, HubSpot offers certification courses for professional marketers. They cover topics ranging from inbound marketing to social media and digital advertising.
Are Online Courses Right for Your Business?
Online courses offer many benefits for your business, such as increased brand awareness, credibility, leads, and passive income streams.
However, there are some downsides.
One downside is that most of your investment in online courses happens upfront. This means that you need time to learn how to create and publish a course. You may also need to invest in filming equipment or hire someone to help you develop learning materials.
Once you've published your course, the maintenance costs are significantly lower. However, there's always a risk that your big investment won't pay off.
When considering whether or not to create an online course, ask yourself:
Is there a market for my knowledge/expertise?
Do I already have an engaged audience?
If the answer to both of those questions is yes, then an online course might be an excellent investment for you.
Having an audience can help you determine demand and understand how you can best provide value.
For example, you can ask your audience questions like:
Would you like an online course?
How much would you pay for an online course?
What skills do you want to learn in an online course?
By contrast, if you have a valuable skill but no existing audience, you can still make online courses work for you. Just be prepared to invest more resources into marketing your course.
Popular Topics for Online Courses
If you decide that creating an online course is the right strategy for you, the next step is deciding what to teach. Looking at popular topics and matching them to your skillset can be a helpful way to come up with the perfect course idea.
Here are some of the most popular online course topics from platforms like Class Central and Udemy. Below you'll find examples of high enrollment courses across both platforms and the most and least saturated topics on Udemy.
Programming Languages
Computer programming isn't just for software engineers anymore. Someone pursuing a career in data science, web design, UX design, and product management can benefit from learning programming languages and software frameworks.
If you want to find under-served markets, consider teaching courses in newer languages or finding niche applications for a popular language.
Popular Programming Language Courses
Most Popular Programming Language Topics
Python – 1.3K courses
Java – 669 courses
C# – 446 courses
C++ – 282 courses
Least Saturated Programming Language Topics
Functional Programming – 41 courses
Ruby – 40 courses
SQL – 39 courses
Visual Studio – 39 courses
Data Science
The field of data science is relatively new, but experts predict it will grow about 28% by 2026.
Even if students aren't pursuing a career as data scientists, understanding the foundations of analysis and tools used to work with data can help them advance. Careers in digital marketing, operations, and sales also require basic data analysis skills.
Popular topics in this category cover broad topics and Python programming. Look at specialized skills and programming subtopics to find less saturated market opportunities.
Popular Data Science Courses
Most Popular Data Science Topics
Machine Learning – 453 courses
Data Science – 391 courses
Python – 294 courses
Artificial Intelligence – 214 courses
Least Saturated Data Science Topics
PySpark – 19 courses
Web Scraping – 17 courses
Time Series Analysis – 16 courses
Genetic Algorithm – 15 courses
UX Design
Design touches every part of the customer journey, from acquisition to sales and retention. It's no wonder that LinkedIn listed UX design as one of its top ten business skills.
While UX design has grown in popularity, it's not as saturated as business or data science topics. Most of the subtopics have fewer than 100 courses on Udemy, and you can find several niches with fewer than 10 courses.
Popular UX Design Courses
Most Popular UX Design Topics
User Experience Design – 191 courses
Adobe XD – 69 courses
Design Thinking – 42 courses
Figma – 36 courses
Least Saturated UX Design Topics
Information Architecture – 4 courses
Web Accessibility – 4 courses
Research Methods – 4 courses
Product Management – 3 courses
Business
Getting an MBA isn't the most practical route for everyone. On the other hand, online business courses can be an attractive alternative for working professionals.
Whether your students want to switch career paths or advance further along with their current one, sharpening their business skills can help.
Business courses include some saturated topics, but you can also find market opportunities. Several niche business topics on Udemy have fewer than 35 courses total.
Popular Business Courses
Most Popular Business Topics
Entrepreneurship Fundamentals – 629 courses
Leadership – 223 courses
Startup – 212 courses
Business Strategy – 208 courses
Least Saturated Business Topics
Affiliate Marketing – 31 courses
Negotiation – 13 courses
Market Research – 11 courses
Business Communication – 8 courses
Personal Development
Lastly, we have the personal development category. After all, not all learning needs to be fully career-focused. Many individuals want to acquire skills that make them healthier, more productive, and boost their confidence.
On Udemy, personal development is a rather saturated topic; Even the subcategories with the fewest offerings have over 100 classes each.
Popular Personal Development Courses
Most Popular Personal Development Topics
Personal Productivity – 498 courses
Communication Skills – 416 courses
Time Management – 354 courses
Parenting – 348 courses
Least Saturated Personal Development Topics
Happiness – 273 courses
Resume and CV Writing – 241 courses
Relationship Building – 238 courses
Self-esteem – 230 courses
How to Start an Online Course
Starting your first online course from scratch can seem like a challenging endeavor. But you can make the process more manageable by dividing it into clear-cut tasks.
Curtis McHale covers this topic more in-depth in his four-part series on building an online course.
Here's an overview:
Choose Your Topic and Structure
As we mentioned before, the first step is deciding on your subject matter. In addition to looking at popular topics, consider your experience and interests.
When you choose your subject, it's also essential to be as specific as possible about your target audience. In other words, you need to know who you're teaching and what they want to get out of the course.
By understanding the subject matter and audience, you'll have what it takes to determine your course structure.
For example, if you're teaching Excel beginners how to create pivot tables and graphs, a self-paced step-by-step program would serve this audience well.
By contrast, if you're teaching a course on agile project management, it can be helpful to have a weekly class with discussions and even homework assignments or projects that encourage students to network.
Outline Your Course
Once you know what you'll teach and how you want to present the information, it's time to outline your course.
Outlining your course serves two purposes. First, it tells you exactly what materials and resources you need to create. Second, you can use the outline as your class syllabus, in your marketing materials, and/or on your course sales page.
When creating the outline, use a logical flow to map out big concepts. Then, divide them into modules for each subtopic – each section should naturally flow into the next.
You might end up creating several drafts of your course outline until you're confident that it covers all the relevant topics in a way that students can follow. This is ok, as it's better to spend a bit more time in the planning stage before investing time and money into creating your course videos.
Add Course Elements
When you're satisfied with the outline, all you need to do is create your eLearning resources.
Here's a list of common elements course creators use:
Video lessons: These often serve as the main content of online courses, and they can take the form of lectures, tutorials, or animated explanations.
Powerpoint presentations: Some lecturers present PowerPoints or other slide shows in their videos and then provide a copy of the slides for students to reference and use for taking notes.
Quizzes and learning tests: Quizzes and other learning checkpoints are beneficial for self-paced courses because they let students verify their knowledge before moving on to the next section.
Assignments: You can include assignments to help students practice new skills. Some course creators may grade homework, but you can also provide answer keys that let students check their own progress.
Live feedback and Q&A sessions: These interactive sessions allow students to interact with instructors and get live feedback.
Supplemental material: Additional materials such as articles and guides that students can use to enhance their learning.
You don't need to use everything on this list, but creating various resources can help you cater to various learning types.
Ultimately, you want to choose the elements that best fit your topic and structure. For example, if you're creating a self-paced course, you may not need live Q&A sessions.
As for supplemental material, quizzes and assignments, you can always add these later based on student feedback and requests.
Publish and Market Your Course
After your course materials are prepped and polished, it's finally time to publish. Several resources like Udemy make publishing online materials easy.
With Paid Memberships Pro, you can host your course on your own WordPress website – or even design an entire membership site where your students can continue to engage with each other and your brand.
You must also keep in mind that you'll have to do some marketing for your course, at least at the beginning.
If you already have an email marketing list, you can create a landing page for the course and send it to your subscribers. You can also feature the course on your website and include a call-to-action button on your home page.
If you're still building an audience, consider looking at Facebook groups and online forums to find out where your target audience goes for their information. You can also follow SEO best practices to generate organic traffic for your course website.
Quality Standards for Online Courses
Online courses can be an excellent opportunity for your business, but you risk losing credibility and trust if you publish a poor-quality product. When it comes to EdTech, your competition includes other entrepreneurs and educational institutions that create online courses.
Some of the most popular online courses on websites like Coursera were produced by universities, including Yale University's The State of Wellbeing and the University of Michigan's Python for Everybody, which brought in millions of students.
If you want to compete with schools, you should aim to hit their benchmarks. The National Standards for Quality Online Courses, Programs, and Teaching serves as the industry standard for creating high-quality online education. They have a publication that outlines benchmarks specifically for Quality Online Courses that include guidelines for content, design, technology, and usability.
Final Thoughts
Getting into the online course business can be a lucrative strategy for your business. But keep in mind that, like anything else, creating a successful online course requires strategic planning and a little trial and error.
When done well, eLearning brings a positive ripple effect to your business generating more revenue, keeping customers engaged, and strengthening your brand's image.
Are you ready to start growing your online course business and attracting new students?
With Paid Memberships Pro, you can create free and paid subscriptions to your course content, benefit from a wide variety of Add Ons and integrations specifically designed for selling online courses, and manage your course on WordPress.
We know that a WordPress site has tons of moving parts. Choosing the right plugins, themes, hosting, third party services, design assets, and more can feel overwhelming.
Paid Memberships Pro is a comprehensive platform built for any kind of eLearning environment. Learn exactly what you'll get — the plugins, the support, and the training — when you build your online course with Paid Memberships Pro.
Was this article helpful?